March 19 , 2003
Spartan Stalwart
By Mike Eidelbes
CCHA
SUPER SIX PREVIEW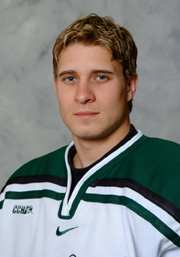 Michigan State senior defenseman John-Michael Liles leads NCAA rearguards in scoring with 48 points in 38 games.
Related Links
Championship weekend tickets: Visit ticketmaster.com
Super Six Previews
No. 1 Ferris State
27-8-1 overall (22-5-1 CCHA)
Bulldog note: The Bulldogs have allowed more than two goals just three times during their current 11-game winning streak. The 11 straight victories matches a school record.
How FSU wins: The team that hasn't been to the Joe in nearly a decade needs to play like they've been there before, especially if they meet MSU Friday. The Bulldogs are the league's most-penalized team – they'd be smart to stay out of the box. Those are minor chinks in Ferris' armor. As long as the Bulldogs play their roles and don't try to do too much, they should be in Saturday's final.
No. 2 Michigan
24-9-3 (18-7-3)
Wolverine note: Coach Red Berenson's squad is making its 14th straight trip to Joe Louis Arena for the next round of the CCHA tournament.
How U-M wins: As good as the youngsters are, this team's hopes hinge on the leadership of senior forwards Jed Ortmeyer and John Shouneyia and the defensive presence of junior rearguard Andy Burnes. The Wolverines are solid on the power play and have the CCHA's best penalty kill. They don't need goalie Al Montoya to win games…but can he keep from losing them?
No. 3 Ohio State
22-10-5 (16-8-4)
Buckeye note: The three seed hasn't won the CCHA playoff championship since 1993, when Lake Superior State turned the trick en route to a second-place showing in the NCAA tournament.
How OSU wins: The Bucks will be tough to stop if they rack up a shot disparity similar to what they did against UNO, outshooting the Maverics by a 97-38 margin. Mike Betz has fallen asleep in similar situations in the past, however. It's important that he's sharp. Rallying from multi-goal deficits isn't OSU's forte.
No. 4 Michigan State
21-13-2 (17-10-1)
Spartan note: The MSU offense has been like a Chicago mayoral election: they score early and often. During the team's current 5-1-0 run, the Spartans have scored 34 goals, including 13 in the first period.
How MSU wins: Building an early lead would help the confidence of netminder Matt Migliaccio, who hasn't played well in previous visits to Joe Louis Arena this season. State will be tough to stop if they continue to spread the wealth offensively – nine different players scored goals in last weekend's sweep of Alaska-Fairbanks, none from defensemen John-Michael Liles and Brad Fast.
No. 5 Northern Michigan
18-16-2 (14-13-1)
Wildcat note: Last year's CCHA semifinals featured then-NMU coach Rick Comley against Michigan State and Ron Mason, the man he would replace behind the Spartan bench. This year, coach Walt Kyle, in his first season as bench boss in Marquette, meets his predecessor Thursday evening.
How NMU wins: They can score with anyone, but need big efforts from Chris Gobert, Mike Stutzel and Bryce Cockburn to have a chance. Craig Kowalski is as experienced as any goaltender in the field. He needs to minimize his stick-handling gaffes, which occur with alarming regularity.
No. 7 Notre Dame
15-15-6 (13-12-3)
Irish note: In six career CCHA first-round playoff series starts – all on the road – Notre Dame sophomore goaltender Morgan Cey has a 1.61 GAA and a 94.8% save pct.
How ND wins: Follow the postseason pattern they've established in their last two first-round series, which is combining a solid effort from Cey with timely goals late in the game or in OT. Ohio State may score more "fortunate" goals than any team in the league – rebounds, weird bounces – so Evan Nielsen and friends need to take of business in their own end.
He's Michigan State's leading scorer for the second straight year. He's a first-team All-CCHA selection. He's the conference's choice as Offensive Defenseman of the Year. He's a probable finalist for the Hobey Baker Memorial Award and a lock for All-America honors.
Senior defenseman John-Michael Liles is also a key to the Spartans' chances of winning the Mason Cup as CCHA Super Six champions and guiding the team to another NCAA Tournament appearance. Inside College Hockey caught up with the Zionsville, Ind., native following the Spartans' first-round playoff sweep of Alaska-Fairbanks last weekend.
Inside College Hockey: A couple weeks ago, Rick Comley said you've improved defensively this season. How has your game grown?

John-Michael Liles: Coming into this year, there were certain aspects of my game that I wanted to work on and defense was one of them. To move on to the next level, you've got to learn how to play in your own end. Coach Comley kept preaching that, for us to be a good offensive team, you've got to be strong in your own end and build from there. I've taken that to heart, and I think a lot of guys have taken that to heart. It's been a great thing for our team because we've been pretty strong defensively and we've generated some goals.
INCH: Is there a stigma attached to being classified as an offensive defenseman?
JML: I don't necessarily think that's always true. You look around not only the CCHA, but college hockey in general...myself and Fasty (defensive partner Brad Fast) are very good offensively as well as defensively, and you hear so much about (Tom) Preissing at Colorado College. He's got a lot of points and at the same time, they say he's excellent in his own end. You can put up points without being bad in your own end. It's just a matter of seeing the play and jumping in at the right time.
INCH: Do you and Fast feel the pressure to not only play well, but really set the tone for the rest of the team?
JML: At the beginning of the year, I think we put a lot of pressure on ourselves to do that. It really didn't translate very well in terms of team hockey. We were definitely trying to do too much and I think that Duncan (Keith) and (Evan) Shaw leaving might have been a blessing in disguise because our minutes went up so much that we really couldn't try to do as much. We're picking our spots better and that's turning into more points for both of us and just better play all around.
INCH: So would you consider the loss of Keith and Shaw a turning point?
JML: There was an adjustment period to Coach Comley. It worked both ways – not only us to him, but him to us. Right around that first game at Lake Superior State was when we really caught on and really came together as a team. We got pretty bad up there that first game and I think that was the point were we said, 'Hey, enough is enough. It's time to come together and be a team.' From then on, we really haven't looked back.
INCH: Hockey players and coaches usually have a "one-game-at-a-time" mentality. But you guys know you have to string together some wins to qualify for the NCAA Tournament. Does it change your approach?
JML: It's tough. It's similar to college basketball. You know you're on the bubble, and every game is a must-win and you've got to do everything you can to help the team win. When you look at it like that – you're on the bubble and every game is a must-win – then it's easier to focus on one game at a time because, hey, this could be our last shot. I think that makes it somewhat easier. We've been playing playoff hockey for quite some time now...not in the playoffs per se, but that's our mentality because we're right there on the bubble.
INCH: Michigan State has been a perennial qualifier for the NCAA Tournament. Has it dawned on you that your team might not make it this year?
JML: It was right about Christmas time where somebody stepped up – and I'm not exactly sure who it was – and said 'If you were a senior, would you want to go out as a .500 hockey team?' I think a lot of the younger guys took that to heart. It's a maturing process. We've got a lot of young guys on the team and they'll get so much better as the years go on, but I think they took some great strides in maturing and understanding exactly what it takes and try to help us go out on top. That's what we're battling for right now. If you would've asked anybody at the beginning of the year if we would be on the bubble for the NCAA Tournament with the field expanding to 16 teams, I don't think anybody would've thought that. It's been tough, but I think it's making us better players and better people.
INCH: Where's your playoff beard?
JML: My playoff beard...it takes me about four weeks to grow one. This (a smattering of patchy stubble) is probably about four or five days right here, and it's pretty poor.
INCH: Who's got the worst playoff beard on the team?
JML: The worst? I think there are guys who can't grow facial hair. I don't think Brock (Radunske) can grow anything. He gets like three long whiskers coming out the bottom and that's about it. There are some guys that are so young that I don't even know if they've had the chance to start growing facial hair. I don't even know if they shave.