October 1 , 2003
2003-04 CCHA Preview
By Mike Eidelbes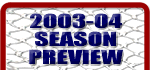 THE SKINNY
A Chicago Bulls' player during the team's salad days in the 1990s, when asked about life on the road with Michael Jordan, remarked, "It's like touring with the Jacksons. He's Michael and we're the Jacksons."
At first glance, this season's Central Collegiate Hockey Association race appears remarkably similar. Michigan – which returns 18 letterwinners from a team that won the league's postseason title and made a third straight trip to the Frozen Four last season – seemingly towers above the conference, a maize-and-blue sequined glove thrust forcefully in the air. Of course, the scenario in the CCHA seemed remarkably similar at this time last year, but high-scoring Ferris State surprised the nation by moon-walking away with its first league championship of any kind along with a visit to the NCAA Tournament.
With the talent coach Red Berenson has in tow, winning conference championships ought to be a stepping stone to a much bigger goal. But as Bob Daniels' Bulldogs proved last season, the CCHA regular season can turn into just about anyone's Victory Tour.
BREAKTHROUGH TEAM
Where were you last Thanksgiving? Fans of the Miami RedHawks remember their team being among the nation's best with a 12-3-1 record. By St. Patrick's Day, however, Miami was toast, bounced in the first round of the CCHA tournament by Notre Dame and ending the season with a 9-14-2 mark after Dec. 1.
Consistency shouldn't be a problem this season, at least not with the experienced lineup coach Enrico Blasi should ice. He has at his disposal three top-flight scorers in senior forwards Mike Kompon (48 points), Greg Hogeboom (17 power-play goals) and Derek Edwardson (24 points in 21 games before suffering a season-ending injury in January) in addition to highly regarded freshman Geoff Smith. On defense, eight letterwinners, keyed by 2003 CCHA all-rookie selection Andy Greene, return from a unit that set a school record by allowing just 101 goals last season. Goaltending may be the RedHawks' soft underbelly, however. Rookies Steve Hartley and Brandon Crawford-West are promising, but it's no coincidence an anagram for freshman goalie is "ahem, fear losing."
PRIMED FOR A FALL
No one familiar with the Ohio State hockey program expected mercurial forward R.J. Umberger to return to Columbus for his senior season. Even though the Pittsburgh native, a first-round selection by the Vancouver Canucks in the 2001 National Hockey League Entry Draft, ranked tied for third in the CCHA with 53 points last year, he always seemed to have one eye on the professional ranks.
Imagine coach John Markell's surprise, then, when forward Ryan Kesler, who was taken by the Canucks in the first round of this year's draft, announced this summer he was leaving the Buckeyes after just one season. Umberger left, too, although he has yet to sign with Vancouver and is biding his time by working out with the U.S. Under-18 Team in Ann Arbor.
With Umberger and Kesler, Ohio State had the makings of a team that could easily finish among the top two in the conference. Without them, the Buckeyes need people like unappreciated forwards Scott May and Paul Caponigri, underachieving forward Dave Steckel and underrated goaltender Mike Betz – more on him later – to pick up the slack. This team still has NCAA Tournament aspriations, however, and it's not a stretch to suggest Umberger's departure might be a case of addition by subtraction.
PRESSURE TO PERFORM
Look at the Michigan State defensive corps this season and you can't help but notice the Gilbert Brown-sized void created by the graduations of rearguards John-Michael Liles, the 2003 CCHA Best Offensive Defenseman with a team-best 50 points, and Brad Fast, the league's Best Defenseman Defenseman and a 46-point scorer last season. Then again, few teams could sustain the loss of one defenseman that logged 30-plus minutes of ice time each night and keyed the penalty kill and power play, let alone two.
Figuring out which Spartan defenseman may emerge as an offensive threat isn't an easy task. Senior Joe Markusen and sophomore Jared Nightingale are stay-at-home types, which leaves promising sophomore Corey Potter and a quintet of freshmen to rise to the occasion. Rookie Ethan Graham has the size (6-2, 180) to survive in the rugged CCHA and, as a member of USHL champion Lincoln, he knows how to win. Blueliners Tyler Howells and Chris Snavely were both proven scorers for Cedar Rapids of the USHL, but the duo are an identical 5-8, 170 pounds.
TOUGHEST ACT TO FOLLOW
Ferris State's 2003 CCHA regular-season championship and inaugural trip to the NCAA Tournament was arguably the biggest thing to hit Big Rapids since Woodbridge N. Ferris founded the university in 1884. And while the party on campus probably won't stop until the championship banner is raised to the Ewigleben Ice Arena rafters – those of you who've been to the barn can laugh at that mental image – the Bulldogs know full well they can't sneak up on opponents any longer.
Gone are Hobey Baker Award finalist and CCHA Player of the Year Chris Kunitz (79 points) and all-conference defenseman Troy Milam. The cupboard is hardly bare, though, with junior forwards Jeff Legue (59 points) and Derek Nesbitt (53 points), senior defenseman Simon Mangos (22 points) and All-American goalie Mike Brown (2.35 goals-against average, 92.5 save pecentage) back in the fold. Helping to pick up the slack on offense is freshman Mark Bombersback, who was named 2003 Canadian Junior A Player of the Year – an award previously captured by guys named Tambellini and Heatley, to name two – after scoring 46 goals and 68 assists for Canmore of the Alberta Junior Hockey League.
BEST PLAYER
He didn't get as much noteriety last season as Minnesota's Thomas Vanek or Zach Parise of North Dakota, but Michigan's Jeff Tambellini deserves to be mentioned in the same breath as his more heralded counterparts. The 5-11, 186 pound forward led a balanced Wolverine scoring attack with 26 goals and 45 points and, more importantly, ratcheded his play up a notch when then-seniors John Shouneyia and Jed Ortmeyer were sidelined with injuries. He was expected to be a quick, playmaking forward with a lethal wrist shot, but he also proved to be much more physical and tougher than originally thought. The Maize and Blue return a solid crop of seven junior forwards, but this is Tambellini's team now.
BEST FRESHMAN
Honestly, one could put the names of about 10 players in a hat, pull one out at random and feel pretty good about the candidate for this honor. Ferris State's Bomersback, Miami's Smith, goaltender Dominic Vicari of Michigan State, Michigan's T.J. Hensick and Matt Hunwick, Darin Olver of Northern Michigan and Western Michigan's Paul Szczechura all bring impressive credentials to the table. We'll go out on a limb, though, and tab Bowling Green's Jonathan Sigalet as the cream of the cropin 2003-04. A wispy 6-1, 170 pounds, the brother of Falcons' junior goaltender Jordan Sigalet was the British Columbia Hockey League's Defenseman of the Year after scoring 13 goals and 52 points for Salmon Arm last season. The third-best freshman defenseman in college hockey according to INCH's ratings of incoming recruits, Sigalet is the crown jewel in a solid recruiting class lured to Bowling Green by second-year head coach Scott Paluch, a group that also includes high-scoring forwards Rich Meloche and James Unger.
UNSUNG PLAYER
Does anyone outside of the home locker room at Value City Arena know that Ohio State goaltender Mike Betz was the 2003 CCHA Goaltender of the Year? Or that his 2.24 goals against average ranked fifth nationally? Or that he was one of 11 netminders in the nation to win 20 or more games last year? Neither did we. With guys like Kesler and Umberger at the fore, Betz was relegated to second billing. Not the case this season. Goals won't necessarily come at a premium for the Buckeyes this season, but Betz will most certainly be looked at to help his team's cause on a regular basis.
THREE BURNING QUESTIONS
1. Will a Lake Superior player score more than 20 points this season? The team's top returning point-getters from last season, Jon Booras and Chris Petersen, each notched an underwhelming 14 points last year. Junior goaltender Matt Violin – he of the 90.4 percent save percentage, 91.1 percent in league games – deserves better. Unfortunately, he won't get it.
2. When will Notre Dame put it all together? Since coach Dave Poulin took over as head coach nine years ago, he's amassed an impressive array of talent, but the Fighting Irish have been inconsistent at best. With six returning defenseman in front of veteran goaltender Morgan Cey, this could be the year.
3. How long will it take for the NCAA Ice Hockey Committee to name Omaha as a site for a future regional tournament? Nebraska-Omaha christens the 14,700-seat Qwest Center Omaha next weekend, when coach Mike Kemp's charges entertain Maine, Minnesota and Wisconsin for the Maverick Stampede Oct. 10-11.
MARK IT DOWN
Five things you can take to the bank in the CCHA this season
1. A Ferris State forward has won the league scoring title in each of the last two seasons (Kunitz last season and Rob Collins in 2001-02). Jeff Legue will make it three in a row for the Bulldogs this year.
2. Michigan won't run away with the CCHA regular-season title – at least not with a cluster schedule that includes four games against Miami, Michigan State and Ohio State – but the Wolverines will lock up the top spot before the season's final two games. Expect a lot of jockeying for the third through eighth place, however, right through the March 6 season finale.
3. The teams we think you'll see at the Super Six in Detroit: Michigan, Ferris State, Miami, Michigan State, Ohio State and Notre Dame. The Wolverines take their third Mason Cup with a win over the RedHawks in the championship game.
4. Of the 10 finalists for the 2004 Hobey Baker Award, only two – Tambellini and Legue – will hail from the CCHA.
5. Nebraska-Omaha fans will love the new arena and the amenities and creature comforts it offers, but the Mavericks will lose a measure of the home-ice advantage they enjoyed at the old Civic Auditorium, where the fans sat right on top of the action.
Predicted Finish

No.

School
Of Note

1.

Wolverines have made three straight trips to the Frozen Four. Unfortunately, they've also made three straight trips back to Ann Arbor after losing in the national semifinals.

2.

Ferris State
Hobey Baker Award finalist Chris Kunitz has taken his act to Anaheim, but 17 letterwinners including All-American goalie Mike Brown (30 wins, 2.35 GAA, 92.5 save percentage) return.

3.

Miami
Senior forwards Mike Kompon (48 points), Greg Hogeboom (42 points) and Derek Edwardson (24 points in 21 games) are back, as are eight letterwinners on defense.

4.

Michigan State
Heralded goaltending prospect Dominic Vicari arrives and will play a key role. Defensive corps in front of him, however, are untested.

5.

Ohio State
With losses of forwards Ryan Kesler and R.J. Umberger to the professional ranks, Mike Betz may have to carry team.

6.

Northern Michigan
Experience in goal (senior Craig Kowalski) bolstered by young talent on defense (sophomores Jamie Milam and Nathan Oystrick and rookies Bobby Selden and Zach Tarkir).

7.

Notre Dame
Hands across North America: Dave Poulin's team boasts players from 10 states and four provinces. Power forward Rob Globke – a monster at 6-4, 203 pounds – leads the way.

8.

Alaska-Fairbanks
The Nanooks backpedaled last year after a breakthrough season in 2001-02, but experience abounds with 19 returning letter-winners.

9.

Western Michigan
Like the swallows returning to San Juan Capistrano each spring, count on coach Jim Culhane luring a high-scoring forward to Kalamazoo each season. Freshman forward Paul Szczechura is the latest in a line that includes Jeff Campbell, Pat Dwyer and Vince Bellissimo.

10.

Bowling Green
Falcons celebrating 20th anniversary of 1984 NCAA championship this season. With recruits like Jonathan Sigalet, coach Scott Paluch has the team moving back up the ladder.

11.

Nebraska-Omaha
Mavericks move from the Omaha Civic Auditorium, affectionately known as the "Bull Pen", into the Qwest Omaha Center, which should be dubbed the "Play Pen." The team's roster includes 19 freshmen and sophomores.

12.

Lake Superior State
String music: goaltender Matt Violin stopped more than 90 percent of the shots he faced last season. On a team that scored 60 goals in 38 games last season, he'll have to stop 100 percent for the Lakers to have a chance to win.

Send this to a friend
About Us | Advertiser Info | Site Map | Privacy Policy
© 2003 Inside College Hockey, Inc., All Rights Reserved