November 6, 2003
Fairy Tale to Scary Tale
By Mike Eidelbes
Ferris State coach Bob Daniels spent part of Wednesday at parent-teacher conferences, discussing the progress his children have made this year with their educators. The meetings were a refreshing chance for Daniels, who will tell you he's spent far too much time discussing his team's dreadful start.

"The conferences," Daniels reported, "were certainly a bright spot."

The Bulldogs were the CCHA's fairy-tale story in 2002-03, earning their first conference regular-season title and NCAA Tournament bid after finishing ninth in the league the previous year. The maroon-and-gold Cinderellas, who looked like Jessica Simpson last year, resemble Homer Simpson this season as the Bulldogs are off to their worst start in a decade.

There are plenty of d'oh!'s to go around. The facts:

• Ferris State allowed nearly twice as many goals (32) as it has scored (18). Throw out the first period, and that disparity grows to 26-12.
.• The Bulldog power play has been anemic thus far, producing just three extra-man goals in 35 chances for a woeful 8.6 percent success rate.
• Two of the nation's top point-getters from last season – forwards Jeff Legue and Derek Nesbitt – have combined for two goals and six assists thus far.
• Goaltender Mike Brown was an All-American and all-conference selection in 2003. So far this year, he's 2-6-0 with a 3.71 goals-against average and a 86.4 save percentage. He's not among the top 10 CCHA netminders in either statistical category.

Tops among Daniels' concerns is the lack of production from the teams top-end players.

"That group needs to be heard from," said the long-time FSU coach. "We haven't given [Brown] a ton of offensive support."

Further magnifying the Bulldogs' lack of scoring punch is the team's puck possession skills, which has been very sloppy thus far.

"We've had some awful loose play with the puck," Daniels explains. "We've had some turnovers in bad areas."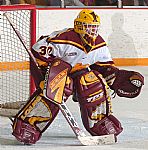 Mike Brown and Ferris State are off to the school's worst start since 1993-94.
Ultimately, says Daniels, the loss of six seniors from last season – including Hobey Baker Award finalist Chris Kunitz and team captain Troy Milam –- is the crux of the Bulldogs' current woes. Despite the quality of returning talent, outsiders overlook the steadying influence those veterans had on the team.

"We knew we were going to got through some growing pains," Daniels said. "It's really taken us quite some time to develop and indentity and team chemistry. We've got to find the right pieces and put them together."

Certainly, the schedule hasn't been to kind to a team that's searching for answers. The Bulldogs have played six of their eight games this season on the road, including trips to Colgate and Alaska-Fairbanks on back-to-back weekends followed by a home-and-home series with Michigan State. The upcoming series with Michigan marks the start of a three-week stretch during which Ferris State plays seven of eight in Big Rapids.

"By the time we hit the end of the year, we'll be a pretty good team," Daniels said. "The reality is, no one has given up on our end."

SEEN AND HEARD IN THE CCHA

SMOOTH OPERATOR – It was just a matter of time before Michigan State forward Steve Swistak scored a goal. After all, he's got the hands of a surgeon. Well, he'll have the hands of the surgeon eventually.
Swistak, a 6-2, 200-pound senior, scored the first goals of his Spartan career in Friday's 8-0 shellacking of Ferris State at Munn Ice Arena. He added an assist in the team's 4-2 win in Big Rapids the following night. The West Bloomfield, Mich., product has played in five straight games and has picked up two goals and a pair of assists, not bad for a guy who had played in a grand total of nine games in his first three seasons in East Lansing.

"What I try to do is get some momentum for the boys, try to get some emotion going," Swistak said following practice Tuesday. "I don't focus on scoring per se...it's more on the side of getting things going, whether it's the big hit or a good shift grinding in the zone."

He made his mark in the Spartans' come-from-behind win against visiting Western Michigan two weeks ago, giving the team a spark with his hard work in the corners and physical play after a lethargic effort left MSU trailing by a goal after two periods. He also earned his first collegiate point with an assist on freshman A.J. Thelen's game-tying goal.

"I'm fine with that role." Swistak said. "I'm very comfortable with it."

Prior to his recent scoring binge, Swistak, who has another year of eligibility after this season, was best known for his academic prowess. A physiology major, he's been part of Michigan State's Medical Scholar Program since enrolling at the university. The prestigious program guarantees 10 incoming freshmen each year admission into MSU's medical school after obtaining their undergraduate degree.

"Having med school in the background is a great thing," he said. "I'm in. I'll be at Michigan State another two years before they put me out into the field, so that's a pretty good feeling knowing I'm going to be a Spartan for another couple of years at least."

When asked whether scoring a goal was a bigger rush than nabbing a sure spot in med school, Swistak was quick to provide an answer.

"Scoring a goal felt great, I'm not gonna lie," Swistak said. "After three years of waiting, scoring that goal felt pretty good."
CHRIS-TAL CLEAR – In the murky pea-soup fog that has been the Nebraska-Omaha season thus far, coach Mike Kemp believes he's spotted a ray of hope. The winless Mavericks were shut out by Notre Dame and freshman goaltender David Brown but on the other end of the ice, UNO rookie netminder Chris Holt came through with his finest effort of the young campaign.

Holt, a sixth-round selection of the New York Rangers in June's National Hockey League Entry Draft, was hailed as a candidate to fill the void left by the departed Dan Ellis. He got off to a rocky start, however, allowing seven unanswered goals in a loss to visiting Minnesota at the Maverick Stampede and giving up five goals to Western Michigan the following week. Against the Irish, he recovered nicely after giving up an early goal, making 30 saves in a 2-0 loss.

"Brown played solid," Kemp told Craig Sesker of the Omaha World-Herald following the game, "but I thought our kid played great."
The Vancouver native, who played last season with the U.S. Under-18 team, is not short on confidence – he told INCH at the NHL Draft that "I never set a goal I haven't met." And despite a 4.87 goals-against average and a 86.6 save percentage, that bravado hasn't waned.

"I think it is just a matter of time before we get that first win," Holt said. "Once that happens, I think everything will snowball from there. We have been really competitive...we just have to figure out a way to come out on top."
RYZ-EN FROM THE ASHES – As if Michigan needed more help.

The Wolverines welcomed forward Jason Ryznar back to the lineup last weekend for his first appearance of the regular season. Ryznar, a junior from Anchorage, missed the team's first seven games after injuring his shoulder last month in an exhibition game against York.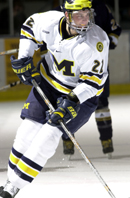 Michigan's Jason Ryznar
"It was great to get out there with the guys and bang in the corners a little bit," Ryznar told the Michigan Daily. "To tell you the truth, I felt kind of out of sync out there. It's going to take a few games to get back into it."

At 6-4 and 201 pounds, Ryznar, who scored 16 points in 34 games last season, brings an element of size and toughness to coach Red Berenson's front line. Other than Ryznar, freshman David Rohlfs and fellow juniors David Moss and Eric Nystrom, Michigan's forwards aren't exactly bangers.

"Ryz is a big part of our physical offense," said sophomore forward Jeff Tambellini, the team's co-leader in scoring with six goals and three assists in eight games. "To have him back doing the things he does down low, cycling the puck, is great."
Great Weekend Getaway

Notre Dame at Michigan State (Fri.-Sat.): Fans at Munn Ice Arena are no strangers to shutout streaks. But they aren't used to the opposing goalie being the one on the hot streak. David Brown and the Irish face the Spartans, who have been scoring at will lately (23 goals in its last four games). While Brown deservedly stands in the spotlight right now, don't forget about Morgan Cey, who has always played well against MSU.

While you're there: You can't find a statue honoring a Spartan hockey great outside of Munn, but there's one near the entrance of the Breslin Events Center of Earvin "Magic" Johnson, the 13th-best basketball player of his era behind the great Larry Bird and the rest of the Boston Celtics (save your e-mails). Anyway, Magic's statue was dedicated prior to Saturday's MSU-Michigan football game. It's easy to locate – just walk around the Breslin until you see a giant bronze sculpture that looks like Lamont from "Sanford and Son". Seriously.

Stick Salutes

• Props to a pair of freshmen – Michigan State's Tom Goebel and David Brown of Notre Dame. Goebel, a Parma, Ohio, native, scored five goals last weekend as the Spartans swept Ferris State. Brown, meanwhile, posted his third straight shutout in a 2-0 win against Nebraska-Omaha, setting the school mark for whitewashes in a season. Pretty heady stuff for a guy who's made six career starts.


Bench Minors

Western Michigan's schedule maker (who may or may not be standing behind the Broncos' bench) must hold a grudge against the team's equipment manager. Why else would Western go from last weekend's series at Cornell to Fairbanks, Alaska, for two games with the Nanooks this weekend to Niagara next weekend. The Broncos will cover more than 9,000 miles during the 16-day span.
FRIES AT THE BOTTOM OF THE BAG

• This weekend's Lake Superior State-Nebraska-Omaha series is a classic battle pitting the movable object against the stoppable force. UNO, returning to their new digs for the first time since the season-opening Maverick Stampede, are in the throes of a 15-game winless streak dating back to Feb. 15 and haven't beaten a CCHA foe since Feb. 1. The Lakers, meanwhile, come into the two-game set with a respectable 2-2-2 mark. Coach Frank Anzalone's squad hasn't won a conference road game since March 2002, when they downed Michigan in the first round of the CCHA playoffs. The team's last regular-season road win? Dec. 9, 2000 at Alaska-Fairbanks.
• It's doubtful that two weeks of haranguing in this space jump-started the CCHA's efforts against non-conference opponents, but it's a nice thought. CCHA teams posted a 2-0-2 record outside the league last weekend, led by Western Michigan's impressive tie and win at 2003 Frozen Four participant Cornell. The Saturday victory snapped the Big Red's 25-game unbeaten streak at Lynah Rink.

"We executed in a hostile environment," said Western Michigan coach Jim Culhane. "I was pleased with our competitiveness...it was good hockey."

In other non-conference action, Lake Superior State earned a win and a tie against visiting St. Lawrence and Michigan upended Niagara Saturday. The CCHA's non-conference record stands at 12-13-5.

• Alaska-Fairbanks defenseman Alex Staudt left the Nanooks earlier this week to join the Western Hockey League's Kootenay Ice. Staudt, who turns 19 Monday, played in 25 games as a freshman in 2002-03, recording two goals and three assists. He saw action in one game this season and did not score. The Ice is based in Staudt's hometown of Cranbrook, B.C.

• Do you think Michigan State coach Rick Comley was a tad miffed at the officials in Saturday's 4-2 win at Ferris State? Referee Kevin Hall called one minor penalty in the first period. In the second and third periods, the two teams were whistled for a combined 22 penalties.

"That's probably as dirty of a hockey game as I've been in in 30 years," Comley told Neil Koepke of the Lansing State Journal. "I thought there could have been multiple majors, probably five on one shift. It was slashing, spearing and two-handers. It was a joke. It's not college hockey, nor is the official on the ice a college hockey official."

• Speaking of multiple majors, former MSU standout and current Nashville winger Adam Hall found himself in the eye of the storm last week when the Predators hosted Detroit. The game, a 5-3 Nashville win, featured 210 minutes in penalties and six players who earned two fighting majors.

Hall, who graduated from MSU in 2002, was one of the dirty half-dozen. He squared off against two of the NHL's biggest names in defenseman Chris Chelios and forward Brendan Shanahan.

"We're in the same division and we play a lot of times," Hall told the Nashville Tennesseean after the game. "This was the first one, so maybe both teams wanted to set the tone for what it's going to be like this year."

• This week's obscure Bowling Green fact: The Falcons held Miami scoreless in 11 power-play opportunities last weekend. The RedHawks entered the series with the nation's second-best power play success rate. BGSU is killing penalties at a healthy 90.7 percent clip, second only to Notre Dame among CCHA schools.

A variety of sources were utilized in the compilation of this report