December 18, 2003
2003-04 CCHA Mid-Season Review
By Mike Eidelbes

SURPRISE TEAM

Losses to Western Michigan in the last series prior to the holiday break took some of the luster off their first-half showing, but Notre Dame is one point out of first place in the CCHA standings thanks to a balanced offensive attack, a veteran defensive corps and spectacular goaltending from freshman David Brown, who's filled in nicely in the absence of incumbent Morgan Cey.

Senior power forward Rob Globke, among the league leaders in goals (10) and tied for fourth nationally with three game-winning goals, has traditionally been prone to long stretches of ineffective play. If he can maintain a steady pace – and fellow forwards Brett McLean, Aaron Gill and Mike Walsh follow – the Irish will finish among the CCHA's top four. Notre Dame has a favorable schedule after Christmas, with series vs. Michigan and at Miami the only games against plus-.500 league foes. With games against Cornell and either Maine or Ohio State at the Everblades Classic and a January series at Wisconsin, the Irish can improve its standing in the eyes of the NCAA Tournament selection committee with a couple quality non-conference wins.

SURPRISE INDIVIDUAL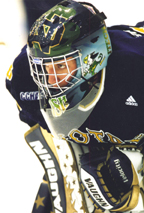 Notre Dame freshman David Brown has filled in nicely for injured incumbent Morgan Cey.
It seems like a cop-out to continually fall back on Notre Dame's David Brown, but where would the Fighting Irish be without him? Sure, his numbers were hurt by the debacle at Western Michigan, but he still boasts a sparkling 6-3-2 record, a 2.42 goals against average and a .919 save percentage. His second career shutout – a 27-save effort against Boston College at Chestnut Hill – helped the team gain the confidence to reel off a 8-1-2 stretch.

WHAT HAPPENED TO …

...Michigan's waltz to the 2004 Frozen Four? Given the cache of talent coach Red Berenson brought back from last year's team and the top flight recruits welcomed to the fold this fall, more than one expert pegged the Wolverines as Boston-bound. Michigan is a respectable 11-6-1 thus far, but this team should have a far better record.

The problem? Across-the-board mediocrity. The Wolverines – used to being at or near the top of every major statistical team ranking in the CCHA – are no higher than fourth in any category and are seventh in the league in scoring offense. Forward Jeff Tambellini represents a microcosm of Michigan's season thus far. A preseason Hobey Baker Award candidate, the sophomore hasn't scored a point since Nov. 8. They probably have the league's best talent; unfortunately, they also own the conference's poorest work ethic.

BEST NEW FACE

Ironically, the best new faces are ones you rarely see – those of the CCHA's outstanding freshman goaltenders. As of Dec. 15, four of the league's leaders in GAA are rookies – Lake Superior State's Jeff Jakaitis (1.89), Dominic Vicari of Michigan State (2.36), Miami's Brandon Crawford-West (2.37) and Notre Dame's Brown (2.42). Crawford-West splits time with fellow newcomer Steve Hartley (2.63 GAA), while 18-year-old Chris Holt has emerged as the workhorse in goal for Nebraska-Omaha. Brown has garnered most of the headlines, and deservedly so, but Vicari will prove to be the best of the bunch.

BIGGEST UPSET

Michigan State opened the season by squandering a two-goal lead in the third period, allowing three unanswered scores en route to an embarrassing 4-3 loss to Findlay in the first round of the Ice Breaker Tournament at Munn Ice Arena. The defeat was roughly akin to the Garfield balloon in the Macy's Thanksgiving Day Parade deflating in the pre-event staging area. Of course, just to prove the loss to Findlay wasn't a fluke, the Spartans dropped a 3-2 overtime decision to visiting Wayne State about a month later. Miami, don't think you're off the hook for sleepwalking through a 2-0 loss to Air Force at the Nye Frontier Classic in Anchorage.

TOUGHEST ROAD OUT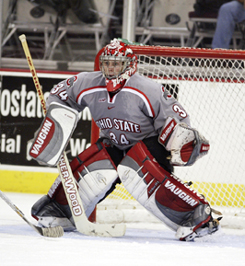 Mike Betz and Ohio State haven't been slowed by a brutal first-half schedule that included 11 games against ranked opponents.
Ohio State coach John Markell must be a graduate of the Tom Izzo School of Scheduling. Of the 18 games the Buckeyes have played thus far, 11 have been against teams appearing in INCH's latest Power Rankings – Denver, Miami (three times), Notre Dame (twice), Michigan State (twice), Michigan (twice) and Cornell. That list doesn't include a visit from Atlantic Hockey preseason favorite Mercyhurst, a trip to a solid ECAC foe in Colgate and a tough road series against Northern Michigan. In fact, only one OSU opponent – Bowling Green – during the season's first half currently owns a sub-.500 record. The Bucks' slate lightens up a little following the break, but not before the team plays games against Maine and either Cornell or Notre Dame at the Everblades Classic and welcomes Quinnipiac to Columbus for a single contest before travelling to Ann Arbor for two games against Michigan.

TOUGHEST ROAD IN

With a deep group of forwards, a versatile, experienced defensive corps and two emerging young goalies, Miami is arguably the most complete team in the CCHA. They'll need to be, given their schedule the rest of the way. The RedHawks get New Hampshire and either Minnesota or Princeton at the Dodge Holiday Classic in Minneapolis this weekend. After an 18-day hiatus, Miami heads to Northern Michigan for two games. The home stretch is brutal – road series with Michigan State and Michigan, home sets with Western Michigan and Notre Dame and a home-and-home affair with Ohio State.

MUST-SEE SERIES

Trying to pick the conference's best series over the next two-and-a-half months is like trying to determine which Portland Trail Blazer will be the next to run afoul of the law. Anyway, since we're playing with house money, we'll stake a claim to the home-and-home set between Ohio State and Miami during the last weekend of the regular season. There's a possibility the CCHA regular-season title could be on the line. Close second: Michigan visits Notre Dame Feb. 27-28, the only meetings between the two teams this year.

BIGGEST QUESTION ANSWERED

Can Ohio State survive the losses of Ryan Kesler and R.J. Umberger? With the offseason departures of forwards Ryan Kesler and R.J. Umberger, both first-round picks of the Vancouver Canucks, Ohio State was left with a good – but not great – group of returnees and a team that could challenge for an NCAA Tournament berth. But a CCHA title seemed to be a long shot at best.

You won't hear it from any Buckeye now, but read between the lines and one can safely assume the losses – especially that of Umberger – is a classic case of addition by subtraction or, better yet, the Ewing Theory posited by ESPN.com columnist Bill Simmons. Instead of deferring to Umberger, as senior forward Dave Steckel said was the case last season, the Buckeyes have been getting it done with a scoring-by-committee approach. Seven skaters have 10 or more points through 18 games and goalie Mike Betz puts OSU in position to win every night.

BIGGEST QUESTION REMAINING

Is there a Frozen Four-caliber team in the CCHA? With Michigan failing to live up to preseason expectations thus far, serious doubts linger.

The Wolverines have the talent and the experience to make such a run. Whether they have the desire is another story. Of the conference's other 11 teams, only Miami, Notre Dame and Ohio State appear to have the pieces in place to forge deep into the NCAA Tournament. Of course, none of the three have extensive playoff experience, and two of the three currently rely on freshman goaltenders. The remaining squads have at least one fatal flaw which make postseason success seem iffy at best.

Clearly, the level of play in the CCHA this season is not what it was in years past. Early defections to the professional ranks hurt – there's a decided lack of dynamic scorers – and has led to a dearth of veteran-laden teams.
INCH's First Half All-CCHA Team

Pos.

Player
Of Note

G

David Brown,
Notre Dame

By a hair over Ohio State's Mike Betz. No player in the CCHA has meant more to his team through the first half of the season.

D

Doug Andress,
Ohio State
The Buckeyes' version of Adrian Aucoin, he's tied for third among NCAA blueliners with 10 assists and boasts an impressive +19 plus-minus rating.

D

Nathan Oystrick, Northern Michigan
The sophomore has averaged nearly a point a game and has emerged as a leader on NMU's young (four sophomores, four freshmen) defensive corps.

F

Derek Edwardson, Miami
Tied for the NCAA lead in scoring with 26 points in 18 games and a key member of the RedHawks' high-octane power play.

F

Dana Lattery, Western Michigan
Plug Miami's Mike Kompon or OSU's Paul Caponigri in the spot and you'll get no arguments. Lattery, however, is a terrific, unheralded two-way player with 22 points in 16 games.

F

Jim Slater,
Michigan State
Spartan faithful may be only hockey fans not hoping for a resolution to NHL labor strife if it means keeping Slater, an Atlanta Thrashers' prospect, around for his senior season.

Send this to a friend
About Us | Advertiser Info | Site Map | Privacy Policy
© 2003 Inside College Hockey, Inc., All Rights Reserved