January 15, 2004
Blue Crush
By Mike Eidelbes
Remember Michigan? The team that everyone expected to waltz to a CCHA championship? The team that everyone said could make hotel reservations for Boston in April before the season started? The team that couldn't put together consecutive quality games in the first half of the season?

They're back.

Well, maybe not all the way back. But in last weekend's convincing sweep of Ohio State in front of a rabid home crowd, the Wolverines gave notice to the rest of the conference that they are the team to beat – how long have we waited for someone to assume that role? – for the CCHA regular season title.

"We have to feel good about the weekend," coach Red Berenson said following his team's 7-1 dismantling of the Buckeyes. "We had a lot of good individual efforts. I keep saying that we had a lot of guys who can play better. Well, we had a lot of guys playing better."

Need further evidence? Just close your eyes and point at anyone on Michigan's line chart Saturday. The team's defensemen were a combined +11 that night while doing a marvelous job of limiting the Buckeyes to 16 shots on goal. Freshman blueliner Matt Hunwick had three assists in the game (for a total of five on the weekend).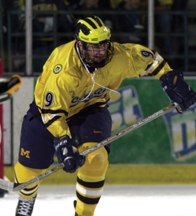 Michigan's Milan Gajic had "his best weekend as a Wolverine" according to coach Red Berenson.
The team's forwards were just as impressive. Leading scorer T.J. Hensick recorded a pair of highlight-reel helpers, one each to linemates Brandon Kaleniecki and Milan Gajic, who now has at least one goal in four of his last five outings. Jason Ryznar, still getting up to speed after missing the first seven games with an injury, had an assist to go along with his team-high six shots. And Dwight Helminen, who had three goals coming into the game, scored four Saturday.

"Gajic had maybe his best weekend as a Wolverine," Berenson said. "This was [Ryznar's] best weekend [of the season]. Guys like Ryznar and Gajic and [Helminen]…if they start scoring as well as playing better, it improves the chances of our team being the better team. We don't know what the potential of this team could be."

In order for Michigan to reach its potential, they've got to maintain the urgency they displayed during the Ohio State series. The schedule also works in the Wolverines' favor. After an exhibition contest with the U.S. Under-18 Team Saturday, they play seven of their next 10 games at Yost Ice Arena. That stretch includes two-game home sets against Lake Superior, Bowling Green and Miami – the RedHawks currently share the top spot in the CCHA standings with Michigan, but haven't won in Ann Arbor since 1994.

"These are big games," said sophomore forward Jeff Tambellini, who had two assists Saturday. "I think we can take advantage of the next couple weekends and really put ourselves toward the top and in good position for the playoffs."

Helminen expressed similar sentiments when asked if the Ohio State series could serve as the team's launching pad for the second half of the year.

"This weekend has that potential," he said. "This could be that weekend…a tough series at home and we come out on top with a lot of confidence. Our priority right now is to take this weekend and build on it."

SEEN AND HEARD IN THE CCHA

AL'S GOAL RYTHYM – He and his teammates are on the cover of this week's edition of The Hockey News. Less than two weeks ago, he was honored in Finland as the world's top goaltender in his age group after outdueling the National Hockey League's goaltender of the future in the finale. The league's Central Scouting Service has pegged him as the top North American goalie eligible for the 2004 NHL Draft. But last weekend in Ann Arbor, it was business as usual for the Al Montoya.

The sophomore, who helped the U.S. team to its first gold medal at the recently completed World Junior Championships, did his part in the sweep of Ohio State by stopping 42 of the 45 shots he faced on the weekend. No evidence of a post-tournament hangover.

"You really can't think about your own accomplishments too much," Montoya said Saturday as he completed a gauntlet of interviews with media members. "You've got to take it with a grain of salt and realize that you've got to step back on the ice, like I did this weekend."

An unlikely hero for the gold-medal winning U.S. team at the World Junior Championship – Maine's Jim Howard would've been the No. 1 goaltender had he not sustained a freak injury just prior to the tournament – Montoya's play in Finland makes him a lock to be chosen in the first round of this summer's draft. And while he made the most of the opportunity, Montoya said the loss of Howard had no effect on his preparation for the WJC.

"It didn't change my mindset at all," Montoya explained. "I went in with the mindset that whatever I had to do to support the team on the ice or off the ice, I was going to do it."

It seemed like everyone wanted a piece of Montoya since he returned from Helsinki last week. In fact, he left his mother waiting in the Yost Ice Arena for about a half-hour after Saturday's win as he finished up a bunch of interviews.

"After a full day of travel and getting back on the ice," he said, "I'm ready for a little break."

FAIRBANKS FORTUNE – Obscured by the dust that had yet to settle following Alaska-Fairbanks' third-period collapse against Western Michigan last Friday (more on that later) was the brilliant play of freshman defenseman Nathan Fornataro, who proved that he warrants mention with Hunwick, A.J. Thelen of Michigan State and Notre Dame's Wes O' Neill on the list of the CCHA's top young blueliners.

"We tried to bring him along slowly," said Nanooks coach Guy Gadowsky, "but he played so well and complemented [sophomore rearguard] Jordan Hendry so well, he continues to give him reasons to put him out there. He's earned everything he's gotten."

Fornataro, who logs significant time on special teams, showcased his talents at Lawson Ice Arena against WMU. Most impressive was a power play goal the Calgary native scored to give UAF a 1-0 lead late in the second period Friday. Noticing that the Bronco penalty killers were leaving the back door open when the puck swung over to the opposite side of the ice, Fornataro snuck from the point down to the goal mouth. Hendry, who manned the other point, couldn't make the pass to him initially, but found him all alone for an easy tip-in when the puck swung back to the point.

With two goals and six assists in 20 games, Fornataro isn't exactly Brian Leetch but he is a capable offensive threat. He's solid on both ends of the ice, skates extremely well, is good with the puck and, at 6-foot-1 and 195 pounds, can play with a physical presence.

"I think his biggest strength is that he's just so intelligent," Nanooks coach Guy Gadowsky. "He's tough to compete against. He's been excellent for us."
Great Weekend Getaway

Notre Dame at Wisconsin (Sat.-Sun.): Rare are the occasions when a CCHA club ventures to the great city of Madison for a two-game series with the Badgers. Of course, this two-game set could be played in Minot and the intrigue would still remain. Both teams rate among the top nine nationally in scoring defense, which is not only a tribute to the blueliners at Wisconsin and Notre Dame, but also a group of solid goalies in the Badgers' Bernd Bruckler and Morgan Cey and David Brown of the Fighting Irish. These contests will be tight affairs – if the game is tied late in regulation or in overtime, keep an eye on Rob Globke, who has a knack for scoring big goals.

While you're there: There are many entertainment options in the Madison area, like Prime Quarter and the Nitty Gritty. Since it's a long weekend for most people, pack up the kids and head about 50 miles northwest of the capitol city on I-90/94 to the tourist trap better known as Wisconsin Dells which features no fewer than a dozen hotels with indoor water parks. Among the best are the Kalahari Resort (125,000 square feet), Treasure Island (more than 1,500 feet of indoor slides) and Wilderness Resort (the nation's largest indoor water park at 200,000 square feet). There's a casino there, too. But you probably already knew that.

Stick Salute

• Michigan's student section is much maligned – and, due to their collective use of profanity, it's warranted – but they deserve credit for the nickname they slapped on 5-foot-6 Ohio State wing and Theo Fleury clone (without all the messy off-ice issues) Andrew Schembri: The Dirty Hobbit.

• Ever had a contest with your buddies at a sporting event where you try to find the fan wearing the most obscure jersey, like a couple years ago when Jess Myers and I spotted a Bears fan who had donned a wash-worn Tom Waddle jersey for his trip to Soldier Field? Credit goes to the Buckeye fan sitting in the front row of Yost Ice Arena clad in the white sweater of All-Name Team Hall of Famer Pete Broccoli.


Bench Minor

Why is it that some guys feel the need to shuffle their skates back and forth during the national anthem? Do they need to use the restroom? Are their feet cold? Whatever the reason, it doesn't seem necessary. Just stand still and, like the Hanson brothers, listen to the song. For crying out loud, it's not "In-A-Gadda-Da-Vida"
FRIES AT THE BOTTOM OF THE BAG

• With the amount of talent that has recently left the CCHA for other playing opportunities – or lack thereof, in the case of R.J. Umberger – it was somewhat of a relief when Jeff Tambellini shunned overtures from the Western Hockey League's Kelowna Rockets and remained in Ann Arbor.

Maybe some opposing coaches, players and fans weren't relieved. But for a league that desperately lacks star power, it was nice to see a marquee name stick around.

"You listen to whatever they've got to say, but when it comes down to it you look at the best situation," Tambellini said. "And I felt that leaving school…doesn't do anything for me at all."

Despite his remarks above, Tambellini's decision to stay wasn't as easy as he made it sound. A source close to INCH reported that the sophomore forward was strongly considering making the jump to Kelowna – which had success in luring college players to the major junior ranks in the past – after the team acquired his rights from the Spokane Chiefs in a trade deadline deal a week ago.

Shortly after the trade was consummated, Kelowna general manager Bruce Hamilton said he was rolling the dice on Tambellini and hoped that the allure of playing for the host Rockets in the Memorial Cup, the Canadian Hockey League's championship event, in May would attract his latest acquisition.

"I wasn't surprised at all," Tambellini said of the trade. "I knew it was coming. It was kind of neat. I've never been traded
before.

• Rick Comley's frustrations with his maddeningly inconsistent Michigan State team came to a head following the Spartans' 3-2 non-conference loss to UMass Lowell Saturday.
"How we can come out flat with the season we're having and not have emotion and be into the game, I don't understand," Comley told Neil Koepke of the Lansing State Journal after the defeat. "I think we have enough players to contend (in the CCHA) because the league is so balanced. But there's not enough urgency, not enough emotion.''

One of the surprising voices calling into question the team's attitude – 17-year-old freshman defenseman A.J. Thelen, who's proven to be a polished spokesperson for the Spartans despite being a rookie.

"We have 25 cheerleaders on this team but nobody in each others' faces," Thelen said Saturday. "That's what we need the most."

Comley, meanwhile, is hoping MSU's upcoming road schedule – the Spartans play eight of their next 10 games away from Munn Ice Arena – will help his troops find the intensity and focus they're missing.

"I'm glad we're going on the road," Comley said. "I think that will be good for us."

• Numbers never lie. With that in mind, here's a big reason why Alaska-Fairbanks is stuck in the middle of the pack in the CCHA and not near the top. Not only are the Nanooks a woeful 2-10-0 on the road, but UAF has squandered third-period leads – including three two-goal advantages – in four of their last five losses away from home.

On the flip side, there's Western Michigan. The Broncos are 9-2-2 at Lawson Ice Arena and in each of their last three home victories they've come from behind to post wins.

• Here's hoping for a speedy recovery for Rem Murray, the former MSU star and current Nashville Predator who's been placed on the injured reserve list while he undergoes treatment for dystonia. It's a neurological disorder causes involuntary muscle contractions. In Murray's case, the malady is affecting his neck.

Dystonia can be passed on genetically, but there is evidence that suggests that it can be influenced by external factors such as a blow to the head. Doctors who've examined Murray recently – one in Toronto, one in Nashville – believe his case has nothing to do with a hockey-related injury.

The disorder cannot be cured, but treatments are available to keep dystonia under control. Murray, who has 17 points this season, has begun taking medication and could be back in the lineup in as little as two weeks.

• Once a RedHawk, always a RedHawk. Tampa Bay defenseman Dan Boyle, as most of you know, was an All-American at Miami, a school noted for – how do we put this? – its female student population that is easy on the eyes. So when The Hockey News, as part of its weekly question-and-answer segment, asked Boyle what move he'd first make if he were commissioner of the NHL, his reply came as no surprise.

"I'd lower ticket prices," said Boyle, "for good-looking women."

• This week's Obscure Bowling Green Note of the Week comes to us courtesy of the CCHA's weekly press release, which recounts an unusual game between the Falcons and Northern Michigan in Marquette nearly 21 years ago. In that game, BGSU thought it had earned a 7-6 overtime win over the Wildcats when future NHL stalwart Garry Galley scored, but the goal was disallowed because the defenseman used an illegal stick – when a guy puts just one strip of tape across his blade, it kind of makes you wonder in the first place. Undaunted, Galley came back later in OT with a legal branch and scored a legit goal. Crime, it should be noted, does not pay.

• A bonus BG note: Mike Emrick, a Bowling Green graduate who serves as the play-by-play voice on New Jersey Devils' television broadcasts, was named one of three recipients of the NHL's Lester Patrick Award. The award signifies outstanding service to hockey in the United States. Emrick, fellow broadcaster John Davidson and long-time executive Ray Miron will be feted March 16 in New York City.

A variety of sources were utilized in the compilation of this report.

Send this to a friend
About Us | Advertiser Info | Site Map | Privacy Policy
© 2004 Inside College Hockey, Inc., All Rights Reserve