March 13 , 2003
Ready for Prime Time
By Mike Eidelbes
CHA
REGULAR-SEASON RECAP
TOURNAMENT PREVIEW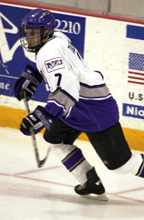 Niagara's Joe Tallari ranks sixth in the NCAA in points and is INCH's choice for CHA player of the year.
Related Links
Tournament Preview
No. 1 Alabama-Huntsville
Record: 18-13-3 (13-5-2 CHA)
Charger Fact: Alabama-Huntsville has advanced to the CHA title game every year since the tournament's inception in 2000, finishing second on all three occasions.
How They Win: They can outscore the opposition – the Chargers are 15-3-0 this season when they get four or more goals a game – but they need to focus defensively. Alabama-Huntsville allowed 24 goals during a season-ending, five-game winless streak, which may put the onus on the freshman goaltender Scott Munroe.
No. 2 Niagara
Record: 15-16-5 (11-4-5)
Purple Eagle Fact: Junior Joe Tallari's 54 points are a CHA single-season record, breaking the mark set by Niagara's Mikko Sivonen (52 points) in 1999-2000. He'll also own the league mark for goals in a season with one more tally – the previous best was set in 1999-2000 by Niagara's Ryan Martin (26 goals).
How They Win: Don't change a thing offensively, as the Purple Eagles have been on a roll for the last eight weeks, and hope they've solved their Wayne State curse – prior to two wins against the Warriors last month, Niagara was 0-10-1 all-time against WSU.
No. 3 Wayne State
Record: 18-16-2 (11-7-2)
Warrior Fact: Bill Wilkinson is the only CHA coach with an NCAA Division I tournament appearance under his belt. He guided Western Michigan to the NCAAs in 1986.
How They Win: Every team needs good goaltending to have a chance to win. The difference with the Warriors is that senior David Guerrera can steal games by himself.
No. 4 Bemidji State
Record: 12-13-8 (10-6-4)
Beaver Fact: Fans are sure to get their money's worth when watching Bemidji State. The Beavers played an NCAA-record 14 overtime games this season.
How They Win: Like a Flying Wallenda, netminder Grady Hunt has worked without a net this season. BSU has a great shot if the offense, led by forward Marty Goulet, can get three or more goals. You gotta like the Beavers in tight games; it's certain this team won't panic in OT.
No. 5 Findlay
Record: 10-20-4 (3-13-4)
Oiler Fact: Their fifth-place finish this season marks the first time Findlay has avoided the CHA cellar since the conference's inception.
How They Win: With three "A" games from goaltender Jamie VandeSpyker, who has a respectable 89.7% save percentage, and score early for their backstop. The Oilers have a CHA-low 20 first-period goals.
No. 6 Air Force
Record: 10-22-3 (2-15-3)
Falcon Fact: Air Force started the season 2-4-0 in conference play – then went 0-11-3 over the rest of the league slate.
How They Win: Keep it close and hope for some puck luck. Over the team's last 19 games, Air Force is 2-13-3. The Zoomies scored a total of 11 goals in the two wins and 25 goals in the other 16 contests.
This year marks the fourth College Hockey America playoff tournament, but in many ways it's the start of a whole new era for the conference. For the first time in the league's history, the big carrot at the end of the stick – an automatic NCAA tournament bid – awaits the winner of Sunday's championship game.
Picking a favorite to advance, however, isn't easy; Spaulding Smails had an easier time choosing an entrée for lunch at the turn at Bushwood Country Club. But what the CHA tournament lacks in predictability, it should more than make up for in excitement, which is partly fueled by residents of the host city of Kearney, Neb., who will roll out the red carpet at 4,500-seat Tri-City Arena for the six competitors.
The Favorite
If one had to pick one team – and that is the purpose of this piece – Alabama-Huntsville is probably the choice. Not only did they win the Peters Cup as CHA regular-season champion, but as the top seed, they'll avoid running into two-time defending tournament champion and No. 3-seed Wayne State until the final game.
This selection isn't based solely on matchups, mind you. The Chargers are a veteran group (11 seniors on the roster) and boast a balanced attack (10 players with 20 or more points). Coach Doug Ross' squad is paced by his son, sophomore center Jared, who notched 20-20-40 in 34 games and a solid trio of offensive defensemen in freshman Jeremy Schreiber and seniors Ryan Leasa and Tyler Butler. Mark Byrne and Scott Munroe are the league's best goaltending tandem.
Gate Crashers
For all of Alabama-Huntsville's experience and success – they've been to the CHA title game three straight seasons – they've never won the league's postseason crown. Wayne State, meantime, earned the third seed with a disappointing 11-7-2 mark, but the Warriors have been the victors in each of the last two conference tournaments. Coach Bill Wilkinson brings a dozen seniors to Kearney, including goaltender David Guerrera – the conference player of the year in 2000 and 2001 – and high-scoring forwards Jason Durbin and Derek MacKay.
Working in Wayne State's favor: the team enters the weekend on a season-high, four-game winning streak. Working against the Warriors: they went 2-5-1 against Niagara and Alabama-Huntsville in the regular season.
INCH's All-Conference Team
G – Grady Hunt, Bemidji State: The junior had little margin for error, as the Beavers ranked last in the CHA in scoring offense (2.64 goals per game), but Hunt posted a phenomenal 11-9-5 record, a 2.50 GAA and a 91.3% save percentage.
D – Tyler Butler, Alabama-Huntsville: One could make a case for any of the Chargers' three top defensemen, but we'll take Butler over Schreiber and Leasa for his versatility and consistency (20 points this season, 82 for his career).
D – Tyler Kindle, Wayne State: Mr. Dependable for the Warriors on the blue line, Kindle is one the ice in every situation. Of his 24 points this season, 14 were scored against CHA opponents. He needs five points to eclipse the 100-point plateau for his career.
F – Joe Tallari, Niagara: The league's runaway leader in goals (26) and points (28). Tallari ranks fifth in the NCAA in goals and is tied for eighth among Division I skaters in points. The scary part: Tallari and all but two of his mates return next season.
F – Jared Ross, Alabama-Huntsville: He can score goals (20 this season) or set 'em up (20 helpers). He's also a demon on the power play, as evidenced by his nine markers with the extra man.
F – Dustin Kingston, Wayne State: Averages a point a game with 36 points in as many outings. Kingston plays a major role on the Warriors' league-best power play – he's picked up 16 points on the PP this season.
Coach of the Year
With only two seniors and 10 freshmen on the roster, Niagara's Dave Burkholder managed to keep his team together during a 5-12-2 start. Despite the rough start, the Purple Eagles showed signs of life – including a win and an overtime loss at Michigan State and two narrow losses at North Dakota. Niagara turned the corner in mid-January, winning four in a row en route to a 10-3-3 second-half record, a run that included sweeps of both Wayne State and Alabama-Huntsville.
Player of the Year
Niagara's Joe Tallari wins this honor running away, and it's not just because he leads the league in scoring. He's scored a point in all but six of the Purple Eagles' games this season, and has been held scoreless in consecutive games just twice - and both occurred in the first half of the year.
Tallari has been a standout in games against competition from outside of the conference: witness his hat trick against Mass.-Lowell, two goals in three assists in a two-game series at North Dakota, two goals and an assist in a pair at Michigan State and a couple of goals and an assist in a game against Western Michigan.

Freshman of the Year
There are a number of worthy candidates for this honor, but we'll take Alabama-Huntsville defenseman Jeremy Schreiber over teammate Scott Munroe, Wayne State's Derek MacKay and Andrew Radzak of Findlay. Schreiber made the difficult transition from the junior ranks to college look relatively easy. His 20 points ranks tied for fourth among CHA blueliners and also ranks third among league rookies.
Breakthrough Player
Findlay center Nick Udovicic averaged a point a game for the Oilers. The junior from Burnaby, B.C., who came into the season with 11 goals and 15 assists, tallied 10 goals and 16 assists in 26 contests this season. He was an integral part of the Findlay offense, which struggled in part due to the sophomore slump of forward Rigel Shaw, who scored nine goals this season after picking up 18 markers as a rookie.