September 26, 2003
2003-04 CHA Preview
By James Jahnke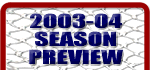 THE SKINNY
College Hockey America won't be winning a national championship any time soon. But, in the words of Air Force coach Frank Serratore, "The winner of our league won't embarrass themselves in the NCAA Tournament, either."

No argument there. Not after Niagara shocked New Hampshire in 2000 or Wayne State thoroughly tested No. 1 Colorado College before falling in the first round last year. The conference, the smallest in Division I college hockey, has also started to make significant noise in the regular season. Two of CCHA champion Ferris State's 10 losses last year came to Alabama-Huntsville and Wayne State. Michigan State, Minnesota-Duluth, Clarkson, Michigan Tech, St. Lawrence and Princeton also became notches in the CHA's belt in 2002-03. It's a safe bet that more schools from the four established leagues will be added to the list this year, as College Hockey America continues to fight for respect on the national level.

The easiest way to earn that recognition is to make use of the conference's automatic bid into the NCAA Tournament and pull off a few more high-profile upsets. One of these six teams will get such a chance this season, although, on paper, it might be just a two-horse race.
BREAKTHROUGH TEAM
Hold up a sec. Wasn't Bemidji State supposed to be the breakthrough team last year? That's what your friendly INCH prognosticators foresaw – and they were right to a degree. The Beavers improved from 12-18-5 in 2001-02 to 14-14-8 last year, and finished tied for third in the league with Wayne State. Look for another jump up the standings this season. After losing a minuscule amount of players to graduation, coach Tom Serratore complemented the large returning cast with a solid group of freshmen. Gritty forward Andy Murray makes the offense go, while Grady Hunt is the league's best between the pipes. A brutal nonconference schedule will simply make things slow down for the Beavers in league play.
PRIMED FOR A FALL
Wayne State made the most of their senior-laden club last year, winning the CHA tourney and then scaring CC in the Big Dance. But coach Bill Wilkinson knew this day was coming. Rebuilding. The Warriors lost 12 players to graduation, including goaltender David Guerrera and forwards Dustin Kingston and Jason Durbin. With a schedule that includes Michigan State, CC, Denver and Northern Michigan, they'll be hard-pressed to duplicate last year's 21-17-2 record.

PRESSURE TO PERFORM

Niagara goalies Rob Bonk and Jeff VanNynatten both played a bunch last year. Sometimes, they were great. Sometimes, well, the goal judge got a workout. Both tenders posted save percentages under .900, which ultimately saddled Niagara with the second-most goals against in the conference. VanNynatten, then a freshman, played more often, but Bonk, then a junior, had better numbers. Coach Dave Burkholder will probably split time again, unless one of them distinguishes himself during training camp or early in the season. Whoever is in the crease will be aided by the Purples Eagles' high-powered offense, but if Niagara has serious designs on qualifying for the national tourney, Bonk and VanNynatten must tighten up.
TOUGHEST ACT TO FOLLOW
Expectations in northern Ohio aren't overwhelming, but Findlay coach Pat Ford is taking over for the only coach in the Oilers' seven-year history, Craig Barnett. Barnett departed for the junior ranks about a month ago and left Ford with a hard-working, if outmanned, club at Findlay. The late summer shakeup inevitably will be a distraction to the Oilers, although the fact that Ford was Barnett's associate coach last season helps smooth the transition. Ford's team might be in over its head in the early going (especially the season-opening IceBreaker tournament), but if the players buy into his mantra of "not being out-worked by anyone," he should have them competitive in the league play.
BEST PLAYER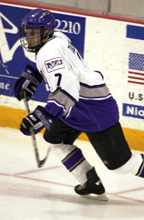 This one ain't too tough to pick. Niagara forward Joe Tallari (right) ran away with the league scoring title and finished 11th in the nation with 26-29-55 last season. And he wasn't just abusing the cupcakes on the Purple Eagles' schedule. The 5-foot-11, 180-pounder from Thunder Bay, Ont., scored twice against Michigan State, North Dakota and Western Michigan and registered a hat trick against UMass-Lowell. His offensive proficiency made him one of 10 Hobey Baker semifinalists, and he could make another run at the trophy with similar numbers this season. Helping his cause, he'll have plenty of big-time games in which to shine with Michigan, Boston University, Denver and Ferris State dotting the schedule.

BEST NEWCOMER

League coaches couldn't point to one recruit who will come in and flip the CHA on its head. As a whole, Wayne State might have signed the best freshman class, and Wilkinson is especially high on 5-foot-9, 173-pound Jason Baclig of Leamington, Ont. The 21-year-old Baclig played five seasons with the Leamington Flyers in the Western Ontario Junior B League, where he ranked fourth in scoring (28-34–62) in 48 games last year. He had 107 points in 54 games the year before, and Wilkinson calls Baclig "one of those talented little players." He could see a lot of ice time, considering the inexperience of the Warriors' corps of forwards. Also keep an eye on Alabama-Huntsville's Dominik Rozman, a left wing from Wallaceburg, Ont. He had 38 goals and 32 assists in 48 games in the WOJHL last season.
UNSUNG PLAYER
Air Force forward Shane Saum was only the fourth-leading scorer (5-10–15) on the worst team in the CHA last year, but Frank Serratore wouldn't trade him for anyone. Nor would his teammates, as evidenced by the players' vote that elected Saum as the team captain this season. The 5-foot-11, 180-pounder "will be a good Air Force officer one day," Serratore predicted. "Every night, he leaves everything he has on the ice." Aside from his leadership duties, Saum will be the Falcons' top offensive threat this season. His 27 career goals are by far the most on Air Force's roster.
THREE BURNING QUESTIONS
1. For whom does Mrs. Serratore root when brothers Tom and Frank coach against each other? It's a relevant question considering Air Force and Bemidji State play in the family's hometown of Coleraine, Minn., in January.

2. Does anyone in the league have a better name than Air Force forward (and assistant captain) Spanky Leonard? Leonard was among the Falcons' scoring leaders last season.

3. How will Wayne State adapt to its new digs at Compuware Sports Arena, which is about a 35-minute drive from campus?
MARK IT DOWN
Four things you can take to the bank in the CHA this season
1. The conference race will go down to the final weekend when Niagara visits Bemidji State.
2. Speaking of the Beavers, they'll win at least three of their eight games against in-state WCHA competition (but not against the Gophers).

3. Tallari won't lead the nation in scoring, but he'll be close enough to again make the Hobey list of 10 finalists.
4. Rebuilding Huntsville will come perilously close to finishing under .500 for the first time in 13 years. But behind star-in-the-making Jared Ross (son of head coach Doug), the Chargers will pull it out in March.
Predicted Finish

No.

School
Of Note

1.

Tallari and Barret Ehgoetz form the best 1-2 offensive punch in the league.

2.

Bemidji State
Beavers account for 50 percent of preseason All-CHA
team (Murray, Hunt and D Bryce Methven).

3.

Alabama-Huntsville
Chargers lost nine seniors from regular-season championship squad.

4.

Wayne State
Young Warriors "will be a different team from the beginning of the season to the end," coach Wilkinson vows.

5.

Findlay
New coach Ford cut his coaching teeth as an assistant under Jeff Sauer and Rick Comley.

6.

Air Force
Falcons folded under high expectations last year, but they won't have to worry about that this season.

Send this to a friend
About Us | Advertiser Info | Site Map | Privacy Policy
© 2003 Inside College Hockey, Inc., All Rights Reserved