December 18, 2003
2003-04 CHA Mid-Season Review
By James Jahnke, Mike Eidelbes and Nate Ewell

SURPRISE TEAM
Air Force. They've posted records right around the .500 mark in five of the last six seasons. But Air Force padded their win totals by beating Division III foes - teams such as St. Olaf, Potsdam State and Manhattanville. The D-III opponents are no longer on the Falcons' slate which is fine, because coach Frank Serratore's charges are faring quite nicely without the sacrificial lambs, thank you very much. Their 7-8-1 record includes a shutout win against Miami at the Nye Frontier Classic in Anchorage in October, but their losses might be more impressive. The Falcons dropped overtime decisions to Quinnipiac and Niagara, lost a one-goal game at Alaska Anchorage and a 4-2 loss to Colorado College in a game that was tied at two midway through the third period. Not bad for a team that's played two-thirds of its games on the road.
SURPRISE INDIVIDUAL
Coming into the season, sophomore goaltender Scott Munroe was considered a key to Alabama-Huntsville's chances of winning the conference championship, and rightly so. After all, he posted an 11-6-1 record, a 2.80 GAA and a .917 save percentage as a rookie. But while Munroe has stumbled out of the gate this season – he's given up four or more goals in all but one of his starts and has one win to his credit – little-used senior Adam MacLean has stepped to the forefront for the Chargers. MacLean, the owner of an 8-11-1 career record coming into the year, is 3-2-0 with a 2.22 GAA and a .932 save percentage, ranking eighth nationally in the latter category.
BEST NEW FACE
While Niagara hopes forward Joe Tallari has regained his scoring touch after notching a pair of goals in last weekend's win against UMass Lowell, the play of freshman Jeremy Hall has helped ease the offensive burden as Tallari attempts to get untracked. Lining up to the right of high-scoring Barret Ehgoetz on the Purple Eagles' top line Hall has 11 goals, including three power-play tallies, thus far. Although he's only 5-11, his proclivity around the net and effectiveness with the man advantage reminds us of another right wing named Hall – former Michigan State standout Adam, who's now with the Nashville Predators.
WHAT HAPPENED TO …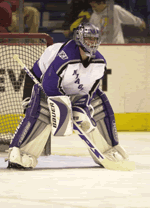 Jeff VanNynatten has emerged as Niagara's No. 1 goaltender.
Niagara goaltender Rob Bonk, who entered the season with nearly 80 starts to his credit, has served as the primary gate-opener on the team bench as sophomore Jeff VanNynatten seized control of the Purple Eagles' starting job. The two were expected to split netminding duties this season. Not only has VanNynatten assumed No. 1 duties for Niagara, but Bonk has slid to the third goalie on the Niagara depth chart. Freshman Allen Barton has played in five games this season, two more than the senior from Fenton, Mich., a former member of the U.S. Under-18 team.
BIGGEST UPSET
Some of the nation's most stunning upsets belong to the CHA, with Niagara beating New Hampshire, Air Force beating Miami and Findlay and Wayne State beating Michigan State. The most impressive of all, however, came against a team not even in the INCH Power Rankings. Niagara trailed UMass Lowell 5-0 with six minutes remaining in the second period before performing one of the biggest turnarounds anyone could remember. Four goals in the final 5:50 of that period got things turned in their direction, and Joe Tallari and Justin Cross scored the tying and winning goals in the third. "I have been coaching for 18 years," former Purple Eagle head coach and current UMass Lowell mentor Blaise MacDonald said, "and I can't recall anything close to what I experienced tonight."
TOUGHEST ROAD OUT
Pat Ford knew just over a month before the season started that he would be the new head coach at Findlay. He must've known long before then – as an assistant coach and one of the people who put together the Oilers' schedule – that they faced a monumental task in the first half of the year. Ford's team has already traveled west to Colorado, east to Upstate New York, and just a little northwest to East Lansing already this season, compiling a 1-5-0 record against "Big Four" opponents thanks to the season-opening upset at Michigan State. The Oilers' CHA schedule hasn't been as challenging, with five of six games at home, but their lone conference win came on the road, at Wayne State. Things don't get easier to kick off the second half of the schedule, with a visit to North Dakota's tournament and Notre Dame on the immediate horizon. But while the travel may be a bit more grueling in the second half, at least the competition they've faced should have Ford's troops prepared.
TOUGHEST ROAD IN
Maintaining in-state rivalries assures Bemidji State of a difficult schedule, and the Beavers will feel the brunt of it in early February. Four straight road games against Minnesota and St. Cloud State land smack-dab in the middle of the pursuit of a conference title – which in itself promises to be difficult. All four games against CHA leader Niagara remain, plus trips to Wayne State and Air Force.
MUST-SEE SERIES
Seventy percent of the conference slate remains, so there's plenty of time to make up ground. But at this point, Niagara and Bemidji State, with one loss between them, appear ready to battle it out for the regular season title. If that's the case, it will likely come down to the Purple Eagles visit to John Glas Fieldhouse on the final weekend of the year, March 5-6. Expect close games: last year the two teams split their series, 1-1-2.
BIGGEST QUESTION REMAINING
Must you have a senior-laden roster to compete for the CHA championship? It would seem that way, given that Wayne State earned the league's first NCAA Tournament auto-bid largely on the strength of its 12 seniors and Niagara, this year's favorite, has nine skaters in their final year of eligibility. More important, however, is the big-game experience of these teams. Wayne State had the confidence to win three games at last year's CHA Tournament thanks to non-conference victories against opponents such as Ferris State, Michigan Tech and St. Lawrence. Already this season, Niagara has wins against New Hampshire, Western Michigan and Mass.-Lowell. Don't be surprised if the Purple Eagles go west next week to the Wells Fargo Denver Cup and give the host Pioneers a first-round scare.
INCH's First Half All-CHA Team

Pos.

Player
Of Note

G

Jeff VanNynatten, Niagara
His numbers in league games (1.78, .938) are impeccable and he has led the Purple Eagles to a win over New Hampshire and a tie against Ferris State.

D

John Haider, Bemidji State
Haider has earned his tuition by leading all CHA rearguards with four goals this season. He scores them in big games, too.

D

Nate Markus, Findlay
You don't hear much about him, but Markus is tied for second on the Oilers in scoring (1-8—9) and is steady on the blue line.

F

Barret Ehgoetz, Niagara
Ehgoetz (13-11-24) is doing what Joe Tallari was supposed to, leading the league and ranking tied for third nationally in both points and goals.

F

Jeremy Hall, Niagara
This New Jersey product has easily been the league's best rookie thus far.

F

Jared Ross, Ala.-Huntsville
The son of coach Doug Ross is making dad proud with 16 points in just 10 games.

Send this to a friend
About Us | Advertiser Info | Site Map | Privacy Policy
© 2003 Inside College Hockey, Inc., All Rights Reserved