June 22, 2003
Seen and Heard at Day Two of the Draft
On Your Mark
By Mike Eidelbes
NASHVILLE – Mark McCutcheon had to chuckle when asked if he heard a round of applause from the Buffalo Sabres' draft table after he was chosen in the fifth round by Colorado.
McCutcheon, who'll be a freshman at Cornell in the fall, is the son of Buffalo assistant coach Brian McCutcheon. The senior McCutcheon was a standout at Cornell from 1969-71 and also coached there for eight years. And while the bulk of the fanfare surrounding the draft disappeared after the conclusion of Saturday's first round, McCutcheon was basking in the moment in front of hundreds of fans at the Gaylord Entertainment Center Sunday morning.
"I wanted to make sure I was down here to take in the draft,"said McCutcheon, a six-foot, 177-pound foward. "I'm trying to enjoy my time down here."
He's also planning to enjoy his time with the Big Red. McCutcheon says he'll move to Ithaca soon to begin training with his teammates. And he's hopeful that he can help coach Mike Schaefer's team back to the Frozen Four this season.
"I really hope we can get (to the Frozen Four) a couple of times," he said. "And hopefully the Cornell style of play gets me prepared for the pro level."
MAINE MAN
Maine forward Greg Moore said he was disappointed with his play during the second half of the Black Bears' season. And, as the 69th ranked North American skater in the Central Scouting Service final rankings, it would be natural for Moore to be disappointed after being selected by Calgary in the fifth round with the 143rd overall pick.
Not the case said Moore, a six-foot, 206-pound foward.
"You take milestones like this and use them to your advantage," said Moore, who scored nine goals and added seven assists in 33 games as a freshman. "I was happy with the the way I played in the first half of the season, but I wasn't happy with the second half, especially after the World Junior Championship."
CONFIDENT CHRIS
Say this about Nebraska-Omaha recruit Chris Holt: he's not at all intimidated by the prospect of battling Dan Ellis for playing time next season.
Holt, who played for the U.S. National Team Development Program last season, was picked in the sixth round by the New York Rangers. He's well aware that Ellis, a second-round selection of the Dallas Stars in 1999, has been the man in goal since he arrived in Omaha prior to the 2000-01 campaign. But he also feels his presence can help Ellis' game, and vice versa.
"He knows how to play college hockey, but I'm not going in with no experience," Holt said, referring to the NDTP's slate of games against college opponents. "It'll be good for me to watch him, because he's so poised in the nets."
While Holt is mindful of Ellis' achievements at UNO, he also knows the incumbent has logged yeoman-like duties between the pipes for three seasons with little or no relief.
"It's been the Dan Ellis show for three years," Holt said. "I'll push him and he'll push me. I've never set a goal I haven't met."
NOW WE'RE COOKING
Even in the latter stages of the draft, NHL clubs claim they got "their guy" with their latest selection. That's what Ottawa Senators officials were telling the media when they selected Michigan recruit Tim Cook in fifth round with the 142nd overall pick. The excitement from the Sens' camp, however, seemed genuine.
"We really like his upside," said Ottawa scout Ken Williamson of the 6-foot-4 defenseman who played with River City in the United States Hockey League last year. "He did fall down further than we thought, but we've been following him for two months."
Williamson said the Senators are enamored with Cook's frame and his skills, but admit he needs to add some pounds. But they're also confident he'll be able to properly develop under the tutelage of Red Berenson in Ann Arbor.
"We like the situation he came out of," Williamson said, "and we like the situation he's going into."
LOU LIKES COLLEGIANS
Lou Lamoriello, president of the Stanley Cup champion New Jersey Devils, is the head man in one of the NHL's most college-friendly organizations – the Devils have guys like John Madden, Brian Gionta and Brian Rafalski on their roster, and count David Hale, Paul Martin and Zach Parise among their recent draft selections.
Lamoriello is a former Providence player and coach. He says his club doesn't focus on going the college route, but admits it's worked out well for them.
"You can watch (college players) grow ... you can watch them develop," he said. "We've had some success, and success breeds success."

As for the team's most recent first-round selection – North Dakota's Parise – Lamoriello says the Fighting Sioux forward brings a lot of skills to the table, some of which are easier to quantify than others.
"His heart ... is something that doesn't come up in statistics," Lamoriello said. "It's something intangible that is tangible in our organization."
NOTEBOOK
• More from the Devils, who used a sixth-round pick to take goaltender Jason Smith. Smith, who spent last season with Lennoxville in the Quebec Junior Hockey League, will start his freshman campaign at Sacred Heart this fall. He was the lone MAAC player taken in the draft.
• From the "he ain't heavy, he's my brother" files, Michigan State recruit Drew Miller, sibling of 2001 Hobey Baker Award winner and former Spartan goaltender Ryan, was selected in the seventh round by the Mighty Ducks of Anaheim, where his cousin, Kelly, was once an assistant coach. New Hampshire freshman-to-be Brett Hemingway, brother of former Wildcat standout Colin, was taken by Colorado, also in the seventh round.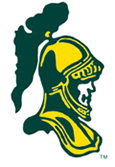 • Judging from a glance at of the team's 2003 draft list, it's apparent that Los Angeles Kings general manager Dave Taylor and his staff of scouts have developed quite an affinity for college and college-bound players.
In the first round, the Kings chose Boston College recruit Brian Boyle and Michigan sophomore-to-be Jeff Tambellini. They took North Dakota recruit Brady Murray – son of L.A. head coach Andy Murray – in the fifth round. In round eight, the Kings picked a pair of incoming freshmen in Matt Zaba (Colorado College) and Mike Sullivan (Clarkson). The team closed the day by choosing Marty Guerin, who'll be a rookie at Miami this fall.
Taylor is a Clarkson graduate, as is one of the club's scouts, Greg Dreschel. Dreschel was a finalist for the Clarkson head coaching position but accepted an assistant coaching job alongside the new head coach, George Roll. Dreschel was at the Kings' draft table this weekend, but will spend next year behind the bench with the Golden Knights coaching, among others, Sullivan.
• One way to earn the ire of pretty much everyone in attendance at a draft: use more than your allotted time to make a ninth-round pick. That's what Florida did in Sunday's final round with its 265th overall choice when they selected Tanner Glass from the British Columbia Hockey League.
Glass is headed to Dartmouth, and his selection was part of a big weekend for the Big Green. Following up on Hugh Jessiman's selection by the New York Rangers at No. 12 overall on Saturday, Lee Stempniak was taken in the fifth round by the St. Louis Blues. Finally, David Jones – who has committed to Hanover for the 2004-05 season – was selected by Colorado in the ninth round. Dartmouth had never had more than two players taken in any one draft before.

Send this to a friend
About Us | Advertiser Info | Site Map | Privacy Policy
© 2002, 2003 Inside College Hockey, Inc., All Rights Reserved