November 6 , 2002
East Notebook
ECAC | HOCKEY EAST | MAAC
Yann's no one-man band at Brown
By Nate Ewell
When you do something for the first time in over a century, you deserve some headlines.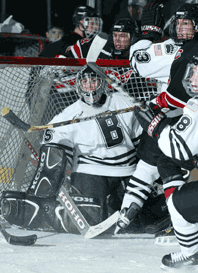 The best goalies in the East, at this point:
1. Yann Danis, Brown
2. Dave LeNeveu, Cornell
3. Mike Ayers, New Hampshire
4. Jim Howard, Maine
5. Nolan Schaefer, Providence
Check back soon for this week's West Notebook
This week's schedule
Such was the case for Brown goaltender Yann Danis, whose 4-0 win over Harvard in the Bears' opener marked their first shutout win over the Crimson since the schools' first meeting – January 19, 1898.
That's a "first-time-since" note that can't be duplicated in college hockey. Brown-Harvard is the sport's longest-running active series, covering 138 games since that 1898 meeting.
Danis may be the best goaltender in the East – as we think he is (see text box, right) – and he gets the majority of the publicity from the Brown locker room. Quick, if you're not a Brown fan, name five other Bears. It's like naming early '80s Saturday Night Live cast members other than Eddie Murphy and Joe Piscopo.
But you can expect this season's Brown club to turn in a better overall performance than those lean SNL years. Head coach Roger Grillo says that while Danis's performance in net is a big part of the reason, he also helps by handling the spotlight with grace.
"What's critical in (that type of situation) is the person himself," says Grillo, in his sixth season leading the Bears. "Yann makes it easy on everybody because he's humble and easy-going. He'd be the first to tell you that we have a solid group of defensemen. Our guys play solid team defense, and that's what's going to make us successful."
When pressed, Grillo identifies a trio of seniors as other keys to Brown's success – Ty Korbl, Keith Kirley and Chris Legg. But clearly he instills the belief that, beyond Danis's heroics, Brown needs a team effort if it hopes to challenge for the ECAC title.
"In our league, the intangibles are critical," says Grillo. "There's not a big difference between each team. The key for us in any game is how hard we work. We have to use our depth and skating ability to our advantage."
A total team effort – and 30 saves from Danis – delivered the 4-0 win over Harvard, Danis's fourth career shutout (a Brown record). That win over an arch-rival – coupled with last season's turnaround and the recent renovations to Meehan Auditorium (see last week's notebook) – has excitement running high on College Hill.
"There's a lot of real positive energy around the rink and on campus," Grillo says. "Monday's practice was exciting. Part of the key for us is to use that energy, and part of it is to forget about last weekend and move on."
FIVE MORE NOTES NO FAN SHOULD BE WITHOUT
Yeah, What They Said
"I don't want to lose your love tonight."
– The Outfield
Which of Hockey East's two remaining unbeatens – Boston College or Providence – will suffer a loss first?
We tried to consult our favorite gypsy fortune-teller (Elizabeth from Weirs Beach, N.H., if you're wondering). She closes up shop in the off-season, though, so it's up to us to evaluate the odds.
Boston College faces Merrimack Thursday night, and the Warriors have already given BU and UNH fits.
Providence plays a home-and-home with Northeastern, starting in Matthews Arena. That can be a tough place to play, but the Friars are 7-3-0 in their last 10 trips.
The guess here? The Huskies might steal a point from Providence, but both BC and PC will stay unbeaten – heading into their meeting on Tuesday, Nov. 12, at Providence.
1. Trouble in the North Country – Clarkson University, its new Athletic Director Sean T. Frazier, and head coach Mark Morris appear to have their hands full.
According to media reports out of Potsdam, Morris has been placed on administrative leave while the university investigates an alleged incident involving Morris and a player at a morning skate Saturday.
Clarkson lost to nearby rival St. Lawrence, 2-1, that night.
Morris's status for this weekend's games at Rensselaer and Union is uncertain. His future behind the Golden Knight bench could be uncertain as well, pending the outcome of the university's internal investigation.
2. Cuts that might not hurt ... hockey, at least – Even more dreaded than the words "internal investigation" in college athletics are the following: "cutting sports."
That's precisely what's happening at Canisius, as the school announced late last week that it will eliminate football and seven other sports. Hockey remains, however – making this painful and all-too-common occurrence in college athletics a potential windfall for coach Brian Cavanaugh's program. Cavanaugh, in his 22nd season coaching the Golden Griffins, was elevated to full-time status three years ago.
"Under the realignment, the funds currently spent on the discontinued sports will be reallocated among the remaining sports," said Athletic Director Tim Dillon.
"Additional funding will be allocated to athletics in succeeding years to allow us to offer more athletic scholarships, hire more full-time coaches and to make other necessary upgrades in the programs."
The Griffs (1-6-0 overall, 1-2-0 MAAC) posted a mild upset last weekend with a 3-2 overtime win over Sacred Heart, which was a preseason favorite to finish among the top three in the MAAC. Canisius plays its first road games of the season this weekend at Connecticut and Holy Cross.
3. Langway joins short list – Legendary New Hampshire defenseman Rod Langway was inducted to the Hockey Hall of Fame in Toronto Monday. The momentous occasion got us to thinking how many college players have been inducted to the Hall.
The answer? As we suspected, not many – Langway makes it six, in fact (if we missed someone, let us know):
• Hobey Baker, Princeton
• Frank Brimsek, St. Cloud State
• Ken Dryden, Cornell
• Tony Esposito, Michigan Tech
• Rod Langway, New Hampshire
• Joe Mullen, Boston College
Some others inducted in the Player category have college ties, including former Northeastern coach Fern Flaman, former Princeton coach Bill Quackenbush and former Harvard coach Ralph (Cooney) Weiland. "Badger" Bob Johnson (Wisconsin), John Mariucci (Minnesota) and Craig Patrick (Denver) have all earned spots in the Hall in the Builder category.
Those six college players probably feel pretty lonely – and with three goalies, they can't even play a decent game of shinny. Here are six more than should double their ranks over the next dozen years:
• Chris Chelios, Wisconsin
• Brett Hull, Minnesota-Duluth
• Adam Oates, Rensselaer
• Brian Leetch, Boston College
• Paul Kariya, Maine
• Rob Blake, Bowling Green
4. Market watch – When Boston University and Rensselaer met in the finals of the IceBreaker Invitational, who knew the two teams would be about as predictable as the Dow and NASDAQ in the early season?
Including that tournament, the Engineers have beaten two formidable WCHA opponents in their own buildings – Wisconsin and St. Cloud State. But they've also suffered a big loss to UMass Lowell and managed just 12 shots in a loss to Massachusetts.
Boston University, meanwhile, won the IceBreaker, then returned East and tied Vermont before losing to Merrimack. Since then the Terriers have won three in a row, including back-to-back one-goal road victories last weekend.
Three Great Weekend Getaways
1. Merrimack at Boston University (Sat.)
The Terriers host Merrimack with the Warriors' upset fresh in their minds. You'd think that would be enough to ensure a BU win this time around, but Chris Serino's crew has proven to be a pesky bunch. They had UNH on the ropes in Durham last weekend.
While You're There: You've got to visit the Dugout. If you plan to go after the game, you don't need directions – just follow the crowd.
Runners-up:
2. Canisius at Holy Cross (Sat.) – The MAAC's hottest team, Holy Cross has won four in a row. Canisius is coming off an overtime win over Sacred Heart. It's a 3 p.m. start, so you could still make it to the Dugout – I mean Walter Brown – for a nightcap.
3. Clarkson at Rensselaer (Fri.) – How will the Golden Knights respond?
5. Shooting blanks – Don't let the tie at Northeastern, loss to BU and the come-from-behind win against Merrimack deceive you – UNH may have fallen from its No. 1 ranking, but the Wildcats aren't going far.
In fact, head coach Dick Umile was thrilled with the way his team played in Saturday night's loss to the Terriers.
"It might be the best overall game we've played and we come out with a loss," Umile told Allen Lessels of the Union Leader. "That's how the game goes sometimes. Some of our best scoring chances didn't go in. (BU goalie Sean) Fields played well. It's a crazy game sometimes. It was a good hockey game. I liked the effort."
Part of the reason for the 1-1-1 results over the last three: UNH's scoring touch, which was red-hot in the season's first three games, has faded.
The Wildcats have fired 121 shots on goal over the last three games (over 40 per game) and scored eight goals (under three per game), after scoring 18 goals in the first three. The power play, meanwhile, has gone 0-for-14 in the last three games after a 7-for-18 start.
Umile knows the extra-man unit will start clicking, and the shots will start finding the net. The Wildcats' firepower—with players like Colin Hemingway, Sean Collins, Lanny Gare and Josh Prudden—won't stay quiet for long.
THIS WEEK'S NHL TRANSACTIONS
New York Rangers: Recalled left wing Ted Donato (Harvard) from Hartford of the AHL.
Philadelphia Flyers : Recalled forward Patrick Sharp (Vermont) from Philadelphia of the AHL.
FRIES AT THE BOTTOM OF THE BAG
• Maine's Chris Heisten had three goals and five assists (eight points) in 28 games last season. The senior surpassed that goal total last weekend alone. On the year, he stands tied for third in Hockey East with seven goals and tied for 12th with nine points.
Three Stars
3. Vermont alums
Patrick Sharp gets recalled and Tim Thomas rolls along. But we just can't get enough of Martin St. Louis (9-11—20) and the Lightning.
2. Jeff Dams, Holy Cross
Had a hand in every Crusader goal in the win over Union, Holy Cross's fourth win in a row and its first victory over an ECAC team.
1. Justin Maiser, Boston University
Had three goals and two assists on the weekend, including the game-winning goal in each game. And both were one-goal games, so these weren't Mike-Greenwell-game-winning-RBI types of goals.
• Maine gets its Hockey East schedule underway this weekend with a home game against Massachusetts. The rest of the conference has all played at least one game.
• Quinnipiac is unbeaten in MAAC play (4-0-1) and atop the league standings. The Bobcats are outscoring conference opponents by an average of 5.2 to 2.6.
• Boston College expects Ben Eaves to return from his rib injury for Thursday's game at Merrimack.
• Yale will be without Chris Higgins, Evan Wax, Stacey Bauman and Nick Deschenes as the Bulldogs face conference favorite Cornell Friday night. The four received fighting majors in Yale's 7-3 loss to North Dakota last Saturday.
• Union has allowed eight power-play goals in 20 opportunities in its last four games (60.0 percent penalty killing).
• Vermont's win over Wayne State halted the nation's longest winning streak at 14 games.
• Army freshman goaltender Brad Roberts posted the school's first shutout in MAAC play in a 3-0 win over Iona. He stopped 34 shots the next night as the Black Knights completed the weekend sweep of the Gaels.
• Iona has been shut out four times in its first seven games.
• Eight of the 11 goals Canisius has scored this season have come on the power play.
A variety of sources were utilized in the compilation of this report.