January 30, 2003
Depth charge: Maine's talented forwards
By Nate Ewell
East Notebook
ECAC | H. EAST | MAAC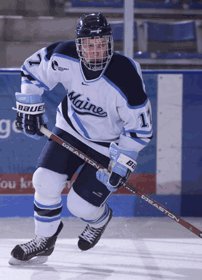 Forward Chris Heisten has points in nine straight and stands fourth on the team with 25 points. He is one of six Black Bears with between 21 and 27 points.
Photo courtesy of University of Maine, Monty Rand photographer
Related Links
Opposing coaches are liable to either laugh or cry when they hear Maine head coach Tim Whitehead make the following statement:
"We're not a team that's overloaded with talent."
Allow us some clarification before you dismiss it as typical, woe-is-me coach-speak. While Whitehead is obviously grateful for the efforts of top-level players like Martin Kariya, Jim Howard and Francis Nault, his point is this: Maine owes its remarkable success to this point to its wave after wave of skilled, hard-working players the coach can deploy.
"One of the reasons we've been so consistent this year is our depth," said Whitehead, whose team is 20-2-4 (10-1-3 Hockey East) entering this weekend's series at New Hampshire. "We do have very good balance, and that makes it very tough for other teams to match up with our lines."
Consider this: Six forwards have at least 11 goals. Six players are among the top 20 Hockey East players in overall scoring. In 12 of their 25 games they've had at least one multiple-goal scorer. Nine different forwards have recorded at least three points in a game – on any night, you don't know who will beat you.
While Kariya gets the headlines offensively – and rightly so – a small army of other Black Bear forwards have made a name for themselves. Earlier this year, after Todd Jackson scored three goals in two games against Northeastern, the Huskies' talented Mike Ryan called him one of Hockey East's most underrated players. Amazingly, teammates Robert Liscak, Lucas Lawson, Tom Reimann and Chris Heisten could all challenge Jackson for that title.
A U.S. National Junior Team player, freshman Greg Moore, plays on Maine's fourth line. That's testament to the impressive performance of the team's senior class, which has accounted for 51.9 percent of Maine's point total.
Maine's top scoring forwards

1. Martin Kariya


13-27—40
2. Robert Liscak
11-16—27
3. Chris Heisten
12-23—25
4. Lucas Lawson
13-11—24
5. Todd Jackson
11-13—24
6. Colin Shields
13-8—21
"We're proud of (our depth)," Whitehead said, "especially to see the guys in our senior class who are having their best seasons – Heisten, Kariya, Lawson, (Gray) Shaneberger – the list goes on. We have seven seniors and they are all really key to our success."
Fans across the nation get their first chance to see this balanced attack Sunday night at New Hampshire. While Maine has games televised locally, their first appearance on a regional sports network waits until the second day of February.
"(Viewers) will see a lot of speed," Whitehead said. "We play a fast game. We're a team that's committed to defense, and we're a smart team. But remember, the other team we're playing is very fast, too, and they're one of the top teams in the country. It should be a very exciting game."
FOUR MORE NOTES NO FAN SHOULD BE WITHOUT
1. Roque 'n Roll and some other names – A soft deadline for the Clarkson head coaching job has come and gone, with the university indicating that applications received before January 15 would be given "priority."
To no one's surprise, a number of prominent names have emerged as candidates for this prestigious position since Mark Morris was fired in November, in addition to interim head coach Fred Parker.
There are the former Clarkson assistant coaches: Greg Dreschel, who is now a scout for the Los Angeles Kings; Jim Roque, an assistant at Lake Superior; Ron Rolston, an assistant at Boston College; and George Roll, who is enjoying a terrific season coaching Division III Oswego State (currently ranked No. 5 in the nation).
Also among those mentioned are former college head coaches Bob Mancini, now a scout for the Edmonton Oilers, and Buddy Powers, who has been volunteering with the U.S. National Team Development Program.
One name to keep in mind: Jeff Jackson. The former Lake Superior State head coach was fired by the Guelph Storm of the OHL after January 15. With Jackson's successful track record, expect him to have the opportunity to decide between the professional level or a return to college. Regardless of Clarkson's soft deadline, you'd have to think that Jackson's candidacy would deserve strong consideration if he's interested in the job.
Three Great Weekend Getaways

1. Maine at New Hampshire (Sat.-Sun.)
Fans will pack Manchester's Verizon Wireless Arena Saturday night before retreating to the relatively cozy confines of the Whittemore Center on Sunday. Both venues figure to be as loud as they'll get all year. It's an intense rivalry, with a lot on the line – Maine and New Hampshire, along with Boston College, stand in a three-way tie atop the Hockey East standings.
While you're there: If you like your seafood – and you like it fried – pay a visit to Newick's (Dover Point). The dining room is about the size of the Whit's Olympic-sized ice sheet, so don't expect a lot of ambience, but the food's worth the trip.

Runners-up:
2.Beanpot Semifinals (Mon.) – It's clearly heresy to not give this doubleheader top billing, but it tells you how terrific the Maine-New Hampshire series promises to be. As we beg forgiveness from the hockey gods, we'll call it a chronological list: start in Manchester Saturday, stop by Durham Sunday, then hit the Fleet for Monday night.
Editor's Note: stay tuned to Inside College Hockey for a complete Beanpot preview.

3. Dartmouth at Yale (Sat.) – If you like offensive hockey, this one's for you. These two teams have terrific offenses and have given up goals at such a steady clip that they both turned to new goaltenders at midseason. Yale and Dartmouth rank first and fourth, respectively, in the ECAC in conference goals per game and ninth and 11th in goals against. Keep an eye on the Big Green's Hugh Jessiman, a local product – he'll be easy to spot (hint: look for a 6-foot-5 guy with loads of talent).
2. The sun also rises – Expectations were high this season for Colin Hemingway, coming off last season's breakthrough 33-goal campaign. That's why something as small as a four-game goal-scoring drought had the New Hampshire winger – and Wildcat fans – concerned.
That ended Saturday against Boston University, when Hemingway notched his 12th and 13th of this season.
"It feels good to finally put a couple in the back of the net, that's for sure," said Hemingway, whose younger brother, Brett, is headed to Durham next season and has been called even more skilled than Colin. "I'd be lying if I told you it wasn't bothering me. It's been a while since I scored. You try to stay confident and not worry about it, but sometimes it's in the back of your mind. I knew it was just a matter of time before a couple went in."
There's hope, after Saturday's performance, that Hemingway could be back on track. Even if he doesn't resume last season's pace, the Wildcats were encouraged to get two key goals from the senior in a game that New Hampshire really needed to win – both to avoid a sweep and to keep pace with Boston College and Maine.
"Colin's really been trying to take it positively," head coach Dick Umile told the Foster's Daily Democrat. "He's watched some video. For him, the puck hasn't been bouncing right, so it was great to see it go in for him. He stayed with it and he's worked at it, and he hasn't become selfish, so it was important that the puck start to go in for him. He can relax now and just play."
Hemingway and the Wildcats have struggled with offensive consistency all year, turning in some impressive efforts followed by stretches with more shots but less scoring than a college frat party. For example, Hemingway's linemate Lanny Gare – the team's leading scorer – is currently in a one-assist-in-five-games funk.
3. Where were you, smart guy? – A hearty welcome back to Harvard and Princeton, who return to action this weekend in conference games, while Harvard follows that with its Beanpot semifinal against Boston University.
When last we saw these teams – and it's only been three weeks, even if it feels like more – the Tigers skated off the Bright Center rink with a shocking 2-1 win. The break probably came at a bad time for Princeton, hockey-wise, as Len Quesnelle's troops had gathered two of their three victories on the year in their four games before exams. They face Dartmouth and Vermont this weekend to get things going again.
Harvard, meanwhile, starts the stretch run of its season the same way it started things off – with a single game against travel partner Brown. The Crimson hope for better results than the 4-0 Yann Danis shutout to start the year.
Regardless, head coach Mark Mazzoleni is happy not to have two league games this weekend, a concession the ECAC made to help Harvard's Beanpot chances. In the past, the Crimson have played games Friday, Saturday and Monday during the weeks of the Beanpot, while their 'Pot foes – all members of Hockey East – had the previous Saturday night off.
4. The race for eight – While every ECAC team makes the playoffs this season, only eight move on in Hockey East and the MAAC. As we enter the final month of the regular season, it's worth looking at how those races are shaping up.
Hockey East: Barring a big surprise, this race will come down to Northeastern and UMass Lowell. And while the league's focus during the last weekend of the regular season may be on the New Hampshire-Boston College series, don't be surprised if eighth place isn't determined until the Huskies and River Hawks meet on March 1.
UMass Lowell seems to have the easier schedule at first glance, with only one game against the three current first-place teams (Feb. 21 vs. UNH at home). Northeastern plays the top three league teams four times (home-and-homes with both New Hampshire and Boston College), not counting the Huskies' Beanpot meeting with BC.
MAAC: Army sits in eighth right now with 12 points in 16 games, three points ahead of American International and Iona – although those two teams both have a game in hand. Also in the mix are seventh-place Connecticut (13 points in 17 games) and 11th-place Fairfield (eight points in 14 games).
Of those five teams, Army and Connecticut have been playing the best lately, so it may be especially tough for the other three to make up the necessary ground. The Black Knights are 5-5-0 in their last 10 games, while UConn went 1-1-0 last weekend. The Huskies beat Army Friday night to move into seventh place, then gave a talented Yale team a scare on the road in a 4-3 loss.
THIS WEEK'S NHL TRANSACTIONS
Atlanta Thrashers – Placed left wing Shawn McEachern (Boston University) on injured reserve, retroactive to Monday, with a groin srain; recalled right wing Jeff Farkas (Boston College) from Chicago of the AHL; assigned Farkas to Chicago.
Colorado Avalanche – Recalled defenseman Bryan Muir (New Hampshire) from Hershey of the AHL.
Columbus Blue Jackets – Activated defenseman Scott Lachance (Boston University) from the injured reserve list.
Los Angeles Kings – Placed center Brad Chartrand (Cornell) on the injured list with a back strain.
Montreal Canadiens – Assigned defenseman Ron Hainsey (UMass Lowell) to Hamilton of the AHL.
Nashville Predators – Assigned center Greg Classen (Merrimack) to Milwaukee of the AHL.
New Jersey Devils – Recalled defenseman Ray Giroux (Yale) from Albany of the AHL; assigned Giroux to Albany.
New Jersey Devils – Acquired left wing Steve Kariya (Maine) from the Vancouver Canucks for defenseman Mikko Jokela.
Ottawa Senators – Recalled defenseman Brian Pothier (Rensselaer) from Binghamton of the AHL.
Phoenix Coyotes – Signed goaltender Jean-Marc Pelletier (Cornell) to a multi-year contract.
Vancouver Canucks – Recalled right wing Eric Nickulas (New Hampshire) from Worcester of the American Hockey League.
MINOR PRO TRANSACTION OF THE WEEK
Bridgeport Sound Tigers (AHL) – Signed goaltender Scott Stirling (Brown) to a professional tryout contract. Stirling's father, Steve, is the head coach at Bridgeport.
FRIES AT THE BOTTOM OF THE BAG
• The final stage of Nick Boucher's climb into the Dartmouth goaltending record book wasn't easy. After tying the school record for career victories with his 40th against Vermont Jan. 4, Boucher was pulled in each of his next two starts (Dartmouth losses). Then he watched sophomore Dan Yacey take the next two starts for the Big Green. He got back in the net last Friday and turned in a 30-save performance against Union, only to have Dartmouth's normally potent offense pull up lame in a 2-0 loss.
Boucher got the hard-fought win No. 41 on Saturday night at Rensselaer, his eighth victory of the season. He passed current head coach Bob Gaudet in the Big Green's record book.
"I felt like it was going to come," Boucher said. "Now I just have to pad it – put some distance between me and coach."
• It's no wonder why Boston College, Maine and New Hampshire are the class of Hockey East – they rank 1-2-3 in both team offense and team defense in conference games. The Eagles are first in both.
• The MAAC nearly got its first win over a Hockey East team, but Merrimack scored five straight goals in the last nine minutes to erase a 3-1 Holy Cross lead. Freshman Tyler McGregor assisted on all three Crusader goals.
• It took until Jan. 25 for Brown to get its first point from a freshman. Cory Caouette posted an assist on the Bears' goal against Merrimack. In fairness, the Bear rookies haven't had many opportunities – thanks to the team's upperclass depth, none have played more than eight games.
• After this weekend, Clarkson and St. Lawrence close out the regular season with six of their last eight games on the road.
• UMass Lowell had allowed a power-play goal in nine straight games before holding Maine – and the conference's second-best power play – off the board in four opportunities Saturday.
Three Stars
3. Andy Franck, Mercyhurst
The Lakers' rookie netminder has won six straight games since taking over the starting duties full-time, allowing just eight goals in the process.
2. Dave LeNeveu, Cornell
Needs one more shutout to tie the school single-season record (six). I believe it's held by a gentleman named Dryden.
1. Greg Mauldin, Massachusetts
Mauldin had a hand in four of UMass' five goals last weekend and has 24 points in the last 16 games. His line, with Stephen Werner and Matt Anderson, has 57 points in the last 15 games.
• Merrimack, at 10-10-4, stands at .500 this late in the season for the first time in 11 years, since it was 12-12-0 in 1991-92.
• The top three scorers in the MAAC – Quinnipiac's Brian Herbert and Matt Craig and Sacred Heart's Martin Paquet – meet this weekend in a home-and-home series.
• Scooter Smith has scored eight of Colgate's conference-low 23 goals in ECAC games. He has 15 goals overall, tied for the ECAC lead with Evan Wax. Wax has more than half of his 15 goals in two games – his two four-goal games, including one last weekend against Connecticut, are his only multiple-goal games this season. Vermont's Jeff Miles is third in ECAC overall goals with 14, after scoring in three straight games.
• Cornell junior Ryan Vesce (29 points) is tied for the overall ECAC scoring lead and is just one point shy of his career high for points in a season, set last year. He carried a six-game point-scoring streak into Thursday's game at Colgate.
• Army's Jon Boyle has four goals in his last eight games. All six of Boyle's goals this season have come in the first period.
• Quinnipiac defenseman Wade Winkler netted his second hat trick of the season – and the team's sixth – against Fairfield last weekend. Winkler has all 18 of his points in MAAC games, and he leads all defensemen in conference scoring.
• You know the excitement of pulling a folded up $5 bill out of a jacket you haven't worn in months? I think I can top it:
Earlier this week I dropped off four rolls of film at my friendly neighborhood pharmacy. I knew one had some shots from the holidays, another had some pictures of my dog, but the rest were unknowns.
When I got everything back, I was thrilled to discover 24 shots from last year's Frozen Four. I booked my flight to Buffalo that night. I can't wait.
A variety of sources were utilized in the compilation of this report.