February 13, 2003
Title page: Who will win the regular season?
By Nate Ewell
East Notebook
ECAC | H. EAST | MAAC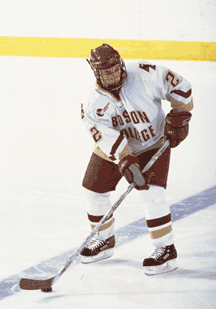 Ben Eaves and Boston College share the top spot in Hockey East with Maine, and at this point the Eagles would win the tiebreaker (conference wins).
Related Links
The winners don't get showered with praise on ESPN. Heck, they don't even get an automatic bid to the NCAA Tournament, as they did just a few years ago.
But for my money, there's no better measure of a team's success over the course of a season than a regular-season championship.
"A regular-season championship is a reflection of consistency," Maine head coach Tim Whitehead told the Bangor Daily News. "Each year we strive for a national championship but we feel there are some important steps along the way. The Hockey East regular-season championship is one and a championship in the Hockey East playoffs is another."
Many coaches, like Whitehead, list the regular-season championship among their team's goals, especially because it puts teams in the ECAC and Hockey East on solid footing in terms of the NCAA Tournament, even if it doesn't guarantee a bid. Success in the regular season affects a team's NCAA seed as well, although a little incentive disappeared this year with the welcome elimination of first-round byes in the tournament.
Other coaches, like Mercyhurst's Rick Gotkin, don't focus on the regular-season title at all. In the MAAC's case, Gotkin's reasoning makes sense. The conference tournament, with its coveted automatic bid, is the focus. Instead of a regular-season title, some coaches emphasize earning a home ice for the playoffs and playing their best at this time of year – all with an eye on postseason glory.
Regardless of each team's motives, we wanted to take this time – with between six and eight regular-season games remaining – to evaluate the regular-season title races in the Eastern conferences:
ECAC: Six games remain, but this one could be all but determined Saturday night, when Cornell visits Harvard. The Big Red took sole possession of first place last weekend, when they finally pulled even with the Crimson in games played. Sweep this weekend and Cornell would have a four-point edge (at least), and it's hard to imagine that Harvard could erase that deficit.
But if the Crimson can take advantage of home-ice advantage this weekend – and they are 6-1-1 at Bright this year – it could get really interesting. Both teams have their toughest remaining games on the road (Cornell at Yale, Harvard at Dartmouth), but at that point the title would probably belong to whichever team didn't slip up.
Hockey East: With six games left, Boston College and Maine stand tied atop the standings. First things first – if those two finish tied, BC holds the edge in the tiebreaker for the top seed in the Hockey East tournament because it has more league wins than Maine, 13 to 12 (the first tiebreaker, head-to-head results, finished tied, 1-1-1).
Maine seems to have the edge in remaining schedule, with only two road games remaining (a series at reeling Massachusetts). But the Black Bears face two of Hockey East's hottest teams – Providence this weekend, and BU to close out the season – at home. Boston College, meanwhile, has home-and-homes with Merrimack, Northeastern and New Hampshire. That last series could be an opportunity for the Wildcats to snag the regular-season title, should Maine or BC falter between now and then. UNH is just two points back in the standings.
MAAC: With a nine-point edge over Canisius in third, Quinnipiac and Mercyhurst are towering over the MAAC field.
The Bobcats have a one-point edge right now, but the Lakers have a game in hand. They'll make that up this weekend while Quinnipiac plays at Air Force. Then Quinnipiac will have a game in hand, which they won't make up until the last week of the regular season.
Don't expect this title to be decided much earlier than that week, when both teams host what could be troublesome opponents who have been playing well of late. Mercyhurst closes the season against Canisius, while Quinnipiac welcomes Army. Adding some intrigue, those teams should be jockeying for playoff position as well – six points currently separate the six teams between third and eighth in the conference.
THREE MORE NOTES NO FAN SHOULD BE WITHOUT
Yeah, What He Said
"Mmmm ... donuts."
Providence's resurgence could make things messy for the NCAA selection committee.
The Friars are flying, with three wins in a row and five in their last seven. They've beaten both Boston College and New Hampshire in the last three weeks, and they have another shot at Maine – after beating the Black Bears Jan. 3 – this weekend in a series at Alfond.
The recent run has seen Providence's NCAA Tournament stock soar, and according to the Pairwise Rankings, they'd be right on the bubble if the season ended today.
What that means in terms of seeds is this: if Providence gets in, it would play in the East Regional at the Dunkin Donuts Center because the Friars are the host school. The other three regional hosts – Boston University, Michigan and Minnesota – are on solid NCAA footing at the moment and would likewise get to stay home.
To avoid conference matchups in the first round, then, the NCAA would have to send at least one Hockey East team West – likely the team out of Boston College, Maine and New Hampshire that doesn't win either the regular-season or tournament title (assuming one of those three wins the latter). If one team wins both, or if BU or Providence jumps up and takes the tourney title, that could conceivably confuse matters more.
1. Beanpot storytelling – You can always count on the Beanpot to produce some great stories. But never mind Brian McConnell's redemption or Sean Fields' stellar play – this year's most heartwarming story, for a change, belonged to the losing team.
Patrick Eaves, the fabulous Boston College freshman, skated with his teammates on Sunday for the first time since suffering a fractured vertebrae Dec. 7 against Maine.
There's no timetable for a potential return, but head coach Jerry York – previously resigned to losing the high-scoring winger for the season – expressed optimism.
"Patrick is showing some remarkable improvement with the (CT scan). It was very positive and showed that whatever it is has healed,'' York told the Boston Herald. "No one has given the word that he can play yet. The longer we can play the more chance that he might be able to come back this year. . . . The time off has helped. But it's just good seeing him on the ice skating."
The thought of an Eaves return for the playoffs makes Boston College – already one of the nation's hottest teams at 8-2-0 in their last 10 – downright frightening. It's not on the scale of Peter Forsberg's return to the Colorado Avalanche lineup for last year's Stanley Cup playoffs, but it's in the neighborhood.
Most of all, Eaves' progress toward a full return – whenever it may be – is encouraging.
2. Summit meeting – Statistically, they've got the two best goalies in the ECAC in Dave LeNeveu and Dov Grumet-Morris. Doug Murray and Noah Welch could be the league's best defensemen. And offensively, you can't go wrong with Ryan Vesce and Stephen Baby on one side, Dominic Moore and Tim Pettit on the other.
Is it any wonder Cornell and Harvard are the top two teams in the ECAC?
When they face off Saturday night just across the Charles from Harvard Square, as noted above, the regular-season title could be in the balance.
A Cornell win would re-affirm the dominance the Big Red showed last weekend in a pair of thrashings of Dartmouth (6-1) and Vermont (8-1). After a relatively quiet spell, the offense shined in those two wins, led by the first line trio of Baby, Vesce and freshman Matt Moulson, who recorded the first hat trick for the Big Red since 1998 on Friday. Vesce has 91 career points in 91 games, and could become the first Cornell player to reach 100 career points as a junior since Joe Nieuwendyk.
In addition to conference title implications, a Harvard win could do wonders for the Crimson's NCAA Tournament aspirations. As it stands, they may need a repeat of last season's ECAC Tournament title to get back to the big dance. Moore enters the weekend on the verge of a family milestone. He needs just one point to pass his brother, Steve, on Harvard's all-time scoring list. They're currently tied with 122 career points.
3. Gael force – Iona's first series sweep of the year couldn't have come at a better time. And, remarkably, it's left the Gaels just four points out of fourth place and home-ice advantage in the MAAC quarterfinals.
Battling for the final playoff spot in the MAAC, the Gaels swept the team ahead of them, Connecticut, 5-2 and 4-2, to leapfrog into eighth place. Iona has now won three out of four after posting just four wins in the first 23 games of the season.
The Gaels face Bentley in a home-and-home this weekend to begin a tough slate – after the Falcons come games with Mercyhurst, Canisius and Sacred Heart. But Iona has improved dramatically over the course of the season, thanks in large part to the maturation of head coach Frank Bretti's 14-member freshman class.
One of those freshmen, goaltender Ian Vigier, is 3-1-1 in his last five games, with a 2.00 goals-against average and a .920 save percentage. The veterans are helping as well – senior Ryan Manitowich had both game-winning goals last weekend, and junior captain Mark Hallam leads the team in scoring (21 points).
With the logjam in the MAAC standings, five teams are five or fewer points ahead of the Gaels. If they keep playing well, Connecticut won't be the last team they pass in the standings.
Three Great Weekend Getaways

1. Providence at Maine (Fri.-Sat.)
Maine needs to put the brakes on a little bit of a slide – the Black Bears are 2-2-1 in their last five – but they face a challenge. Providence has won three straight and five of its last seven and comes to town poised to snap an 0-23-1 streak in Orono that dates to 1989. Raise a glass to senior goaltender Nolan Schaefer. When it comes to conference honors, he has more than one. The Yellow Grass, Sask., native has earned Hockey East Player of the Week and Defensive Player of the Week during the three-game winning streak. He's 4-0-0 in his last five appearances (1.55, .956 in that time).
While you're there: It seems like every decent-sized New England town has a "Mill Street." It's a shame that every one doesn't have Pat's Pizza, which you can find on Mill in Orono. Fantastic.

Runners-up:
2.Cornell at Harvard (Sat.) – It's too bad these teams only play twice per season. Per regular season, that is …

3. Yale at Union (Fri.) – These teams come by their success in different ways, as evidenced by their league goals-per-game totals (Yale's is 4.75, Union's 2.94). That should make for an entertaining third-place battle Friday night at Achilles Rink.
• Lost amid the headline-grabbing play of Sean Fields, Brian McConnell and Justin Maiser were the Beanpot heroics of Boston University's Brian Collins. Collins didn't have a point in the title game, but head coach Jack Parker often dispatched him to shadow BC superstar Ben Eaves, and Collins held him to one assist. Considering the lack of success the rest of the league has had in slowing Eaves down, he may see more blanket treatment the rest of the way.
• Former Clarkson head coach Mark Morris resurfaced this week as a special assistant coach for the Vancouver Canucks, working with Canucks head coach (and Morris' former teammate) Marc Crawford. Morris goes from unemployed to spending the rest of the season working with one of the NHL's best teams.
"I didn't want to sit and twiddle my thumbs, and once you're dismissed from the business it's a lonely world," Morris told the Vancouver Province. "I'm just thankful for the opportunity to help out in any way I can contribute."
Three Stars
3. Army's sophomore C's
Army's all-sophomore line of Chris Garceau, Chris Casey and Chad Mayfield led the Black Knights to a 4-0 win over Canada's Royal Military College.
2. Jon DiSalvatore, Providence
The Friars' star scored a jaw-dropping goal against UNH, chipping the puck over Mike Ayers as he was being hauled down by a defenseman.
1. Big Red Freakout!
Rensselaer extended its unbeaten streak in Big Red Freakout! games to 13 (9-0-4) when the Engineers scored a fluky overtime goal that went in off a Brown player. The win snapped Rensselaer's seven-game losing streak and nine-game winless streak.
• NHL commissioner Gary Bettman and former U.S. Attorney General Janet Reno were back at their alma mater Saturday night to root for Cornell in its 8-1 win over Vermont.
• New Hampshire head coach Dick Umile was furious with referee Scott Hansen at the end of UNH's 5-2 loss to Providence Sunday. Hansen – who also officiated the UNH-Maine game two weeks ago that ended with a controversial overtime goal – assessed Umile a bench minor and a game misconduct at the end of the game.
• Yale has won seven of its last eight games and moved into third place in the ECAC. Freshman goaltender Josh Gartner – son of Hall of Famer Mike – is 7-2-0 with a 2.54 goals-against average and a .922 save percentage on the year.
• Union left wing Nathan Gillies will miss Friday's key game with Yale. He was among six players – three from each team – to earn game disqualification majors for fighting at the end of last Friday's Union-Brown game. Scott Seney and Jason Kean will also sit out for Union.
• Massachusetts has lost five in a row and eight of its last nine, dropping fast in the Hockey East standings. The Minutemen's schedule includes only three more league games, so there's not much time to make up ground – a sixth- or seventh-place finish seems likely. Their struggles have coincided with a drop-off on the power play, once a strong suit. In its last eight games, UMass is just 2-for-31 (6.4 percent).
• Quinnipiac has scored one goal – no more, no less – in each of its seven losses. In their other 18 games, the Bobcats are averaging over five goals per game.
A variety of sources were utilized in the compilation of this report.