March 5, 2003
The Red Eye Soars
By Ken Schott
ECAC
REGULAR-SEASON RECAP
TOURNAMENT PREVIEW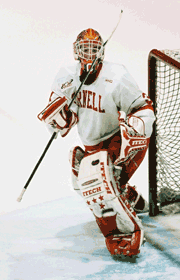 Sophomore goaltender Dave LeNeveu led Cornell to its second straight ECAC regular-season title. Now the Big Red seek the playoff title, which eluded them last year.
Related Links
Championship weekend tickets: Visit pepsiarena.com
First Round Series Previews
No. 12 Princeton at No. 5 Brown
PU: 3-24-2 (2-18-2)
BU: 12-11-5 (10-8-4)
Season series: Brown won, 2-0-0
Tiger fact: The Tigers have three goalies who played at least eight games this year, but only Trevor Clay earned a win (3-8-0, 4.73, .879)
Bear fact: Brown is hosting its first playoff series since 1998, when it lost to Princeton in three games in the first round
How Princeton wins: Pray that Brown forgets that it has a playoff series to host
How Brown wins: Keep focused on this series and don't look ahead
No. 11 Rensselaer at No. 6 Union
RPI: 10-23-3 (4-15-3)
Union: 14-16-4 (10-10-2)
Season series: RPI won 1-0-1
Engineer fact: The Engineers, who were 3-12-2 over their final 17 games, have won two previous playoff meetings with their Capital District rivals
Dutchmen fact: Union has increased its win total each year since Kevin Sneddon became coach in 1998-99
How Rensselaer wins: Play with the hunger it displayed in beating Union, 4-2, at home on Dec. 7
How Union wins: Keep playing the same hard-nose hockey that they showed over the final three games of the season
No. 10 Vermont at No. 7 Clarkson
UVM: 11-18-3 (8-14-0)
CU: 12-18-3 (9-10-3)
Season series: Tied 1-1.
Catamount fact: Two years ago, goalie Shawn Conschafter led 10th-seeded Vermont to an upset of top-seeded Clarkson in the first round
Golden Knight fact: Clarkson has had home ice in the playoffs for 15 straight years
How Vermont wins: Hope Conschafter can do it again
How Clarkson wins: Keep momentum going from last weekend's impressive road ties at Harvard and Brown
No. 9 St. Lawrence at No. 8 Colgate
SLU: 10-19-5 (7-12-3)
CU: 14-16-4 (9-10-3)
Season series: Tied 0-0-2
Saint fact: The road wasn't kind, where they were 4-11-2
Red Raider fact: They won their last five home games
How St. Lawrence wins: Must get strong play in goal
How Colgate wins: Senior forward Scooter Smith (23-14-37) must continue to carry the offense
A season that started with the November firing of Clarkson coach Mark Morris after an incident with a player at a practice and the subsequent accusations between Morris and the school threatened to overshadow the first season in which everyone makes the ECAC playoffs.
The new playoff system had some people wondering if teams would take it easy during the regular season. That proved not to be the case, as some seeding positions weren't determined until the final night.
Cornell and Harvard battled for the Cleary Cup, with the Big Red capturing its second straight regular-season title. They finished the regular season as the second-ranked team in the national polls, and are considered among the favorites to win the NCAA tourney – which would be the first national crown for an ECAC team since Harvard won it in 1989.
The Favorite
Cornell should make amends for losing last year's ECAC tournament by winning it this year at Pepsi Arena in Albany, N.Y. They are led by the nation's best goalie in sophomore Dave LeNeveu, who posted a 1.16 goals-against average, a .943 save percentage and seven shutouts, eclipsing the Cornell record of six set by the legendary Ken Dryden.
The Big Red are also a big team, and wear teams down with their size. How do you get around rugged 6-foot-3, 240-pound senior defenseman Doug Murray? Teams are still trying to figure that out.
Gate Crasher
Look out for Dartmouth. The Big Green played well down the stretch and surpassed Yale for the No. 3 seed in the tournament. Freshman forward Hugh Jessiman has been a great player, but senior goaltender Nick Boucher may be the key for the Big Green. It appears he finally has recaptured the success he enjoyed his first two seasons.
INCH's All-Conference Team
G – Dave LeNeveu, Cornell: With his miniscule GAA and his seven shutouts, it's a no-brainer pick.
D – Doug Murray, Cornell: Rugged player who clears traffic in front of LeNeveu.
D – Noah Welch, Harvard: A rock on the Crimson blue line with a good scoring touch.
F – Tim Pettit, Harvard: Led the ECAC in scoring in conference games with 14 goals and 23 assists.
F – Chris Higgins, Yale: Enjoy him in the playoffs, because he could be headed to the Montreal Canadiens next season.
F – Dominic Moore, Harvard. Came on with a flourish to score 21 goals, second most in the ECAC.
Coach of the Year
Union picked to finish 10th in the coaches' poll and 12th in the media poll. But Skating Dutchmen head coach Kevin Sneddon molded a young team, which featured two freshmen goalies, and had them competing for a first-round bye
on the final night of the season. The Dutchmen also posted their first sweeps of the Dartmouth-Vermont and Clarkson-St. Lawrence road trips.
Player of the Year
Dave LeNeveu, Cornell. For all the reasons mentioned above.
Freshman of the Year
Hugh Jessiman, the 6-5, 200-pound forward from Dartmouth, led the Big Green and all ECAC rookies with 19 goals and 22 assists. His size and strength has NHL scouts drooling.
Breakthrough Player
After posting just 14 goals and 23 assists his first three seasons, Yale's Evan Wax had a career year with 18 goals and 18 assists. He had a pair of four-goal games this season and was a big reason why the Bulldogs' offense was the most potent in the conference.
Ken Schott covers college hockey for The Daily Gazette in Schenectady, N.Y.