March 12, 2003
INCH Measures Up: Dov Grumet-Morris
ECAC
QUARTERFINALS PREVIEW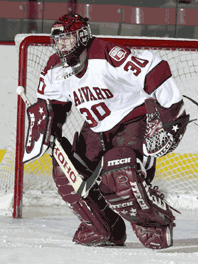 Sophomore goaltender Dov Grumet-Morris had a 1.29 goals-against average and a .944 save percentage in last year's ECAC Tournament. (Photo by dspics.com/Harvard Athletics)
Related Links
Championship weekend tickets: Visit pepsiarena.com
Quarterfinal Series Previews
No. 5 Brown at No. 4 Yale
Brown: 14-11-5 (10-8-4)
Yale: 17-12-0 (13-9-0)
Season series: Tied, 1-1-0
Bear fact: Both games of Brown's sweep of Princeton were scoreless heading into the third period.
Bulldog fact: No current Yale player has won a postseason game.
How Brown wins: Goaltender Yann Danis must handle the nation's fifth-best offense. The Bulldogs matched their season average with four goals in each of the two previous meetings this year.
How Yale wins: Bounce back from three straight losses to end the regular season, and hope that Josh Gartner, a freshman, doesn't have playoff jitters in goal.
No. 8 Colgate at No. 3 Dartmouth
Colgate: 16-17-4 (9-10-3)
Dartmouth: 17-11-1 (13-9-0)
Season series: Tied, 1-1-0
Red Raider fact: Colgate President Rebecca Chopp purchased all the student tickets for last weekend's three-game series against St. Lawrence and gave them away so that students could see the games for free.
Big Green fact: Dartmouth has been tough at home, going 11-3-1.
How Colgate wins: The Red Raiders, who are 5-1-1 in their last seven, will need more from Scooter Smith and Kyle Doyle, who combined for one point last weekend.
How Dartmouth wins: Stay sharp defensively. The Big Green allowed only one goal in each game of its last weekend series, at Rensselaer and Union. With the Hugh Jessiman-Mike Ouellette-Lee Stempniak line up front, the goals should come.
No. 10 Vermont at No. 2 Harvard
UVM: 13-18-3 (8-14-0)
Harvard: 19-8-2 (17-4-1)
Season series: Harvard leads, 2-0-0
Catamount fact: Vermont has faced Harvard three times in the ECAC Tournament, with one win (1989 semifinals) and two losses (1988 consolation, 1996 semifinals).
Crimson fact: Tim Pettit won the ECAC scoring title with 14-23—37 in 22 games.
How Vermont wins: Must shut down some of the best scorers in the ECAC and get stellar performances from goalie Shawn Conschafter.
How Harvard wins: "I think this weekend you'll really see a heightened level of commitment to defense from our whole team," goaltender Dov Grumet-Morris said. "It's a cliché, but team defense is how you win championships. We learned that at this time last year."
No. 11 Rensselaer at No. 1 Cornell
RPI: 12-23-3 (4-15-3)
Cornell: 24-4-1 (19-2-1)
Season series: Cornell leads, 2-0-0
Engineer fact: RPI is just 2-6 in playoff games against Cornell.
Big Red fact: Cornell is 13-0 at Lynah this year and 21-0-1 in its last 22 games.
How Rensselaer wins: Play a near-perfect series, including staying out of the penalty box against the ECAC's best power play (24.1 percent).
How Cornell wins: Forget any thoughts of throwing the series to ensure that the ECAC earns a second NCAA Tournament berth and just play their game.
– Nate Ewell and Ken Schott
Last year, after splitting Harvard's goaltending duties for most of the regular season, Dov Grumet-Morris caught fire in the playoffs and led the Crimson to a surprise ECAC Tournament title and NCAA Tournament berth.
Expectations are a little higher this season, and the sophomore from Evanston, Ill., and his teammates begin the defense of their title this weekend against Vermont in a quarterfinal series. The Crimson, despite a solid regular season, may need a championship to secure another trip to the NCAAs.
Inside College Hockey caught up with Grumet-Morris earlier this week to get his take on the ECAC Tournament and much more.
Inside College Hockey: This year's ECAC playoffs take on a little bit of a new look. Did you like having the bye week?
Dov Grument-Morris: My answer might be tainted a little because we had the bye week, but I think it's a good thing. We got a much-needed rest and were able to sit back, work on our fundamentals and design a game plan for the team we are going to play next. Vermont is coming off a big weekend at Clarkson and they'll have some momentum, but for us, I think it was a good thing.
INCH: Do you guys talk much about defending last year's title?
DGM: Not really – we're taking this as a whole different year. Our wins last year don't really mean anything now.
INCH: What do you think about the tournament moving to Albany?
DGM: I've got one great, great memory of Lake Placid, but I'm excited about trying to get to Albany. It sounds like a really great venue, a pro rink, and it's a real step up for our conference. That, in conjunction with more television coverage on NESN, makes this an exciting time for our conference. I think we're really moving to establish ourselves among the four major conferences.
INCH: Does your preparation change for the playoffs, or is it just a matter of added excitement?
DGM: It is added excitement, and from a preparation standpoint you go into each weekend knowing that the season is almost over. Each day at practice you know there could be just one more week. In the grind of the season, you don't have that opportunity – so there's a definite difference in terms of focus.
INCH: Are you more confident now given the success you had during last year's playoffs?
DGM: Obviously the experience we got in Lake Placid last year is priceless. You can't really teach that, and you can't coach it. It's kind of like a wild card for us. It's good to know that we've been there before.
INCH: Do you guys think about what you have to do to get into the NCAA Tournament?
DGM: At this point in the season, no. The only focus you can have is winning, and not only winning the tournament, which would obviously get you in, but winning the series this weekend. There's no way we can be a team under consideration – legitimate consideration – unless we win this weekend. And you never know about this kind of stuff until the last conference tournament has been played – if anybody knows that, it's us after our experience last year.
INCH: You went to work right after practice today – what's your job?
DGM: I work for the athletic department, cleaning up around the rink and things like that. Gotta pay the bills, you know.
INCH: What's the best and the worst thing you have to do?
DGM: The worst thing would have to be cleaning the glass at the rink. It's almost a joke – you're cleaning the glass, and you just know that the next night or the next weekend people are going to have their hands all over it making it dirty again.
I don't know if there is a best thing. It is work, after all – and I am a janitor.