March 20, 2003
Ivy grows on ECAC
ECAC
CHAMPIONSHIP WEEKEND PREVIEW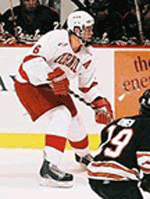 Senior defenseman Doug Murray and Cornell lead a group of four Ivy League teams into the ECAC semifinals. (Photo courtesy Cornell Sports Information)
Related Links
Tickets: Visit pepsiarena.com
Semifinal Team Previews
No. 1 Cornell
Record: 26-4-1 (19-2-1)
Big Red fact: Cornell has won the ECAC Tournament nine times, more than any other school. The Big Red have been runner-up each of the last two years and seek their first title since 1997.
How Cornell wins: Play the dominant physical game that got them this far. It's no fluke that Big Red players earned the conferences best defensive defenseman, defensive forward and goaltender honors. With some timely goals, especially in the semifinals against Yann Danis, Cornell will do fine.
No. 2 Harvard
Harvard: 21-8-2 (17-4-1)
Crimson fact: Harvard and Cornell had identical 17-2-1 records against the rest of the ECAC, but the Big Red swept the Crimson in their season series.
How Harvard wins: Last weekend offered a pretty good recipe: the Crimson jumped on Vermont early (scoring less than four minutes into each game), had a great power play (five-for-13) and got good goaltending (.947 save percentage).
No. 3 Dartmouth
Record: 19-12-1 (13-9-0)
Big Green fact: Hugh Jessiman's 31 points in league play were the most by a Dartmouth player since former all-name team star Dion Del Monte posted 33 in 1994-95.
How Dartmouth wins: Slow down Harvard's big guns in the semifinals, since the Crimson burned Dartmouth for nine goals in two meetings this year. Then hope to meet Cornell in the title game and regain the magic they had vs. the Big Red prior to Dartmouth's 6-1 loss at Lynah on Feb. 6.
No. 5 Brown
Record: 16-12-5 (10-8-4)
Bear fact: Brown enters this weekend on a 6-2-3 roll, with only a pair of one-goal losses in that time (on the road at Dartmouth and Yale).
How Brown wins: Goaltender Yann Danis needs to be the key, as he always is. The Bears can't match up with the other four finalists offensively, but in Danis, they've got an outstanding equalizer.
– Capsules by Nate Ewell
By Juan Martinez
Life in the ECAC Tournament has changed and with it, the balance of power in the league has officially shifted.
For starters, the surroundings are quite different. After 10 years in the picturesque Adirondack Mountains, skating on the famed 1980 Olympic Arena ice in Lake Placid, the ECAC shifted to a more centralized location, the Pepsi Arena in Albany, N.Y. Home to the AHL's Albany River Rats, the ECAC has gone from the "Miracle on Ice" to images of the Hudson River's finest inhabitants.
More importantly, though, is the field of four awaiting Friday's action. For the first time in ECAC Tournament history, all four semifinal teams are Ivy League programs.
In 1997-98, when the ECAC expanded its championship weekend to five teams, four were Ivies, but only three of the semifinalists. Over the last two seasons, Cornell, Harvard and Dartmouth have made it to the final five, with Harvard winning the title a year ago.
The Cornell-Harvard-Dartmouth trio is back for more this weekend and a resurgent Brown squad has joined them.
This is no fluke, either.
The top five teams in the ECAC's regular season were Ivy League schools, two Ivies are the lone league representatives in the national top 15 (No. 2 Cornell, No. 12 Harvard), and an Ivy will obviously win the tournament and head to the NCAAs (where two Ivies may actually represent the ECAC).
"These may be the four best teams in our league," says Harvard coach Mark Mazzoleni, "but that's good. The final four games should be tough."
And they will be.
There is no Cinderella team this weekend, although Brown is an admitted underdog against Cornell in the semis. No, this weekend is about showcasing the impressive rebuilding projects that have taken place on each campus.
What makes these completed tasks all the more impressive is not just the massive change in attitude that has happened – out with the negativity that comes with losing, in with a winning outlook – but also the perceived, and in some cases realistic, competitive disadvantages Ivy League teams face.
Academic standards are higher than at many other institutions and Ivies cannot offer athletic scholarships. Any aid the schools provide must be need-based.
"Financial aid can be a big issue with families," says Brown coach Roger Grillo. "My first year, we didn't do a good job of gauging the family's focus on it. It's a major issue and we're much better now at it.
"You need to understand how many siblings there are. How old they are. You really need to get to know a family's situation."
Dartmouth's Bob Gaudet, in his second rebuilding project after dramatically turning things around at Brown in the early- to mid-1990s, agrees.
"It's very different having to compete against early commitments and implied scholarships. You can't tell [the kids] they'll get in or how much the cost will be. These days, kids can do a lot of research online and get a ballpark figure from the school's financial aid site, so they have some sense of the cost.
"But a lot of it has to be about trust and the commitment by the family to go through the process and not jump at an early offer from another school."
Along those lines, there's also been a major shift in recruiting decisions, with kids committing to schools earlier than ever before.
"Years ago," says Gaudet, "you could watch a kid in his senior year in high school. That doesn't happen now."
In fact, no fewer than 65 players have committed to programs nationwide for the fall of 2004. Another two have already made their decisions for 2005, including future BU Terrier Chris Bourque (yes, that Bourque), who committed in August of last year but who is trying to accelerate his schoolwork in time for 2004.
"A lot of kids are committing in grade 10," explains Mazzoleni. "We can't respond to that because the earliest we can get a student-athlete is October 1 of his senior year."
As a result, Mazzoleni says the approach to recruiting at Harvard has to be different than at non-Ivies.
"We need to be more broad-based in recruiting. There are only so many kids that can get into Harvard and make an impact on the ice. If we targeted one area and there were no true students there, we'd be in big trouble."
There's no trouble to be found among the four coaches and teams in Albany, however. Mazzoleni, Grillo, Gaudet and Cornell's Mike Schafer have each done an excellent job at building successful programs. In their eyes, the disadvantages of being within the Ivy system are actually recruiting bonuses.
"Every school has its challenges," says Grillo. "There are positives and negatives no matter what school you're at. At an Ivy, though, these challenges are offset by the reality of what the academics can do for you in the real world … competing in the job market after graduation.
"There's no question people are more aware of what the education can do for them later in life. All these guys understand that if their athletic goals or dreams fall short, they have something to fall back on."
"The academics are a great advantage," agrees Mazzoleni. "The kids realize there is no compromising on academic standards. They know that they are not getting in here because they are hockey players, but because they can succeed in this academic setting.
"We also know that when we get a kid in here, he's a committed student-athlete. He's very focused and probably sacrificed some social things along the way. Because of that, we don't have the academic issues that some others do and it's wonderful, as a coach, not to have to worry about whether the kids are doing well in their classes."
"Personally, I look at it as a 'glass being half-full' opportunity," adds Gaudet. "This is an excellent academic situation that for the rest of their lives will be opening doors for them.
"I don't complain about an admissions decision if I submit a kid who isn't admitted. My job is to find the highest caliber student-athletes who will represent the college in a good light and who have an attribute that will help us on the ice."
This season, each team and coaching staff enters the tournament at a different stage of their rebuilding process.
Cornell has seen the most success thus far, with Schafer having already led the Big Red to back-to-back ECAC Tournament titles, two regular-season crowns and three trips to the NCAAs. Over that time, Cornell is a combined 152-87-25, with four 20-plus-win seasons.
Harvard is looking to repeat as tourney champs for the first time in the school's history. Mazzoleni, who took over the Crimson in 1999, has led them to an overall record of 63-55-10, with a tournament title and NCAA berth. This year's squad has the most wins in a season (21) since 1993-94.
Dartmouth is seeking its first-ever tourney championship, but has shown solid progress each season since Gaudet's arrival in 1997. Over that time, the Big Green are 79-86-21, including three consecutive winning seasons – a first since the early 1970s.
Meanwhile, Brown, which is getting the least notice of the four, is looking for its first tournament title and fifth NCAA appearance. Grillo has compiled a 62-99-22 mark and, this season, has more wins (16) than any Bear team since the 1992-93 squad.
Not bad for programs that were considered in major trouble in the not too distant past.
"People need to realize that it really takes about five years to judge someone properly," says Mazzoleni with regard to rebuilding coaches. "When you're down, the first class is tough to recruit so you really need to roll five classes.
"The three other coaches and staff have gone in with their own game plan on how to build a program and they're all now reaping the benefits. Cornell has already taken it to that next level, but that's because Schafer has been there for a bit longer."
Gaudet notes, however, "these things go in cycles. The Ivies have it pretty good right now with being competitive in the league and outside of it, but other programs can turn things around so quickly. It's such a fine line.
"The good thing about the ECAC, though, is that all the coaches like one another and we're all pulling in the same direction. We're very supportive of each other. Overall, this gives us more credibility."