September 29, 2003
2003-04 ECAC Preview
By Joe Gladziszewski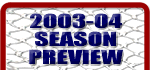 THE SKINNY
One year ago, the Cornell Big Red brought the ECAC to the national spotlight by finishing the regular season as the number-one team in the nation and representing the league at the Frozen Four. Mike Schafer's veteran-laden team became just the second ECAC team to make it to the Frozen since 1996. The Big Red were loaded with experience (seven seniors) and motivated by falling one win short of the Frozen in 2001.

Cornell used a step-by-step process to become one of the country's top teams, and one of the Big Red's fiercest rivals is using the same blueprint to build its case as one of the nation's elite teams.
In 2003, the Harvard Crimson have the talent (12 NHL draft picks), experience (22 returning players), and drive (two straight first-round losses in the NCAA Tournament). Harvard is the consensus preseason favorite to win the ECAC and would like nothing more than to play in front of a hometown Boston-crowd at the Frozen Four in mid-April.
"When we took this thing four years ago I knew there was going to be a transition," head coach Mark Mazzoleni said, "and we've made the progressive steps from a seventh place team to climbing the food chain. I don't think that in any high level of collegiate sports you don't go from here to there without taking the progressive steps."
Lofty expectations surround the Harvard program, and the players understand that it's their turn to step into the national spotlight.
"They know that they're in a position to do some special things," Mazzoleni said.
BREAKTHROUGH TEAM
Slowly but surely, the Vermont Catamounts are taking the aforementioned steps toward getting back to the upper-half of the ECAC. One big step came over the summer when Kevin Sneddon was hired to take over for retired head coach Mike Gilligan. At just 33 years old, Sneddon is one of the game's top young coaches. He takes over a proud program in Burlington that has fallen on tough times since the mid-1990s. While forward Jeff Miles and defenseman Jaime Sifers won't leave a legacy like Martin St. Louis and Eric Perrin, the tandem will have a big say in Vermont's fortunes this year. With 34 points Miles will move into the top-20 in all-time scoring at UVM, and Sifers was an ECAC All-Rookie performer last year and was named preseason All-ECAC by the media. The Catamounts are seeking their first winning season since 1996-97.
PRIMED FOR A FALL
In 2002-03, the Union Dutchmen finished with a .500 record in the ECAC regular season for just the third time in 12 years of conference play. They finished sixth at 10-10-2, but just six points separated Union from 10th-place Vermont, and Union was knocked out of the playoffs in the first round by Rensselaer. Nate Leaman takes over as head coach for the departed Sneddon. He brings experience from Harvard where he was in charge of game-planning for each opponent as an assistant under Mark Mazzoleni. Union's players will be well-prepared each weekend, but will be hard-pressed to stay in the top half of the league standings.
PRESSURE TO PERFORM
Not very long ago, the Brown Bears were permanent residents of the league's lower half. They finished last season with a winning record and advanced to the playoff semifinals in Albany. Coach Roger Grillo, in his seventh season, is seeing good things happening in Providence. He's got the league's best goalie in Yann Danis, and a recently renovated home rink at Meehan Auditorium.
"The plan that we had in place to make the program stronger and better is starting to come to fruition and we're excited about it. It's a great situation we're in," Grillo said. "Getting to Albany last year was a great step for us, but we felt that we didn't play our best when we got up here and we'd like to come back here and get the job done."
TOUGHEST ACT TO FOLLOW
Forget about Hobey Baker finalist and All-American goaltender David LeNeveu for a minute (if that's possible). Cornell lost a senior class of seven heart-and-soul players including co-captains Doug Murray and Stephen Bâby, 2003 Humanitarian Award winner Sam Paolini, and consistent contributors Travis Bell, Mark McRae, Matt McRae and Shane Palahicky.
Schafer's brought in a highly-touted recruiting class that in four years time could achieve the same iconic status of the Class of 2003. "We recruited the type of players that will play well within the type of mold that we want to play in," Schafer said, which means they'll be big and aggressive up front. Super-sized forwards Byron Bitz at 6-foot-4 and Kevin McLeod at 6-foot-3 join Colorado Avalanche draft pick Mark McCutcheon. Defensemen Ryan O'Byrne (Montreal draft pick) and Dan Glover (New Jersey) are very capable with good size and mobility.
BEST PLAYER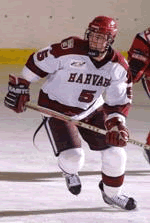 We've all heard coaches heap praise on their own players, and Mark Mazzoleni wasn't shy about stumping on the "Noah Welch for Hobey" platform.
"I think Noah Welch could be the best player in the country. He's got all of the ingredients. The thing about Noah is that he can really affect the game on both sides of the ice. He's not like some people that are just a gifted offensive defenseman. He can really generate offense, but he plays excellent in his own zone and he's got a real nasty streak to him," Mazzoleni said.
"He impacts our team more – and he even did this last year – more than anyone on our team, even Dominic Moore."
That's hefty praise, but 'Mazz' is not alone in voicing that opinion. In an INCH survey of ECAC coaches, Welch was voted the league's best one-on-one defenseman as well as the best power-play quarterback (the latter along with Yale's Jeff Dwyer).
BEST NEWCOMER
When Randy Jones decided to leave Clarkson University and sign a free-agent contract with the Philadelphia Flyers, it left a big hole on the Golden Knights' blue line. However, it also opened up a scholarship, and helped Matt Nickerson make a decision on where he wanted to play. Nickerson verbally committed to Michigan, but opted for Clarkson in mid-summer. He'll be an anchor on the Golden Knights' blue line as a freshman and George Roll's only concern after watching this 6-foot-2 standout during pre-season workouts will be managing his ice time. The third-round pick of the Dallas Stars will help fill the void left by Jones, but only if he stays out of the penalty box. Nickerson racked up 277 penalty minutes in 47 NAHL games last season.
UNSUNG PLAYER
Hugh Jessiman got all of the headlines last year. He was named Rookie of the Year in the ECAC and was selected with the 12th overall pick in the NHL Entry Draft by the New York Rangers. But Dartmouth coach Bob Gaudet says another one of his players, junior forward Lee Stempniak, is overlooked when the great players in the ECAC are discussed.
Check the numbers. Stempniak's stats over the last two years – 70 points in 66 games – compare favorably with anyone, including Chris Higgins, Dominic Moore, and Ryan Vesce.
THREE BURNING QUESTIONS
1. Was David LeNeveu the reason that Cornell allowed the fewest goals in the country last year, or were his Hobey Baker-worthy numbers a product of the Red's commitment to team defense? The next six months should give us an answer to that question. Todd Marr acquitted himself very nicely for the Big Red last season while LeNeveu was at the World Junior Championships. He'll battle freshman David McKee for the number-one goaltending spot in Ithaca.

2. Harvard and Cornell have been to the NCAA tournament for two straight seasons, but is there any real depth to the ECAC? We'll find out in non-conference play. ECAC teams will play a total of 17 games against the best teams in Hockey East – New Hampshire (8), Boston University (5), and Boston College (4) – with more games possible in regular-season tournaments.
3. How much will Chris Higgins be missed at Yale? Higgins had 21 goals and 41 points last season and was named ECAC co-Player of the Year, but signed with the Montreal Canadiens over the summer. Coach Tim Taylor is counting on the entire roster to fill the void left by one of the nation's best players. "I think it's going to be easier for us as a team to find a way, through team chemistry and our approach to the games, to replace him rather than to find an individual that's going to step up and score 40 points or 50 points for us this year," Taylor said.
MARK IT DOWN
Five things you can take to the bank in the ECAC this season
1. Princeton will win more than three games. Last year's Tigers team went 3-26-2 and was outscored 140-62. Len Quesnelle has been able to assemble two recruiting classes since Don Cahoon headed to Massachusetts and is especially high on senior Chris Owen, junior Mike Patton, sophomore Dustin Sproat and freshmen Grant Goeckner-Zoeller and Darrell Powe.
2. Don Vaughan will return to the Colgate bench next season. Stan Moore cleared up any doubts about a permanent appointment as Red Raiders' bench boss. "I think it was as specified as it could be with the term 'interim' used. The understanding from Don's perspective is that he's doing this for the greater good of the university. I'm very pleased that he felt comfortable in having me step in as the interim during the time he's helping the university in a different capacity."

3. At least two players from the conference will be among the 10 finalists for the Hobey Baker award. INCH asked several ECAC coaches to name the best player in the league, and the responses yielded seven different names. Pettit, Welch, Vesce, Jessiman, are the names at the top of the list, but guys like Danis, Dwyer, Sifers, Steeves, and Stempniak give the league plenty of star power.
4. The last weekend of conference play will have plenty of impact on the regular-season standings and playoff matchups. Last year, five points in the standings meant the difference between third and eighth place. The biggest games will be played at the Bright Center and Meehan Auditorium as Vermont and Dartmouth visit Harvard and Brown to close out the regular season.
5. During the league's championship weekend in Albany, fans will gather for a few cold ones at the Bayou Café or Jillian's, recall the assorted preseason predictions and wonder what the heck people were thinking. In last year's ECAC Coaches Poll, Clarkson was picked to finish third and ended up seventh. Dartmouth was tabbed for ninth and wound up in third. Every year there are teams that exceed expectations and others that underachieve.
Predicted Finish

No.

School
Of Note

1.

Loaded with talent and experience, the Crimson have championships on their minds. The ECAC title and Beanpot title are at stake in the regular season, but teams are remembered by what they accomplish in the post-season.

2.

Cornell
Last year's champion and Frozen Four participant would like to retain their status at the top of the league, and keeping the title away from hated Harvard would please the Lynah Faithful.

3.

Dartmouth
Bob Gaudet has the Green on an upswing. He's got two of the league's best players in Lee Stempniak and Hugh Jessiman creating quite a stir in Hanover.

4.

Brown
Yann Danis is the best goalie in the league, and we all know what good goaltending means to a team. The Bears also return last year's top-two scorers in Brett Robinson and Les Haggett.

5.

Yale
Chris Higgins is gone, but Ryan Steeves returns. This year he'll be the focus of more attention defensively, but we think he'll put up big numbers again.

6.

Clarkson
George Roll built his coaching reputation as a great recruiter, and assembled a group of newcomers that should help the Golden Knights right away. Just how much help they'll provide will determine Clarkson's fortunes.

7.

Vermont
Kevin Sneddon led Union to a sixth-place finish in the league last year. His next magic trick is to propel the Catamounts up the standings and make memories of the last four years in Burlington disappear.

8.

Union
Juniors Joel Beal and Jordan Webb will miss linemate Nathan Gillies, but they'll be counted on to replicate their 37-point seasons of a year ago.

9.

St. Lawrence
The Saints play seven NCAA Tournament teams from a year ago, which should keep them sharp for conference contests.

10.

Rensselaer
Four of the Engineers' top-five scorers return, including sophomore Kevin Croxton, who led the team in both goals and assists last season.

11.

Colgate
Longtime Don Vaughan sidekick Stan Moore is in charge on an interim basis. The defensive expert will need to be at his best, as the Red Raiders could struggle to score goals.

12.

Princeton
Still at the bottom of the heap, but a few good weekends in conference play are the difference between 9th and 12th in the tightly-bunched ECAC.

Send this to a friend
About Us | Advertiser Info | Site Map | Privacy Policy
© 2003 Inside College Hockey, Inc., All Rights Reserved