December 19, 2003
2003-04 ECAC Mid-Season Review
By Joe Gladziszewski

SURPRISE TEAM
The first half of the ECAC season was filled with surprises in the fact that many teams have shown two identities. Cornell's non-league performance has clouded an excellent start to ECAC play. In an opposite case, 11th-place St. Lawrence has been much better in games against teams from outside the league (4-5-3) including wins over New Hampshire and Miami. Then there's Colgate, which has followed up each of its Friday night losses with a win or tie on Saturday. Harvard's had several impressive wins and several puzzling losses. More on them later.
For our overall first-half surprise, we'll go with the Princeton Tigers. Remember one year ago, when Princeton won just three of 31 games, and scored a pedestrian 62 goals? This campaign started down that path, with four straight losses. A win at Harvard on Nov. 14 set Princeton in motion. It was the start of a 10-game stretch that included five wins and five losses. While .500 hockey doesn't mean much to a number of elite programs, it's a step in the right direction at Baker Rink.
"I like our team a great deal right now. Having the type of season that we did, we had to fight through a lot of adversity last year and we've learned from that and grown as a team. Now we're a year older, a year stronger and we're getting better," Princeton coach Len Quesnelle said.
SURPRISE INDIVIDUAL
Yale finished its first-half schedule with a 3-1-0 record over its final four games. The lone blemish was a non-league loss at Boston University. The Bulldogs were just 2-7-0 before the late surge, but built some momentum and gained some ground in the ECAC standings. Sophomore left wing Joe Zappala came through with clutch performances in road wins at Rensselaer and Union. He had the game-winning goal and added an assist in each victory. Zappala has a team-high nine goals and 14 points on the year, and appears to have found a home alongside center Ryan Steeves and right wing Jeff Hristovski.
Zappala has emerged as the early solution to the point-production problem that came up with Chris Higgins' departure to the professional ranks. If the Nathan Murphy, Vin Hellemeyer, and Christian Jensen trio can step up their production and develop into another strong scoring option, Yale could be a surprise team in the second half.
BEST NEW FACE
No disrespect to Brown's rookie scoring whiz Brian Ihnacak, but INCH will give the nod to Dartmouth blueliner Grant Lewis in this category. The freshman from Upper Saint Clair, Pa. has taken on a huge role for the Big Green, the No. 15 team according to this week's INCH Power Rankings. Lewis, the youngster, has been partnered with senior stalwart Brian Van Abel as coach Bob Gaudet's number-one defensive pair. Lewis plays on the team's top power-play unit and has nine points in 10 games to lead Big Green blueliners. He trails only Ihnacak on the league's rookie scoring chart.
WHAT HAPPENED TO …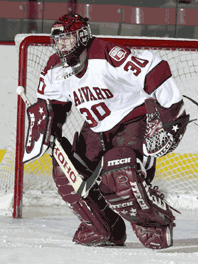 A .500 record isn't exactly what Dov Grumet-Morris and the Harvard Crimson had in mind. (Photo by DSPics.com)
The Harvard Crimson? In recent reports out of Cambridge, Harvard coach Mark Mazzoleni said that having 12 NHL draft picks in the lineup doesn't mean the team is loaded with talent. He named names in a dressing down of his players last week, a tactic that he hasn't used since he was a Division III coach at Wisconsin-Stevens Point. It's easy to see that Harvard is searching for answers after a first half that didn't measure up to expectations.
Following the Dunkin Donuts Coffee Pot tournament in Providence next week, the January schedule for the Crimson includes five conference games, which is a huge opportunity to make up some ground in the league standings. Harvard travels to Union and Rensselaer and hosts Cornell and Colgate. A three-week layoff ends with a road trip to league-leading Brown on Jan. 31.
BIGGEST UPSET
We won't point to a single game here, but instead the two-game sweep by Princeton over Harvard. On Nov. 14, the Tigers visited Cambridge and picked up their first win of the season with a 4-2 victory behind four third-period goals. Earlier this week, they completed the sweep with a 2-1 victory at Baker Rink behind 31 saves from Eric Leroux and Chris Owen's goal early in the third period. Princeton is 5-1-0 in its last six games against Harvard.
TOUGHEST ROAD OUT
Eight of Vermont's 13 first-half games came against teams that resided at one time or another in the INCH Power Rankings. That was no easy task for the new Kevin Sneddon regime in Burlington, but any road out is a rocky one when you fail to record a victory. The Catamounts end the first half with an 0-11-2 record and are the only team in men's Division I hockey without a win at this point in the year. After two weeks off, UVM looks to get in the 'W' column on Saturday when Connecticut visits Gutterson Fieldhouse.
TOUGHEST ROAD IN
Cornell's second half starts at the outstanding Everblades Holiday Classic, where the Big Red will face Notre Dame in the first round. Day two presents a meeting against either Maine or Ohio State. Then, the ECAC season resumes with road games at Harvard and Brown. This four-game stretch against quality opposition will have a big impact in NCAA Tournament selection criteria. A pair of league games against always-troublesome Dartmouth also lurks for the Big Red.
MUST-SEE WEEKEND
We'll assume that Harvard straightens itself out over the next few weeks and re-establishes itself in the upper half of the league standings. On the final weekend of the season, Dartmouth visits the Bright Center for a Friday night tilt, and heads south to Meehan Auditorium for a Saturday night showdown at Brown. These three teams will likely be looking to either move into or secure one of the coveted top-four spots in the league standings and the reward of a first-round bye in the league playoffs.
BIGGEST QUESTION ANSWERED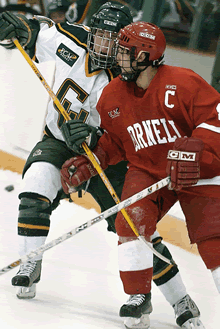 Ryan Vesce has been the offensive catalyst, helping Cornell stay unbeaten (4-0-2) in ECAC play. (Photo by Chris Lenney)
Cornell has maintained its perch near the top of the league despite losing a Hobey Baker finalist in net and a rock-solid senior class of seven. Freshman goalie David McKee has improved throughout the season and turned in one of his best games in shutting out Harvard 1-0 to close the first half. Sophomores Cam Abbott and Shane Hynes have stepped up their point production, and senior Ryan Vesce centers the number-one line with Matt Moulson and Byron Bitz. Those three rank 1-2-3 in team scoring.
BIGGEST QUESTION REMAINING
How will off-ice issues effect the future of the ECAC? The Division III scholarship reform movement directly affects the men's hockey programs at Clarkson, St. Lawrence, and Rensselaer. On Thursday, Vermont sent a letter of inquiry to Hockey East expressing its interest in switching leagues.
We won't have to wait long for the answer to the first question, as the entire Division III membership will vote on the reform package recommended by the Division III Presidents Council at the NCAA Convention in Nashville, Tenn. from Jan. 9-12. If passed, the reform package would take effect on Aug. 1, 2008.
INCH's First Half All-ECAC Team

Pos.

Player
Of Note

G

Yann Danis, Brown
Did you expect to see someone else? Once again, Danis leads the league in goals-against average (1.50) and save percentage (95.3). His stats would be even more impressive if not for a disappointing weekend at Cornell and Colgate.

D

Scott Basiuk, Rensselaer
A do-it-all defenseman has been a big part of Rensselaer's winning ways thus far. He regularly goes head-to-head against the opposition's best forward, and is also contributing at the offensive end of the ice, leading RPI blueliners with 11 points in 15 games.

D

Noah Welch, Harvard
He was our preseason pick for Player of the Year in the ECAC and brings a presence to the game unlike any other player in the league. His defensive poise is needed for a Crimson squad that's struggled to score goals, and he's such a workhorse, Harvard statisticians would have an easier time tracking the shifts that he's not on the ice.

F

T.J. Trevelyan, St. Lawrence
The Saints have played much better against non-league competition than in ECAC games. Trevelyan, a sophomore from Mississauga, Ontario has 16 of his 20 points in non-league games. His scoring touch in early December helped the Saints into the break with a three-game winning streak.

F

Ryan Vesce, Cornell
The small, shifty centerman is just one of three seniors regularly found in the Big Red lineup. He's the key to Cornell's offensive production and his seven-point night against Princeton in November ranks as one of the best individual performances of the season in college hockey.

F

Brian Ihnacak, Brown
This freshman from Toronto has been the go-to guy for Brown through 10 games this year. His 15 points leads the team, with 12 of those coming on the league's best power play. Brown is converting at a 30 percent clip with the man advantage this season.

Send this to a friend
About Us | Advertiser Info | Site Map | Privacy Policy
© 2003 Inside College Hockey, Inc., All Rights Reserved