October 3, 2003
INCH Preseason Faceoff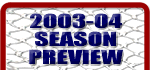 With just hours until they drop the puck, the Inside College Hockey staff gets giddy as if Santa is on his way. So to pass the time, we got together and did what we enjoy most – talked college hockey. The five participants wrote the six INCH conference previews; here's what we had to say.
Mike Eidelbes: Here's a topic – I love college hockey, but is the season starting too damn early?
Nate Ewell: It is a long season ... but I don't hear anybody complaining that the summer in New England is too long, you know what I mean? Too much of a good thing isn't too much. It's like mayo on a sandwich.
Jess Myers: I think college hockey season is about right, especially when the NHL lasts three months longer. And there was snow on the ground in Keith Ballard's hometown this morning, so drop the puck already!
Eidelbes: Good point. But in the NHL, that's their job. These guys in college are, in theory, supposed to be attending classes. Not so easy when you start practice in September and wrap it up anywhere from mid-March to early April.
Ewell: True, but it's also not college hoops – thank god – where they are playing all kinds of mid-week games.
Myers: Great point about mid-week games. College hockey's schedule makes it more conducive to actually being a student-athlete.
Joe Gladziszewski: Well, this is one spot where the ECAC is in a bind. In order to recruit, they've got to schedule early games (see BC at UVM and SLU at the Lefty this weekend). But there's a competitive disadvantage for the Ivies, who won't start for two more weeks.
Ewell: In a sense, every coach is recruiting against major junior, since their biggest argument against a kid going to college is the number of games.
James Jahnke: What would a better start date be?
Eidelbes: Next season marks the start of a uniform first day of practice, which will kind of help alleviate things a little bit. But until then, it's more or less a free-for-all.
Myers: Instead of starting to early, how about the idea that on April 10, the season ends too late?
Ewell: But if it was any earlier, it would be too cold to go bar-hopping at the Frozen Four.
Myers: Right, that's why nobody goes bar hopping in Duluth all winter – too cold.
Gladziszewski: It's never too cold to go bar hopping
Jahnke: I'm lost as to what the remedy would be for a long season. Play fewer games? More games per week? More around Christmas?
Gladziszewski: What about the interest level of the fans at this time of year – and this is directed toward you CCHA and WCHA types – can they fill a 70,000 seat football stadium and still care about hockey?
Eidelbes: Bingo: it never seems to end too late, because there's nothing else grabbing my attention. In the fall, there's college and pro football and the baseball playoffs and I feel like, as a sports fan, I'm being pulled in many directions
Myers: Nobody's going to want to play fewer games, so a shorter season is going to mean more mid-week tilts.
Jahnke: Will people go for that?
Eidelbes: In the past, traveling with a team like Denver, I was always envious of teams out East that could jump on a bus and get to a road game in an hour ... and sleep in their own beds that night.
Myers: Right. Mid-week games are fine in Boston. Not so easy in Grand Forks.
Jahnke: Or the CHA – Colorado Springs to Huntsville on a Tuesday?
Eidelbes: Speaking of East-West, has the balance of power shifted? Look at the teams in the Boston area alone. Quite an array of talent.
Ewell: Yeah, but the clear-cut favorites are in the Twin Cities.
Myers: Hockey East is probably the deepest conference, but Minnesota is still the 500-pound gorilla in the room.
Ewell: Even the best Hockey East teams, with the possible exception of BC, have serious question marks. But you're right about depth – picking Maine at 5th in a conference is downright scary.
Gladziszewski: I think BC has the biggest question mark among the trio of hotshots in Hockey East. Sean Fields and Mike Ayers are rock-solid
Ewell: Goaltending-wise you're right, Gladdy – but BC's lineup is more solid than BU or UNH.
Gladziszewski: Agreed, but you could give Eaves, Eaves, and Voce three breakaways and still be tied 0-0.
Eidelbes: Put Maine in the CCHA. Where would they finish – second? Third?
Jahnke: Second.
Ewell: Is the CCHA going to bounce back? Tough couple years, it seems.
Jahnke: It'll still be a struggle this year.
Eidelbes: No kidding. Right now, I'll take the top four in the ECAC over the top four in the CCHA.
Ewell: Wow. When was the last time that was said, 1982?
Jahnke: I was 2 years old
Ewell: Here's one, guys: what or who are you most looking forward to watching as the season gets going?
Jahnke: I wanna see if Duluth is as good as advertised. BC opener should be a good test.
Myers: UMD has gotten a lot of hype (some of it from me) for a team with a legitmate shot to open 1-4.
Myers: In the WCHA, there's plenty of buzz about David Backes at Mankato, and whether he can contribute right away.
Gladziszewski: I can't wait to see what type of impact the new coaches, especially Kevin Sneddon at Vermont and George Roll at Clarkson, will have. Not just the on-ice product, but on the hockey communities in Burlington and Clarkson. The Gut and Cheel can be great home rinks.
Eidelbes: College Sports TV. I can't believe there will be a game of the week every Friday.
Ewell: I want to see Dean Blais and Jerry York match their top lines in that CSTV game in Grand Forks.
Jahnke: Another question: how good are Miami's frosh goalies?
Ewell: I've heard both are very good. Both are top six among freshman goalies.
Eidelbes: How good are anyone's goalies? There's really no Ryan Miller or Dave LeNeveu out there.
Myers: And on another topic, does that matter any more?
Eidelbes: Taking into account that Adam Hauser has a championship ring, my answer would be no.
Myers: Save for 20 minutes versus Michigan, did Travis Weber win any games for the Gophers last year?
Jahnke: Did he lose many, though?
Ewell: So are we making too much of Minnesota's goaltending situation? Some readers think so.
Eidelbes: That's my point exactly: there aren't any goalies out there in my opinion that can steal a game.
Gladziszewski: If people haven't noticed already, Mike Schafer's doing some awfully impressive things at Cornell. He'll have a freshman class that will be relied on to contribute right away (including goalie David McKee). People like Cornell, but I don't think he gets enough credit
Ewell: Schafer's put Cornell in position to be dominant in that league for years to come.
Gladziszewski: Exactly, and check the ECAC three years ago ... St. Lawrence and Colgate were at the top of the league.
Eidelbes: Joe, excellent point. In your opinion, is Shane Hynes the key to that team? He's gotta be more consistent than he was last year, I think, especially with his size.
Ewell: Good call, Mike. To me, I'd say Hynes and the freshmen defensemen are the keys. They are good – are they good enough?
Gladziszewski: Hynes has some other members of that sophomore class who made nice contributions, but they'll need to take on an advanced leadership role even as second-year players. Cam Abbott, Chris Abbott, Matt Moulson, and Dan Pegoraro will be very important. It's hard to stay on top in the ECAC, but Cornell will be there for a while
Ewell: Here's one, guys: which was the toughest team to pick in your conference standings?
Jahnke: In Atlantic Hockey, it's tough to read UConn with all those freshmen. In the CHA, I didn't know what to make of Huntsville. Defending regular-season champs, but lost nine seniors.
Myers: In the WCHA, Wisconsin is the great mystery. Their returners aren't that impressive, but their rookies are supposedly the real deal. Will any of it matter if they're "team turmoil" off the ice again?
Ewell: Youth led me to pick UMass Lowell last in Hockey East, but it wasn't easy. I just have a feeling Blais MacDonald could put things together. Plus, I picked UMass 9th last year ... maybe it's a good spot to be in.
Eidelbes: In the CCHA, I'm convinced you could put teams three through eight in a hat, pull them out randomly and not be too far off base. It's that close.
Ewell: ECAC is probably the same – right, Joe?
Gladziszewski: Yes, from Yale at 4 through Rensselaer at 10, it's anybody's game. There are four new coaches in the ECAC, so that didn't make things very easy. Clarkson's been difficult to figure. They've got a lot of talent, but George Roll's starting with discipline and accountability. If the Knights buy into that, they'll be dangerous
Jahnke: In the CCHA, Mike, Ferris is still a cut above at No. 2?
Eidelbes: I think Ferris is a cut above. But every other team seems to have a potentially fatal flaw.
Myers: Speaking of Ferris, and goalies, I'd say Mike Brown is a guy who can steal a game.
Jahnke: Very solid, but I don't think spectacular to the point of game-stealing. Maybe once or twice. He's damn good, though.
Eidelbes: He makes the saves he should. A lot of teams don't have a goalie like that.
Ewell: Including some in the top 10.
Eidelbes: What if Jerry York could trade Voce for Mike Brown? Would he do it? Would you do it?
Ewell: No way. Tony Voce does so much, penalty killing and everything. He's a perfect compliment to Ben Eaves, and those guys were there for that national title. Jerry York puts a lot on those guys, and the other two seniors, J.D. Forrest and Ty Hennes.
Gladziszewski: What about a game of shinny between the all-conference teams from each league ... we could get a line of Vanek-Parise-Joseph with Ballard and Suter and Berkhoel against a trio of Vesce-Jessiman-Pettit, Welch and Sifers, and Danis.
Ewell: Here's the thing: the Hockey East first line might be BC's first line. That's scary.
Gladziszewski: It sure is.
Eidelbes: That would be fantastic. I'd roll Tambellini-Legue-Slater for the CCHA and put Brown in goal. Roll the dice on defensemen ... kind of a down year on the blue line in the CCHA.
Ewell: Kind of a down year on D overall, I think. Maybe we'll see scoring go up a bit?
Eidelbes: Dean Blais seems to think so. He believes his top line of Parise-Bochenski-Murray can score 100 goals.
Jahnke: That'll be twice LSSU's total.
Myers: Back to the mention of CSTV, does the increased national TV exposure for the game change the way the Hobey is selected?
Ewell: If you don't see a guy once or twice on TV, and you're voting for the Hobey, you're not doing your job.
Eidelbes: It should take the regional bias out of it, perceived or real.
Myers: But does the trophy go to the guy who scores a hat trick on CSTV's game of the week, like one good game on TV can win the Heisman?
Gladziszewski: But going back to the pre-CSTV era, a lot of media don't get to see players until the Frozen. I think Vanek's show in Buffalo make him the pre-season favorite for Hobey.


Send this to a friend
About Us | Advertiser Info | Site Map | Privacy Policy
© 2003 Inside College Hockey, Inc., All Rights Reserved