September 28, 2003
2003-04 Hockey East Preview
By Nate Ewell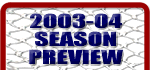 THE SKINNY
Hockey East celebrates its 20th anniversary in 2003-04, and in case a score of seasons doesn't convince you of the conference's status, consider its recent record. At least one Hockey East team has participated in each of the last seven national championship games, and conference teams posted wins in more than 70 percent of their non-league games last season.

Take it from somebody who hears a lot these days about the strength of conferences – Boston College's Jerry York.
"There's been a lot of talk around here about conferences in football and basketball, and switching conferences," he said. "I look around Hockey East and we're a high-powered, BCS conference in hockey. It's not just the top teams, either, but one through nine there's a lot of depth in this conference."
All talk of Hockey East's strength in 2003-04 must begin with York's BC team, which loses just five players from last year's co-regular season champion team, and none of the top 16 scorers. York's three best players, Ben Eaves, Tony Voce and J.D. Forrest, are all seniors who were part of the 2001 national championship team and have led the Eagles back to national prominence.
Any number of teams could jump up and challenge BC, led by the two best goaltenders in the conference at New Hampshire (Mike Ayers) and Boston University (Sean Fields). But for now, it's the Eagles who have the best shot at success in Hockey East's 20th year.
BREAKTHROUGH TEAM
Certainly Massachusetts fit this category last year, jumping from last place to sixth in the league and upsetting Maine in the playoffs to earn a spot at the FleetCenter. But the key, head coach Don Cahoon says, is maintaining that success; if they can, it could be a breakthrough year of a different sort for the Minutemen. "Last year was an important step," Cahoon said. "It gave us a sense of what it's like to succeed. But it's another thing to sustain that success. A lot of teams take little runs, but we want to take that bigger step." He should have the foundation to do it. Tim Turner is the lone regular from last year who's not back, with defenseman Thomas Pöck and forwards Greg Mauldin and Stephen Werner leading the way. Pöck mans the point on a power play that converted 20.4 percent of its chances last season.
PRIMED FOR A FALL
The trio of Jon DiSalvatore, Peter Fregoe and Devin Rask accounted for an amazing 47.6 percent of Providence's goals last season, and with each of them lost to graduation a repeat of last year's home ice in the first round of the playoffs is highly unlikely. While all three of those players had at least 44 points last year, no other Friar posted more than 29. That was defenseman Stephen Wood (9-20—29), a 6-foot-3, 210-pound senior who leads the team into this season. Providence also loses goaltender Nolan Schaefer, who was fantastic last year, especially in the second half. The Friars shouldn't suffer a dropoff in net, however, thanks to sophomore Bobby Goepfert (6-6-1, 2.39 goals-against average, .924 save percentage).

PRESSURE TO PERFORM

When asked if it was fair to say that BU defenseman Ryan Whitney was a disappointment last season, head coach Jack Parker doesn't sugar coat it. "That is a gross understatement," Parker said. "And he'd be the first one to tell you that." The No. 5 overall pick of the Pittsburgh Penguins in the 2002 NHL Draft, Whitney was too worried about living up to that billing, Parker says. That, combined with a high ankle sprain early in the year, led to some woeful performances. With heart-and-soul defenseman Freddy Meyer gone, it's Whitney's turn to take over the blueline. Parker contends that Whitney can be among the very best in the college game, and thinks that this might be the year: "The monkey's off his back," he said.
TOUGHEST ACT TO FOLLOW
Last year Maine sent talented forwards at its opposition in the same unrelenting manner that TV execs hoist reality shows on us. But seven forwards have graduated, and what was once a strength for the Black Bears suddenly looks like a weakness. They'll count on some new faces to provide depth up front, and hope that senior Colin Shields can recapture the scoring touch he displayed as a sophomore. Shields didn't have a goal from Dec. 15 to March 29 of last year (17 games), and finished with 14 goals, down from 29 in 2001-02. Seven freshmen join the likes of Shields and Greg Moore, and they'll be given immediate opportunities to contribute. Expect Luch Aquino, younger brother of former Merrimack Warrior Anthony, to lead the way among the rookies.
BEST PLAYER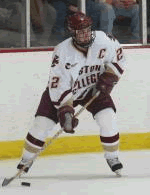 Just how good is Ben Eaves? One coach called him both the conference's best set-up man and its best pure goal scorer. In short, he could be New England's best young talent this side of Theo Epstein. And if what you see on the ice isn't enough, Jerry York says that his leadership and presence in the locker room is what stands out when comparing him to the other elite players he's coached. He won last year's Hockey East scoring race by 10 points and shared player of the year honors with New Hampshire goaltender Mike Ayers. Eaves is made even more dangerous by his linemates, Tony Voce and younger brother Patrick Eaves, and it's no surprise that York would like to keep that trio intact as much as possible this season.

BEST NEWCOMER

Boston College made perhaps the biggest waves in the recruiting world, landing Adam Pineault and Brian Boyle, but with all the Eagles' talent up front the chances to make an impact on The Heights might be limited. Instead, the choice here is Boston University's Kenny Roche, a skilled center from St. Sebatian's. Roche posted 25-28—53 in 29 games for St. Sebastian's last year, and figures to play on one of BU's top two lines and on the power play. The departure of Justin Maiser to major juniors opens up even more ice time for Roche.
UNSUNG PLAYER
There comes a time in a lot of presidential campaigns when the public meets the running mates and thinks, ever so briefly, "I'm kind of tired of the candidate, but his wingman might be all right." The Frozen Four provided a glimpse of this for UNH; the leaders all year, Lanny Gare and Colin Hemingway, were silent (Gare because of injury), and Steve Saviano took center stage. He was brilliant, adding goal-scoring to a repertoire that is highlighted by his relentless skating and gifted set-up skills. With Gare and Hemingway gone, Saviano and linemate-for-life Sean Collins will be presiding over the Wildcats' offense in 2003-04. It remains to be seen whether Saviano can assume that leading role for an entire season, but put it this way – he reminds us a lot more of Dick Cheney than Admiral Stockdale.
THREE BURNING QUESTIONS
1. Can Matti Kaltiainen be an elite goaltender for BC? The Eagles' top challengers, Boston University and New Hampshire, appear much more solid between the pipes with Sean Fields and Mike Ayers.

2. Can Merrimack get a break? This has been one star-crossed program for the last few years, from bad luck like Steve Crusco's injury in practice to devastating blows like Joe Exter's injury. If Chris Serino's team got enough good luck to balance the bad, the Warriors would run away with the league title.

3. Can Northeastern climb out of the conference cellar? They should, thanks in large part to a solid recruiting class for Bruce Crowder. Steve Birnstill, Bryan Cirullo and Brian Deeth are three freshmen defensemen who could all make a difference for the Huskies.
MARK IT DOWN
Five things you can take to the bank in Hockey East this season
1. Maine will extend its NCAA Tournament appearance streak to six years, even if it means the Black Bears need to earn the automatic bid that comes from winning the Hockey East Tournament. Somehow Tim Whitehead's troops will find a way.
2. Two conference foes will end up playing each other at the Northeast Regional (Manchester) for the second season in a row. Having the second Eastern site in Albany – outside of Hockey East country – it's even more likely to happen this year.

3. The top two scorers in Hockey East – and possibly the top three – will come from Boston College. If Jerry York keeps Ben Eaves, Patrick Eaves and Tony Voce on the same line, as he hopes to, they should dominate the top of the scoring list.
4. New Hampshire's Eddie Caron and Boston College's Patrick Eaves will be ready to go from the drop of the puck. Both have missed so much hockey over the last year, they can't wait to get back on the ice.
5. Joe Exter will sign a professional contract and continue his remarkable comeback from the fractured skull he suffered last March.
Predicted Finish

No.

School
Of Note

1.

The league's best offense is backed by some impressive defensemen as well, led by J.D. Forrest and Andrew Alberts.

2.

New Hampshire
Great goaltending, a strong and deep recruiting class and the return of Eddie Caron should offset significant losses to graduation.

3.

Boston University
Goaltending is key for the Terriers, and they'll need to get goals from a group of forwards that's balanced, but lacking any superstars.

4.

Massachusetts
The Minutemen appear ready to take the next step after the school's best season ever in 2003-04. Twenty-two letterwinners return, led by the conference's best defenseman in Thomas Pöck.

5.

Maine
The lineup will look much different, with nine players gone, but returning are a pair of goalies who can steal games for the Black Bears: Jim Howard and Frank Doyle.

6.

Providence
Goaltender Bobby Goepfert, the best U.S. player at the World Junior Championship last season, will get a chance to shine for the Friars.

7.

Merrimack
Head coach Chris Serino couldn't have asked for more from defenseman Bryan Schmidt as a freshman. He's got a strong leader up front as well in Marco Rosa.

8.

Northeastern
Jason Guerriero, one of the conference's best offensive talents, leads the Huskies up front, but they are young. Only four seniors dot the roster, and none are defensemen.

9.

UMass Lowell
Twenty-five freshmen and sophomores make up the bulk of the River Hawks' roster, which lowers expectations, but as head coach Blaise MacDonald says, "The evolution of a young player and team can be unpredictable."

Send this to a friend
About Us | Advertiser Info | Site Map | Privacy Policy
© 2003 Inside College Hockey, Inc., All Rights Reserved