October 22, 2003
Providence's Balancing Act
By Nate Ewell
A year ago the Providence offense had all the depth of Jessica Simpson – pretty nice on the surface, but lacking anything that could hold your interest.
The Friars knew something would have to change this year with the departure of three seniors who made up what was one of the top lines in the nation. With Jon DiSalvatore, Peter Fregoe and Devin Rask no longer in the lineup, some other names have been making up the 47.6 percent of Friar goals that trio scored last year.
"We didn't get a lot of production beyond our first line last year, and this year we've had production throughout the lineup," said head coach Paul Pooley, whose team shares the nation's best record (4-0-0) with Denver. "It's been a big positive. We knew we needed to have five, six, seven, eight guys picking up points for us on a regular basis instead of two or three."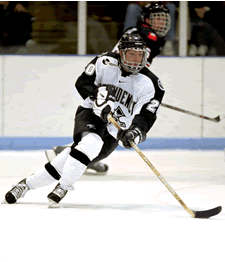 Senior Peter Zingoni has five goals and six points through four games for Providence.
An infusion of talent has certainly helped, with freshman Chase Watson earning headlines as Hockey East's Rookie of the Week twice in a row. But even more important has been the improved play of some of Pooley's returning players, led by Watson's linemates, Jonathan Goodwin and Torry Gajda, and the line of Peter Zingoni, Chris Chaput and Cody Loughlean.
All six of those players are averaging over a point per game in the young season, and head into this Friday's Hockey East opener against Boston University after an impressive road sweep of Minnesota State.
"We have four lines that go out and work hard," Pooley said, echoing the theme of balance throughout his lineup. "We really play well out there as a group – line after line, D pair after D pair."
Watson isn't the only freshman Friar who has impressed thus far. Pooley praised the defensive work of Dinos Stamoulis, and raved about the efforts of an all-freshman line – Bill McCreary, Colin McDonald and Tony Zancanaro – which has shown the ability to maintain possession, even if is hasn't scored goals yet.
In October, when a coach is rolling an all-freshman line and his wins outnumber his heart attacks, 4-0, the rookies don't need to worry about being on the scoresheet. Even without goals, they're showing that balance can be a beautiful thing.
SEEN AND HEARD IN HOCKEY EAST
Cat Consequences – As New Hampshire prepares this weekend to return to the scene of a crime, where the Wildcats will face the perpetrators of an earlier crime, you had to know that motivation wouldn't be a problem for the nation's new No. 1 team.
Turns out, manpower will be.
Head coach Dick Umile's decision to suspend eight players for their presence at the Oct. 16 riot in Durham following the Red Sox-Yankees series leaves his team very shorthanded for games against Niagara and Canisius this weekend. Niagara, of course, upset UNH in the 2000 NCAA Tournament, and the games will be held at HSBC Arena, site of the 2003 Frozen Four.
Seniors Nathan Martz and Tyler Scott, juniors Matt Hoppe, Tyson Teplitsky and Robbie Barker, sophomores Andrew Leach and Mark Kolanos and freshman Brett Hemingway were bystanders during the disturbance. Umile had warned the team to stay away from the potential problem, and as a result, none of the eight will make the trip to Buffalo.
"This program has a history of service to the campus and the broader community," Umile said. "We would rather continue in that role, than be the audience to those who choose to be disruptive and disrespectful to the community."
Adding to the Wildcats' trouble is an injury to captain Patrick Foley, who will travel this weekend but not play after he suffered a concussion against Merrimack last Thursday.
"We've got some key guys not going to play this weekend," Foley told Allen Lessels of the Union Leader. "Does that hurt the team? Of course . . . We wanted to make sure it was dealt with correctly and, most importantly, a lesson is learned from it. I hope not only does the UNH hockey team learn a lesson, but the overall university as well as the students and everyone involved in the situation. We'll be the examples. But let's hope the rest of the community is watching."
Level-headed Minutemen – These are heady times for Massachusetts, which could post its first 4-0-0 start since 1971-72 if it wins Friday night against Holy Cross. The Minutemen are ranked 15th in one poll and ninth in the INCH Power Rankings.
So how is head coach Don Cahoon keeping his troops focused? Since he always preaches attention to breakouts, power plays and backchecks, he knew it wouldn't be enough – or perhaps even possible – to emphasize those things even more. Instead, he's placing a little added interest in other areas.
"I lean on them – I drill them," he said. "We've focused on some of the little things – following through on their commitments academically, and their commitments to physical therapy. We make sure that they follow through on everything to a T. That's one way of attacking it, and hopefully that approach will carry over to the ice.
"There is a real concern about complacency here," he added. "It's easy to listen to people say how you are improving and moving up in the rankings."
Great Weekend Getaway

Boston University at Providence (Fri.)
These seemingly perennial quarterfinal foes in the Hockey East Tournament meet to open the conference season this year. Providence has a chance to prove that it's 4-0-0 start is no fluke, and to avenge last year's quarterfinal loss. Two terrific goaltenders – BU's Sean Fields and Providence's Bobby Goepfert – could make scoring scarce in this one, in a series that has seen five of the last 10 meetings go to overtime.

While You're There: Stick around for Friar Fanfest Saturday from 11 a.m. to 1:30 p.m. at the Dunkin' Donuts Center and you'll have a chance to meet the team. There may be some basketball stuff going on as well, though, so beware.

Stick Salute

UNH coach Dick Umile deserves accolades for both anticipating trouble on the night of the Sox-Yanks series finale, and backing up his words of warning with the eight suspensions. It could hurt his team this weekend, but it should help it – and the atmosphere in Durham, one would hope – in the long run.

Bench Minor

We know they've got to support the locals, but Fox Sports Net Rocky Mountain's announcers made Tim McCarver look unbiased in their coverage of last Friday's Denver-Northeastern game. A good start would have been using the Huskies' names, instead of saying, "and Northeastern steals the puck."
Injured Eaves – Injuries have been a concern throughout Ben Eaves' college career, it seems, and another one left a sour taste in the wake of Boston College's exciting two-game trip to North Dakota. Eaves will miss this Friday's game against Notre Dame after suffering a head injury early in the second game against the Fighting Sioux.
Boston College responded in that game, playing with added defensive intensity and limiting North Dakota to 17 shots on goal. The game winner came with the Eagles shorthanded, as Stephen Gionta scored by putting in his own rebound.
"We had a hard time cycling and a hard time obviously on the power play," North Dakota head coach Dean Blais told the Grand Forks Herald. "You can see why they're the No. 1 team in the country. There's not really a weakness on their team."
FRIES AT THE BOTTOM OF THE BAG
• Two Hockey East teams have already "won" shootouts after their tournament semifinal games finished in ties: Boston College at the Ice Breaker and UMass Lowell at the Nye Frontier Invitational. Still, don't expect a return of the shootout format that the conference used to break ties in the 1994-95 and '95-96 seasons. "It's exciting for the fans, certainly," Eagles head coach Jerry York said, "but I don't think it's a great way to decide hockey games."
• • Think Hockey East doesn't have travel partners? Last week it did, as Boston College and UMass Lowell were on the same flight from Logan Airport to Minneapolis. After suffering through an hour-and-a-half delay on the ground in Boston, the teams made it to Minnesota, where BC disembarked to make its way to Grand Forks, N.D. The River Hawks continued their 4,500 mile trek to Alaska, arriving in time for practice and a tournament dinner before they could finally get some rest. "Just about everything that could go wrong did go wrong for us, along with being up for 21 hours," said head coach Blaise MacDonald, who faces his former team, Niagara, as the River Hawks return to the road this week for the Xerox Punch Imlach College Hockey Showcase in Buffalo.
• Merrimack will host a special dedication ceremony at its home rink before Saturday's game against Providence. The rink is being renamed the J. Thom Lawler Arena, after the coach who led the Warriors to the 1978 Division II national championship.
• If defenseman Thomas Pöck scores Friday night against Holy Cross, he would tie a Massachusetts school record with goals in four straight games.
• High expectations follow Northeastern's freshman defense trio of Steve Birnstill, Bryan Cirullo and Brian Deeth, but head coach Bruce Crowder has shown that his rookie forwards have ability as well. Last weekend at Denver, freshmen Bryan Esner and Yale Lewis each got a shot at playing left wing on the team's top line with Jason Guerriero and Mike Morris.
• Special teams have plagued the Huskies, as they rank last in the league in penalty killing and next-to-last in power play. Of course, they have only scored three goals at even strength.
• Joining Eaves on the injured list is Boston University sophomore defenseman Jekabs Redlihs, who is out 4-to-6 weeks with a broken collarbone. Redlihs emerged as a key contributor on the Terrier blueline last season.
• Maine cruised to another tournament title, although this past weekend's Black Bear Classic came against an easier field than the Maverick Stampede. Maine beat the U.S. Under-18 Team 9-2 and followed that with a 7-0 win over Holy Cross, in which the Black Bears had 53 shots on goal. Both Jim Howard and Frank Doyle have now posted shutouts for Maine already this year.