January 1, 2004
Singing, Dancing, Winning
By Nate Ewell
There was a day off, followed by a day of music, laughter, and gifts all around.
You might not expect such revelry from the lone Hockey East team without a conference win in 2003-04, but given the events of the last month, there's no denying that Northeastern deserved a little merriment.
With a four-game winning streak and the championship of the Rensselaer Holiday Tournament, the Huskies have plenty to celebrate this week. They took Tuesday off, held their Secret Santa on Wednesday, and are now firmly focused on keeping that positive momentum going headed into Saturday's game against Boston College.
The aforementioned music belongs to leading scorer Jason Guerriero, who got a CD of Mexican tunes from his Secret Santa. (If you assumed Guerriero – actually an Italian name – was Hockey East's answer to Scott Gomez, you apparently weren't alone.) The reigning INCH Player of the Week, Guerriero had 3-4—7 in the two games at Rensselaer to lead Northeastern.
"You can just tell coming to the rink for practice," Guerriero said after Wednesday's festivities. "Everyone's excited. We're all on a high."
The Huskies have put it together after an incredibly frustrating 0-9-2 start in which Guerriero's offensive output mirrored the performance of his team. Recognized by coaches around the league as one of Hockey East's most dangerous offensive players, he had no points in the first four games and just 3-0—3 in the first nine.
"(The season) didn't start off the way I had planned it," he said. "It didn't feel like I was getting any breaks. I knew it was a matter of time before things started clicking, but in college hockey it's only a 32-game season plus playoffs. You can say it's just a matter of time, but all of a sudden you're halfway through."
December Records

Boston College
4-0-0
Northeastern
4-0-0
Maine
2-2-0
Boston University
1-1-0
Merrimack
1-1-0
Providence
1-1-0
New Hampshire
2-3-1
UMass Lowell
2-3-0
Massachusetts
0-1-3
Now, with 4-8—12 in his last six games, Guerriero is rolling. Early in the year, if one thing was working for the Huskies – goaltending, special teams, the offense – something else would fail. Now it seems to be all coming together, and the timing is perfect with the bulk of the Hockey East schedule and the Beanpot ahead.
What's best, perhaps, is the team's upbeat mentality. In both games this weekend, against Colgate and Mercyhurst, the Huskies trailed in the second period only to come back and win.
"Before, maybe we had the lead against UNH, then they would come back and you would sink your head," Guerriero said. "You wouldn't say it, but you could feel it. Now we have confidence that we can come back, even if we get down. That's the biggest difference."
And while the four-game winning streak has all come outside the conference, Guerriero warns that people shouldn't dismiss Northeastern's streak because of the opposition. Colgate and Mercyhurst – the two teams the Huskies beat at Rensselaer – are both around .500 with some impressive wins this season.
"It was not an easy weekend by any means," Guerriero said. "Put any of the best teams in the country in that tournament and they'd be in two tough games, just like we were. That's how tough college hockey is.
"It doesn't matter to us whether we're playing the Toronto Maple Leafs or Mercyhurst," he added. "We're going to play hard either way."
That's an approach that could keep things festive in the Northeastern locker room through the second half of the season.
SEEN AND HEARD IN HOCKEY EAST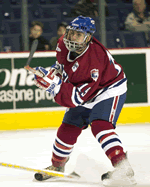 Mark Pandolfo is among Hockey East's hottest scorer with six goals in his last five games.
Good Kids – With 17 or 18 freshmen and sophomores in his lineup, UMass Lowell head coach Blaise MacDonald wasn't sure where his team would be by the midpoint of the season.
But considering that youth – and the fact that a year ago the River Hawks were still in search of their first win – he's thrilled to see them at .500 overall and 4-3-1 in conference play. It's not so much that those records have exceeded their goals – in fact, MacDonald's team is establishing its goals as it goes.
"When you have a team with the makeup such as we have, it's very difficult to set quantitative goals," he said. "There's so much room for evolution."
The biggest gains have been made by a sophomore class that showed skill as rookies, but didn't enjoy much success. Five sophomore forwards stand stacked atop the River Hawks scoring list, led by Elias Godoy and Ben Walter.
Heading into a home-and-home rivalry weekend with Massachusetts, MacDonald needs contributions to continue from those players, including sophomore Mark Pandolfo, who has scored goals in five straight games. His six goals in that time are double his season total from last year, and his nine goals on the season are three times what he had as a rookie.
"We've been blessed to have some gifted offensive players in the sophomore class," MacDonald said. "And we've also gotten some big contributions from unlikely sources, like Mark Pandolfo. He's really been a threat offensively, especially recently."
One spot where UMass Lowell has struggled of late has been in goal, where junior Chris Davidson had a solid start, but has allowed 10 goals on the last 23 shots he's faced – a stat that MacDonald recites with the familiarity of someone who's been lying awake thinking about it. Backup Paul Mammola got the win in the third-place game of the Badger Showdown last weekend.
Help was scheduled to arrive in the second semester in the form of John Yaros, a transfer from Army who has dazzled the River Hawk coaching staff in practice. But he's been sidelined for nine weeks with mono, and MacDonald isn't sure when he'll be back in playing shape.
Miracle Worker – There's a great moment in the trailer for the upcoming Disney movie, "Miracle," in which one of the players says, "A lot of guys from Boston and Minnesota." His teammate, disbelieving, replies, "Yeah, that's gonna work." (If you need a goosebump fix, check out the trailer here, under ESPN Motion.)
That 1980 Olympic team is defined by BU and Minnesota guys – specifically Mike Eruzione and Herb Brooks, although there were many more. And when the Terriers and Gophers face off this weekend at Mariucci Arena, there will be plenty of Lake Placid memories.
A few of those Lake Placid characters, including Eruzione and goaltender Jim Craig, take part in CSTV's show, "Coach", on Jack Parker. If you're tracking down DirecTV to watch Friday night's BU-Minnesota game on FOX Sports North, be sure to check in an hour early for this feature.
It features a good blend of interviews and highlights, with a casual conversation between Eruzione and Parker mixed in throughout. While showcasing the championships Parker has won, the show focuses on his connection with his players. That inevitably leads to some sadder moments in Terrier hockey history, like Travis Roy's accident and the loss of Mark Bavis on 9/11, but the show does a terrific job of addressing those moments while remaining an upbeat tribute to Parker.
FRIES AT THE BOTTOM OF THE BAG
• The future of Massachusetts' third-leading scorer, Chris Capraro, is up in the air after the sophomore missed last weekend's games in Vermont. Capraro has left the team indefinitely and will not play in this weekend's series against UMass Lowell, although UMass officials have not made a formal statement regarding his future with the team.
Capraro, who had 7-16—23 as a rookie, had been playing on the Minutemen's second line with Mike Warner and Kevin Jarman. He had earned acclaim as a terrific all-around player, someone head coach Don Cahoon felt comfortable playing in any situation.
While Capraro's long-term status with the Minutemen is the larger concern, UMass will be very thin up front for its series this weekend. Sophomore Stephen Werner is busy lighting it up for Team USA in the World Junior Championship, and Warner is battling an injury. When faced with a similar shortage of forwards in a game earlier this year, Cahoon used do-it-all defenseman Thomas Pöck as both a forward and defenseman.
• New Hampshire's Eddie Caron faces some former teammates when Yale visits the Whittemore Center on Saturday. After spending his freshman year at UNH, Caron transferred to Yale for the fall semester last year, but returned to Durham about a year ago.
Great Weekend Getaway

Massachusetts vs. UMass Lowell (Sat. at Lowell; Sun. at Amherst)
UMass Lowell holds a 20-12-4 all-time edge in the rivalry with fellow state school Massachusetts, and historically the River Hawks have been favored in these meetings. That may not be the case any more, as Don Cahoon continues to build the program in Amherst, but Lowell may still have an edge heading into these meetings. Massachusetts hasn't posted a win since Nov. 25 (0-2-4 since then), and will be short-handed without Stephen Werner and Chris Capraro.

Stick Salutes

Joe Pearce's Great Lakes Invitational MVP performance is all the more remarkable given his struggles in his first appearance this year (five saves, three goals against in just over a period of work vs. Merrimack). Expect he and Jerry York to both have a lot more confidence in his abilities after his work at Joe Louis Arena.

Great to see Joe Exter sign on with the Pittsburgh Penguins AHL affiliate. He reported to the Wheeling Nailers of the ECHL to begin his pro career.


Bench Minor

Given the small appetite for televised hockey in the U.S., it's not a surprise that Team USA's World Junior Championship games aren't anywhere on your satellite dial. Still, it would be great to watch the exploits of Stephen Werner and the boys. As it is, our only hope for a televised game is if the U.S. and Canada meet in the championship game, and if you have the NHL's Center Ice package.

EDIT: Um, never mind. Turns out TSN's broadcast of Saturday's U.S. semifinal will be available on the NHL Center Ice package. This bench minor apparently results in a short-handed goal!
• WCHA referee Jon Campion will officiate the UNH-Yale game and the Vermont-Maine tilt on Sunday. Just a hunch on my part, but I bet the Wildcats are happy they aren't seeing WCHA official Derek Shepherd, who did their game against Minnesota two weeks ago.
• UNH will head west for a holiday tournament again next year (or more accurately, as we turn the calendar, at the end of this year). The Wildcats have signed on as the fourth team in the Great Lakes Invitational, and will try to stretch Hockey East's hold on the GLI to three years.
• Although Boston College and Northeastern both came home with titles, it wasn't a fantastic holiday season for Hockey East teams. The other five teams involved in holiday tournaments combined for a 3-5-2 record.
• Merrimack had the holidays off, but returns to action this weekend with a non-league pair at Princeton's Hobey Baker Rink. Special teams have helped carry the Warriors all season, and they should have a huge edge if either of these games are penalty-filled. Merrimack is seventh in the nation on the power play (22.0 percent) and tied for 16th in penalty killing (86.2 percent); Princeton is 42nd and 51st, respectively.
• Kudos to the folks at Providence and Dunkin' Donuts for bringing a terrific holiday tournament to New England. With the exception of the Dartmouth/Vermont event, it's a shame that each holiday season the best games are being played in Detroit, Wisconsin, Minnesota and Florida (although perhaps not a shame for those folks who get to go to Florida). While the Coffee Pot didn't draw great crowds, it did host some good hockey.
• The Friars dropped their first non-conference game of the year against St. Cloud State in the Coffee Pot championship game. They'll try to build on their 5-1-1 record outside of Hockey East against Quinnipiac on Friday (NESN).
• Defenseman Matt Collar returned for UMass Lowell at the Badger Hockey Showdown after missing six games with a broken wrist. Collar was the River Hawks' best defenseman at both ends of the ice for the first two months of the season.
• Don't blame Jimmy Howard's injury for Maine's struggles at the Everblades College Classic. Frank Doyle was impressive in goal, compiling a .930 save percentage as the Black Bears fell to Ohio State and Notre Dame. They try to get back on track with another non-league game, against Vermont on Sunday in Portland.
• Ryan Shannon has a point in each game of Boston College's current 12-game unbeaten streak, the longest point streak by a Hockey East player this season.
• We've long marveled at Thomas Pöck's offensive abilities, but the numbers are reaching the absurd stage after he had a hand in seven of Massachusetts' eight goals last weekend. The defenseman currently stands tied for third in the nation with 27 points.
A variety of sources were utilized in the compilation of this report.