February 11, 2004
Seventh Could Be Heaven
In the race for the playoffs, the focus isn't just on making the top eight
By Nate Ewell
Although getting to the playoffs is the first hurdle, even the teams in the bottom half of the standings are shooting for a trip to the FleetCenter. And like a blackjack player hitting on 14, those teams are hoping for playoff seed number 6 or 7.
End up in the 8 spot and, most likely, you're headed to Boston College. And the house wins.
"I think there will probably be an upset this year in Hockey East among the teams going to the Fleet Center," said Merrimack head coach Chris Serino. "But I believe it won't be the team that's playing BC."
Serino's Warriors are among four teams battling for spots six through nine, along with UMass Lowell, Boston University and Northeastern. Providence separated itself from that pack a little bit – at least for the moment – with two road victories last weekend.
It's easy enough to understand Serino's pessimism about anyone's chances against BC. Maybe you scratch out a win against the Eagles; you can at least play them even for 65 minutes, as the Warriors have done twice and Boston University did Monday night. But in a best-of-three format, the hopes of winning twice are dismal.
Consider this, when you think about your team's chances of beating the Eagles two times in a weekend: in 16 conference games to this point, the Eagles have only lost once.
History isn't on your side, either. Each of the last five years the top seed has reached the FleetCenter, and none of those teams lost a single game in the process. Upsets elsewhere might be rare, but they're not unheard of – in fact, in four of the past seven years, one of the top four teams has lost in the first round, and last year two of them did.
That's not to say that Massachusetts and Maine – the teams likely to end up second and third, in some order – are easy matchups. Far from it, but at least they don't carry an aura of invincibility. Massachusetts is still a newcomer among the Hockey East elite, and they literally aren't as good as their record – they gained two victories by forfeit vs. UMass Lowell. As for Maine, the Minutemen showed that the Black Bears were beatable last season, and they can get stuck in defensive games where close scores make upsets more likely (witness the four 1-0 games they've played since Christmas).
Both of those teams could still unseat Boston College for the top spot, especially with UMass facing the Eagles in a home-and-home this weekend. But as the preseason polls predicted, most people still expect BC to finish first.
"I've said this from day one," Serino said. "I think they are the best team in the country. They are one of the few teams in our league – maybe the only team – that can play poorly and still beat you. They're just so talented. They're solid all the way down their lineup, they've got great scorers, and their defense is better than any team in the league. I don't see a weakness."
Most fans will focus on the battle for first place or eighth place, with the conference title or a trip to the playoffs on the line. But keep in mind that the fight for the sixth and seventh positions could be just as fierce, and just as important once the postseason begins.
SEEN AND HEARD IN HOCKEY EAST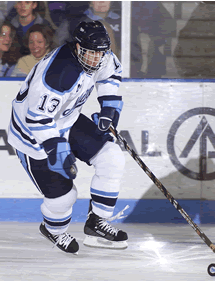 Todd Jackson's two goals Saturday give him a career-high 15 on the year.
Maine's Action Figure – The surprise of the Hockey East weekend was Maine's 2-2 tie Saturday night against Alabama-Huntsville – a team that sits in the same position in College Hockey America (third) as the Black Bears do in the American college hockey polls.
That tie would have been a loss, however, were it not for the efforts of senior Todd Jackson, the Black Bears' leading goal scorer all year. He had both goals on Saturday to give him 15 on the year, good for fourth among Hockey East players.
In a sense, head coach Tim Whitehead compares Jackson to Niko Dimitrakos, the current San Jose Shark who had three solid seasons for Maine, but broke through as a senior to become a second-team All-American. Both players came to school possessing terrific speed, Whitehead said, but it took a while for their hands to catch up.
"His speed is really elite," Whitehead said of Jackson, "and his playmaking ability has caught up with his speed. You see that every so often – when you're that fast as a freshman, it's tough to make plays at that speed. Sometimes their skills have to develop."
Along the way, the Black Bear captain has assumed the leadership role on a team that has exceeded expectations. Maine heads into this weekend's series against Northeastern just four points behind Boston College in the Hockey East standings, and the Black Bears' 20 wins trails only BC (21) nationally.
Jackson's speed and hockey sense helps make him a terrific defensive forward, and his five shorthanded goals rank tied for second in the nation.
Line Dancing – Some shuffling on their top lines paid off for both Massachusetts and New Hampshire on Saturday night.
The Wildcats got the biggest boost, with Justin Aikins scoring in overtime to take a 3-2 win and salvage a split in the series. Aikins had scored the night before in Amherst while skating on the second line, but the nation's assist leader (25) played between Steve Saviano and Sean Collins on Saturday.
"It's nice to get a chance like that," Aikins told Al Pike of the Foster's Daily Democrat. "Saviano and Collins are a treat to play with. Everybody has seen the way that they play, so it's a lot of fun."
Massachusetts, meanwhile, threw junior center Tim Vitek between Greg Mauldin and Stephen Werner at the start of the series, with hopes that he could help rekindle the spark that those wings had last year with Matt Anderson, who is injured and out for the year. The trio was quiet in Friday's UMass win, but Vitek tipped in a Mauldin shot on Saturday for his fifth goal of the season.
Head coach Don Cahoon had tried Vitek, a quick, savvy center, between the two high-scoring wings to start the season. Although it didn't take at the time, he saw potential. If they fulfill that potential the rest of the way, Vitek could give the Minutemen another potent offensive weapon.
Healey Your Wounds – Jim Healey has emerged as the No. 1 goaltender at Merrimack, and unbelievably he's the only freshman who has played one-third of his team's minutes between the pipes in Hockey East. Healey stopped 41 shots last week in a 4-4 tie with Boston College to earn the conference's Rookie of the Week honors.
The Warriors had the luxury of bringing Healey along slowly since Casey Guenther played well early on. But since the New Year, Healey has played better, and he's made four straight starts. He should start again Thursday night against BU.
"He's been playing great, as we expected him to," head coach Chris Serino said. "We didn't have to throw him right in the fire, but when Casey started to struggle a little bit, he was ready. For [this stretch of] three weeks, with just one game each weekend, we've got to go with the hot hand."
Recently that's been Healey, and he's put up some solid numbers. He's 3-6-1 on the year (3.10 goals-against average, .893 save percentage), with seven of his 12 appearances coming since Jan. 1.
FRIES AT THE BOTTOM OF THE BAG
Great Weekend Getaway

Boston College at Massachusetts (Fri.)
The Saturday game bears watching as well, of course, but there's talk out of Amherst that this could be the first hockey sellout in Mullins Center history. If the Minutemen win, they would take over first place in the conference – and send a large group of fans home happy.

While You're There: Stop in at the Hangar Pub and Grill on University Drive, where their 19 flavors of wings headline some terrific bar food. They have 24 beers on tap, too. If you're in town Thursday you can catch the Toot Cahoon Radio Show there as well.

Stick Salute

• Welcome back, Sean Fields, who was his old self at the Beanpot after struggling for long stretches this season. There's no better big-game goalie in Hockey East, and probably not in the country.

• To Jim McCabe, the Boston Globe's esteemed golf writer who dabbles in college hockey when the greens are snow-covered. His piece on BC last Sunday was terrific. It's easy to identify what makes a team great once they've won a title – witness all the fawning over the Patriots and the Tom Brady-to-Joe Montana comparisons. It's something else to do it with two months left in the season.

Bench Minor

When it comes to tweaking rules, the NHL doesn't get much right – and I'm not optimistic about the results of the general managers' summit held this week in Las Vegas. But at least they ditched the strict interpretation of the in-the-crease call that took a goal off the scoreboard Monday night. It would be a shame if that kind of call haunts someone, Brett Hull- or Tim Taylor-like, come NCAA Tournament time.
• Something to watch for in the Boston College-Massachusetts series: both teams use their points extremely well in their offensive end. In UMass' case, it's probably a product of having high-scoring Thomas Pöck back on the blue line, but other defensemen benefit as well. Nick Kuiper had a goal in each of last weekend's games against UNH, and Marvin Degon stands tied for third on the team in scoring behind Pöck and forward Greg Mauldin. The Eagles offensive weapons from the point are led by Andrew Alberts and J.D. Forrest, but all six defensemen seem to get the opportunity to shoot. Forrest's apparent goal Monday night – it was waved off – was a perfect example of strong work down low by the Eagle forwards, followed by a great pass to the point by freshman Brian Boyle.
• For years, Boston University used success in the Beanpot as a springboard for a strong finish to the year. Northeastern, although it was playing in the consolation game, would like to see a similar result. "Coach said before the game that winning is contagious," said Jason Guerriero, who scored the first goal in the Huskies' 3-1 victory over Harvard. "With this win, hopefully we can get on a little roll now. Winning feels good, and hopefully we go into this weekend playing Maine back-to-back at home with a good feeling and roll from there."
• Reigning Hockey East Player of the Week Bobby Goepfert of Providence has been rejecting shooters' bids a lot lately (he's got wins in five of his last six games). Meanwhile, you can bid on Goepfert's game-worn jersey from last season on ebay, in an auction that ends Friday. It's the road jersey with the Skating Friar on the front. I might have selfishly hung on to this information, but I've already been outbid.
• Ben Walter's return to the lineup last weekend gives UMass Lowell a huge boost. The sophomore had a goal and an assist Sunday against Providence, his 17th goal of the season.
• River Hawk freshman Cleve Kinley, with 1-4—5 in his last four games, is earning rave reviews from head coach Blaise MacDonald. "Cleve Kinley is without question our top defenseman this season," said MacDonald. "He's playing with a lot of confidence, savvy, poise, and is really starting to make plays for us offensively. We know that he's a great defender already, but now he's transitioning the puck well, jumping into the play, and creating offense. He's a player that with the naked eye a lot of people overlook his value. As coaches we see him every day, and he has just gotten better and better as the season has progressed."
• Wisconsin head coach Mike Eaves must've smiled to see his son, Ben, behind the Boston College bench during the Beanpot. Head coach Jerry York wasn't shy about consulting his captain-turned-assistant coach on occasion as well.
• Merrimack grad Joe Exter earned his first professional victory Saturday night, stopping 20 shots in a 4-3 overtime win for the Wheeling Nailers in the ECHL.
• The Beanpot adopted a fantastic tradition from the Great Lakes Invitational in Detroit of raising the winner's banner to the FleetCenter rafters for the coming year (if the NCAA has any sense, out-of-towners will get to see it in April, but don't be surprised if it's taken down). With Monday's victory and its win at the GLI, Boston College now has two championship banners hanging in NHL arenas – that's more than 18 of the 30 teams in the NHL can claim.
• Former Eagle Brooks Orpik has been enjoying Boston College's success as he enjoys a breakout season with the Pittsburgh Penguins. "I feel just as involved now as when I was there," Orpik said at NHL All-Star Weekend, where he played in the YoungStars Game. "The equipment guy is still sending me shirts and hats."
Um, Brooks, not to nit pick, but you don't exactly need free swag any more, do you? Plop down the old credit card at The Hockey East Shop.
A variety of sources were utilized in the compilation of this report. Special thanks to Joe Gladziszewski and Jess Myers.