March 4, 2003
Three stars shine in Hockey East
By Nate Ewell
Hockey East
REGULAR-SEASON RECAP
TOURNAMENT PREVIEW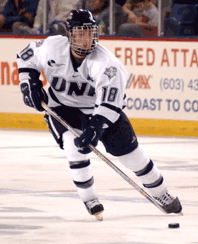 Senior wing Lanny Gare emerged as New Hampshire's top offensive threat this season, finishing third in Hockey East scoring with 15-16—31 in 24 conference games.
Related Links
Championship weekend tickets: Sold out
Quarterfinal Series Previews
No. 5 Boston University at No. 4 Providence
BU: 21-12-3 (13-10-1)
PC: 19-12-3 (12-9-3)
Season series: PC won, 2-0-1
Terrier Fact: BU and PC – the Dallas Stars and Edmonton Oilers of Hockey East – meet in the league quarterfinals for the third straight year and fourth time in five years
Friar Fact: Providence was 6-0-2 in February, the first time it went unbeaten in the month since 1988-89
How Boston University Wins: The same old story, stay out of the penalty box
How Providence Wins: Continue to get great goaltending from Nolan Schaefer (7-0-2, 1.85 goals-against average, .943 save percentage in his last 10 games) and score when the games inevitably go into overtime
No. 6 Massachusetts at No. 3 Maine
MA: 17-16-1 (10-14-0)
ME: 24-7-5 (14-6-4)
Season series: Maine won, 2-1-0
Minutemen Fact: UMass' sixth-place finish marks its best in Hockey East play, and only the second time the Minutemen have finished higher than eighth
Black Bear Fact: Lucas Lawson led Hockey East in league goals with 17
How Massachusetts Wins: As they did in their win against the Black Bears two weeks ago, the Minutemen need to score on the power play and get great goaltending from freshman Gabe Winer
How Maine Wins: Limit goals against; the Black Bears have given up four or five in each of their last six losses
No. 7 Merrimack at No. 2 Boston College
MC: 12-16-6 (7-13-4)
BC: 21-9-4 (16-6-2)
Season series: BC won, 2-1-0
Warrior Fact: Merrimack's freshmen have accounted for 43 of the team's 90 goals
Eagle Fact: Patrick Eaves, who was leading the team in goals at the time of his injury, returns to action Thursday
How Merrimack Wins: Find some goal scoring, a struggle since Marco Rosa went down with a broken wrist
How Boston College Wins: Get to goaltender Joe Exter early and don't give the Warriors a chance to build confidence and momentum
No. 8 UMass Lowell at No. 1 New Hampshire
UML: 11-18-5 (4-16-4)
NH: 21-7-6 (15-5-4)
Season series: UNH won, 2-0-1
River Hawk Fact: UMass Lowell has reached the semifinals eight times in the last 10 years, tied with Maine for the most in Hockey East
Wildcat Fact: When the UNH seniors were freshmen, UMass Lowell head coach Blaise MacDonald's Niagara team knocked them out of the NCAA Tournament
How UMass Lowell Wins: Get much better performance on special teams (power play was seventh in the league, penalty kill was ninth), a big challenge against UNH (second in both)
How New Hampshire Wins: Simply play their game, and contain the River Hawks' Ed McGrane, whose three-point night against Northeastern lifted UMass Lowell into the playoffs
History says that only two teams seeded fourth or lower have ever won the Hockey East Tournament. A quick look at this year's standings suggests that trend is likely to continue.
Boston College, Maine and New Hampshire have been the dominant trio in Hockey East all season, each seeming to have the inside track on the regular-season title at one point or another. They all made an appearance as the No. 1 team in the INCH Power Rankings. BC and UNH shared the regular-season title, with Maine close behind.
But others could certainly stake a claim to the conference's postseason prize. Boston University has won every tournament it's entered this season (IceBreaker, Great Lakes and Beanpot). Providence enters its series with BU on the nation's second-longest unbeaten streak.
The league's top three have been evenly matched all year, and the next two weeks will have big implications on their NCAA Tournament seedings. Others, like BU and Providence, just want to ensure that they reach the dance – and perhaps, along the way, add a little more history that favors the underdog.
The Favorite
New Hampshire's three-point series against Boston College last weekend not only gave the Wildcats a share of the title and the tournament's No. 1 seed – it also showed that they were playing the kind of hockey they need to in the postseason. They've got two very dangerous lines at the moment, with Steve Saviano's trio red-hot behind the first unit of Lanny Gare, Colin Hemingway and Josh Prudden. Add to that the fact that they've got supreme confidence in their goaltender, Mike Ayers, who led all Hockey East netminders with a .926 save percentage in league games.
Gate Crasher
The hottest team in the league – perhaps the nation – during the past month has been Providence. Sharp goaltending, commitment to team defense and opportunistic scoring make the Friars dangerous. Add a dash of NCAA necessity – since they need to at least reach the FleetCenter to have a shot at the tournament – and Providence is the obvious choice to break through the triumvirate at the top of Hockey East and come away with the tournament title. Jon DiSalvatore, one of the league's best all-around players, leads the Friar attack.
INCH's All-Conference Team
G – Joe Exter, Merrimack: Would figure prominently in any "most valuable vs. best player" debate. Regardless, he's good.
D – Francis Nault, Maine: Defensemen with these types of skills are few and far between. Nault throws tape-to-tape passes so crisp you can hear them throughout the arena.
D – Freddy Meyer, Boston University: From the good (physical presence, timely goals) to the bad (penalties), nobody defines the Terriers like Meyer. He's not the second-most-talented defenseman in the league, but where would BU be without him?
F – Ben Eaves, Boston College: It's a credit to Ben and the Eagles that they shared the conference title without his brother, Patrick, in the lineup for 12 weeks. They couldn't have done the same without Ben.
F – Lanny Gare, New Hampshire: He's got great presence, whether the puck's on his stick, he's playing defense, or he's in the locker room.
F – Martin Kariya, Maine: Even the cast full of stars in Ocean's Eleven had its George Clooney. As has been said in Orono for the last decade, Kariya is Maine's.
Coach of the Year
This was a league full of great coaching jobs this season – from Massachusetts' resurgence to Merrimack's resiliency to Maine's continued strength. But don't overlook the co-champs just because they've got talent – it took some great coaching to finish first in this conference. We'll give the nod to Jerry York, whose team overcame injuries to defenseman J.D. Forrest and forward Patrick Eaves, and shared top honors despite goaltending that doesn't quite match up to the other contenders. The Eagles executed a game plan that limited opponents' shots (best in the conference at 21.7 per game in league play) without sacrificing offense (also No. 1, 4.04 goals per game).
Player of the Year
The fact that he won the conference scoring title by 10 points might make this point obvious, but there's simply no player in the league as feared as Ben Eaves. Boston College's junior center enters the playoffs with 53 points in 31 games, a healthy 1.71 points per game clip (third in the nation), but he was even better in Hockey East action (1.83, 42 points in 23 games).
Freshman of the Year
His numbers may have tailed off slightly late in the season, but Jim Howard had quite a debut season in Orono. The goaltender didn't suffer his first conference loss until February, and finished second in the league in save percentage (.918). Most important, he and Frank Doyle didn't take long to erase the Black Bears' biggest question mark – the departure of last year's tandem of Mike Morrison and Matt Yeats.
Breakthrough Player
There's certainly no doubt what team broke through in 2002-03, so it's fitting that Massachusetts' Greg Mauldin is our Hockey East breakthrough player. The only sophomore among the league's top 14 scorers, Mauldin had a good freshman season, but he became an offensive force this year. Mauldin benefited from the arrival of a couple of freshman wingers – Stephen Werner and Matt Anderson – and head coach Don Cahoon's willingness to let his young team play an offensive style. The Minutemen have been especially effective on the power play, where Mauldin has scored four of his 19 goals.