March 13, 2003
Familiar territory for Cahoon, if not UMass
By Juan Martinez
Hockey East
CHAMPIONSHIP WEEKEND PREVIEW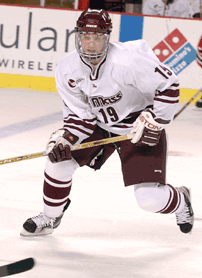 Massachusetts forward Stephen Werner was a unanimous selection to the Hockey East All-Rookie Team.
Related Links
Championship weekend tickets: Sold out
Get Well, Joe
As the games begin again Friday night, thoughts remain with Joe Exter, and the Merrimack goaltender's recovery from the fractured skull he suffered last week. Merrimack has set up an online forum for fans to share their best wishes and prayers for Joe.
Cards can be sent to:
Hockey Office
c/o Joe Exter
Merrimack College
315 Turnpike Street
North Andover, MA 01845
Semifinal Team Previews
No. 1 New Hampshire
23-7-6 (15-5-4)
Wildcat note: The hottest team entering the weekend, UNH is 5-0-3 in its last eight, averaging 4.75 goals per game in that time.
How UNH wins: Continue to get stellar play from its top two lines, its power play and its goaltender. The Wildcats have got all the ingredients for postseason success.
No. 2 Boston College
23-9-4 (16-6-2)
Eagle note: Hard to believe, but BC and BU haven't met in the Hockey East Tournament in 10 years (a quarterfinal series victory for BU).
How BC wins: The Eagles need to follow the lead of Ben Eaves, the conference's best player, who was held to one point in the Merrimack series.
No. 5 Boston University
23-12-3 (13-10-1)
Terrier note: A No. 5 seed has never won the Hockey East Tournament, but BU enters with a 7-0-1 record in tournaments this season.
How BU wins: As in the Beanpot, the Terriers need Sean Fields to play well and the offense to produce timely goals. Getting captain Freddy Meyer back from a shoulder injury would be a big boost. His status is up in the air after missing three of the last four games.
No. 6 Massachusetts
19-16-1 (10-14-0)
Minutemen note: UMass has scored at least four goals 17 times this season, winning all 17 of those games.
How UMass wins: As Cahoon says of the UNH matchup: "Against UNH, we need to stay within ourselves. We can't play transition hockey with them for 60 minutes and win. We need to try to offset the [Lanny] Gares and [Colin] Hemingways of the world. Gabe also needs to be solid and steal a few for us because we certainly know that [UNH goalie Mike] Ayers is a capable guy and can do the same thing. Ultimately, we need to keep it close and make the big plays when needed." The Minutemen would need a repeat performance were they to reach the finals.
– Capsules by Nate Ewell
Just call him Don "The Builder." Five years removed from reaching the pinnacle of his Princeton coaching career – guiding the Tigers to their only Eastern College Athletic Conference Tournament title and NCAA berth – Don "Toot" Cahoon is at it again.
In his third year at the helm of the University of Massachusetts, Cahoon is once again putting his stamp on a once-struggling program. Thanks to a stunning playoff sweep of Maine in Orono – where UMass had never won in 18 previous contests – the Minutemen have put the college hockey world on alert that they are to be taken seriously.
"The first game is really crucial in a three-game series," said Cahoon. "The game broke early and we got goals that were not the typical goals that you get against Maine. It was definitely a confidence builder. That set the stage for us to relax and do things a little better in game two.
"It was a monumental win for our program and a magical moment for us. We want to be like [Maine], but we're not there yet."
True, but consistent success from season to season will elevate the program into the top half of Hockey East. Until then, Cahoon and his staff focus on erasing the memories of seasons lost and look to what the future holds.
"We can't afford to look to our past," says Cahoon. "We need to put our footprints in the sand and go forward for the growth of our program. We look for and want kids who want to make a difference and create a winning program. It's an exciting thing to get involved in."
Cahoon speaks from experience. As a forward for Boston University, he won back-to-back national championships (1971-72) and was a member of the coaching staff when the Terriers captured the 1978 title.
As head coach, Cahoon is best known for the turnaround he engineered at Princeton. In nine seasons with the Tigers (1991-2000), he won 102 games and recorded countless firsts for the program.
He led the Tigers to four ECAC Tournament semifinal appearances, two championship games, the first winning seasons since the late 1960s, the school's only ECAC Tournament title and its sole NCAA tourney appearance. In addition, he attracted some of the nation's best players in the mid-to-late '90s, including forwards Jeff Halpern, Syl Apps and Casson Masters, as well as defenseman Steve Shirreffs.
In his fourth season at Princeton, the Tigers compiled the first of four winning campaigns under Cahoon. That 1994-95 squad went on to playoff upsets of second-seeded Brown and No. 1 Clarkson, before falling in the championship game to Rensselaer. Two seasons later they were back in the semifinals, upsetting Vermont along the way. The following year, 1997-98, they were ECAC champions and NCAA bound after wins over top-four ECAC teams Brown, Yale and Clarkson.
With UMass, it's taken only three seasons to produce an above-.500 mark and the playoff upsets have already begun, so the natural comparisons between Cahoon's efforts at Princeton and with the Minutemen are heating up. According to the coach, though, there are few similarities.
"Princeton was a very different situation than this," explains Cahoon. "They had a different set of circumstances that was unique to itself, just as UMass did when we came here. With Princeton it's the ECAC and the Ivy League versus Hockey East here. Things are very different."
Different, yes, but the results thus far have been strikingly similar, with the first chapter of UMass's emergence still a work-in-progress.
In his prior two seasons at UMass, Cahoon's squads had a combined 16-46-6 mark. But what the record didn't indicate was the groundwork that was being set for the long-term success of the program.
UMass enters this weekend's semifinal matchup against top-seeded New Hampshire with a 19-16-1 overall record, the program's first winning season since joining Hockey East in 1994-95 and second over-.500 campaign since the school restarted the program in 1993-94 (when it was 20-9-0 as a Division I independent).
"We're a pretty honest group," says Cahoon, "and we're pretty diligent about working hard. We're not a great team … yet."
They are getting there, though, and the young talent on this squad is proof that this season has been no fluke.
"The freshmen are a real interesting class," explains Cahoon, "and my associate coaches (Mark Dennehy and Bill Gilligan) have done a great job of finding good players. We worked as a committee deciding on players."
The UMass roster is packed with 12 freshmen, ten of who skated in 16 or more games this season, including four – Stephen Werner (14-21—35), Matt Anderson (10-21—31), Chris Capraro (7-16—23) and defenseman Marvin Degon (2-13—15) – who tallied 15 or more points.
"Werner was a no-brainer," says Cahoon in explaining the decision to recruit the 18-year old from Chevy Chase, Md. "He's done everything we hoped and felt he could do. He's emotionally mature and plays two years ahead of where his development should be."
Anderson, according to the coach, has a great sense and understanding of the game, while Capraro, who has played on a line with senior captain Tim Turner, "fits in well and has scored some big goals for us. He also gives Turner confidence."
Cahoon raves about Degon as well, calling the blueliner (2-13-15) one of the best skating defensemen he's ever been around. Given Cahoon's track record, that certainly speaks volumes about the Millbury, Mass., native.
Arguably the biggest contributor from this talented rookie crop, however, stands between the pipes. Gabe Winer, another 18-year old, has been a settling force for the Minutemen (17-11-0, 3.03 goals-against average, .873 save percentage, with even better numbers in league play).
"Gabe has handled the pressure of taking this team to the next level," remarks the coach. "He's taken on more than you would want to give a true freshman. He's built for big games and, as I like to say, he has a 'great disposition for the position.'"
Not to be overlooked has been the impact of leading scorer Greg Mauldin, a sophomore who averaged 1.17 points per game in league play and made the needed leap from his rookie campaign when he notched 24 points.
"Ultimately, though, our success comes down to the five upperclassmen who steadied the ship," admits Cahoon. "Turner has been here all four years and has been the consummate competitor from day one. He's crafty around the net and I'm sure the program's progress this year makes the past struggles worthwhile."
The three juniors, Mike Warner and defensemen Thomas Pöck and Nick Kuiper, have been critical as well. Pöck (17-19—36) made a successful transition from center to the blueline due to senior Kelly Sickavish's injury. His puck-handling skills and ability to make effective breakout passes has been valuable to the Minutemen's transition game.
"The junior class has been key," says Cahoon. "They all play a major role. If they don't have a great year, it doesn't allow the freshmen and sophomores to progress."
It's clear that Cahoon has received contributions from every element of his club to this point. He needs that to continue this weekend if the Minutemen have plans to advance to the Hockey East title game and, possibly, the NCAA Tournament.
It would be a surprise, but for Cahoon, it wouldn't be a first.