December 25, 2002
Holiday Tournament Previews: Part I
By Mike Eidelbes, Nate Ewell and Jess Myers
Holiday Tournaments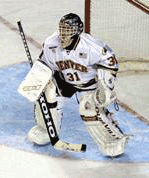 Wade Dubieliwicz and Denver welcome a strong field to the Wells Fargo Denver Cup this weekend.
Related Links
Dec. 27-28 – Wells Fargo Denver Cup – Magness Arena – Denver, Colo.
The Field: Clarkson vs. No. 6 New Hampshire; No. 13 Miami vs. No. 10 Denver
Last Year's Winner: Denver
Interesting Historical Fact: Three of the four teams in this year's tournament – Denver, Miami and New Hampshire – took part in the 1997 Denver Cup. Miami, behind tourney MVP Dan Boyle, beat Denver and UNH to win first place and run their record to 13-3-0. Poised for an NCAA Tournament berth, coach Mark Mazzoleni's troops posted a 6-9-4 during the season's second half and was swept by Northern Michigan in the first round of the CCHA playoffs.
What to Watch For: With three ranked teams participating, the Denver Cup is arguably the second-best tournament of the holiday season behind the Everblades College Classic. The Pioneers, however, are winless in their last four games, and Miami is 3-3-1 in its last seven. The two meet Friday in a classic teacher vs. student matchup – Denver's George Gwozdecky was Enrico Blasi's coach at Miami and Blasi was a DU assistant coach before taking the reins in Oxford. New Hampshire, which beat Clarkson earlier this month, has been pretty steady outside of a recent loss to St. Lawrence. The Golden Knights, meanwhile, are 5-5-1 under interim coach Fred Parker.
How We See It: The smart play would be to go with the Wildcats, but Denver has come into its tournament with a winless streak of two or more games on four occasions and won titles in three of those years. The Pioneers get an emotional lift with the expected return of goaltender Wade Dubielewicz. They've also got revenge on their minds after UNH handed them their first loss of the 2001-02 season in Durham, snapping a nine-game winning streak. Denver edges New Hampshire in the championship game.
Dec. 27-28 – Dodge Holiday Classic – Mariucci Arena – Minneapolis, Minn.
The Field: Bowling Green vs. No. 5 Boston College, Yale vs. No. 11 Minnesota
Who Won Last Year: Minnesota
Interesting Historical Fact: Three times the winner of this tournament has won the NCAA championship later in the same season: Lake Superior State in 1993, Boston University in 1994 and Minnesota in 2001.
What To Watch For: It's the haves versus the have-nots in the opening round as the last two NCAA champs take on what can only be described as "lesser" foes. What makes the BC-BG game interesting is that Falcons coach Scott Paluch was an assistant at BC for eight years, and Eagles coach Jerry York was the skipper at BG for 15 years, including their only NCAA title (1984). Yale, missing superstar Chris Higgins (U.S. National Junior Team), has three Minnesotans on its roster, and Bulldogs coach Tim Taylor skated with the Warroad (Minn.) Lakers for a season, but that's about it for Connecticut connections.
How We See It: When it comes to matching talent for talent, the second round of this tournament is likely to be more interesting than the openers. After an 8-0-1 start, Boston College (9-3-3) is 1-3-2 in its last six, but still should make quick work of Bowling Green (3-10-1). And although Minnesota has been known to choke on this tournament in the past, this doesn't seem to be the year for that to happen – at least not in round one. Yale should rebound from its loss to Minnesota and claim third place, while BC has more offense and will sting Minnesota's still-suspect goaltending for the title.
Great Weekend Getaways

Our take on the tourneys worth the trip this holiday season ...

1. Everblades College Classic
We just checked the roster of the ECHL's Florida Everblades (it's college-laden, by the way). Call us crazy, but all four of the teams in this tournament could give the 'Blades a run for their money.

2. Wells Fargo Denver Cup
A rarity: four good teams not hurt at all by the World Junior Championship.

3. Dodge Holiday Classic
Bowling Green coach Scott Paluch, a former Boston College assistant, probably wishes he wasn't such a good recruiter right about now.

4. Great Lakes Invitational
For a couple of days, the biggest attractions are on our side of the Detroit River. But you can still visit Windsor post-game.

5. Badger Showcase
This field would have made a great Frozen Four, circa 1988.

6. Ledyard Bank Tournament
Corporate sponsorship changed the name of this tourney from the Auld Lang Syne Classic (although if it keeps you from singing, we don't mind).

7. Rensselaer/HSBC Holiday Tournament
Now that the Rose Bowl has sold out to the BCS, we'll call this 52-year-old tournament the granddaddy of them all.

8. Subway Ice Classic
Famous dieter Jared faced a much bigger challenge than the Sioux will in the Subway Holiday Classic.

9. UConn Classic
And you thought the U.S. News rankings were the last time you'd see Alabama-Huntsville, Connecticut, Ferris State and Findlay mentioned in the same place.

Dec. 27-28 – Subway Ice Classic – Ralph Engelstad Arena – Grand Forks, N.D.
The Field: Manitoba vs. Bemidji State, Brown vs. No. 3 North Dakota
Who Won Last Year: First year
Interesting Historical Fact: Manitoba will see some familiar faces in Grand Forks. The Bisons have already played
exhibitions against North Dakota (a 6-1 loss) and Bemidji State (a 4-2 loss) this season.
What To Watch For: Retired Bemidji State coach Bob Peters built a D-III dynasty by recruiting heavily in
Winnipeg. But the opening round exhibition between the Beavers and the Winnipeg-based Bisons will be lacking emotional angles (and fans) as only one Beaver, freshman forward Jean-Guy Gervais, hails from Winnipeg. If Manitoba can somehow beat Bemidji in the opener, the championship could be the Sioux vs. the Bisons, which is a matchup hockey fans in Fargo have dreamed about for years. But until North Dakota State (also nicknamed the Bison) makes its long-awaited move
to get D-I hockey, it won't happen.
How We See It: North Dakota athletic administrators apparently had to scramble to find opponents to fill
this first-year tournament. If they were seeking "worthy" opponents for the top-ranked Sioux, they failed. So that sets up the perfect scenario for a
"Chaminade over Virginia" type upset in a holiday tournament. You read it here first: Manitoba will beat the top-ranked team in the polls in Grand Forks.
Whoa! Sorry, I don't know what I was thinking there. (Note to self: No more drinking at breakfast.) In fact, if the North Dakota fourth line and backup goalie don't see at least 15 minutes of playing time in the title game, there should be a NCAA investigation launched.
Dec. 28-29 – Ledyard National Bank Classic – Thompson Arena – Hanover, N.H.
The Field: UMass Lowell vs. Vermont; Notre Dame vs. Dartmouth
Who Won Last Year: Dartmouth hosts this tournament every other year, and Vermont won it in 2000. Vermont hosts a holiday tourney in odd-numbered seasons, and Lake Superior State won that event last year.
Interesting Historical Fact: John Ledyard, whose name adorns the bank that sponsors this event, is a legendary figure at Dartmouth, despite dropping out of school after less than a year (and there's nothing wrong with that – Maine's still allowed to brag about Paul Kariya). An avid outdoorsman who spent four months living with the Iroquois, he chopped down a tree, carved a canoe, and headed South on the Connecticut River, never to return to college. Among his travels, he trekked across two-thirds of Russia before being arrested and returned to Poland. We presume he was looking for a hockey game, unaware that the Russians wouldn't adopt the sport until the 1930s.
What to Watch For: Only the home team can be really happy with its first-half showing, as sophomore Lee Stempniak (10-5—15 in 10 GP) has led the Big Green to a 6-4-0 record. Notre Dame has enjoyed moderate success thus far, including a three-game winning streak leading up to the break, but the Irish were under .500 before that (albeit against a very tough schedule). Vermont (5-7-2) may have surpassed last year's win total, but that wasn't a particularly tough mountain to climb, and the Catamounts' most impressive win came against Colgate. Of all four teams, UMass Lowell has the best player (Ed McGrane) and the best win to this point (at Colorado College), but the River Hawks' goaltending has left them winless in Hockey East.
How We See It: In New Hampshire, winning a primary is supposed to foretell success in the end – yet Dartmouth has won its first-round game four straight times in this tourney, only to lose in the finals. This time they'll finish the deal, extending their Thompson Arena record to 8-0-0 in the process. If the first George Bush was this good in New Hampshire, you might have never heard of Monica Lewinsky.