March 13, 2003
Familiar faces atop MAAC mountain
By Nate Ewell
MAAC
REGULAR-SEASON RECAP
TOURNAMENT PREVIEW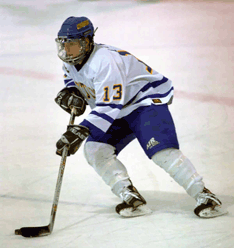 Junior Joe Lovell and Bentley have 14 wins this season, just one shy of the Falcons' total from the last three years combined.
Related Links
Championship weekend tickets: Visit the Army box office
Quarterfinal Game Previews
No. 5 Bentley at No. 4 Sacred Heart
Bentley: 14-18-0 (13-13-0)
SHU: 14-14-6 (13-10-3)
Season series: Bentley leads, 2-1-0
Falcon fact: Head coach Ryan Soderquist was the leading scorer on the last Bentley team to reach the MAAC Tournament, in 2000.
Pioneer fact: Sacred Heart's win at Miami was the first victory for a MAAC team over a CCHA opponent.
How Bentley wins: Get poised performances from its 10 freshmen, who have accounted for nearly half of the Falcons' points this season.
How Sacred Heart wins: Score goals and count on goaltender Eddy Ferhi to shine at the other end. Bentley allowed 80 goals in the league regular season, tied for the most among MAAC playoff teams.
No. 6 Army at No. 3 Holy Cross
Army: 15-15-0 (13-13-0)
HC: 16-17-1 (14-11-1)
Season series: Army leads, 2-1-0
Black Knight fact: Army is 0-5 all-time in Division I playoff games, including one-goal losses each of the last two years.
Crusader fact: Holy Cross was 2-12-0 from Nov. 22 through Feb. 1. Before and after that stretch, it was 14-5-1.
How Army wins: Goaltender Brad Roberts needs to out-duel Tony Quesada in a battle of freshmen goalies.
How Holy Cross wins: Give Quesada some offensive support to work with. He's on a 6-0-0 streak in games where the Crusaders scored more than one goal in front of him.
No. 7 Canisius at No. 2 Quinnipiac
CC: 12-20-4 (11-13-2)
QU: 20-12-1 (18-7-1)
Season series: Quinnipiac leads, 3-0-0
Griff fact: Canisius is 8-5-1 when scoring first, but 4-15-3 when its opponent scores first.
Bobcat fact: Quinnipiac is the only team in the MAAC's brief history to reach the semifinals all four seasons.
How Canisius wins: Find a way to ignite what was tied with American International for the conference's worst offense (2.54 goals per game).
How Quinnipiac wins: Get their high-powered offense firing early – especially the potent power play.
No. 8 Iona at No. 1 Mercyhurst
Iona: 11-21-2 (11-14-1)
Mercyhurst: 19-12-2 (19-5-2)
Season series: Tied, 1-1-0
Gael fact: Iona went 6-3-0 over its last nine games to earn the eighth and final playoff spot, including shutouts in back-to-back games last weekend.
Laker fact: Mercyhurst and Iona played two of the MAAC's toughest non-conference schedules, and their records suffered because of it (a combined 0-14-1 outside of league play). But that experience should pay off for one of them Saturday.
How Iona wins: Harness the emotion of playing what could be the last game in school history and make it a positive. But certainly forgive the Gaels if they aren't playing for the name on the front of their jersey on this night.
How Mercyhurst wins: Weather that emotional storm and play their game. Head coach Rick Gotkin will have the Lakers ready.
In a season that saw two programs drop from the MAAC hockey landscape, two very familiar programs held on to their spots atop the conference mountain.
Mercyhurst and Quinnipiac, for the fourth year in a row, finished in the top two positions, with the Lakers capturing their third straight title. This year Quinnipiac raced to the conference lead in the first half of the season, only to be overtaken late. Of crucial importance was Mercyhurst's two-game sweep at Quinnipiac Jan. 17-18; the Lakers ended up winning the title by three points.
And while the top two finished well ahead of the field – Quinnipiac was eight points better than Holy Cross and Sacred Heart, tied for third – there are challengers aplenty. For proof, just look to their February records: the Lakers (8-3-0) seemed far from invincible, and the Bobcats (5-5-0) stumbled.
Does that mean the MAAC Tournament could see a new champion, and college hockey fans nationwide could be introduced to a different MAAC representative in the NCAA Tournament? Possible – but not likely. Both Mercyhurst and Quinnipiac enjoyed their regular season success, but they know the importance of the single-elimination playoffs that begin this weekend.
The Favorite
They've got no stars, they've battled through injuries, and they've got a freshman goalie. Yet this is clearly Mercyhurst's tournament to lose. Head coach Rick Gotkin must be doing something right in Erie. Sometimes they win with their offense by committee (10 players have between seven and 14 goals). Other times they win with goaltending (Andy Franck made 50 stops in the season finale against Canisius). But the Lakers just keep winning.
Gate Crasher
Quinnipiac could well be on their way to putting things back together for a postseason surge. But one more potential surprise to watch, believe it or not, is the team the Bobcats just beat 7-0: Army. The Black Knights are 8-2-0 in their last 10, a record that only Mercyhurst matches entering the tournament. What makes Army's potential really intriguing is West Point's Tate Rink hosts the championship weekend. The Knights are 12-5-0 there this year, including wins over Mercyhurst and Quinnipiac.
INCH's All-Conference Team
G – Eddy Ferhi, Sacred Heart: The senior led the MAAC in goals-against average (2.10) and save percentage (.922).
D – Wade Winkler, Quinnipiac: Can't argue with a guy who nets not one, but two hat tricks from the blue line. He's the key to Quinnipiac's 30.3 percent power play.
D – T.J. Kemp, Mercyhurst: The skilled sophomore gets the nod as the lone Laker representative on our all-conference team.
F – Martin Paquet, Sacred Heart: The Pioneers' all-time leading scorer, Paquet won the MAAC scoring race by five points.
F – Matt Craig, Quinnipiac: The 2002 MAAC Tournament MVP picked up where he left off, finishing second in conference goals (15) behind teammate Matt Froehlich. He gets the nod here over skilled set-up man Brian Herbert.
F – Brandon Doria, Holy Cross: The senior led Holy Cross to a third-place finish for the second year in a row.
Coach of the Year
If Bentley wins its quarterfinal matchup at Sacred Heart Saturday night, it will reach 15 victories for the season. Not a milestone that would prompt celebration at many schools, perhaps – but worth noting if it matches the number of wins in your three-year Division I history before this season. Ryan Soderquist took over the struggling Falcon program and, with the help of his first recruiting class, produced immediate results. Bentley was in contention for home ice until the very end of the season.
Player of the Year
Eddy Ferhi may well be Sacred Heart's MVP, but the Pioneers salvaged what had been a terrible first half of the year when they started scoring goals. Their 3.11 goals per game during a 10-6-2 second half represented more than a half a goal per game improvement over the start of the season. For that, credit senior Martin Paquet (with assistance from sophomore Garrett Larson and others, to be sure). Paquet scored at opportune times, with two points and the game-winning goal in the upset of Miami, and finished with a flourish as well, posting 3-4—7 in the season's final week.
Freshman of the Year
Outside of Waltham, Mass. – where Paul Markarian and Ryan Mayhew made plenty of noise – the MAAC freshmen who made the biggest impact could be found in the crease. Andy Franck (Mercyhurst), Tony Quesada (Holy Cross), Brad Roberts (Army) and Ian Vigier (Iona) all emerged as their team's starting goaltenders and played well—in each case, spectacularly at times. Picking from this crop isn't easy, but Roberts gets the nod for putting in longer hours than Apu Nahasapeemapetilon; Army's other goalies didn't appear in a league game until the final 23 minutes of the last game. Roberts led the conference in minutes played (1,532) and saves (734) while posting strong numbers in goals-against average (2.66) and save percentage (.915).
Breakthrough Player
Junior Joe Lovell enters the playoffs with 32 points, one more than he totaled in his first two years at Bentley. Linemates Markarian and Mayhew have been a big help, to be sure, but credit Lovell as well for providing leadership on a team loaded with youngsters.