August 8, 2003
Morris, Clarkson settle out of court
Former Clarkson head coach Mark Morris reached an out-of-court settlement with the university Wednesday, bringing to an end an acrimonious dispute that started following an alleged altercation with a player nearly nine months ago.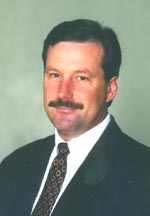 Mark Morris
"It's just hard letting go of something that has been a big part of my life," Morris told Watertown, N.Y.-based WWNY-TV. Terms of the agreement were not disclosed.

The announcement brought to an end a civil trial in which Morris, the Golden Knights' bench boss for 15 years, sought $15 million from the university for defamation and breach of contract in connection with his dismissal in November. The trial started in a New York State courtroom Monday (Aug. 4).

Morris, who posted 306-156-42 record with the Golden Knights, was fired by Clarkson president Denny Brown Nov. 15. The move came 13 days after a team member accused Morris of engaging in a physical confrontation with him during a Saturday morning skate.

"We're pleased that it's finally resolved and will be behind us," said university vice president Gary Kelly to WWNY.