October 9, 2003
Golden Globke
By Inside College Hockey Staff
National Notebook

With a limited slate last weekend, Inside College Hockey offers a national notebook this week. Check back next weekend for conference-by-conference notebooks.

Two Great Weekend Getaways

Ice Breaker Invitational | East Lansing, Mich.
Boston College leads the field as this annual event pays its first visit to Munn Ice Arena, but storylines abound. Pat Ford makes his debut behind the bench for Findlay. Minnesota Duluth hopes to live up to the growing expectations that they'll be the surprise team in the WCHA. And the hosts feature a skilled offensive lineup that hopes to rebound from last year's disappointing season.
While You're There: Get a burger and catch up with the pre- and post-game hockey crowd at Crunchy's. Extra credit for the game-worn Ron Weaver jersey on display – he's the father of this site's designer, Mike Weaver.

Maverick Stampede | Omaha, Neb.
If the allure of a new rink in Omaha isn't enough, this lineup certainly has some appeal. The two-time defending champs open things up in a rematch of the 2002 title game, while Ryan Suter makes his debut for Wisconsin. While they might look overmatched on paper, don't count out the home team – at least in the old barn, Nebraska-Omaha enjoyed one of college hockey's best home-ice advantages.


Stick Salute

CSTV's first installment of "Friday Night Hockey" was a hit, with impressive production quality and – we'll admit bias here, since he contributes to INCH – terrific analysis from Billy Jaffe. Miami and St. Lawrence didn't play the most scintillating game, but it was entertaining nonetheless.

Could it be that the turning point of the 2003-04 Notre Dame hockey season occurred during the second period of the team's exhibition opener against Western Ontario? The thought is not as far-fetched as one might think.
Senior forward Rob Globke swatted a puck out of mid-air past the opposing goaltender during last Friday's contest at the Joyce Athletics and Convocation Center. However, referee Craig Lisko waved off the goal, correctly ruling that Globke batted the puck with a high stick.
Coach Dave Poulin braced for Globke's reaction. After all, the team's leading scorer last season admitted to a reporter a couple days before the exhibition opener that calls that didn't go his way affected his attitude and focus for the remainder of the game, and he was working on a more consistent mindset for the upcoming campaign.
Imagine Poulin's surprise – and satisfaction – when Globke sidled up to Lisko, quickly pled his case, put an arm around the official acknowledging his explanation and skated to the bench posthaste.
"The way he reacted to that goal thing was great," said Poulin. "And guess what? He went out and scored the next one."
Fighting Irish faithful hope Globke can surpass the 21 goals and 36 points he scored last season. Judging from comments he made the day after the exhibition game – and just after he and his teammates participated in a Down's Syndrome Buddy Walk – the second-round pick of the Florida Panthers in the 2002 National Hockey League Entry Draft is ready to fulfill his vast potential.
"The first step to fixing a problem is admitting you made a mistake," Globke said. "It obviously wasn't helping my game. It's something I've needed to work on ... and I think I've improved it. If the team does well, the personal stuff will follow."
As one of Notre Dame's five seniors, Globke felt he had to serve as a team leader and display the composure and maturity that comes with being an elder statesman. So far, he's performed swimmingly: when asked which veteran had taken them under their wing on and off the ice, the majority of Fighting Irish freshmen named Globke. The praise is surprising considering the leadership role is foreign to the West Bloomfield, Mich., product, who's spent most of his hockey career being the young guy.
"He just turned 21 years old," Poulin said of Globke, who was named one of Notre Dame's assistant captains by a vote of his teammates. "Last year was the first time he skated against someone younger than him since he was like eight years old ... and that's the one negative to always playing up."
"I was really young as a freshman and often times I felt like I was just here," Globke said, "so I wanted to make the freshmen feel like they're part of the team and they're really important to the team, which they are."
Clearly, the Irish will need Globke to be at his best in order to advance deeper in the CCHA playoffs and contend for an NCAA Tournament berth. So far, his coach likes what he sees.
"Robby ... has grown immensely in his time here and I think this summer he took the final step," Poulin said. "I think he's going to be one of the top players in college hockey this year."
THE X-MEN FACTOR

Don't read too much into the two games St. Francis Xavier played against Massachusetts and UMass Lowell last weekend. As the Comic Book Guy from The Simpsons might say, comparing scores from the X-Men's games in advance of this weekend's Hockey East opener is about as valuable as a Steve Allen pog.
Sure, St. Francis Xavier blew past the Minutemen, 7-2, one night before falling to UMass Lowell, 3-2. But it was a much different UMass lineup than the River Hawks will face – one that has people expecting big things in Amherst this season.
"There were a couple of little dings that I didn't want to become bigger dings, and this was an easy one to let the guys sit out," head coach Don Cahoon said. "And in a couple of cases it really was a coach's decision to get a chance to see some guys in game action. If it was a regular-season game, these guys definitely would have been able to play. But we thought, let's look at someone else."
The result was a lineup that looked nothing like what opponents will see once the regular season begins. Cahoon played, for example, Dominic Torretti, a transfer from Providence who the coach hadn't seen in game action for four or five years, since junior hockey. It amounted to an almost NHL-style approach to an exhibition game for Cahoon.
Defenseman Thomas Pock sat out the exhibition game, as did the Minutemen's entire first line. With Matt Anderson sidelined, most likely for the season, the center spot on that unit will be filled by junior Tim Vitek. He'll skate between talented forwards Greg Mauldin and Stephen Werner against Connecticut Thursday night and at UMass Lowell on Saturday. Vitek hasn't posted big numbers in his UMass career – just 6-9—15 in 64 career games – but Cahoon thinks he'll fit right in.
"Timmy Vitek has been a good player for us," Cahoon said. "We brought him in as an underager – a 17-year-old freshman – and he was only 155 pounds. We knew if we let him play another year of juniors, one of the Michigan schools or someone might have come in and gotten him, so we took him a year early. He's playing at 175 pounds now and he's really developed into a good player for us. He's quicker than Anderson, and he relies more on his skating, where Anderson is more skilled with his stick. He's developing some chemistry with (Werner and Mauldin), and we think he'll be a good fit there."
REWRITING THE RULES

You won't see any major rule changes in college hockey this season, but one of the five minor adjustments already had an impact – before the very first game of the year even started.
Related Link
Get Jeff Sauer's take on the 2003-04 rule changes in this week's edition of The Dean's List.
All helmets must be securely fastened by a tight chinstrap, and officials have been directed to check goaltenders' helmets before the start of each game. Denver, however, apparently didn't get word of the change – and when Adam Berkhoel's mask was checked prior to the drop of the very first puck at the Lefty McFadden Invitational, it wasn't in compliance. There was a short delay while the Pioneers' equipment manager tried in vain to come up with a solution before officials decided to keep things moving.
Four other rule changes you may notice at a rink near you:
• A new infraction for "contact to the head," which officials have been told to call with zero tolerance.
• Three additional seconds for the home team to make its line change at a stoppage in play.
• Teams must have the correct number of skaters in a stationary position near the faceoff before the puck is dropped. Players may not join the play late; first offense is a warning, while the second offense is a bench minor.
• The NCAA clarified the ruling when a defensive player, diving to poke the puck away from an opponent, trips that player. This is a minor for tripping regardless of whether the defensive player makes contact with the puck.
DIVING RIGHT IN

There are two schools of thought in preparing a non-conference schedule. Some coaches prefer to fatten a record and build a team's confidence against lesser opposition. Others like to take on the best teams available to provide a stern examination of their team early on.
When Kevin Sneddon took on the head coaching job at the University of Vermont, he also inherited one of the toughest schedules in the nation. On the first three Saturdays of the season, UVM goes up against the best that Hockey East has to offer.
Game one of the run was a 5-3 loss on Saturday afternoon to Boston College. This weekend, the Catamounts visit New Hampshire, and Vermont closes the string with Boston University's visit to Gutterson Fieldhouse on Oct. 18. At last, there's a breather with an exhibition game against St. Francis Xavier, followed by a road trip to Michigan Tech. The ECAC season begins with Harvard and Brown, likely the toughest travel partner tandem, visiting The Gut. By then UVM will have seen so many good teams the Cats might welcome those opponents with open arms.
AN UNSETTLING TREND

Minnesota and New Hampshire fans ended the college hockey season by rioting on campuses in Minneapolis and Durham last April. Apparently, sports fans in Mankato, Minn., decided to follow that lead and kick off the new hockey season by overturning cars and burning dumpsters of their own.
Police from throughout southern Minnesota were called to a neighborhood near the Minnesota State, Mankato campus last weekend to quell a mob of 3,000 students who became unruly after the Mavericks' homecoming football game. Of the dozens of students arrested, none were student-athletes.
With the aftershocks of the rioting still lingering on the MSU campus, perhaps it's a good move for the hockey Mavericks to get out of town. In hopes of expanding their regional fan base, MSU's exhibition game versus St. Clair College on Sunday afternoon will be played at the Mayo Civic Center in Rochester, Minn. The change of venue was scheduled a month ago, and has nothing to do with the on-campus unrest.
FRIES AT THE BOTTOM OF THE BAG
• Boston College defenseman J.D. Forrest, an INCH Preseason Second-Team All-American, was academically ineligible for Sunday's season-opening win over Vermont and will not travel with the team to the Ice Breaker Invitational in East Lansing, Mich., this weekend. The Eagles are not sure when Forrest might be back on the ice, but it will not be until his academic issues are resolved. A offensively gifted blueliner who had 6-25—31 in 34 games last season, his situation is somewhat familiar to Hockey East fans – last year UNH's top offensive defenseman, Garrett Stafford, was lost for the first half of the season for academic reasons.
• Bowling Green is undergoing a uniform change this season. According to the school's athletics Web site, the Falcons will wear predominately orange in 2003-04. The sweaters won't be unveiled until the team's first home game Oct. 18 vs. Notre Dame. Remember, however, that when the Denver Broncos switched into their current duds a few years ago, team owner Pat Bowlen claimed the new uniforms were predominately orange.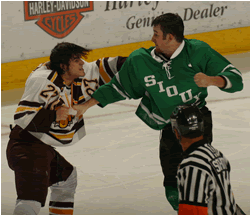 "Nice sweater! Mind if I try to pull it over your head and punch you in the face?"
• Another sweater note comes from North Dakota, where the Fighting Sioux sported throwbacks in the U.S. Hockey Hall of Fame Game, a 3-2 win over Minnesota Duluth.
• It didn't take long for Clarkson freshman defenseman Matt Nickerson to catch the eye of the Golden Knights faithful in Potsdam. He had three goals for his side of the intrasquad Green and Gold game last weekend.
• Buddy Powers, formerly the coach at Bowling Green, Rensselaer and RIT, has stepped down from his new position at Wesleyan. Powers, a former Boston University star, moved back to the Bowling Green area with his family and is managing a golf course in the area.
• Cahoon, who grew up in Marblehead, Mass., watched the Red Sox game Monday night knowing that a Sox win would mean they would face the Yankees Thursday night – at the same time as the Minutemen's season opener against Connecticut. "We knew with the Sox winning that it was going to take away from our draw Thursday night," he said. "Still, I couldn't bring myself to root against them."
• New conference Atlantic Hockey took another step in its development this week, adding content to its web site at www.atlantichockeyonline.com. The conference's first games take place this weekend as Holy Cross visits Canisius for a two-game series.
• Jeff Mushaluk, a sophomore defenseman at Maine, will have an assistant captain's "A" on his sweater this weekend as he makes his Black Bear debut. Mushaluk sat out last season after transferring from Lake Superior State.
• The surprise result of the Lefty McFadden Invitational had to be St. Lawrence's 3-1 win against host Miami on Friday night. The Saints have junior goalie Kevin Ackley to thank. He was terrific in the CSTV-televised contest, making 40 saves, including 19 in the third period. SLU hosts Wayne State for a pair of games this weekend.
A variety of sources were utilized in the compilation of this report.