March 12 , 2003
Survival of the Fittest
By Jess Myers
WCHA
REGULAR-SEASON RECAP
TOURNAMENT PREVIEW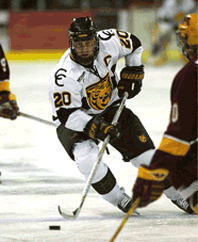 Colorado College captain Tom Preissing leads NCAA defensemen in scoring with 20 goals and 44 points (photo courtesy Casey Gibson/ Colorado College sports information).
Related Links
Championship weekend tickets: Visit ticketmaster.com
First Round Series Previews
No. 6 St. Cloud State at
No. 5 Minnesota-Duluth
SCSU: 16-13-5 (12-11-5)
UMD: 18-13-5 (14-10-4)
Season series: Tied, 2-2-0
Husky Fact: St. Cloud State is the only WCHA team to receive an invite to the NCAA tournament the past three years in a row.
Bulldog Fact: This is the second consecutive year that the Bulldogs and Huskies have met in the WCHA's first round. Minnesota-Duluth lost twice last season at St. Cloud State in the first round.
How St. Cloud State Wins: Ride a hot goalie. Jason Montgomery tuned up for the postseason stopping 40 of 41 as the Huskies tied Minnesota. He'll need to be that good to beat the Bulldogs.
How Minnesota-Duluth Wins: Score goals. The Bulldogs' goaltending and defense are solid, but inconsistent. Rookie forwards Tim Stapleton and T.J. Caig know the way to St. Paul better than goalies Issac Reichmuth and Rob Anderson.
No. 7 Denver at No. 4 North Dakota
DU: 20-12-6 (11-11-6)
UND: 24-9-5 (14-9-5)
Season series: DU won, 1-0-1
Pioneer Fact: Denver is the second consecutive defending MacNaughton Cup champion to end up on the road for the playoffs the next year.
Fighting Sioux Fact: North Dakota was 18-1-1 on New Years' Day and ranked No. 1 in the nation. Since then, the Sioux have gone 6-8-4.
How Denver Wins: Learn to play with a lead. The Pioneers head into the playoffs on a 0-3-1 streak and have blown leads of three, three and two goals in three of those four games.
How North Dakota Wins: Get the swagger back. In two months, the nation's most feared team has been taken down quite a few pegs. If they play like the high-scoring unit that was 10-0-0 in non-conference games, there will be a spot available in the NCAA field.
No. 8 Wisconsin at
No. 3 Minnesota State, Mankato
UW: 13-21-4 (7-17-4)
MSU: 18-8-10 (15-6-7)
Season series: MSU won, 1-0-1
Badger Fact: This was Wisconsin's worst finish in the WCHA since the 1979-80 season, when the Badgers landed in ninth place. The next year, the Badgers won the 1980-81 NCAA title.
Maverick Fact: In four seasons as a full member of the WCHA, the Mavericks have now hosted two league playoff series. They are 2-0-0 lifetime in WCHA home playoff games.
How Wisconsin Wins: Put the distractions aside and simply play hockey. This has been a nightmare of a season on and off the ice for the Badgers. There is likely more than one player who just wants it over.
How Minnesota State, Mankato Wins: Don't choke. The Mavericks have lost just once since Dec. 13. If they can learn to handle prosperity, they should be playing in St. Paul on March 21.
No. 9 Michigan Tech at No. 2 Minnesota
MTU: 10-22-4 (7-18-3)
UM: 20-8-9 (15-6-7)
Season series: UM won, 3-0-1
Husky Fact: Michigan Tech will be on the road for the playoffs for the tenth consecutive season.
Golden Gopher Fact: Minnesota has never lost a WCHA first-round playoff game at home since moving to the new Mariucci Arena for the 1993-94 season.
How Michigan Tech Wins: Goalie Cam Ellsworth has been brilliant at times this season, and might steal a game. But the nine goals Tech allowed in their last regular season series are a bad sign.
How Minnesota Wins: Get used to home cooking. With the first round, WCHA Final Five and NCAA West Regional in the Twin Cities, the Gophers can get to Buffalo without leaving home for a month.
No. 10 Alaska Anchoarge at
No. 1 Colorado College
UAA: 1-26-7 (0-22-6)
CC: 26-5-5 (19-4-5)
Season series: CC won, 2-0-0
Seawolf Fact: Alaska Anchorage is the first team to finish a WCHA campaign without a win since Colorado College went 0-18-0 (0-23-0 overall) in 1961-62.
Tiger Fact: After going 35 seasons without a MacNaughton Cup (1958 to 1993), Colorado College has now won four WCHA regular season titles in the past decade.
How Alaska Anchorage Wins: Rarely has a team – even a tenth seed – brought so little talent or momentum into a first round series. The Seawolves' only hope is CC forfeiting the series to rest up for the NCAAs.
How Colorado College Wins: The Tigers are better at every position and enter the playoffs having won five of their last six. CC's freshmen could win this series by themselves.
A quick look at the most recent Pairwise Rankings shows that two of the top 19 teams in the nation will be going on the road for the first round of the WCHA playoffs. In some leagues that would be considered a travesty. In the WCHA, they call it "depth."
Seven of the league's 10 teams have legitimate changes to make the NCAA's field of 16. But only five will still be playing in a week, and only five are expected to be picked for the national playoffs, making the first round a literal fight for survival.
Interestingly enough, league champ Colorado College has got to be considered a dark horse in the WCHA playoffs. It's not that the Tigers can't win a league playoff title, it's just that they never have. And after arch-rival Denver charged to the regular season and playoff titles a year ago, only to fall short of the Frozen Four in the NCAAs, the Tigers might not want to win the Final Five.
Instead, it's defending national champ Minnesota who has captured the league's attention as the playoffs begin. Like last season, the Gophers seem to be saving their best for last, as a late push propelled them into second place in the regular season. Most importantly, coach Don Lucia is talking "mental toughness" which is the key in March and April.
With the playoffs in their own backyard, and the memories of last spring to provide incentive, the thinking in the west is that it'll be hard to stop a stampede of Gophers.
Behind them, look for CC, Minnesota State, Manakto, and the survivors of the NoDak-Denver and UMD-St. Cloud State series to make the NCAA tournament.
The Favorite
On March 7, the Minnesota Golden Gophers rode a bus 68 miles to St. Cloud for their longest road trip in more than a month, and won 5-3 at St. Cloud State. Between now and the day teams leave for Buffalo, the defending NCAA champs have the first round of the WCHA playoffs at Mariucci Arena, the WCHA Final Five at the Xcel Energy Center (a staggering eight miles from their campus), and the NCAA West Regional back at Mariucci. Even if the Gophers weren't the second seed in the league playoffs and weren't playing some of their best hockey of the season, they'd still have to be considered a favorite. The fact that Don Lucia has proven he knows how to win it all just makes them a more fearsome opponent in March.
Gate Crasher
One of the most renowned trophies in college sports, the MacNaughton Cup has suddenly become the award
nobody wants to win. Indeed, North Dakota in 1997 was the last team to follow a WCHA regular season title
with an NCAA title in the same season. With that said, 2003 Cup champ Colorado College has a combination of steady goaltending and eye-popping offense that makes the Tigers a legitimate threat for the WCHA Final Five crown and the NCAA title. Yes, CC has a historical habit of getting the Final Five lodged in their throats (the school has never won an outright WCHA playoff crown) but a favorable schedule might mean that March, which came in like a lion, will go out like a Tiger.
INCH's All-Conference Team
G – Travis Weber, Minnesota: On a team that lacked consistent goaltending all the way to the NCAA title last year, this sophomore makes you wonder if the Gophers would have needed overtime with him in goal last April.
D – Tom Preissing, Colorado College: This converted high school forward plays stellar defense, and added goal scoring to the mix this year, making him hockey's version of a five-tool infielder.
D – Paul Martin, Minnesota: Hasn't completely filled the big skates left by Hobey winner Jordan Leopold, but has shown impressive defensive leadership and added nearly 30 assists. Gopher forwards just love tipping Martin's blue line blasts past opposing goalies.
F – Grant Stevenson, Minnesota State, Mankato: In early December, the Mavericks were clearly also-rans in the WCHA race. Then Stevenson (and linemate Shane Joseph) caught fire offensively, and the result was two months without a loss and a second-place finish.
F – Brandon Bochenski, North Dakota: Some scoffed last season when he was picked as WCHA Rookie of the Year from a field perceived as weak. If a league-leading 32 goals is Bochenski's version of the sophomore jinx, Sioux season tickets might be a good investment in these troubled economic times.
F – Peter Sejna, Colorado College: This is a story that can be adequately told with numbers alone: 31 goals, 41 assists, an average of two points per game, and 31 consecutive games with at least one point. In any language, that's award-winning stuff.
Coach of the Year
Troy Jutting, in his third year as the head coach at Minnesota State, Mankato, has quietly become the George W. Bush of WCHA skippers. There's plenty of off-the-record grumbling about Jutting's perceived lack of coaching skill, and he's clearly not as polished or media savvy as the likes of Don Lucia, Craig Dahl or even Mike Sertich. But if the past season is any indication, this life-long Maverick (who played for MSU and was a longtime assistant coach under program founder Don Brose) knows how to keep stringing improbable wins and ties together. As someone who picked the surprising Mavs for the WCHA cellar knows, predict Jutting's downfall at your own peril.
Player of the Year
Imagine for a moment what Sergei Fedorov might have looked like playing for North Dakota, or what a freshman named Jaromir Jagr might have done skating for Wisconsin for one season. Now you have a pretty good idea how lucky college hockey fans have been to have Peter Sejna skating for Colorado College the past three seasons. This European sensation could easily have taken the money and run to the NHL after an spectacular freshman year, but has stayed long enough to win a title for the Tigers. Stopping Sejna will be every opponent's playoff goal.
Freshman of the Year
Minnesota rookie forward Thomas Vanek may be the state's best Austrian import since the wiener schnitzel at the Black Forest Inn in Minneapolis. He was highly touted upon arrival, and since he started moving his feet more consistently (after a much-rumored run-in with a teammate at a practice), has emerged as one of the league's rare forwards who can completely take over a game. North Dakota freshman Zach Parise may have more flash, but one can see a player like Vanek carrying his mates deeper into the playoffs.
Breakthrough Player
Colorado College defenseman Tom Preissing had 16 career goals entering his senior campaign. He scored 20 this year, a school record for a rearguard, and provided that quick-release long range sniper power that makes CC dangerous from anywhere inside the red line. Everyone knew Peter Sejna and Noah Clarke would score goals. But what caused more than one scribe (including this one) to pick the Tigers for a lower-echelon finish in the league standings was the perceived lack of other offensive sources. So much for perceptions.