March 19, 2003
INCH Measures Up: Minnesota-Duluth's T.J. Caig
WCHA
FINAL FIVE PREVIEW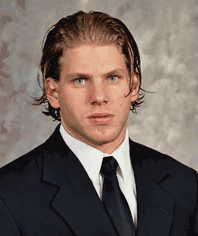 Minnesota-Duluth freshman T.J. Caig has helped lead the Bulldogs to their first Final Five appearance since 1998.
Related Links
Championship weekend tickets: Visit www.ticketmaster.com
Final Five Team Previews
No. 1 Colorado College
Record: 28-5-5 (19-4-5 WCHA)
Tiger Fact: During the three consecutive seasons in the 1990s when the Tigers won the WCHA's regular season title, the best they could do in the league playoffs was second place. In 1994 they were upset by No. 10 Michigan Tech in the opening round. They fell to Wisconsin in overtime in the 1995 title game, and finished third in 1996.
How CC wins: Start at the top – the top line that is. In Peter Sejna and Noah Clarke, the Tigers have two of the nation's top three scorers. As the top seed in the tournament, coach Scott Owens should be able to use his "last change" privileges to avoid that pair having to face a checking line too often. The other key is rebounds. The Tiger forwards feast on them, but if goalie Curtis McElhinney gives up too many, it will mean trouble.
No. 2 Minnesota
Record: 22-8-9 (15-6-7 WCHA)
Golden Gopher Fact: In WCHA playoff championships played in St. Paul, the Gophers haven't fared well. Since the league went to a single-site postseason tournament format in 1988, two of the three playoff titles won by Minnesota were captured in Milwaukee. The Gophers are 1-5 all-time in WCHA playoff championship games played just down the street from Mickey's Diner.
How UM wins: Get a good Grant. Thomas Vanek, Troy Riddle, Barry Tallackson and Matt Koalska are all very good forwards, but the Gophers are 10-2-4 since Grant Potulny returned to the lineup in January. The junior team captain whose overtime goal won the NCAA title last spring on this same sheet of ice is the heart and soul of the Gophers. As he goes, so goes Minnesota's chances of winning the Broadmoor Trophy.
No. 3 Minnesota State, Mankato
Record: 20-8-10 (15-6-7 WCHA)
Maverick Fact: Since a home loss to Colorado College on December 13, the Mavericks are 16-1-6, including a pair of ties at Minnesota. And the Mavs don't tend to panic in close games. Last weekend's double-overtime win versus Wisconsin marked the 12th time this year the MSU has rallied from a third-period deficit to win or tie.
How MSU, Mankato wins: Play it clean. Here's a potentially alarming statistic for fans of the purple and gold: the Mavs lead the league in penalties, and have statistically the worst penalty kill in the league. To win a game or two this weekend, the Mavs are going to have to not be awed by their surroundings and let their offense go to work.
No. 4 North Dakota
Record: 26-10-5 (14-9-5 WCHA)
Fighting Sioux Fact: North Dakota hockey sports information director Dan Benson, a 17-year member of the Army Reserve, was called for active duty in late February. While our eyes are on the ice this weekend, thoughts will certainly be with troops like Dan.
How UND wins: Man the blue line like you mean it. The much-tormented Sioux goalies are a fragile bunch these days. They need some support from their teammates, and North Dakota's crew of huge defensemen has the physical presence to do the trick. The Sioux forwards are capable of so many fireworks that above-average defense and goaltending could get them past the play-in game.
No. 5 Minnesota-Duluth
Record: 20-14-5 (14-10-4 WCHA)
Bulldog Fact: Minnesota-Duluth will have a skeleton crew from its athletic department in St. Paul this weekend, as the school is hosting the NCAA Women's Frozen Four at the DECC on Friday and Sunday. The Bulldog pep band will stay in Duluth, but one of the school's two mascots (Champ the Bulldog and the Maroon Loon) will be making the trip to St. Paul.
How UMD wins: Let the kids play. Freshmen Tim Stapleton and T.J. Caig have provided a return to offensive heroics for the program that produced Bill Watson, Brett Hull and Derek Plante. If the Bulldogs (20 goals in four games) can keep their recent "five goals per game on average" thing going in St. Paul, they could earn a Friday afternoon date with Colorado College.
By Jess Myers
Minnesota-Duluth's T.J. Caig didn't start the year like a typical freshman. Saddled with eligibility issues because of major junior experience, Caig's orientation didn't truly take place until after the new year. Meanwhile, Bulldog fans waited anxiously for the player who broke Paul Kariya's scoring record with the BCHL's Penticton Panthers.
It's safe to say that he's made up for lost time. In 21 games since making his college hockey debut, Caig has eight goals and 15 assists, good for 23 points and sixth on the Bulldogs in scoring. Zach Parise (North Dakota), Hugh Jessiman (Dartmouth) and Thomas Vanek (Minnesota) are the nation's only freshmen with more points per game than Caig (1.10).
His impact has helped bring Minnesota-Duluth – which is 9-3-1 over its last 13 games – to its first Final Five since 1998. Inside College Hockey caught up with Caig to discuss his first season following the Bulldogs' first-round series win over St. Cloud State.
Inside College Hockey: How much time did you go without playing a game after arriving at UMD?
T.J. Caig: I came here in December of 2001 and didn't play until January of this year, so it was a little more than a
year I had off.
INCH: Had you ever had that much time between games before?
T.J. Caig: Never.
INCH: What did you do to stay sane?
T.J. Caig: I just had to get what I could out of practices. I definitely missed game situations, but I was able to keep my focus on what I was here to do. Honestly, I thought I handled the time off really well and I'm
starting to get back in the swing of things now.
INCH: Prior to your debut, Bulldog fans kept mentioning you and Brett Hull in the same sentence. Did you realize there was that pressure on you right from the start?
T.J. Caig: My personal expectations were way too high. But I don't listen to that kind of talk. I just show up to play and try to do what I can do to benefit the team. I guess the high expectations of others don't really bother me.
INCH: What were your personal expectations?
T.J. Caig: My personal goal was to get 20 points in this half of the season. I accomplished that, so my next goal is to win a NCAA championship with the team, and the Final Five is the first step toward that.
INCH: What has been the key to UMD getting to the Final Five this year, having not been there for five years?
T.J. Caig: The coaches have done a great job of recruiting, and they're just like the guys on the team. You can talk to them just like they're not a level up on you, which really helps the team relax.
INCH: Did the year off allow you to get ahead in school at all?
T.J. Caig: My schooling has gone really well so far. During the year off I got a 3.2 grade-point average. I'm majoring in Criminology, and I'm doing really well in school. So that helps me progress as a student at the same time as I'm making some progress in hockey.
INCH: British Columbia is a long way from Northern Minnesota. Why did you choose UMD?
T.J. Caig: I'd heard about a lot of big guns from B.C. who had come here and had some success, especially Brett Hull. I played for the same junior team as Brett, so I heard a lot about UMD there. And my best friend's uncle is Chico Resch, who played here, so I heard about UMD there, too. But most important is that the coaches were behind me 100 percent with getting into school and making me feel welcomed as a part of the team throughout the year off.