December 10, 2003
Fournier Happy to be Home with Seawolves
By Jess Myers
One of the biggest keys to Alaska Anchorage's better season has been the play of sophomore forward Chris Fournier. The Anchorage native is averaging a point a game for the Seawolves, and loving life in his first playing season back home since transferring from North Dakota after his rookie year there.
Fournier, who missed the Seawolves' home split with Minnesota due to a nerve injury in his left leg, will be back in action this weekend when UAA hosts Colorado College. Asked if he misses North Dakota at all, what with the Sioux enjoying the top ranking in the nation and all, Fournier said he's glad to play on this team, in the familiar surroundings of his hometown.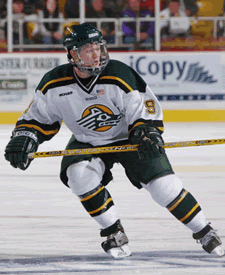 Chris Fornier stands second on the Seawolves in scoring with 5-7—12 in 12 GP.
"We don't have the record North Dakota does, but we're improving every day," he said. "You look at our top eight or nine scorers and all but one is a freshman or a sophomore, and we signed some good players in the early signing period, so I'm confident that we'll be there before too long."
And when asked about his decision to leave Grand Forks after one season, Fournier has no qualms about the move.
"It just wasn't the right fit for me," Fournier said. "I got caught up in the glitz. They've got a really nice rink, but that's about it. It wasn't the right place for me at all."
Fournier, who stands a stocky 5-foot-6 with a shock of red hair, brought some impressive credentials to the college game. He was named the Alaska prep player of the year after his freshman year at Anchorage East, and was named the national junior hockey player of the year in 2000-01. That season he led the USHL in scoring with 83 points for the Lincoln (Neb.) Stars and was named the league's MVP before signing with North Dakota.
UND coach Dean Blais said that while Fournier would certainly be an asset to the current Sioux lineup if he were still on the team, he felt that Fournier struggled with homesickness while in Grand Forks. While denying there are any hard feelings about Fournier's departure among the North Dakota coaches, Blais said the reaction among Sioux players may be different when Alaska Anchorage comes to town for a series in early January.
"We'll find out what the players think when he plays here," said Blais. "I think there are some of our guys that are looking forward to playing against him."
SEEN AND HEARD IN THE WCHA
Changing of the Guard in the Bulldogs' Crease – Solid goaltending was supposed to be one of the reasons that Minnesota Duluth would be a contender in the WCHA title race this year. And as we plow headlong into the holiday season, things are working out pretty well between the pipes for the Bulldogs, who, at 7-3-0, are off to their best WCHA start in more than a decade (the 1992-93 Bulldogs, who won the school's last MacNaughton Cup, also started 7-3-0). But it's not exactly going according to the script.
While top goalie Issac Reichmuth is clearly in the midst of a sophomore slump these days, freshman Josh Johnson stepped in last week and posted the school's first WCHA shutout since 2000. Johnson, who played high school hockey in nearby Cloquet, Minn. (home of Derek Plante, Corey Millen and Jessica Lange), stopped all 21 Michigan Tech shots in a 4-0 win last Saturday, and was named the WCHA's rookie of the week.
By contrast, Reichmuth, who was named the league's top rookie goalie last season, is in what Elton John might call "a bad patch lately." Bulldogs coach Scott Sandelin lifted Reichmuth after one period of last Friday's game at Michigan Tech, with the Huskies leading 4-0 (Tech held on for a 6-5 win). It was the end of a stretch in which Reichmuth allowed 17 goals in a little more than 10 periods of work.
So if Johnson is the answer for the Bulldogs's defensive struggles, he arrives not a moment too soon, as Minnesota Duluth travels to face top-ranked North Dakota in Grand Forks this weekend. Last March, the Bulldogs goalies had 70 saves as UMD won and tied the Sioux at Ralph Engelstad Arena. With the North Dakota offense clicking on all cylinders, a similar effort might be required if the Bulldogs hope to earn a point or two.
Gophers Focusing on Other Goals Already? – When his team started the season 1-3-0 in WCHA play, Minnesota coach Don Lucia told reporters that you can't win the MacNaughton Cup early in the season, but you can lose it. After a surprising 6-4 loss at Alaska Anchorage last weekend, statistics show that the two-time defending national champs may be out of the running for conference hardware before Santa comes to Mariucci Arena.
Minnesota's record is 4-7-1 in WCHA play with 16 conference games remaining. Even if the Gophers were to go 16-0 in those games (which isn't likely, considering the slate includes home series with North Dakota, Wisconsin and St. Cloud State, and trips to Minnesota Duluth, Colorado College and Denver), it would be a rare feat to win the league title with seven losses.
Since the WCHA went to a 28-game conference schedule at the start of the 1997-98 season, no seven-loss team has claimed the league title. North Dakota in '98 and Denver in '02 each won the title with six losses. Equally notable is that since 1998, no MacNaughton Cup winner has gone on to win the NCAA title in the same season. In fact, since 1991, only one winner of the WCHA's regular season crown (North Dakota in 1997) has won the NCAA title a month later.
So for Lucia, who won three MacNaughton Cups but no NCAA titles at Colorado College, the Gophers might be perfectly positioned for a run at a NCAA three-peat.
"You want to win the conference title, but you don't want to win it at all costs," Lucia said earlier this season. "The NCAAs have gotten so much more attention and so much more important, that you're not going to rush a player back from an injury or do something drastic like that to try to win a conference title."
Great Weekend Getaway

Denver at St. Cloud State (Fri.-Sat.)
It's a return to "road sweet road" for the Pioneers, who are 4-1-1 in away games this season, but just 3-4-1 (0-4-1 in WCHA play) at Magness Arena. And while sophomore slumps are the in thing in other markets, not so for Denver, where second-year star Gabe Gauthier (renowned to be the finest college hockey player Buena Park, Calif., has ever produced) continues to lead the way offensively. For the home-standing Huskies, these are the worst of times, as St. Cloud State has gone 2-4-1 after surprising the nation with their 8-0-1 start. Will home cooking get the Huskies back on track, or will a return to eating hotel fare spark the Pioneers once again?

While You're There: Downtown St. Cloud used to have two of the great eateries in the college hockey world within half a block, with Waldo's Pizza and Bravo Burritos just a few doors apart. Alas, both are gone. There's a Bravo Burritos a mile or two west of downtown on Division Street, and the food is still great, but the strip mall version just isn't the same as the old place with its smoky backroom bar filled with students munching on Mexican food, sipping Tecate and studying for four minutes when the Simpsons went to a commercial break. Oh, to be young again.

Stick Salutes

To the students at North Dakota and many fans of the Fighting Sioux, for their tireless volunteer work recently. Since UND senior Dru Sjodin disappeared from a Grand Forks mall parking lot on Nov. 22, police officials have been overwhelmed by the number of students and citizens who have given their time searching the fields, woods and creeks of the region (often in harsh subzero weather) for any trace of the woman. It looks as if this story will not have a happy ending (police have a convicted sex offender in custody, and have confirmed finding traces of Sjodin's blood and a knife in his car and one of her shoes under a bridge near the Red Lake River), but the story has proven that in times of need, the Red River Valley produces more than just good hockey teams. There are some pretty good people living there too.

• To the University of Alaska Anchorage and its fans, for their plans to help the Bazin family. During this weekend's series with Colorado College, the school will have 50 volunteers roaming among the crowd at Sullivan Arena, soliciting donations for the Bazin family to help pay medical bills. UAA officials have said their goal is to raise a $10,000 gift. There are plenty of things that are cold in Alaska at this time of year, but the hearts of its people are, apparently, not among them.


Bench Minor

To Michigan Tech assistant athletic director Dave Fischer, for coming up with a snappy nickname for the Huskies' top line. Fish sent out a press release after last Friday's win over Minnesota Duluth with a headline praising the "Run DMC line" for scoring four goals. As loyal INCH readers will remember, it was this web site that suggested said nickname for the trio of Taggart Desmet, Colin Murphy and Chris Conner a few weeks ago. While we're happy to see Fish take our suggestion, how about giving a little credit? The bench minor will be served by Minnesota Vikings stadium public address announcer Jim Carroll, a four-year hockey letterwinner at Michigan Tech.
PUCKS TO PICK UP AFTER PRACTICE
• Colorado College fans got some great pre-holiday news recently when Tigers assistant coach Norm Bazin's condition was upgraded by officials at Deaconess Medical Center in Spokane, Wash. Bazin, who was seriously injured in a car accident on Nov. 20 outside of Spokane while en route to scout a player in British Columbia, was originally listed as critical and underwent several surgeries in the immediate aftermath of the accident. But last weekend Bazin was upgraded to serious, then further upgraded to satisfactory and released from the hospital's intensive care unit. Bazin's family has declined to release details about the nature of his injuries, but the news that the 32-year-old is on the mend was certainly welcome among members of the college hockey family.
• Bazin's improved health was part of a general trend with the Colorado College hockey team. After missing more than a month with a broken bone in his hand, Tigers star forward Brett Sterling sent notice to the league last weekend that he's back in action by scoring a pair of goals in his team's 6-1 home win over St. Cloud State. And top goalie Curtis McElhinney was back in uniform, although not yet back in action, last weekend as well. McElhinney, who missed a month of games due to a case of mono, served as the backup to freshman Matt Zaba last Saturday and will travel with the team to Alaska Anchorage this weekend.
• Even in the midst of his team's disastrous 2002-03 season, when the Seawolves went winless in WCHA play, Alaska Anchorage coach John Hill kept the faith that better times were ahead. His faith was rewarded last weekend when UAA got its biggest win in recent memory, beating Minnesota 6-4 before a raucous crowd at Sullivan Arena. Hill told the Anchorage Daily News that intense defense was the key to getting the crowd and his team into the game. "We created turnovers with our pressure and our relentlessness, Hill told the paper. "I think it was most complete effort since I've been here." With the win, the Seawolves now have six points in WCHA play (with a 2-6-2 conference record) after 10 games. They earned a grand total of six points (with a 0-22-6 conference record) in 28 games last season.
• Minnesota State, Mankato's sports information director, Paul Allan, is one of the most friendly and hockey-smart people in the college game. But he might be to blame for the Mavericks struggles, if you consider the possibility of the notebook jinx. Some history: in the 2000-01 season, Western Michigan junior forward Mike Bishai lit up the scoring charts with 68 points, and came back to Kalamazoo the next year as the nation's top returning scorer. WMU officials promoted Bishai's Hobey Baker candidacy by sending out hundreds of reporters notebooks touting the senior star. Bishai responded with a down year (by his own lofty standards), notching only 37 points. In a somewhat similar move, Allan sent out reporters notebooks promoting MSU, Mankato star Shane Joseph this year, and the results have been less-than-stellar thus far. Joseph entered the season as the nation's leading returning scorer after putting up 65 points last season. This year, Joseph has just 11 points in the team's first 12 games. To be fair to Joseph (and Allan), the early departure of Grant Stevenson may have a little more to do with the scoring dropoff than the promotional notebooks.
• INCH will make the bold prediction that the Wisconsin Badgers will lose a game sometime in the future – but maybe not in 2003. Bucky keeps rolling along, even getting a W in an exhibition game versus Riga 2000 from Latvia this week. In games that count in the standings, the Badgers have now rattled off a dozen games without a loss (8-0-4) which marks the school's longest unbeaten streak since the 1981-82 season. Students of history will remember that season as Badger Bob Johnson's final campaign behind Bucky's bench, and that the Badgers made it to the NCAA title game that year, losing to North Dakota in the final in Providence. With North Dakota ranked number one in the nation and Wisconsin coming on strong, might we be headed for another Sioux-Badgers NCAA final in New England? Stay tuned.