December 17, 2003
2003-04 WCHA Mid-Season Review
By Jess Myers

SURPRISE TEAM
Wisconsin. Sure, St. Cloud State seemed like a shoo-in for this honor a month ago, and Alaska Anchorage has done a fair amount of surprising in the last few weeks, but the big picture is all Bucky right now. The long bus ride home to Madison was likely pretty quiet on the early morning of Oct. 19, as the Badgers had just been swept at St. Cloud State. If anything was said, it might have been, "Let's not lose anymore." And since then, the Badgers haven't, rattling off 14 straight games without a notch in the L column.
Detractors (and Mike Eaves has more than one both inside and outside of Dane County) note that Wisconsin is averaging less than three goals per game in the last month, which isn't going to cut it against high-scoring teams like Minnesota Duluth and North Dakota (both visit the Kohl Center late in the season). Others have a Wisconsin collapse marked on their calendar for Jan. 2-3, when the Badgers visit Minnesota State, Mankato without a head coach and several key players (Eaves is coaching Team USA at the World Junior Championship in Finland).
But for now it's been two months without a loss, Bucky's ranked in the top five nationally, and State Street is lit up all pretty-like for the holidays. In other words, life is good in America's best college town. Now if they could just keep the lights on at the Kohl Center…
SURPRISE INDIVIDUAL
Adam Coole, St. Cloud State. It's rare for a goalie to get a hat trick, but the junior from Duluth, Minn., has notched three big surprises in a row. Surprise #1 was the way he struggled as a freshman and sophomore at Minnesota Duluth. After winning a state high school title for Duluth East and earning all-state first team honors, his time at UMD was anything but a "hometown boy makes good" story. Coole's numbers were bad (5-23-4, 3.97 goals-against average, .885 save percentage) and his last game as a Bulldog was a disaster, when he surrendered three goals in less than two minutes at Wisconsin.
Surprise #2 was that Coole got a second chance. He left UMD not knowing if he'd ever don goalie pads again, but was welcomed by St. Cloud State and redshirted last season, slowly re-gaining some confidence and learning to have fun between the pipes again.
Surprise #3 has been his play this season. Coole is 7-2-1 in WCHA games, and his pre-Festivus feats of strength have included sweeping his old team in Duluth, holding North Dakota's scary-good offense to a single goal to win in Grand Forks, and shutting out Colorado College on the road. Opponents are praying there's no Surprise #4 on the way.
BEST NEW FACE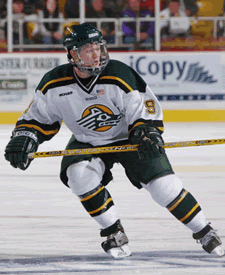 Chris Fournier returned to Anchorage after a year at North Dakota and is averaging more than a point per game for the Seawolves.
Chris Fournier, Alaska Anchorage. OK, so he's not really a new face in the WCHA, as he played a year at North Dakota before transferring to his hometown college. And he's not really a new face in Alaska, having been named the state's best high school player as a freshman at Anchorage East. But Fournier's return to the college game, along with the dozen points he's recorded in his team's first 10 WCHA games, has been a key to the Seawolves' resurgence.
Anchorage used to be renowned as a tough place to play, before hard times fell on the UAA program and the crowds dwindled. While the crowds aren't completely back just yet (when you've got 2,500 empty seats for a game with Minnesota, something isn't right) three consecutive home wins are signs that the Seawolves might be.
Fournier wasn't happy in his one season in Grand Forks, and his parting of ways with the Fighting Sioux sounds less than cordial (Sioux fans contend he left due to laziness and homesickness, while Fournier says it just wasn't the right place for him, and hints that he wasn't dealt with honestly). But all that's in the past. The present's going well, as the Anchorage kid will be home for Christmas with his team on a winning streak, and the promise of better times looms on the horizon.
WHAT HAPPENED TO …
Minnesota. On Feb. 22, Minnesota fell in overtime in Duluth, giving the Gophers their eighth loss of the 2002-03 season. It would be their last, as Minnesota went 10-0-2 the rest of the way to win their second NCAA title in a row. This season, their eighth loss came with 18 shopping days left until Christmas, and coach Don Lucia all but declared his team out of the race for the MacNaughton Cup on Nov. 1.
The Gophers have majored in Injuries, with a minor in Inconsistency thus far. Suffice it to say that their first class en route to that major was a four-credit lab at Ralph Engelstad Arena where the young Gophers learned that facing the nation's most dangerous offense with your two top defensemen hurt is NEVER a good idea. Gopher fans can take heart in the fact that the toughest second-half games are at home (although the Gophers are a non-threatening 3-3-0 at Mariucci Arena thus far) and Lucia's Minnesota teams have usually finished strong.
So forget about bringing the MacNaughton Cup to Minneapolis this season, but a NCAA three-peat isn't totally beyond comprehension just yet. Although, a whopper of a final project will be needed if this crew is to complete that degree.
BIGGEST UPSET
St. Cloud State 2, North Dakota 1, Nov. 14 in Grand Forks. Sure, Adam Coole's return to college hockey has been outstanding, and a hot goalie can do wonders. But holding North Dakota to a single goal, at home, just isn't supposed to happen. Maybe the problem was that Coole only saw the front of the home team's sweaters, so he was just looking at the word "SIOUX" all night. Had he caught a glimpse of the names on the backs of said sweaters, and been confronted with intimidating words like "Bochenski," "Parise," "Murray," and "Stafford," it might have been a different result. In any case, Coole's 32-save effort (along with goals by Matt Hendricks and Dave Iannazzo) led to the lone blemish on top-ranked North Dakota's WCHA record, and not one nasty post referring to "Jan Brady State University" on the Sioux fans' message board.
TOUGHEST ROAD OUT
Minnesota Duluth. Scott Sandelin will get a few coach of the year votes just for getting his team to Halloween with a .500 record. The brutal pre-Christmas slate has had the Bulldogs travel to Minneapolis (where they swept), to North Dakota twice (where they're 0-3) to the East once (where they beat and tied Union) and to the IceBreaker Invitational in East Lansing (where they lost to BC in a shootout and lost to host Michigan State). They've fared a little better at home, where they're 5-2. If the Bulldogs want home playoffs again, they've got an excellent opportunity to hold their ground, with Colorado College, Minnesota, North Dakota and Michigan Tech all coming to the DECC in the second half.
TOUGHEST ROAD IN
North Dakota. The Fighting Sioux have sprinted to the top of the national rankings, but have almost nothing to show for it in terms of Holiday Inn Priority Club points. As of Jan. 1, they'll have played just two road games (granted, they're 2-0 in said games, out-scoring Denver 14-4 in their one weekend away from the Ralph). In this world of the balanced schedule, that means plenty of time for North Dakota to spend packing and unpacking in the second half. They have series at St. Cloud State, Michigan Tech, Minnesota, Wisconsin, Minnesota Duluth and Minnesota State, Mankato coming up. Might a second-half Sioux swoon give others a crack at the MacNaughton Cup?
MUST-SEE SERIES
North Dakota at Wisconsin, Feb. 6-7. Much has changed since these storied programs met for the NCAA title in Providence in 1982 (the Sioux won that one, 5-2). Heck, much has changed since they met for the WCHA Final Five crown in Minneapolis in 2000 (NoDak won that one too, prevailing 5-3 en route to its most recent NCAA title). But with Wisconsin currently the hottest team in the nation and North Dakota currently the top-ranked team in the nation, this weekend might determine which spacious arena lobby gets to display the MacNaughton Cup all summer. One thing we know for sure will happen: After each game, somebody will order a basket of deep fried cheese at the Kollege Klub.
BIGGEST QUESTIONS ANSWERED
Is there a bigger group of survivors in college hockey than the Colorado College Tigers? The answer is a resounding "no" as the big team from the little school has put aside a decade's worth of injuries, near-tragedies and administrative distractions in the past three months, and emerged from it with their heads above water. They've lost their best forward, their best goalie and their best defensive forward for long stretches, and kept winning. They've handled the near-death of assistant coach Norm Bazin, and kept winning. They've played all year not knowing whether the NCAA will screw up their scholarships soon, and kept winning. If they can survive their current 1-3 stretch, they might not be packing the MacNaughton Cup in a crate and shipping it to another school just yet.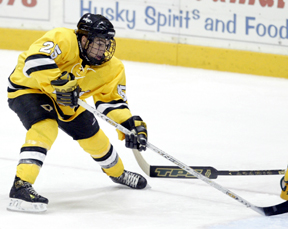 Chris Conner is one very good reason for optimism in Houghton.
Is there hope for the future at Michigan Tech? That would be a "yes" folks. While the Huskies aren't ready for prime just yet, the first three months of the Jamie Russell Revolution have seen some exciting, competitive hockey on the Keweenaw Peninsula, along with some frustrating doldrums for Tech fans. They've been streaky, but when the Run DMC line of Desmet, Murphy and Conner is clicking, the numbers have been impressive. Keeping it in perspective, one would be unwise to make plans to be in Houghton for the playoffs just yet. You don't finish in the top five by starting 1-7-2 in WCHA play, but if the energetic Russell can keep the top line together and keep building optimism, it looks like this once-proud program is on the road to recovery.
BIGGEST QUESTIONS REMAINING
What else can go wrong for Minnesota State, Mankato? Thus far as the Mavs have struggled in several facets of the game, resulting in a 3-9-2 mark. No "other forward" has yet emerged top complement Shane Joseph, there has been a plague of injuries, the power play has been powerless (currently 5 for 77 – that's .078 percent for you math majors) and the goaltending isn't stealing any games just yet. Highly-touted freshman David Backes has been quite good, notching nine points in his first dozen college games, but it will take more – much more – before the Mavs are in the hunt for home playoff games.
How much will the WCHA miss a friend like Keith Magnuson? The former Denver star, who was the driving force behind the Pioneers' back-to-back NCAA titles in 1968 and '69, was killed in a car accident in Toronto recently. He was 56, and had been a fixture as a player, coach and noted alum with the Chicago Blackhawks since his NHL career began. In 2002, when the WCHA had its 50th Anniversity celebration in St. Paul, Magnuson came to the events and proved that as mean and nasty as he could be on the ice, he was the most thoughtful and kind person you'd ever want to know when in street clothes. It's been a tough year on the roads for college hockey's friends, with Herb Brooks and Magnuson passing away, and Norm Bazin being severely injured. As we travel in the coming weeks, to family dinners and great holiday tournaments, let's buckle up and be careful out there, OK?
INCH's First Half All-WCHA Team

Pos.

Player
Of Note

G

Adam Coole, St. Cloud State
Stories like his might inspire the WCHA to create a Comeback Player of the Year award.

D

Keith Ballard, Minnesota
His value to the Gophers was underscored by the team's struggles with him out of the lineup.

D

Jeff Likens, Wisconsin
While a different Badger freshman got most of the pres-season headlines, this rookie blueliner has made the biggest splash in Madison.

F

Brandon Bochenski, North Dakota
The league's top rookie two years ago has shown an ability for growth that's scary - especially to opposing goalies.

F

Gabe Gauthier, Denver
Only six goals so far, but averaging an assist a game is the way to shine in the Pioneers' balanced offensive attack.

F

Junior Lessard, Minnesota Duluth
While the UMD goaltending situation remains in flux, the firey red-headed Quebecois is proving that offense still matters in the college game.

Send this to a friend
About Us | Advertiser Info | Site Map | Privacy Policy
© 2003 Inside College Hockey, Inc., All Rights Reserved