October 30, 2002
West Notebook
CCHA | CHA | WCHA

RedHawk-tober: Can Miami maintain its strong start?

By Mike Eidelbes

Maybe there's a reason Miami coach Enrico Blasi has the best poker face this side of the movie "Rounders".
The RedHawks are off to a 6-2-0 start and are currently ranked 14th in this week's Inside College Hockey.com
Power Rankings
. Blasi downplays the team's opening
–
he may be thinking back to the beginning of the 2001-02 season, when his team opened with a 5-2-1 record, and then lost 19 of the next 28.
Offensively, Miami has been impressive. The third-highest scoring team in the NCAA at 5.25 goals per game, the RedHawks average just under 41 shots on goal per game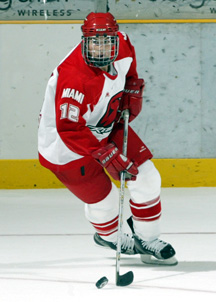 Miami forward Greg Hogeboom
while allowing opponents a little more than 18 shots per outing. Three skaters have already racked up more than 10 points this season. Junior Mike Kompon, with six goals and nine assists, ranks tied for second nationally in total points. Fellow junior and linemate Greg Hogeboom has 5-7—12 through eight games, including four power-play goals, the third-best total nationally.
Blasi says the offensive explosion starts at their own zone.

"We're playing solid team defense," says the fourth-year coach, "and from that we're generating some pretty good chances. They're focused on what they need to do. It really boils down to being ready to play."

The RedHawks have benefitted from some early confidence-building victories. The team won the season-opening Lefty McFadden Invitational in Dayton for its first tournament title since 1997. After a non-conference split with St. Lawrence in Oxford, Miami gained a split at Nebraska-Omaha, where they had won once in four previous tries. Last weekend, they swept Northern Michigan at Goggin Ice Arena – the RedHawks entered the series with a 4-23-1 all-time record against the Wildcats.

"It was important for us to get a win in Nebraska," said Blasi. "I've always said that, in our league, if you can get on a little roll and keep it going for a while, it's to your advantage."

And while the confidence is great, Blasi contends his team is focused on avoided the pitfalls that nullifed the RedHawks' strong showing early last season.

"We've got to look forward," said Blasi. "If you're not ready to play, whatever you've done in the past is all for naught. It's great we're off to a good start, but every weekend is bigger and bigger."


HOUGHTON'S HEROES

Michigan Tech's 1-2-2 start doesn't quite measure up to that of Miami. That doesn't mean there isn't cause for optimism on the Keewenaw Peninsula.

The Huskies, who have won fewer than 10 games in five of the last six seasons, gave defending national champion Minnesota fits last weekend in Houghton in the first WCHA series for both teams. On Friday, Tech jumped out to 2-0 and 3-1 leads, only to see the Golden Gophers rally to win 5-4 on Thomas Vanek's goal with 5:26 left in regulation. The Huskies also held a 2-0 advantage Saturday, but Minnesota scored three straight goals to take the lead early in the third period. Defenseman John Scott salvaged one point for Michigan Tech, however, with his first career goal with less than five minutes remaining in regulation.

"We played them tough both nights and we feel we earned a little respect from them," said junior right wing and team captain Brett Engelhardt. "There are some positives that we as a team can take out of the weekend."
Things People Say
"That's the type of situation you wish for: a breakaway in overtime. I've got to bury those." – Maine forward Colin Shields, who was stopped by Western Michigan goaltender Scott Foster late in Sunday's 4-4 tie with the Broncos.
"We put up 63 shots (Saturday) and 42 (Friday). What can you do?" – Bemidji State head coach Tom Serratore, whose Beavers are 0-1-3 following an overtime loss and tie against visiting Union this weekend.
"We had (Tony) Hrkac, (Bob) Joyce and (Steve) Johnson. These guys move the puck the same way, but they're younger." – North Dakota head coach Dean Blais, on the prolific scoring line of freshman Zach Parise centering sophomores Brandon Bochenski and Quinn Fylling.
Coach Mike Sertich's squad is a young group – the sophomores and freshmen (21) nearly outnumber the juniors and seniors (eight) by a 3-to-1 margin. And despite letting a pair of two-goal leads slip away this past weekend, Engelhardt says the performances have buoyed the team's confidence.

"The guys are excited right now," said the Sheboygan, Wis., native. "With (Minnesota) being defending national champions...heck, if we can play with them, we can play with anybody. We need to learn how to play with a lead. Once we learn to do that, we should take off."

The scoring is taking off already. So far this season, Tech is averaging 3.8 goals a game. The team managed just over 2.3 goals per game in 2001-02. Newcomer Chris Conner ranks second in the WCHA in freshman scoring with 2-5—7, and Bryan Perez shares the team lead in points with 3-5—8. But the main offensive thrust centers around the line of Englehardt, junior Jon Pittis and sophomore Colin Murphy, one of the better units in the conference. All three are among the league's top 20 scorers in this young season.

"We really have begun to understand each other," said Engelhardt, who paces the Huskies in goals (six) and shares the team lead in points (eight). "It's become more evident to me the more we play together.

"Pittis is quick and sees the ice very well. Murphy can shoot and pass and sees the ice very well. All the things that we have, combined, come together to make up a good line."

Engelhardt believes the Huskies are benefitting from being more comfortable with Sertich's strategies. The team is also getting a better understanding of the long-time coach's mental approach to the game. Tech will need that mental edge during its upcoming stretch of games. The Huskies, who've played the nation's toughest schedule in each of the last two seasons, travel to Colorado College this weekend to face a team they haven't beaten in their last 30 regular-season meetings. After that it's series with Denver, Minnesota, Wayne State and a single game at Northern Michigan. Following the Christmas break, the Huskies play Michigan and either Michigan State or Boston University at the Great Lakes Invitational in Detroit.

"We can look into the future but that's not going to do us any good," Engelhardt explained. "We have to focus on Colorado College right now. We have to go in there, get some points over the weekend and come home. Then we get a week off to prepare for Denver.

"The stretch is going to be very difficult. But we need to remember that the season isn't won or lost in one weekend."


DEUTSCH TREAT

USA Hockey announced the roster for the team it will send to the Deutschland Cup, a four-team international tournament that runs from Nov. 8-10 in Hannover, Germany. Switzerland, Canada join the U.S. and the host country in the three-day event. It's the first time the tournament, which debuted in 1987, has featured an American entry.

The 20-man U.S. roster, which is comprised of players competing in European professional leagues, is a veritable cornucopia of former WCHA and CCHA standouts, as 75 percent of the squad hail from one of the two leagues. The breakdown:

Defensemen
Keith Aldridge, Lake Superior State (EHC Eisbaren Berlin)
John Gruden, Ferris State (EHC Eisbaren Berlin)
Brett Hauer, Minnesota-Duluth (Geneva)
Chris Luongo, Michigan State (Nuermberg)
Nick Naumenko, North Dakota (Die Adler Mannheim)
Andy Roach, Ferris State (Die Adler Manheim)

Forwards
Mark Beaufait, Northern Michigan (EHC Eisbaren Berlin)
Brian Bonin, Minnesota (Langnau SCL)
Kelly Fairchild, Wisconsin (EHC Eisbaren Berlin)
Brian Felsner, Lake Superior State (Linkopings)
Pat Mikesch, Michigan Tech (Kassel Huskies)
Kevin Miller, Michigan State (Davos)
Derek Plante, Minnesota-Duluth (ZSC Lions)
David Roberts, Michigan (EHC Eisbaren Berlin)
Chris Tancill, Wisconsin (EV Zug)

Former North Dakota defenseman and NHL veteran Craig Ludwig serves as assistant to head coach Lou Vairo. The USA Hockey delegation leader is ex-Wisconsin letterwinner Jim Johannson.


SAVED BY SCOTT

Imagine this scenario unfolding in your fourth career collegiate game. Tied at four against Maine, last year's NCAA runner-up, in raucous Alfond Arena in Orono. The Black Bears have rallied to send the game into overtime thanks to two goals in the last five minutes of regulation. Forward Colin Shields, a 29-goal scorer as a sophomore, bearing down on you with a breakaway.

That's exactly what happened to Western Michigan freshman goaltender Scott Foster, who stoned Shields and preserved the tie for the Broncos.

"He came in from a long distance," Foster told Larry Mahoney of the Bangor Daily News. "He must have gotten the puck at the blue line or beyond. That gave me time to get set. I waited for him to shoot and I think I got both my stick and pad on it."

Foster improved to 2-1-1 on the young season with Sunday's tie.

"I had the five-hole but I didn't get the puck off the ice enough and it hit his stick and glanced up into his pads," said Shields. "He made a good save and I made a bad shot.


Three Great Weekend Getaways
1. Denver at Wisconsin
The WCHA opener for both teams, the weekend series also marks a matchup of former teammates – Denver coach George Gwozdecky and Wisconsin bench boss Mike Eaves were Badger teammates in the mid '70s. The Pioneers have enjoyed the trip to Madison in recent years, sporting an 8-2-2 record in Bucky's house since the start of the 1995-96 campaign. While you're there: If you can't find anything fun to do in Madison, check yourself for a pulse. State Street and the area around campus is always fun – we're partial to the Kollege Klub, the Mad Hatter and State Street Brats. But no trip to Mad Town is complete without a stop at the Nitty Gritty. If you see Jeff Sauer there, tell him we send our best.
Runners-up:
2. Boston College at Notre Dame – For the last few years, this game has coincided with the contest pitting the only two Catholic institutions playing NCAA Division I football. And like Saturday's football game, Friday's hockey game is a sellout. If you can't get a ticket from a scalper, head over to the basketball side of the Joyce Center for the football pep rally at 6 p.m. or the men's basketball exhibiton game at 9 p.m.
3. Alabama-Huntsville at Minnesota– We're not expecting this two-game set to rival the '72 Summit Series, but Gopher fans will swell with pride when the school's fourth national championship banner is raised to the Mariucci Arena rafters in a pre-game ceremony Friday. Which brings up an interesting question – where will Minnesota's men's golf national championship banner hang?

RIPPED FROM TODAY'S HEADLINES

Your weekly Gopher injury update – Minnesota forward Barry Tallackson will be sidelined for six-to-eight weeks after separating his shoulder in Friday's win at Michigan Tech. The sophomore had one assist in four games prior to the injury. He joins forward Grant Potulny in the infirmary – the junior is out until at least January with a broken leg.

And your weekly Badger injury update – Wisconsin defenseman Jon Krall is questionable for this weekend's series with Denver at the Kohl Center. Krall injured his left foot when blocking a shot in the Badgers' 4-2 loss at Boston College Friday. X-rays were negative. Fellow blueliner Dan Boeser is shelved indefinitely with a broken hand.
Fit to be tied – The NCAA Ice Hockey Rules Committee has ruled the Maverick Stampede semifinal game between Colgate and Nebraska-Omaha is officially a tie and only the statistics for the first 65 minutes of play will count. The Oct. 11 game was played with a five-minute overtime, followed by a 20-minute period when the game was still tied. According to the NCAA, the only way to break ties in order to determine advancement in an in-season tournament are 20-minute overtimes to conclusion or a five-minute overtime followed by shootout. The game is officially recorded as a tie under the second scenario. UNO advanced to the Stampede title game on a Scotty Turner power-play goal with 1:15 left in the second OT.

Workin' overtime – Bemidji State, off to a 0-1-3 start, has gone to overtime in each of its first four games. The Beavers posted a pair of ties in their season-opening series vs. Sacred Heart. BSU dropped a 4-3 decision to Union Friday on Jordan Webb's second goal of the game two minutes into the extra session before earning a 5-5 draw with the Skating Dutchmen the following night.

Strange, but true – Last weekend's Michigan's sweep of Alaska-Fairbanks at Yost Ice Arena marks the first time the Wolverines have taken both ends of a home regular-season series from the Nanooks since Nov. 17-18, 1995.

Departures – Nebraska-Omaha freshman defenseman Craig Zubersky left the Mavericks this week and has joined the Western Hockey League's Kootenay Ice. The Victoria, B.C., product, who didn't record a point in two games with UNO. Meanwhile, Bowling Green has suspended sophomore defenseman Matt Lynn for violating team academic rules. His status will be re-evaluated upon the completion of the fall semester. Lynn hadn't scored in six games this season.

Like Mike – Most of the credit for Ferris State's strong start (the team's best since 1983-84) goes to forward Chris Kunitz and the Bulldog offensive arsenal. But sophomore goaltender Mike Brown is quietly putting together the beginnings of an all-league – if not All-American – season. A 2002 all-CCHA rookie team selection, Brown ranks second in the conference with a 1.67 goals against average and boasts an otherworldly .951 saves percentage, trailing only Denver's Adam Berkhoel among NCAA netminders in that category. It's not as if Brown's not seeing rubber – he averages a little more than 31 saves per game. Among CCHA goalies, only Bowling Green's Tyler Masters make more saves per game.

With six you get egg roll – Denver senior forward Kevin Doell, who Monday was named the WCHA's Offensive Player of the Week, recorded a six-point game (one goal, five assists) in Friday's 7-0 win against Alabama-Huntsville. He's the first Pioneer to notch a half-dozen points in one game since Brent Cary turned the trick vs. Air Force on Dec. 27, 1995.

Wayne's world revisited – Wayne State extended the nation's longest current unbeaten streak to 14 games with a pair of wins against visiting St. Lawrence last weekend. The path gets tougher for the Warriors, however, as coach Bill Wilkinson's group plays 10 of its next 12 games on the road – at Vermont and Dartmouth this weekend, at Ferris State for two with the high-octane Bulldogs and then a league series with Bemidji State. A pair of home contests with Alabama-Huntsville follows, then it's back to visitor status with series at Michigan Tech and Alaska-Fairbanks.

Pardon us if we brag – Congratulations to former Michigan State defenseman and designer of this web site, Mike Weaver. He was recalled by the Atlanta Thrashers Wednesday after starting the season with Chicago of the AHL.

Check it out – Don't miss this recent feature on CCHA.com – Ohio State defenseman Scott Titus' first-person account of resuming his career after sitting out the 2000-01 due to a bone infection in his arm. Good stuff.
THIS WEEK'S NHL TRANSACTIONS

Atlanta Thrashers: Recalled defenseman Mike Weaver (Michigan State) from Chicago of the AHL.
Nashville Predators: Assigned defenseman Mark Eaton (Notre Dame) to Milwaukee of the AHL.

Philadelphia Flyers: Recalled forward Andre Savage (Michigan Tech) from Philadelphia of the AHL.
A variety of sources were utilized in the compilation of this report.