When a team or individual strings together a few impressive performances in a row, they're said to be red hot. However, we may have to introduce a new term to describe the torrid start of the goaltender at Ferris State: Brown hot.
Sophomore netminder Mike Brown is one of the key reasons the Bulldogs – 7-1-0 after last week's sweep at Alaska Fairbanks – are off to their best start in nearly 20 years.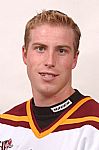 Mike Brown
He was named CCHA Defensive Player of the Week for the fourth straight time Monday after stopping 47 of the 48 shots he faced in the two wins against the Nanooks. No other player in the league's history – including Hobey Baker Award winners Ryan Miller, Brendan Morrison, Brian Holzinger and Kip Miller – had captured four straight weekly honors prior to this week.
The Calgary native's statistics range from the ridiculous to the sublime. Brown, the CCHA leader in every major goaltending category, ranks fifth nationally in goals against average (1.38) while playing more minutes than all but two Division I backstops. He's given up 11 goals in eight games, but only five have been scored at even strength.
And, even though he's made more saves (242) than any other D-I goalie, Brown's save percentage (.957) is third best in the nation. He averages a little more than 30 saves per start, including 40 stops in a 4-1 win at Notre Dame Oct. 26. As a point of comparison, the three CCHA goaltenders right behind Brown in GAA – Michigan State's Matt Migliaccio, Al Montoya of Michigan and Miami's David Burleigh – each average less than 23 saves per appearance.
"We have two or three freshman defensemen in the lineup each night plus we converted one forward to defense so we were really nervous coming into the year," Ferris State head coach Bob Daniels said. "But what has really made a difference for us is how well Mike Brown has played behind them."
It's not like Brown has turned into Ken Dryden overnight. He was named to the CCHA All-Rookie team last year after posting a 10-13-0 record, a 2.66 GAA and a .911 save percentage for the ninth-place Bulldogs. At the bandbox known as Ewigleben Ice Arena, the 6-foot, 185-pounder owns a 10-3-0 career mark, including a 3-1-0 record this season. And with six of the Bulldogs' next eight games at home, Brown has a chance to improve his gaudy statistics.
"Mike's been great," said Ferris State assistant coach Derek Lalonde. "Stats like that are ridiculous. His character, personality, his persona reflects the team."
MAKING IT LOOK PARISE
Speaking of Brown-hot performers – hey, if I invented the term, I gotta use it – North Dakota freshman Zach Parise has lived up to the hype that preceded his collegiate debut.
"All of the expectations, it's not unfamiliar to me," said Parise, who's already been featured in the New York Times and on ESPN.com. "But I have higher expectations for myself, and it just adds more fuel to the fire."
Things People Say
"He would end up being ineligible if he keeps going in this direction, so I'm giving him a chance to get back on track. And if he does, he does and if he doesn't, I'm not going to babysit him any longer." – Michigan coach Red Berenson, on sophomore forward Milan Gajic, who was suspended indefinitely for academic reasons earlier this week.
"You're used to guys being out a week, but I haven't had this many guys with so many serious injuries, ever. Now we have to worry about things like how we structure practice, because you don't want anyone else to get beat up." – Minnesota coach Don Lucia, on the rash of injuries plaguing the Gophers.
"After watching the video, we were even worse than I thought we were." – Alaska Anchorage coach John Hill, discussing his team's effort in Friday's 3-2 loss to Minnesota-Duluth at Sullivan Arena.
Opposing coaches are hoping Parise, the player WCHA bench bosses tabbed as the preseason favorite for the league's freshman of the year honors, runs out of motivation. Through six games, Parise has emerged as a candidate for conference player of the year and has a legitimate shot to become the second freshman to win the Hobey Baker Award. He's scored multiple points in each of his team's contests, including hat tricks against Canisius and Niagara and five assists in a win over Princeton (at Hobey Baker Rink, no less) Friday.

"He is a little quicker than (1987 Hobey winner Tony) Hrkac was, and he has a great shot, too," said Fighting Sioux coach Dean Blais. "The real deal."
Parise has eight goals and 12 assists for 20 points and is tied for the national scoring lead with senior forwards John DiSalvatore of Providence (6-14–20) and Ferris State's Chris Kunitz (10-10–20). Based on points per game, the Faribault, Minn., product is far and away the nation's leader – at 3.33 points per outing, he outdistances the second-place DiSalvatore (2.86 ppg) by nearly a half-point.
Naturally, Parise is among the NCAA's best in goals and assists, but he's also tied for first among Division I skaters in shorthanded goals (two) and is in an 11th-place tie in power-play goals (three).
The main beneficiaries of Parise's point-producing prowess are his linemates, sophomores Brandon Bochenski and Quinn Fylling. Bochenski has 9-3–12 on the season while Fylling, who scored seven points as a rookie, has 7-3–10.
"We've got a pretty good line and we've had a lot of success so far," Parise said. "It's just really rare when you click right away and find that much chemistry."

FAIR(BANKS) WARNING

A major earthquake rocked Alaska Sunday. Contrary to popular belief on the Last Frontier, it wasn't Alaska Fairbanks coach Guy Gadowsky trying to shake his team out of its early-season doldrums.
The Nanooks, who entered the year hoping to build on last year's fourth-place finish in the CCHA regular season standings and first-ever trip to the CCHA Super Six Championship in Detroit, are simply trying to right the ship in the midst of a disastrous 1-6-1 start, including an 0-5-1 mark in conference play.
Despite losing just three players from last year's team to graduation, UAF has struggled to score. The Nanooks have notched nine goals and 13 assists in six league games. Ferris State's Chris Kunitz, meanwhile, has nine goals and 10 assists in six CCHA tilts.
Gadowsky sent his troops the ultimate message prior to Saturday's 5-1 loss to Ferris State in Fairbanks. Much like Gene Hackman sending four players while keeping two on the bench in "Hoosiers", Gadowsky dressed only 16 skaters. Five players – defenseman David Keough and forwards Doug Auchenberg, Jason Grinevitch, Tom Herman and Ryan Lang – watched the game in street clothes as healthy scratches.
"We felt some messages had to be sent," Gadowsky said following Saturday's defeat. "We've done a lot of talking and had a lot of meetings, but still I thought there was a level of comfort there that the players shouldn't have. There was not much of a sense of urgency."
The Nanooks received another blow earlier this week when they lost forward Aaron Voros indefinitely after doctors discovered a bone tumor in the sophomore's leg. Voros, a 2002 CCHA All-Rookie team selection after scoring 18 goals and 13 assists last season, returned to his hometown of Whalley, B.C., Tuesday.
If Fairbanks is to regain its form from a year ago, it'll have to start that push on the road, which won't be easy. The Nanooks head to Nebraska-Omaha this weekend for a two-game set, then get an off week before traveling to Miami for a pair with the RedHawks. UAF closes the season's first half with home series against Notre Dame and Wayne State. One encouraging note – UAF is unbeaten in its last seven games against UNO.
"This isn't a great time for a road trip," Gadowsky said. "It's a great time for a win. If it happens on the road I'll take it."

RIPPED FROM TODAY'S HEADLINES
Saturday night's all right for fighting – A fracas during the second period of Saturday's North Dakota-Yale game in New Haven resulted in automatic one-game suspensions for four Fighting Sioux skaters.
Ryan Hale, Rory McMahon, Nick Fuher and Kevin Spiewak received fighting majors and game disqualifications for their roles in the melee. Both North Dakota coach Dean Blais and Yale coach Tim Taylor agreed that only two players from each team were involved in scrap, and Sioux assistant coach Brad Berry told the Grand Forks Herald that game film proves Spiewak and Fuher threw no punches. However, North Dakota and Yale learned Wednesday that the suspensions would stand.
Gajic grounded – Michigan coach Red Berenson announced that forward Milan Gajic has been suspended indefinitely for academic reasons. Gajic, a forward from Burnaby, B.C., had one assist in six games this season.
Three Great Weekend Getaways
1. North Dakota at St. Cloud State – The Fighting Sioux – appropriate nickname given last weekend's turn of events at Yale – are off to their best start (6-0-0) since 1986-97. They travel to the National Concrete Center to face St. Cloud State, which will get a boost this weekend as forwards Ryan Malone and Jon Cullen are expected to return to action. Coach Craig Dahl rolled out a young lineup in last weekend's series against Rensselaer – nine freshmen dressed Friday, while 10 suited up Saturday – but the rookie garnering the most attention will be North Dakota's Parise. While you're there: St. Cloud State has earned a well-deserved reputation as a party school. The best place to experience the college atmosphere at its finest has traditionally been the Red Carpet, which bills itself as the Midwest's most complete night club. But we'll let you decide for yourself. Follow this link to the Red Carpet's photo gallery to see if this is the place for you.
Runners-up:
2. Wayne State at Ferris State – Wayne State goaltender David Guerrera, the two-time CHA Player of the Year, will be tested this weekend in Big Rapids by the Bulldogs. Ewigleben Arena rocks when Ferris is mediocre. What will the atmosphere be like now that coach Bob Daniels' troops are rolling?
3. Miami at Notre Dame – Sorry we keep revisiting Notre Dame. Wait, no we're not. Anyway, this should be a pretty good matchup. The RedHawks are off to a better start, but the Irish probably have more talent from top to bottom. This series has split written all over it.

Shou-in? – The news isn't all bad out of the Wolverine camp. Forward John Shouneyia, could see his first regular-season action this weekend against Bowling Green. The senior captain, who has been sidelined since fracturing his wrist in the team's exhibition contest against Toronto last month, has been practicing for two weeks. Forward Jason Ryznar (separated shoulder) and defenseman Andy Burnes (mononucleosis) are not expected to return this weekend.
Tricks are for kids – Minnesota's 12-1 rout of Alabama-Huntsville Friday featured hat tricks from three players, as Thomas Vanek, Troy Riddle and Jon Waibel all notched three goals. Surprisingly, it's not the first time in the long and storied history of Golden Gopher hockey three players have scored hat tricks in the same game. John Mayasich, Dick Daugherty and Gene Campbell each scored thrice in a 14-2 win against Boston College in an NCAA Frozen Four semifinal match on March 11, 1954.
Your weekly Gopher injury update – Don Lucia may want to consider building an addition to the team's training room. Joining Grant Potulny (broken leg) and Barry Tallackson (separated shoulder) in street clothes are the sophomore Jerrid Reinholz, out indefinitely with a broken jaw, and the aforementioned Waibel, who is sidelined for at least a month with a broken hand. He sustained the injury after punching the Mariucci Arena glass after scoring his third goal of the game against UAH Friday. No word on how the proprietors of Waibel's fan club website – the great www.thewaibelfactor.com – plan to honor Jon in his absence. We hope they'll let us know.
By the way, the spate of injuries leaves the Gophers with 13 healthy forwards.
Wayne's world III – Wayne State's 14-game unbeaten streak – the nation's longest heading into last weekend – came to an abrupt end after the Warriors lost to Vermont and Dartmouth on a two-game Eastern road swing. The winless streak could easily hit four as the Warriors venture into Big Rapids to face Ferris State.
The weekend had its bright spots, however. Wayne State goaltender Mark Carlson made 26 saves in Saturday's 5-3 loss to Dartmouth, his first start since Feb. 10, 2001. He missed all of last season after undergoing chemotherapy.
Preiss check – Colorado College senior defenseman Tom Preissing scored three goals in the Tigers' weekend sweep of Michigan Tech in Colorado Springs, bringing his season total to nine, shattering his previous season best of six he set as a sophomore and matched as a junior. Preissing has yet to earn an assist on the season, however. He entered the season with 58 career helpers.
It ain't over 'til it's over – Just ask Lake Superior State coach Frank Anzalone and the Lakers. On Oct. 25, the Lakers scored twice in the last 2:05 of the third period to pull even with Michigan State, only to see the Spartans win on a goal with less than three seconds remaining. Last Friday, LSSU gave up two goals in a 27-second span – the last coming with 1:11 left in regulation – and watched Northern Michigan turn a 2-1 deficit into a 3-2 win.

More from the players – The CCHA's official web site presents the second in its series of narratives written by student-athletes. This week, Bowling Green's D'arcy McConvey talks about playing for new coach Scott Paluch.


AND NOW FOR SOMETHING COMPLETELY DIFFERENT...
Your life probably won't change by reading these notes, but it might.
Speaking of Notre Dame, I asked hockey SID Tim Connor if the Irish still had the green jerseys they wore once – in 2000 against Michigan State in a CCHA Tournament semifinal game at Joe Louis Arena in Detroit. Connor confirmed the sweaters still exist, but based on the outcome of Saturday's Notre Dame-Boston College football game, they'll probably remain in storage for a while. Just a hunch.

Is it just me, or is it almost surreal to see Ron Mason in the national spotlight in his role as Michigan State athletics director following the firing of football coach Bobby Williams earlier this week? A clip from Mason's press conference ran on SportsCenter, a two-page story on MSU football appeared in USA Today and the topic was discussed on ESPN Radio's Tony Kornheiser Show and Pardon the Interruption.

Miller traded! No, not that Miller. Michigan State recruit Drew Miller, brother of Ryan, was dealt to the United States Hockey League's River City Lancers by the Lansing-based Capital Centre Pride of the North American Hockey League.

STICK SALUTES
1) To Alabama-Huntsville freshman goaltender Scott Munroe, who made 52 saves in a 4-2 loss to Minnesota Saturday.
2) To Sports Illustrated football writer Peter King, who mentions two of life's simple pleasures -- Tim Horton's coffee and donuts -- in this week's installment of his Monday Morning Quarterback column on CNNSI.com.
3) To former Denver Pioneer Kevin Dineen, who announced his retirement from the NHL this week after a 20-year career that included stints in Hartford, Philadelphia, Carolina, Ottawa and, most recently, Columbus. Dineen scored 760 points in 1,188 career games.
BENCH MINORS
1) To our favorite Gopher, Mr. Waibel, who notched the first hat trick of his collegiate career vs. Alabama-Huntsville, then proceeded to Gus Frerotte his way out of the lineup for up to six weeks after breaking his hand with a celebratory punch of the Mariucci Arena glass.
2) To Northwest Airlines, for mechanical difficulties which forced a delay of Friday's flight from Houghton and caused Michigan Tech radio play-by-play announcer Dirk Hembroff to miss the Huskies' game at Colorado College that night. Tech assistant athletics director Dave Fischer called the game, with athletics director Rick Yeo providing color commentary.