How rare is a Michigan State regular-season loss to a non-conference opponent at home? Let's put it this way
–
the last time the Spartans were beaten by an opponent from outside the CCHA at Munn Arena, Jennifer Lopez had only been engaged once.
The date was Nov. 26, 1999, when Wisconsin beat MSU 5-1. The last non-conference loss for the Spartans in East Lansing before that? Nov. 17, 1991, when Boston College escaped with a 5-4 win.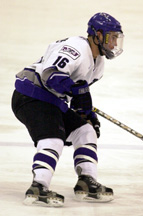 Niagara captain Nick Kormanyos
Given that history, it was unlikely Niagara would become the third non-CCHA team in 11 years to beat MSU at home, right? Guess again.
Not only did the Purple Eagles take a 2-1 decision over the then-nationally ranked Spartans Friday, but coach Dave Burkholder's team nearly left town with a sweep, erasing a two-goal deficit with less than five minutes in regulation, only to fall in overtime, 5-4.
Was Niagara happy to earn a split? Not entirely.
"We're very down," said Burkholder following Saturday's loss. "That's a devastated locker room. To be down in this building to fight back and force overtime, to do what we did in the third period, that showed me a lot about this team."
Friday's game didn't get off to a promising start for the Purple Eagles. MSU's David Booth scored 41 seconds into the game to give his team a 1-0 lead. But the Spartans couldn't pull away, stoned by goaltender Rob Bonk, a native of nearby Fenton, Mich., on numerous scoring chances and squandering many others. Niagara capitalized, drawing even on a second-period power play goal and taking advantage of a State turnover to notch the winner with a little more than five minutes left in regulation.
"We're very opportunistic," Burkholder said. "These guys are very hard working. We get after teams on the forecheck and any time we seem to come up with pucks in the neutral zone we're a dangerous team on the rush."
Niagara twice trailed by two Saturday, but rallied to send the game into overtime on a goal by Joe Tallari, the nation's leading goal scorer, with 47 seconds left in regulation and goalie Jeff VanNynatten pulled for an extra attacker. Brock Radunske scored with 1:07 remaining in OT to salvage the split for the Spartans.
"We've been in that situation before where we've been tied or up a goal or down a goal," said junior defenseman Dave Hominuk about the weekend series. "Unfortunately, we haven't been able to come out with a win. Finally, we got a couple bounces here and there. We learned that it just pays to keep working."
Despite one of the nation's most difficult non-conference schedules (Michigan, UMass-Lowell, North Dakota and Michigan State), the Purple Eagles have been in every one of those games, and came very close to stealing one from North Dakota in Grand Forks. The team's persistence finally paid off at Michigan State.
"Against Michigan, there was an empty feeling because I didn't think we played our "A" game," Burkholder said. "What we did at North Dakota, being in both games late in the third period – one of them was tied 4-4. This is an outstanding weekend. We've got to carry this over when we get back into conference play."
Hominuk echoed Burkholder's sentiments.
"You can't replace something like this," said Niagara's captain. "This is something we'll take with us for the rest of our lives. But in terms of our goals for this year, it's a step in the right direction. We have to take this and learn from it, move on and bring it with us."

THAT UPSETTING FEELING
Niagara's shocker at Michigan State was just one of the many surprises last weekend. Thankfully, there's no BCS in college hockey. With a nod to one of our favorite sportswriters, ESPN.com's Bill Simmons and his Thirteen Levels of Losing, here are three types of upsets.
The Springboard: Is Minnesota-Duluth ready to contend for home ice in the WCHA? Consider that the 2-3-3 Bulldogs, fresh off a split at top-ranked Denver, have a one-goal loss and two two-goal losses (one by virtue of an empty netter) in addition to the three draws. Perhaps Friday's 3-2 win over the Pioneers will give the young UMD squad confidence to turn narrow losses and ties into wins.
"We played two pretty good games and got two key points out of there," UMD coach Scott Sandelin said. "The one thing I think our team has been is pretty consistent from the start of the year, which has surprised me a little bit since we've got such a young team."
The Bulldogs jumped out to a 2-0 lead Friday on first-period goals by Luke Stauffacher and Junior Lessard. The Pioneers scored twice in the second period to even the score, but Stauffacher beat All-American Wade Dubielewicz for his second of the night with 4:19 left in the third period to provide the final margin of victory.
UMD has received solid contributions in nearly every area. Goaltenders Rob Anderson, a senior, and freshman Isaac Reichmuth have combined to post a 3.05 goals against average; the team's GAA was 3.76 in 2001-02. Senior captain Jon Francisco, the Bulldogs' top returning scorer, leads the team with nine points in eight games and junior Junior Lessard is on pace to improve upon the 30 points he scored last season.
The improvement of younger players has also given the 'Dogs a boost. Stauffacher, a sophomore, has four goals after scoring four points – all assists – last season. Fellow sophomore forward Tyler Brosz, who had 11 points as a rookie, has eight this year.
"I like the way our team has played the first eight games," Sandelin said. "Hopefully, our young players will gain that experience and confidence to play in this league and contribute. You need more production from your sophomores and your juniors, and your seniors need to be leaders."
The next step for UMD will be establishing a home ice advantage. The Bulldogs, 0-2-2 at the DECC this season and 2-1-1 on the road, will get that chance with eight of their next 10 in Duluth beginning with this weekend's series against Wisconsin.
"We've got to win at home. Right now I'd rather stay on the road. I told our team we've got to strive to be a .500 team on the road, but hopefully they don't forget about winning at home. This is a real important stretch for us."Getting points every weekend is important."
The Rivalry Win: Danger always lurks when two rivals face each other. Case in point – Friday's win by Minnesota State University, Mankato over visiting Minnesota.
"A lot of these kids have played against each other their whole lives," Minnesota State coach Troy Jutting said. "We have a pretty good feel for who's on Minnesota and Minnesota has a pretty good feel for who's on our team, so it's a pretty familiar setting for the kids."
The Gophers have been riddled by injuries this season. And then Riddle was injured – leading scorer Troy Riddle left Friday's game in the second period with a minor shoulder separation after notching the contest's first goal.
It didn't look like the Gophers would need Riddle to cruise to a victory. Minnesota outshot the Mavericks, 23-11, in the first two periods and took a 2-0 lead 41 seconds into the final frame on a Dan Welch goal. Minnesota State battled back, however, getting goals a minute apart from leading scorers Grant Stevenson and Shane Joseph before junior defenseman Matt Paluczak picked up the go-ahead tally with 5:48 left in regulation. MSU backstop Jason Jensen kept the Gophers at bay with 13 saves in the third period and 35 for the game.
"We got great goaltending and I thought we did a very good job of limiting their quality opportunities," said Jutting, whose team is 2-4-2 this season, including an overtime loss and tie against St. Cloud State last month. "It helps build a little confidence. But one of the things we've tried to do this year is make sure the highs don't get too high and the lows don't get too low.
"It's a good win for our program, but it's one win and it's early in the season and we need to view it as that and we have a lot of games left against a lot of very good hockey teams."
Some of those very good hockey teams to which Jutting refers are on the docket in the near future, including a home home-and-home series with another rival – St. Cloud State – this weekend.
"We've got a little leg up in that we prepared much the same last week for Minnesota as we would for St. Cloud," said Jutting. "With it being a school very similar to ours in a lot of ways, it's a big rivalry for us. There's no question about that."
The Confidence Builder: With two wins – both against CHA opponents – in 11 outings, the first third of the season has been a rough one for Bowling Green. And the Falcons didn't earn a victory against visiting Michigan last weekend, but did give the Wolverines all they could handle in a 6-4 loss Friday and a 1-1 tie Saturday.
"It was our most consistent weekend as far as generating chances," said Scott Paluch, the Falcons' first-year head coach. "We thought over the course of the six-plus periods, we competed pretty hard. The difference between Friday and Saturday was we made a couple of critical mistakes Friday."
Leading that response was sophomore goalie Jordan Sigalet, who turned aside a career-high 48 saves en route to the tie. Even though he's the only netminder in the conference to have seen game action and not won – he's 0-3-1 in four starts – the Surrey, B.C., native ranks third in the CCHA with a .925 save percentage while leading the league in saves per game (36.75). A Boston Bruins draft pick, Sigalet also boasts a respectable 2.96 goals against average.
"He's been very solid," said Paluch of Sigalet. "He's given us a good chance to win hockey games. (On Saturday) he didn't give up a lot of rebounds. He's been good at eliminating rebounds and covering loose pucks."
Ironically, the Falcons come off the encouraging weekend series with Michigan and play just two games – an exhibition against the U.S. Under-18 Team Friday and a home contest against Michigan State Nov. 22 – between now and Dec. 7. And while some coaches may worry about losing momentum, Paluch believes the break is much needed.
"We started practice on a Thursday, had an exhibition Tuesday and played in the Lefty McFadden Tournament Friday and Saturday," explains Paluch. "We've had 11 games and 24 practices. Now we get a chance to reverse that and take a little teaching time."

ST. CLOUD'S SILVER LINING
Things People Say
"I don't think the series was any more physical than others we've had, except Denver likes to carry their elbows up." – Minnesota-Duluth senior forward Drew Otten, who required eight stitches to close a cut on his chin and suffered a slight shoulder separation during Saturday's loss to the Pioneers.
"Going into those barns, they're some of the toughest places to play and we're going against some of the top players in college hockey. You look at our team up and down the roster on paper we look pretty much overmatched. But we've learned that we can play with anybody we want." – Niagara junior defenseman Dave Hominuk, following the weekend split at Michigan State.
"I told their coach I expect to see them in the national final." – Lake Superior State coach Frank Anzalone, after the Lakers were swept by visiting Ohio State last weekend. Apparently, Jim Tressel was behind the Buckeye bench at Taffy Abel Arena that night.
For a team that won its first nine games last season and opened the 2000-01 campaign with a 6-1-1 record, you'd think St. Cloud State fans would be disappointed in the Huskies' current 4-3-1 mark.

Think again.
While there are a couple of game the teams would like to replay – namely a 1-1 tie at Minnesota State and a 3-1 home loss to Rensselaer – the Huskies are just another team that has stayed afloat despite a rash of injuries.
St. Cloud State has lost 23 man-games to various ailments so far. Among those who've spent time in the infirmary: high-scoring wing Ryan Malone (hip pointer), team captain Jon Cullen (separated shoulder), rugged junior defensemen Jeff Finger (broken hand, foot) and Ryan LaMere (shoulder soreness), sophomore forward Brian Schuster (separated shoulder), and freshmen Greg Tam (separated shoulder), Jonathan Lehun (leg stress fracture) and Brock Hooton (separated shoulder). That list doesn't include junior forward Matt Hendricks, who has played with a cast on his broken wrist for two weeks.
The bumps and bruises have forced coach Craig Dahl to juggle his lineup extensively. For example, nine freshmen suited up for the Huskies' Nov. 1 win against Rensselaer, while 10 rookies participated in the series finale the following night. While it's not an enviable position to put so many freshmen in key roles, it may help St. Cloud State down the road.
"Usually as a freshman or sophomore, you play on the third or fourth line," said Malone. "Now we have freshmen and sophomores playing up on the first and second lines this season. The situation has allowed some of our younger players to get a lot of experience early on in the season."
Malone, who scored 49 points in 41 games as a junior, returned to action for last week's series against North Dakota after a three-game hiatus, while Cullen came back after a four-game absence. It didn't take long for either player to regain their scoring touch – Malone had three goals and two assists in Friday's win over the Sioux, while Cullen added a goal and four assists.
"It felt good to be back on the ice and it was nice to have Jon back on the ice, too, said Malone, who Monday was named WCHA Offensive Player of the Week. "We were able to reunite the line that I've been skating on for much of the past three seasons (Cullen, Malone and senior Joe Motzko), so it felt great to get back in there with that line in front of a home crowd.
"It was tough to have to sit out those three games, especially watching those games at home. It was tough to see (SCSU) lose when you're on the sidelines."


TIE ME A RIVER
The best deal in college hockey nowadays has to be tickets to a Bemidji State game. More often than not, fans get to see 65 minutes of hockey for the price of 60.
The Beavers have one win in eight games, but are only one game below the .500 mark thanks to a whopping five ties. That's right, FIVE TIES.
"If you let a whole season play out, you're going to see five to six overtime games during the year," said BSU coach Tom Serratore. "But not to start off the year."
Bemidji State has gone to the extra session six times, including the first five games of the year. The Beavers are 0-1-5 in those contests, including a loss to Union last month. BSU's other loss was a 3-1 decision against Minnesota State University, Mankato.
The team's lone win – a 2-1 triumph over Findlay last Friday – was a nailbiter as well. Sophomore center Andy Murray scored the game winner with 24 seconds left in regulation.
"We've still played good enough hockey where we feel we could be 6-2 right now," Serratore said. "The majority of the games that went into overtime, we had a territorial advantage in those games."
Despite scoring two or fewer goals in six of eight games, Bemidji State has been buoyed by the performance of goaltender Grady Hunt. This week's College Hockey America Defensive Player of the Week, Hunt has given up four goals in three starts and leads the conference in goals against average (1.26) and save percentage (.960). Serratore says the team's positive outlook has also been a key.
"The psyche and mindset of your team is a lot different with a tie than a loss," the second-year head coach explained. "It's a different kind of feeling. After a tie game, you walk into the locker room and you're not totally frustrated with the outcome of the game."
Serratore adds that his troops have also found humor in the unique situation.
"The other day before a game, one of our players said, 'Let's play 65 good minutes of hockey' and everyone broke out laughing."

RIPPED FROM TODAY'S HEADLINES
Carrying the flag: "Carrying the flag" was a phrase used by former Michigan State coach Ron Mason to describe teams that performed well against in non-conference play. With most teams at the quarter pole, we'll check each conference's results against non-league opponents over the next three weeks, starting with the CCHA (non-conference record in parentheses).