November 21, 2002
West Notebook
CCHA | CHA | WCHA
Rocky Mountain High
Colorado College is surprising everyone...including themselves.
By Mike Eidelbes
Prior to the start of the season, Colorado College coach Scott Owens thought his team would be right around the .500 mark at this point of the year. Instead, the Tigers are nowhere near it. And that's a good thing.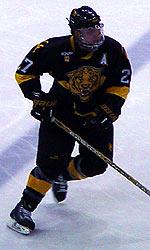 Junior forward Peter Sejna leads the nation in scoring with 23 points.
With a win and tie at Minnesota last weekend, Colorado College improved to 9-1-2, extended its current unbeaten streak to 10 games (8-0-2) and maintained a five-point lead over Front Range rival Denver in the WCHA standings.
"Very quietly," said Owens said after Saturday's tie at Mariucci Arena, "we've been playing very well."
The prevailing thought was the Tigers would have to lean heavily on its experienced defensemen early. And while the defense has been solid – the Tigers lead the WCHA in scoring defense and penalty killing – sophomore goaltender Curtis McElhinney has emerged as a capable replacement for the departed Jeff Sanger. The Calgary native, who played in just nine games as a rookie, owns a 7-1-2 record, a 2.38 goals against average and a .910 save percentage.
McElhinney was at his best against Minnesota, stopping 59 of the 64 shots he faced and singlehandedly keeping the Tigers in position to earn a tie Saturday with a number of clutch saves on quality scoring chances.
"I've definitely got a little more confidence than at the start of the year," said McElhinney. "I know what it takes to play in this league, and I've got a team that's playing great in front of me."
"It's the best two games in a row I've seen him play," added Owens, himself a former Colorado College goaltender. "He showed me incredible poise for a young kid. He stood in there like a pro-style goaltender and made great saves and didn't get rattled."
The offense has been terrific, too, despite losing five forwards from last year's team to graduation, Colorado College ranks third in the conference in scoring offense, averaging nearly 4.6 goals per game, and owns the league's best power play unit.
"Our top two lines have been amazing and our power play has done well," said senior defenseman Tom Preissing, who has already surpassed a career high with 11 goals and is tied for the conference lead among blueliners in points. "When you get that kind of thing going, it's hard to beat us"
Contributions from freshmen have been an important component of the Tigers' start. Forward Brett Sterling, a Dino Ciccarrelli clone, has been particularly effective. He scored a goal in each of his first seven WCHA games, and is tied for first among league freshmen in goals and is third among conference rookies in points. Center Marty Sertich, meanwhile, has found a home on Colorado College's top line between senior Noah Clarke and junior Peter Sejna.
"Our freshmen, they're all adjusting really fast," Sejna said. "We're playing really good defensively and we've got players that can score."
He won't say it, but Sejna clearly fits into the latter category. With 23 points in 12 games this season, he's tied for the NCAA lead in scoring and is establishing himself as a Hobey Baker Award candidate. And as an undrafted free agent, he's in position to make a boatload of money when he decides to move on to the professional ranks.
The scary part about Colorado College? They think they can improve.

"I still think there are glaring problems we need to address," Preissing said. "We've been getting fortunate and playing well, so that's kind of covered up some of the mistakes. I don't think we're quite at the place we thought we would be at the beginning of the year – I thought maybe we'd be back a little bit – but we're still learning a lot and we have a lot better hockey to play."

OHIO STATE-MENT
Speaking of teams that have been flying under the radar, Ohio State has barely generated a ripple of interest in Columbus, what with the football team's success this season. But the Buckeyes, coming off two wins over visiting Michigan State last weekend, have quietly put together a five-game win streak. OSU moved to 8-2-1 overall and 5-0-1 in the CCHA with their first sweep of the Spartans in 30 years.
Things People Say
"He's a big-time player. When he wants to play, he's the best player in the league" – Colorado College coach Scott Owens, describing Minnesota freshman forward Thomas Vanek.
"Hopefully I don't disappoint the boys. It's supposed to be karaoke night." – Former Michigan State goaltender Ryan Miller, who had to forgo bonding with his Rochester Amerks' teammates after he was called up by the Buffalo Sabres.
"I totally cannot understand it when you have all the time in the world and you pass the puck right on the opponent's stick for a goal." –San Jose coach Darryl Sutter on ex-Michigan defenseman Jeff Jillson, whose turnovers led to goals for perennial Art Ross Trophy candidates Matthew Barnaby and Sandy McCarthy in a 5-4 loss to the New York Rangers.
The Buckeyes have amassed a formidable array of talent over the past few years – they boast five NHL draft picks, including 2001 first-rounders R.J. Umberger (Vancouver) and Dave Steckel (Los Angeles) – but OSU finally has the maturity to match the skill level.
"Our guys are older and more patient," coach John Markell said. "They understand what makes them successful. We have good players who can make things happen."

"I think the past two years have been a roller coaster," said junior forward Paul Caponigri, who ranks third on the team with 12 points and was named CCHA Offensive Player of the Week for his efforts against MSU. "But we are playing consistently this season throughout all our games."
The Buckeyes are a junior-dominated team. Five of OSU's top seven scorers – forwards Scott May, Caponigri, Umberger and defensemen Daymen Bencharski and Doug Andress – are juniors, as is Mike Betz, the team's top goaltender. In the sweep of Michigan State, juniors scored eight of the team's nine goals, while Betz notched both wins between the pipes.
"We have a lot of talent up front and a solid defense," Andress said. "We are more confident to do what we want with the puck. We just have to play hard and get the job done."
Despite the influence of the junior class, a pair of highly touted freshman forwards have contributed to Ohio State's success. Ironically, both are Michigan natives. Dan Knapp (Rochester) has 13 points and a team-high six goals, while Ryan Kesler (Livonia) has 12 points.
"We're scoring goals by committee," said Markell, now in his eighth season as Ohio State head coach, "and our freshmen are doing a good job of adding offense."
The Buckeyes will get the chance to test their mettle over the next month against conference foes Ferris State, Miami and Nebraska-Omaha. A trip to Florida for the Everblades College Classic awaits the Buckeyes after the Christmas break, where they'll play much-improved Massachusetts and either Cornell or Maine.
"We've learned what it takes to win on a consistent basis,'' Markell said. "We expect to win each night.''


SPARTAN SPIRAL
Here's a question that's only been asked about 7,634 times – what's wrong with Michigan State? The Spartans head into Friday's game at Bowling Green with a 5-5 record and are off to their worst start since the 1990-91 season, which is also the last time State finished with a losing record.
"Everyone has such high expectations based on previous success," coach Rick Comley said.
Perhaps musician Michelle Branch offers the answer to MSU's woes in her recent collaboration with Carlos Santana when she sings, "A little bit of this, a little bit of that." To wit:
The Spartans, who've been offensively challenged over the past couple of seasons, are averaging 2.70 goals per game this year. Last season, MSU averaged 3.15 goals per game.

State's scoring defense, tops in the nation last year, has nearly doubled from 1.78 to 3.40 goals per game this season. The loss of uber-goaltender Ryan Miller to the NHL and a change in style of play have obviously contributed to the increase.

Special teams have been a sore spot. MSU's power play, traditionally among the nation's best, ranks seventh in the CCHA with a 18.5% (10-for-54) success rate. The team's penalty-killing unit, which was led the country last year, is eighth in the CCHA at 78.6 % (33-for-42).

The Spartans are young, with 18 sophomores and freshmen on the roster, compared to just eight juniors and seniors.
Comley is leaving no stone unturned in his efforts to jump start the stagnant offense. He's moved senior defenseman Brad Fast, the team's leading scorer with nine points in 10 games, to forward in practice this week.
"I've really struggled to find a second offensive centerman and you have to have two lines that can score," explains Comley, who has experimented with sophomores Lee Falardeau and Brock Radunske and freshman Nenad Gajic at that spot without success. "Brad is a very skilled kid, he likes to be up ice instead of back and I think we needed a little bit of a new look this week."
Fast, the team captain and one of the better defensemen in the CCHA during the last two seasons, has embraced the change, even though it leaves the Spartans with just six defensemen on the roster.
"Right now we're looking for a little more jump on the foward line," says Fast, who will most likely remain at the point on the MSU power play.
In addition to tinkering with the roster, Comley has also taken a minimalist approach to preparations for the upcoming game at Bowling Green.
"He's gone back to square one in practice and reiterated a few points," senior defenseman John-Michael Liles said. "It's going to take a few weeks, maybe months before we're playing how (Comley) wants us to play."
Spartan hockey fans, a notoriously fickle bunch who view the team through green-colored glasses, will no doubt be distressed by Liles' remarks. Comley continues to preach patience, however.
"I'm always frustrated with losing," Comley said. "But I'm not frustrated with the path we're taking. At times, you can really see how far away we are. It doesn't mean before it's all said and done, we're not going to contend or we're not going to challenge."
Fast believes the team's fortunes can be reversed with better effort.
"We're not playing like a talented team," Fast said. "We're playing very soft. If you play soft and don't put any effort into it, you're going to look terrible out there."


RIPPED FROM TODAY'S HEADLINES
Babbling Brooks: Apparently, the college hockey world revovles around Zach Parise these days.
The latest case of Parise-mania involves a quote attributed to former University of Minnesota player and coach Herb Brooks which appeared in last Friday's Grand Forks Herald. Brooks allegedly told Fighting Sioux beat writer Virg Foss he advised Parise to attend North Dakota.
Three Great Weekend Getaways
1. Ohio State at Ferris State – Before we get on with the analysis, just stop and think about this. The top series this weekend is Ohio State at Ferris State. What the hell is going on here?
Seriously, this has all the makings of a great two-game set. The Bulldogs are in first place in the CCHA despite losing their first conference game to Western Michigan last Saturday. The Buckeyes, meanwhile, are riding a five-game unbeaten streak. Both teams are fairly equal in terms of offense, defense, power play and penalty kill. FSU has the advantage of playing in the dungeon known as Ewigleben Ice Arena, but OSU is 3-0-1 against league foes on the road. Heck, it's a CCHA series, so odds are goaltending and special teams will be the determine the outcome.
While you're there: Casey McNab's, which was traditionally the most popular watering hole for the hockey crowd in Big Rapids, was closed the last time I ventured to Ferris. Not closed as in "come back during business hours". Closed as in "no longer doing business". So I'm afraid I'm not much help here. There are lots of trees. And there will most likely be some snow on the ground. The Ewigleben press box is very spacious. Yeah, I'll quit now.
Runners-up:

2. Minnesota-Duluth vs. St. Cloud State (home and home) – Both of these teams have canine nicknames. Both have records hovering around the .500 mark. One team sees that as a good thing. The other doesn't. I'll let you figure out which one is which.

3. Bemidji State at Clarkson – The Beavers travel to an isolated burg in the northern reaches of New York State for a two-game series with the Golden Knights. So now BSU will know what every visitor to John Glas Fieldhouse feels like.

"I told him since he was the best player, he needed to go to the school with the best tradition and facilities and coaching staff," Brooks was quoted as saying. "And that was North Dakota."
Monday, Brooks said the quote was inaccurate. And while Foss stands behind his story, the consensus seems to be that Brooks' words were taken out of context.
"I think it's a lot of hoo-yah about nothing," St. Cloud State coach Craig Dahl told Bruce Brothers of the St. Paul Pioneer Press. "I knew exactly what he meant. What he must have said was, 'If that's where he wants to go, then it's a great school with a great tradition and a great coaching staff.' I think the part that got left out is, 'If that's where he wants to go.'"
Former NHLer J.P. Parise, Zach's dad, said Brooks never talked to his son. Instead, the elder Parise sought out Brooks for his advice on different schools.
"He gave us five or six different scenarios about different schools," J.P. Parise told Brothers. "It all related to different programs."
You Da Man-tua: Saturday was quite a night for Western Michigan goaltender Mike Mantua. He led the host Broncos to a 4-1 win against Ferris State – the Bulldogs' first loss in CCHA play this season – by making 28 saves, including a stop on Mike Kinnie's penalty shot in the second period.
But the capper came late in the game, when the sophomore from Northville, Mich., became the second goalie in collegiate history to score a goal by shooting the puck into the net. Ferris State, playing with an extra attacker, dumped the puck into the offensive zone. Mantua gloved the puck, dropped it onto his stick and lifted it toward the empty net. The shot dropped just past the Bulldog blue line and slid into the middle of the net.
"I promised my teammates this year I would score a goal," Mantua said. "I just wanted to make sure I got the puck down flat and I wasn't going to miss this time."
Mantua, who has a 2-3-0 record this year, scored a goal as a member of the Des Moines Buccaneers of the United States Hockey League and narrowly missed lighting the lamp against Michigan last season.
Ironically, the only other goaltender to score on his own shot is Michigan State's Chad Alban, a Kalamazoo native who accomplished the feat in 1998 against Ferris State. Alban now plays for the United Hockey League's Kalamazoo Wings.
Carrying the flag, part two: As promised, our look at the performance of teams in non-conference play continues this week with an assessment of College Hockey America.
Above average
Findlay (2-4-0): Oilers swept Canisius, and was on the short end of one-goal decisions against Bowling Green, Colgate and Miami (an OT loss, no less).
Niagara (3-7-0): Non-conference foes beat Michigan State at home about as often as the Vatican elects a new Pope, but the Purple Eagles almost did it twice. Niagara also gave a valiant effort at North Dakota. A two-game set against Ferris State looms in January.

Average
Air Force (3-3-0): Split at Holy Cross looks impressive given the Crusaders' start, but 12-1 loss to Miami in season opener balances it out.
Bemidji State (0-2-4): Beavers could have easily been 5-1 against non-league foes. BSU's next four games – two at Clarkson and a home-and-home series with Minnesota-Duluth.
Wayne State (3-3-0): Swept St. Lawrence and split with Ferris State, but needed a win against either Vermont or Dartmouth to move into above average range. Still on the schedule are trips to Michigan Tech and Alaska-Fairbanks.


Below average
Alabama-Huntsville (0-6-0): No one expected the Chargers to get a win against Wisconsin, Denver or Minnesota, but the team was outscored 37-9 in those six games.
Bull sits: WCHA commissioner Bruce MacLeod handed Denver forward Max Bull a two-game suspension for on-ice incidents in the Pioneers' last two league series against Minnesota-Duluth and Michigan Tech. Bull, a junior from Faribault, Minn., has the right to appeal the ruling to conference's Executive Committee. If he chooses to forgo the appeal, he'll miss Denver's games against Alaska Anchorage this weekend.
Who's hurtin': Nebraska-Omaha sophomore defenseman Chris Claffey will miss the rest of the season after severing his Achilles tendon in practice Monday. The Edmonton, Alberta, native, who had one assists in eight games this year, was struck in the back of the leg by a teammate's skate during a drill.
Michigan State goaltender Matt Migliaccio is expected to be back in the lineup for Friday's game at Bowling Green. The sophomore from Wyandotte, Mich., twisted his knee in Friday's loss at Ohio State. Freshman Justin Tobe started for the Spartans Saturday. Migliaccio did not practice Monday, but returned to the ice Tuesday.
Denver goaltender Wade Dubielewicz left Friday's 3-3 tie at Michigan Tech in the third period after suffering a leg injury. He should be ready for the Pioneers' series at Alaska Anchorage this weekend.
Arch enemy: Former North Dakota forward Jim Archibald is among those being inducted into the school's Athletic Hall of Fame this weekend. Archibald, who skated for the Sioux from 1981-85, amassed 144 points in 159 games. But he's probably best known as the WCHA's leader in penalty minutes in a season (194 in 1984-85) and career (540).

AND NOW FOR SOMETHING COMPLETELY DIFFERENT...
Your life probably won't change by reading these items, but it might
Fox Sports Net North analyst Doug Woog made an interesting comment regarding the early signing period during Friday's telecast of the Minnesota-Colorado College game. Woog dislikes the November signing date, saying coaches should get a longer period to evaluate prospects. Based on some of the players he inked to letters of intent – Ryan Trebil, Clint Johnson, Bobby Dustin, Charlie Wasley, Erik Day – he may have a point. Go ahead, send me your emails, Gopher fans. I know they're coming.
Took the opportunity to check out Ridder Arena, the brand-new home of the Minnesota women's hockey team, last weekend. Quite an impressive facility. If it belonged to a CCHA school, it would be the league's third-best rink behind Ohio State and Northern Michigan. Seriously.

A couple weeks ago, we requested all the verses for the Michigan Tech band's version of "In Heaven There Is No Beer". Mission accomplished. A couple people sent us the lyrics via email. Others provided us the link to the band's web site. If you've heard about the Tech band before but never experienced them, this site will give you a pretty good indication as to why they've achieved such legendary status.
From the USHL, junior hockey guru Paul Shaheen tells INCH that the first period of last week's game between Waterloo and Chicago featured a combined zero shots on goal. Waterloo ended up winning the contest by a 4-1 score.
While examining Ohio State this week, we've determined the Buckeyes feature one of the nation's most diverse rosters. The 25 players on the roster represent four Canadian provinces (Alberta, British Columbia, Ontario and Saskatchewan) and 12 U.S. states (Alaska, Connecticut, Georgia, Illinois, Indiana, Massachusetts, Michigan, Minnesota, Oregon, Pennsylvania, Washington and Wisconsin). Kind of funny that there's no one from Ohio on the team.
Don't forget to check out the CCHA's official web site for the latest installment in the series of articles authored by student-athletes. This week, Notre Dame's Rob Globke addresses his experiences at the 2002 NHL Entry Draft in Toronto.

STICK SALUTES
To Bemidji State, for losing that tying feeling and earning a pair of hard-fought CHA victories at Wayne State last weekend. Behind the stellar goaltending of Grady Hunt, who stopped 63 of the 64 shots he faced, the Beavers won 2-0 Friday and took a 2-1 overtime decision Saturday. Of course, we are talking about Bemidji State here, so at least one of the games had to into OT.
To the Minnesota Vikings. Even though our college hockey allegiances are divided among the Gophers, Huskies, Bulldogs, Mavericks, Beavers and Sioux – there are probably even a few renegade Badger boosters out there – nothing unites us like a win over the hated Packers. Savor it, Vikings fans, because it's probably the last week we'll enjoy for the rest of the season.
BENCH MINORS
To poor Findlay goalie Jamie VandeSpyker, who allowed four first-period goals on four shots in a 9-4 loss to Miami Friday. To his credit, VandeSpyker stopped 37 shots in a 4-3 overtime loss to the RedHawks in Oxford the following night.
To the University of Minnesota, which calls one faction of its booster group the Gold Club. I know gold is one of the school's official colors and the name has been around for years. Still, seeing the Gold Club promotion on the scoreboard last weekend had me wondering if Mariucci Arena has a Champagne Room, and whether Patrick Ewing was there with a thick stack of ones.

THIS WEEK'S NHL TRANSACTIONS
Boston Bruins: Recalled forwards Lee Goren (North Dakota) and Andy Hilbert (Michigan) from Providence of the American Hockey League; assigned forward Matt Herr (Michigan) to Providence.
Buffalo Sabres: Recalled goaltender Ryan Miller (Michigan State) from Rochester of the American Hockey League.
Calgary Flames: Recalled defenseman Rick Mrozik (Minnesota-Duluth) from Saint John of the American Hockey League; assigned Mrozik to Saint John.
Carolina Hurricanes: Recalled defenseman Steve Halko (Michigan) from Lowell of the American Hockey League; assigned Halko to Lowell.
Detroit Red Wings: Acquired defenseman Jason Woolley (Michigan State) from the Buffalo Sabres for future considerations.
Nashville Predators: Assigned defenseman Bubba Berenzweig to Milwaukee of the American Hockey League.
Tampa Bay Lightning: Activated forward Brian Holzinger (Bowling Green) from injured reserve.

MINOR PRO TRANSACTION OF THE WEEK
Wilkes-Barre/Scranton Penguins (AHL): Recalled goaltender Mike Valley (Wisconsin) from Wheeling of the East Coast Hockey League.