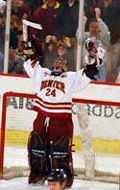 Adam Berkhoel is 6-0-1 for Denver this season.
Denver goaltender Wade Dubielewicz made a name for himself last season, even if most people couldn't pronounce it. He rightfully earned first-team all-WCHA and second-team All-America honors after posting a 20-4-0 record, a 1.72 goals against average and a .943 save percentage.
His compadre between the pipes for the Pioneers, Adam Berkhoel, wasn't exactly "Red Light" Racicot last season. The third team all-league pick, who split time with Dubielewicz, was 12-4-1 with a 2.34 GAA and a .917 svs% in 2001-02. Still, he more or less was Joey Fatone to Dubielewicz's Justin Timberlake.
Because of a leg injury to Dubielewicz, Denver has been forced to abandon the two-goalie rotation for the time being and go solely Berkhoel, who has responded. He's started the Pioneers' last three games and emerged with two wins and a tie. The junior from Woodbury, Minn., is one of five unbeaten goaltenders in the Division I ranks, and leads the WCHA with a 1.62 GAA and a .927 svs%.
"Adam is a classic butterfly goalie," Denver assistant coach Seth Appert said. "He's worked very hard on managing the game and has played more patient."
Berkhoel, who found out Dubielewicz wouldn't make the trip to Alaska Anchorage in the middle of last week, said he didn't change his approach to the game even though he knew he would be making two starts.
"When you play two different goalies it's a totally different game for the other team," Berkhoel said. "Our team made it really easy for me Saturday by allowing 10 shots."
While rightfully giving credit where it's due, it should be noted that Berkhoel has made it really easy for his teammates this season by giving up two or fewer goals in all but one of his starts.
"Adam's mentality is that of a battler, a warrior," said Appert, a goaltender at Ferris State in the mid '90s. "He'll do whatever it takes to stop the puck."
Denver hopes to have Dubielewicz back in service for a key series against rival Colorado College Dec. 6-7, meaning Berkhoel will most likely get two more starts this weekend when the Pioneers host Mercyhurst and Air Force. Even with the increased playing time, Berkhoel is looking forward to the return of the dynamic duo.
"We talk about what happened in Friday night's game and I use that as I go into Saturday," Berkhoel said of his routine with Dubielewicz. "With him playing Friday and me playing Saturday, it's worked the past year and a half."

Things People Say
"We played well all weekend, but I told them before the game that you can't just play well to beat Michigan. You have to find a way to win." – Notre Dame coach Dave Poulin, following his team's 4-3 win at Yost Arena Saturday. It was the Irish's first victory in Ann Arbor since 1982.
"It was dirty. Just dirty and greasy." – Nebraska-Omaha goaltender Brian Haaland, on Saturday's game against Northern Michigan. The contest, a 5-4 UNO victory, featured a combined 27 penalties, most coming in the third period.
"The last thing we want our players to do is walk out of here feeling good after that performance. Even if we had tied, or by some miracle won the game, there would have been huge repercussions for the embarrassing performance we had tonight." – Wisconsin coach Mike Eaves, following his team's 3-2 loss at North Dakota Saturday. The Badgers are 1-5-0 in their last six games.
MINNESOTA, BATS OFF TO THEE!
This item comes to us via e-mail from our Ontario correspondents, Ron MacLean and Don Cherry (or someone who fortuitously usurped the identities of the "Hockey Night in Canada" mainstays). Nevertheless, Ron and Grapes snuck away from Coaches Corner long enough to tune into Saturday's Minnesota-Michigan Tech broadcast and file this report.
"Tech is up 1-0 in the third and (Frank) Mazzocco and (Doug) Woog are down in the mouth as the Gophers struggle. Out of nowhere, a bat appears in Mariucci and begins flying around looking for a place to roost (apparently it escaped from the head of Woog himself). Woog starts calling for a tennis racket so he can take the bat out ("they come down the chimney up at the lake, the little devils") and the TV crew from Channel 45 in the Twin Cities starts showing replays of the bat swooping over the crowd and the ice.
"Suddenly, Minnesota's offense wakes up and scores two goals in less than a minute with the bat still cavorting about the building. Woog christens it the "Rally Bat" and starts singing an incoherent, tone-deaf song about it. The TV crew finds a replay from the camera between the benches showing a Gopher player beckoning the bat to come closer as it buzz-bombs the ice, as if he's calling it out to drop the gloves. In the postgame wrapup Woog and Mazzocco award the bat with the Seventh Player Award.
"I'm assuming the bat will be captured for release at a later date when Minnesota needs a spark. I don't expect the crowd to begin spelling "Eptesicus fuscus" or just plain "bat" instead of "M-I-N-N-E-S-O-T-A". And no truth to the rumour that Mariucci's new nickname will be "The Belfry.""
RIPPED FROM TODAY'S HEADLINES
Carrying the flag: Our series on the performance of teams in non-conference play concludes this week with a look at the Western Collegiate Hockey Association.
Three Great Weekend Getaways
1. College Hockey Showcase: This event has become college hockey's Thanksgiving weekend tradition, with Big Ten rivals Michigan State, Michigan, Minnesota and Wisconsin facing off each year. This season, it's the WCHA teams hosting. Michigan State is at Minnesota Friday and plays Wisconsin Saturday. Michigan, meanwhile, starts at Wisconsin Friday and closes with a Sunday matinee at Mariucci Arena.
In the past, these four schools have come into the Showcase poised for runs at conference and NCAA titles, and the games have served as a battle for position in the national polls. But with Michigan State and Wisconsin struggling, and Michigan and Minnesota battling injuries, this year's event could make or break a team's collective confidence.
While you're there: Due to its focus on eating large quantities of food and watching football, Thanksgiving has rightfully earned its place as the year's best holiday. But why stop on Thursday? Make it a four-day holiday, substituting hockey for football. The best ways to satisfy the necessary food requirements are as follows.
Minnesota: Head to St. Paul and drop into Patrick McGovern's Pub, just a two-line pass from the Xcel Energy Center. The house specialty is turkey with all the trimmings, so if you don't get your fill Thursday, you'll definitely overdose on tryptophan. If you're fortunate, you'll track down tickets for Friday afternoon's Avalanche-Wild game, then head over to Mariucci for the MSU-Gopher tilt. Consider me fortunate.
Madison: With apologies to the Nitty Gritty, the Prime Quarter is the best place in Madison, as Ice Cube would say, "to get your grub on." Patrons are encouraged to select and grill their own cut of beef or the catch of the day. Don't fill up on beef, though, because you'll want to save room for the salad bar, baked potato and Texas toast.
Runners-up:

2. Minnesota State, Mankato at North Dakota – Laugh if you must, but the Mavericks are a respectable 2-4-4 against the Fighting Sioux over the last three seasons. Besides, North Dakota can't win them all, can they?

3. Wayne State at Michigan Tech – Since it's technically a two-day holiday – seriously, what percentage of Americans work on the Friday after Thanksgiving? – you'll have enough time to make the 24-hour drive from where ever you live to Houghton.

Bowling for Victories: Let's count the number of streaks that came to an end when host Bowling Green handed reeling Michigan State a 3-2 overtime loss Friday. The Falcons won their first CCHA game since Feb. 23, 2002, ending a 10-game league winless streak. BGSU also snapped an 11-game winless streak against Michigan State that dated back to Dec. 7, 1997, and a seven-game home losing skid against the Spartans that started Oct. 21, 1995.
Speaking of the Spartans: With a 1-4-0 November record and games this week at Minnesota and Wisconsin in the College Hockey Showcase, Michigan State is guaranteed its first sub.-500 month since Feb. 1995, when the Spartans posted a 3-4-1 mark. A loss to Minnesota Friday would also give State a four-game losing streak, which hasn't happened since Jan. 19-Feb. 1, 1991. Following the Showcase, MSU plays a home-and-home with Ferris State and gets Boston U. in the first round of the Great Lakes Invitational.
The MSU losing streak could easily be five games right now, given the team's penchant for blowing leads late. The Spartans squandered a two-goal lead in the last 2:05 against Lake Superior State Oct. 25, only to win on a Brock Radunske goal with two seconds left in regulation. Then, following a loss to Niagara, State gave away a two-goal lead against the Purple Eagles in the last 3:50 of regulation. Radunske got the game-winner in OT.
Bench boss: Denver coach George Gwozdecky, dissatisfied with his team's effort in Friday's 2-2 tie at Alaska Anchorage, dressed just 15 skaters for Saturday's 3-1 win. Forwards Jeff Drummond and Luke Fulghum and defenseman Brett Skinner were healthy scratches, while forward Kevin Ulanski was out due to injury.
Plugging forwards Ted O'Leary (second game of the season) and J.J. Hartmann (eighth game) and defenseman Scott Drewicki (sixth game) into the lineup, the Pioneers outshot the Seawolves 29-10, got a goal from freshman Gabe Gauthier 43 seconds into the game and took just four minor penalties en route to the victory.
"It was fun to watch our team play with the kind of effort and passion they gave (Saturday)," Gwozdecky told Anchorage Daily News writer Doyle Woody. "That's the kind of effort I think a coach can be proud of."
Central casting: As usual, there's a definite Western flavor to the NHL Central Scouting Bureau's preliminary rankings of collegiate prospects for the league's 2003 Entry Draft.
Predictably, North Dakota's Zach Parise tops the rankings. He's followed by Thomas Vanek of Minnesota, Ohio State's Ryan Kesler and Mark Stuart of Colorado College. Stuart is the top-rated collegiate defenseman, in front of Michigan's Danny Richmond and Corey Potter and Evan Shaw of Michigan State.
Of the five goaltenders listed, three – Michigan's Al Montoya, Michigan State's Justin Tobe and Travis Weber of Minnesota – play in the West. Jimmy Howard of Maine is the top-ranked netminder.
AND NOW FOR SOMETHING COMPLETELY DIFFERENT...
Your life probably won't change by reading these notes, but it might
Don't look now, but diminuitive goaltender Karl Goehring is doing in the American Hockey League what he did in college. The ex-North Dakota star, now with the Syracuse Crunch, leads the AHL in goals against average (0.82) and saves percentage (.971) in posting a 5-1-0 record. The Apple Valley, Minn., product has twice recorded back-to-back shutouts, most recently Saturday and Sunday against Albany and Hamilton, respectively, and has given up just one goal in his last five starts for the top affiliate of the Columbus Blue Jackets.
How about this turn of events for Northern Michigan forward Chris Gobert in Saturday's loss at Nebraska-Omaha? Gobert is awarded a penalty shot with 1:20 left in regulation and converts to cut the Mavericks' lead to 5-4. After the goal, UNO asks for a measurement on Gobert's stick. It's illegal, Gobert is penalized and the Mavs go on to win by one.
Even though he played basketball at Montana State, "Late Late Show" host Craig Kilborn is still a Minnesotan at heart. Spotted on the set of the Hastings, Minn., native's show Monday night – three hockey sweaters. One was a Minnesota Wild jersey and one was a black Mike Modano jersey (not sure whether it was Minnesota or Dallas). The third was impossible to identify. At first glance, it looked like a sweater from the American Hockey League's Chicago Wolves. But it also could have been a jersey from a college located in the Land of 10,000 Lakes – one represented by a rodent or a canine.
For those of you who think college student-athletes in all sports get away with just about everything with little chance of repercussion, take to heart the recent disciplinary measure taken by Notre Dame head coach Tyrone Willingham. The first-year coach of the Irish suspended starting tackle Jordan Black, playing in his final game at Notre Dame Stadium, for the first half of Saturday's contest against Rutgers. Why? For racking up too many parking tickets. You'd get a scholarship for doing the same thing at Michigan State.
STICK SALUTES
To Bowling Green coach Scott Paluch, for earning his first CCHA victory Friday against Michigan State. He's just another name on the long list of genuinely good guys in college hockey today.

To North Dakota stifling defensive effort as of late. Since giving up seven goals to St. Cloud State in their lone loss of the season, the Fighting Sioux have allowed just six goals in their last five outings.


BENCH MINORS
To Wayne State. We pegged you as the odds-on favorite to win the CHA title and advance to the NCAA Tournament, but we're not very encouraged right now as you've lost six of your last eight games. And trips to Michigan Tech and Alaska Fairbanks and a match with Notre Dame at Joe Louis Arena are next on the docket.

To Ohio State football fans. It's great your team is headed to the Fiesta Bowl, and I'm very impressed with the job Jim Tressel has done, but act like you've been there before, people. What's that...you haven't? Oh, then never mind. Side note: when did the Big Ten turn into the Kandahar of college conferences (athletics-related destruction at Minnesota, Michigan State, Wisconsin, Ohio State)? Jim Delany must be proud that no one burns a couch like the Big Ten.


THIS WEEK'S NHL TRANSACTIONS
Atlanta Thrashers: Recalled forward Mark Hartigan (St. Cloud State) from Chicago of the American Hockey League.

Buffalo Sabres: Assigned goaltender Ryan Miller (Michigan State) to Rochester of the American Hockey League.
San Jose Sharks: Recalled forward Ryan Kraft (Minnesota) from Cleveland of the American Hockey League.


MINOR PRO TRANSACTION OF THE WEEK
Rockford Icehogs (UHL): Activated goaltender Brant Nicklin (Minnesota-Duluth) from injured reserve.