With the frenzy surrounding North Dakota freshman forward Zach Parise this season – and he deserves the attention – it's hard to believe that Minnesota's Thomas Vanek, one of the most ballyhooed Gopher recruits in recent memory, has managed to fly under the radar, relatively speaking.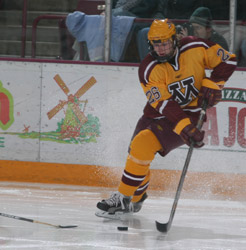 Minnesota's Thomas Vanek has scored 12 goals, most among NCAA Division I freshmen. (photo courtesy University of Minnesota)
The 6-foot-2, 207-pound wing from Graz, Austria, was projected by some experts to be a first-round pick had he opted in to the 2002 National Hockey League Entry Draft, and will most likely be chosen in the first round this year. And while Parise has grabbed his share of headlines by scoring 29 points in his first 14 games, Vanek has shown he deserves some time in the spotlight as well.
For example, the rookie wing notched the second hat trick of his young career by scoring the Gophers' last three goals in a 5-5 tie against Michigan State at Mariucci Arena last Friday. Following the game, Vanek downplayed his accomplishments.
"Luck was on my side," he said.
He may consider himself lucky, but he's good, too. With 12 goals and 11 assists for 23 points, Vanek joins Parise as the only freshmen in the nation with more than 20 points.
"He's one of those kids, you don't notice him a lot until the puck is on his stick," Michigan State coach Rick Comley said. The Spartan bench boss must have noticed Vanek quite a bit, considering he launched an astounding 15 shots on goal that night.
Of course, there are some deficiencies in Vanek's game – no one will mistake him for Bob Gainey, for example. But with his remarkable combination of offensive skills, skating ability and size, Vanek has successfully kept opponents, such as MSU senior defenseman Brad Fast, guessing.
"He uses his size well and he uses his speed well," Fast said. "Whenever he's on the ice, we're very aware of where he is and our positioning out there. He's dangerous"
Vanek has been especially dangerous as of late. Nine of his goals and eight of his assists came in the month of November. And he scores in clutch situations – witness his eight third-period tallies. Not suprisingly, the scoring splurge has coincided with a change in personnel. Coach Don Lucia put Vanek on a line with juniors Troy Riddle and Matt Koalska in late October, and the trio has jelled.
"We've played about 10 games together now, so that definitely helps," Vanek said. "With Riddle, we've got a lot of speed outside and that helps me and Matt. And Matt is a great passer. I'm just the third guy, I guess."
Some third guy. Should he continue scoring goals at his current pace, Vanek would break the single-season school record for markers by a freshman. The guy who currently owns that mark? The legendary John Mayasich, who scored 32 goals during the 1951-52 campaign. Pretty good company.


WOLVERINES GETTING DEFENSIVE

Let's play a little word association game.
What phrases come to your mind when I say "University of Michigan hockey?"
Speedy forwards. Mobile, offensive-minded defensemen. Explosive power play. One of the nation's best defenses. Stifling penalty kill.
What?
The last two don't seem like they belong, right? If you ask the Wolverines' opponents, however, they'll tell you the team's defense and penalty kill should be at the top of the list.
Things People Say
"I lost a good friend, hockey lost a good friend, and so did the state and the University of North Dakota." – Reg Morelli, an All-American at North Dakota in 1960 and member of the school's 1959 NCAA championship team, on the passing of Ralph Engelstad.
"It's something that we've been plagued with this year – giving up leads, which is something that is uncharacteristic of Spartan hockey in the last few years. Fortunately for us, we showed a lot more emotion out there and showed that we can play." – Michigan State senior defenseman Brad Fast, following the tie at Minnesota.
"Do you think it would hurt us if we pulled our goalie?" – Minnesota Wild coach Jacques Lemaire, when asked by a reporter if Colorado missed forward Peter Forsberg, who left halfway through the Nov. 29 game in St. Paul due to an injury.
No, coach Red Berenson hasn't stolen a few pages from Ron Mason's playbook after his counterpart at Michigan State retired. The Wolverines are still third in the CCHA in scoring, averaging just under four goals a game.
But the team's defense and penalty kill have been sensational. The Maize and Blue lead the CCHA and rank third nationally in scoring defense, allowing 1.79 goals per game. Michigan leads the country in penalty killing – a spot usually reserved for their rivals up the road in East Lansing – and have vanquished 77 of 81opponent power plays for a 95.1% success rate.
"We put a lot of emphasis on blocking shots, denying shots, discouraging shots and also anticipation," said Berenson, whose team held Wisconsin and Minnesota to a total of two goals in a pair of wins last weekend. "If we're doing a good job, we're keeping teams off balance and not letting them get quite what they are looking for."
Berenson feels that putting forth a quality defensive effort starts by establishing an attitude with his charges. So far, the team has been on the same page.
"Everyone is buying into the system," says freshman goaltender Al Montoya. "The defensive unit coverage has been great. I'll make the save and I know I won't have to worry about a second or third shot because the defensemen are there to clear the rebounds and take care of the stuff in front of the net."
Montoya has played a big role in Michigan's defensive prowess. The Glenview, Ill., native, who won't turn 18 until February, leads the CCHA with a 1.80 goals against average and ranks second in the league with a .934 saves percentage. He's also one of three netminders with a nation's best 11 wins.
"Al's come in and had to be the difference in a couple of games and that's surprised some people," Berenson said. "He's getting good support, but there's no question he has earned the confidence of our team."
Despite the strong showing, Berenson acknowledges his team can't maintain its current level of defensive success. For example, the Wolverines come into this weekend's series at Northern Michigan with more shorthanded goals for (six) than power play goals against (five).
"There's an element of luck involved," Berenson said. "We've had pucks hit posts or skates that might have otherwise gone in. But we do have confidence."


ENGELSTAD'S LEGACY
Ralph Engelstad may have been college hockey's version of Al Davis. People either admired him or loathed him. There was no middle ground. And you always knew where he stood on an issue.
"He had a lot of friends, and probably an equal number of enemies," North Dakota coach Dean Blais said. "He either liked you or wouldn't talk to you."
Last week's startling news that the former North Dakota goaltender and the school's largest benefactor died of lung cancer at age 72 in Las Vegas gave the college hockey world an opportunity to reflect on Engelstad's contributions and controversies.
Engelstad, who amassed a fortune through real estate ventures and casinos, is probably best known for three acts. One was the donation of $104 million for construction of North Dakota's state-of-the-art Ralph Engelstad Arena. The facility, which accomodates more than 11,000 fans for hockey, opened last year just a short distance from the Sioux's former home, also named Ralph Engelstad Arena.
"Life is full of its ups and downs in business and personally," Engelstad said when announcing his intentions to build a new arena for North Dakota in 1998. "I have experienced both, but I have been very fortunate to land on the upper side more times than on the bottom, and it is my desire to share a portion of my good fortune with the UND hockey team."
He was also vigilant supporter of the Fighting Sioux nickname, which has been targeted for change by a number of groups. Two years ago, with the new arena already under construction, Engelstad threatened to pull the plug on the project if the state's Board of Higher Education voted to remove the nickname and sent a letter to UND President Charles Kupchella declaring his intentions. One day after receiving the letter, the board voted unanimously to retain the nickname.
"He had spent $30 million on the arena at the time," Blais said. "But he didn't compromise with anyone."
Perhaps his most notorious incident occurred in 1989, when Engelstad was fined $1.5 million by the Nevada Gaming Commission for holding parties commemorating the birthday of Adolph Hitler at his Las Vegas casino and collecting Nazi memoribilia. He issued a public apology, but UND was criticized for its continued relationship with Engelstad.
Engelstad's contributions didn't end with the Fighting Sioux hockey team. He received numerous citations for his work with disabled people, including twice being named Employer of the Year by the Nevada Governor's Committee on Employment of People with Disabilities and earning the National Employer of the Year award from President Bush and the national Committee on Employment of People With Disabilities in 1991.
A ceremony honoring Engelstad will take place at North Dakota's game against St. Cloud State in Grand Forks Saturday. Among the tributes will be the retirement of jersey number 23, which the Thief River Falls, Minn., native wore as a Fighting Sioux goaltender from 1948-50.


RIPPED FROM TODAY'S HEADLINES
Three Great Weekend Getaways

1. Denver vs. Colorado College: Games between these two rivals are always tense, emotional affairs. But with both teams ranked in the top six of all three national polls and the Pioneers trailing the front-running Tigers by just two points in the WCHA standings, the drama of these two contests increases exponentially.

It's a home-and-home set, with Friday's game at Magness Arena in Denver and Saturday's finale down at the Colorado Springs World Arena. The Tigers have fared well in the Mile High City, winning five of their last six as the visitor in this series. Denver, on the other hand, hasn't found Colorado College to be gracious hosts. The Pies have won two of the last three meetings between the two teams at World Arena. Prior to Feb. 10, 2001, when DU beat CC by a 3-2 margin, coach George Gwozdecky 's Pioneers were 0-13-2 against the Tigers in the Springs.

While you're there: As a former resident of the Denver area, I've got an inherent bias toward the entertainment possibilities that abound in the Mile High City. That's not to say I haven't had a good time in Colorado Springs...on second thought, I haven't. Never mind.

Anyway, if you're in Denver, here are some options for occupying yourself before or after the game. First, the Coors Brewery tour in nearby Golden is always fun. It's free, plus you get three beers at the end, so it's definitely worth the price of admission.

The area between Coors Field and Pepsi Arena, known as Lower Downtown (or LoDo for short), is teeming with bars and restaurants. A personal favorite is Swanky's. Located about 100 yards from Coors Field, it features really cheap beer (I think a 22-ounce Pabst draft is like a buck), a great shuffleboard table and nice variety in the jukebox. Nearby is the Denver Chop House, the best restaurant in the city in my opinion. Don't pass up the mashed potatoes...they are fantastic.

Finally, the Campus Lounge is located approximately halfway between the DU campus and the Cherry Creek area on University Boulevard. Owned by former Pioneer All-American Jim Wiste, you never know who you'll see in the place – I've spotted Herb Brooks, Peter McNab, Chris Drury, Shjon Podein and Stephane Yelle, just to name a few. If you're really nice to the bartenders, they might let you watch one of the Don Cherry Rock-em, Sock-em Hockey videos they've got stashed behind the bar on the big screen.

Runners-up:

2. Minnesota at Wisconsin: Sure, the Badgers are a little down, but this is one of those classic "throw out the records" series. Besides, if you're a fan of sports talk show host Jim Rome, he's bringing Tour Stop 29 to Dane County Coliseum – or whatever it's called these days – Saturday. Among his guests are Barry Alvarez, Fuzzy Thurston and Jerry Kramer. What, no Jeff Sauer?

3. Miami at Ohio State: Since we already used the BCS joke in Sunday's Power Rankings, we'll give it to you straight. Miami has 12 wins, tied for the most in the nation. Ohio State had last week off to recuperate after being swept at Ferris State. No word if OSU students plan to burn some smaller items c an ottoman or a shopping cart, perhaps – as a practice run for the Fiesta Bowl Jan. 3.

Eyes in the skies: Coming soon to a WCHA arena near you – instant replay?
It could happen, commissioner Bruce McLeod told Kevin Pates of the Duluth News-Tribune last week. In fact, the WCHA could vote on the matter as soon as next month. Should the measure be approved, the league would have to petition the NCAA in order to bring instant replace in on a one-year trial basis.
"We need to decide under what circumstances video replays would be used and what would be the mechanics involved," McLeod said.
McLeod says the league would most likely use its contingency fund to pay for installation in each of the conference's rinks. Minnesota-Duluth coach Scott Sandelin, a member of the WCHA executive committee, says all the conference's coaches are in favor of the proposal.
U.S. against the world: Seven WCHA standouts and three skaters from CCHA schools are among the 22 players named to the U.S. National Junior Team that will compete in the 2003 World Junior Championships in Halifax and Sydney, Nova Scotia, Dec. 26-Jan. 5.
Leading the CCHA contingent are Michigan sophomore forwards Eric Nystrom and Dwight Helminen. They're joined by Ohio State freshman forward Ryan Kesler.
Representing the WCHA are three players from North Dakota – defensemen Matt Greene and Matt Jones and forward Zach Parise. Minnesota forwards Gino Guyer and Barry Tallackson were also named to the squad as were Colorado College forward Brett Sterling and teammate Mark Stuart. Serving as assistant coaches to U.S. bench boss Lou Vairo are former University of Wisconsin head coach and Inside College Hockey columnist Jeff Sauer, ex-Michigan Tech letterwinner and current Boston College assistant Ron Rolston, and Mike Hastings, who played for St. Cloud State from 1986-88 and is now head coach of the USHL's River City Lancers.
The U.S. team begins play against defending champion Russia.
Boeser's Back: Wisconsin defenseman Dan Boeser sees his first action against WCHA foes this weekend as the Badgers welcome Minnesota to the Kohl Center for two games. The junior from Savage, Minn., was in the lineup for the season opener despite undergoing 20 radiation treatments in September after being diagnosed with non-Hodgkins B-cell lymphoma. But he was sidelined after breaking his left hand vs. Alabama-Huntsville Oct. 18, bringing to an end a streak of 83 consecutives games. Boeser, who missed nine games with the injury, played in both of Wisconsin's College Hockey Showcase games last weekend.
Harried Potter: Michigan State defenseman Corey Potter will be sidelined for four to six weeks after breaking his collarbone in Friday's 5-5 tie with Minnesota in Minneapolis. The freshman from Okemos, Mich., had two goals and an even plus-minus rating in 11 games with the Spartans this season. His injury leaves MSU with just six healthy defensemen.
CHA chatter: Alabama-Huntsville has recovered from its 0-6-0 start against Minnesota, Wisconsin and Denver to go 4-1-1 in its last six games – all against league foes. One of the keys to the Chargers' recent success has been the play of freshman goaltender Scott Munroe, who has three wins in three starts against CHA opponents, including a 56-save effort vs. Niagara last weekend...Findlay is 4-0-0 against MAAC opponents this season and 1-6-1 against everyone else. The Oilers play MAAC team Bentley this weekend and can move above the .500 mark with a sweep...Air Force hosts its annual tournament Friday and Saturday, and a main component of the event is the Toy Trick. Fans who bring a new stuffed toy, wrapped in plastic, to any of the games at Cadet Ice Arena get a free child's admission. When Air Force scores its first goal, the toys are thrown on the ice, collected and distributed to kids at Colorado Springs-area hospitals and clinics.

AND NOW FOR SOMETHING COMPLETELY DIFFERENT...
Your life probably won't change by reading these notes, but it might
Dave Ellis, host of Fox Sports Net Detroit's Spartan Sports Zone, brought up this interesting point in connection with the College Hockey Showcase. Minnesota and Michigan play for the Mariucci-Renfrew Coaches Trophy, while Minnesota and Michigan State play for the Mariucci-Bessone Coaches Trophy. So why is Wisconsin left out of the mix? Ellis, a native of Calumet, Mich., and a long-time Michigan Tech fan, proposes MSU and Wisconsin compete for the Mason-Sauer Coaches Trophy annually. No argument here.

Speaking of the Badgers, Kevin Allenspach of the St. Cloud Times reports that Wisconsin has received a verbal commitment for the 2005-06 season from 15-year-old Jack Skille, a 6-foot, 185-pound sophomore forward at Verona (Wis.) High School. The son Lee Skille, a letterwinner at Wisconsin in the '70s, Jack Skille led his conference in scoring last season as a freshman. He's planning to join the U.S. National Team Development Program in Ann Arbor next year.

Caught an interesting commercial last week while spending the night in Rockford, Ill. The spot, promoting the Rockford Icehogs of the United Hockey League, was a parody of The Blair Witch Project and featured three players – including former Gopher defenseman Nick Angell – wandering aimlessly in the wilderness. The 30-second piece ended by touting The Bell Witch Project, a nod to Rockford head coach Scott Bell, another Minnesota alum.

The latest in the series of first-person accounts written by CCHA players appears on the league's web site. The most recent installment is penned by Michigan State senior Troy Ferguson. The 5-foot-9, 165 pound foward talks about his experiences at the NCAA Foundation Leadership Conference in May.


STICK SALUTES

Not to dwell on the subject, but here's an acknowledgement to the University of North Dakota and their plans for a tribute to Ralph Engelstad at Saturday's game vs. St. Cloud State. In addition to the ceremonies, advertisements normally shown on the arena's video screens during breaks in action will be replaced by vignettes looking back on Engelstad's life.
To my alma mater, St. Thomas, for avenging a loss in last year's NCAA Division III Tournament with a 2-1 win against defending national champion Wisconsin-Superior Saturday. Zach Sikich, a transfer from Air Force, made 34 saves for the Tommies.


BENCH MINORS
To Goldy Gopher, who fell while walking atop the dasher boards in front of one of the team benches at Friday's Minnesota-Michigan State game. Goldy more or less wishboned himself on the boards, if you get my drift. That'll leave a mark.
To the guy sitting next to me in the Xcel Energy Center press box during last Friday's Minnesota-Colorado game. I don't know what his affiliation was, but he repeatedly pulled out a video camera and started taping portions the game. My guess is he didn't have the expressed written consent of NHL commissioner Gary Bettman.


THIS WEEK'S NHL TRANSACTIONS
Boston Bruins: Assigned forwards Lee Goren (North Dakota) and Andy Hilbert (Michigan) to Providence of the American Hockey League.
Chicago Blackhawks: Recalled forward Peter White (Michigan State) from Philadelphia of the American Hockey League; assigned forward Garry Valk (North Dakota) to Norfolk of the American Hockey League.
Columbus Blue Jackets: Recalled defenseman Duvie Wescott (St. Cloud State) from Syracuse of the American Hockey League; assigned Westcott to Syracuse.
Nashville Predators: Assigned forward Ryan Kraft (Minnesota) to Milwaukee of the American Hockey League.
San Jose Sharks: Fired assistant coach Rich Preston (Denver).
MINOR PRO TRANSACTION OF THE WEEK
Mississippi Sea Wolves (ECHL): Released goaltender Chuck Thuss (Miami).