January 21, 2006
Postcard: Net Results

By Jeff Howe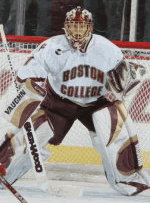 In the mid-January matchup of Cory Schneider vs. Joe Fallon, the BC netminder got the edge.
It was hyped up to be a modern day heavyweight fight between two of the most prolific netminders that the conference – not to mention the country – had to offer. Granted, there were often 10 other players out on the ice in between the two goalie gorillas, Cory Schneider of Boston College and Joe Fallon of Vermont, but all eyes were fixed on the men in the cages.
This story had everything a fan would want out of such a high-profile fight. Schneider was the reigning champ, playing in net for a team that had won the last three Hockey East regular season championships, and he was just a couple weeks removed from playing in a medal game at the World Junior Championship for the United States team, a tournament that improved his growth as a goaltender by immeasurable amounts.
Fallon, though a sophomore like Schneider, was the so-called understudy. New to the conference, Fallon and Vermont headed into the 2005-06 season with little respect from the other nine teams. Everything they hoped to attain this year would have to be done the hard way – on the ice against the stiffest competition the world of college hockey had to offer. But due to the play of Fallon and the Catamounts, they had earned a great deal od respect.
Fallon's story has been well told of late, as his four shutouts in a six-game span gave him a career total of 11, which vaulted him past former UVM stud and current Boston Bruin Tim Thomas for the new all-time school record. He hadn't allowed a goal in more than two games, a stretch that also broke a 35-year-old school record when it finally came to a halt after 158:43 of play when Stephen Gionta beat him in the second frame.
Friday was Schneider's night. He was on his home ice at Kelley Rink in front of more than 7,000 of his fans, and he looked absolutely immortal. Since his return from Vancouver, he has allowed just two goals while making 119 saves in just four games – all wins. And after the 2-0 blanking of the Catamounts on Friday night, he had a similarly impressive shutout streak going of 157:49.
"It turned out great that I got to play in the World Junior Tournament," Schneider acknowledged. "There are some really good players out there. The pace is really up-tempo. It's really helped me get on a roll and be focused. These past few games since I've come back, it's made more sense to me. I've been anticipating well, and my team in front of me is playing unbelievable."
Eagles' leading scorer Chris Collins sends Schneider's sentiments right back, though, saying the man behind the skaters is the one leading the charge.
"I've never played with a goalie as good as Cory," Collins said. "It's such a comfort level, but you've almost got to be careful because you think, 'Oh yeah, Cory's got the breakaway; don't worry about it.' … It helps us play with a lot more confidence, too. We take more chances than we normally would. It's nice having him there."
Just as the viewing audience wanted, both teams came out swinging early in the attempt to expose a possible chink in the opponent's armor. Fallon was tested early on by the top-ranked offense in Hockey East, turning away shots from two of BC's top guns in the first period. First, Collins, the national leader in goals per game, entered the zone with no one but Fallon to beat, but Collins' attempt to fake right before switching left to the forehand was knocked away.
Just a couple minutes later, Gionta – this time on a short-handed breakaway – came in from the left side and tried a similar move on the sophomore goalie, but Fallon turned the puck away with just as similar ease. BC coach Jerry York called both of those stops his best two of the game, and Schneider marveled at the way Fallon played on the big stage despite the loss.
"Fallon is a great goalie," Schneider said. "He's a big kid, and he's doing very well. You can see why he's putting up the numbers he does. We got a couple lucky bounces tonight, and you've got to take advantage of them to beat a kid like that."
The Catamounts got their turn to rattle Schneider next, but senior center Matt Syroczynski's bid to slam home a pointblank one-timer was quickly turned away. It was Vermont's next opportunity, however, that got the Eagle faithful up and screaming. A strong pass through the slot to Dean Strong appeared to have Schneider caught out of position, but the sophomore stud went spread-eagle to knock the puck away with his right leg to send both teams into the first intermission locked in a scoreless tie.
Schneider asserted himself and gained a little separation with the help of his friends in the second period, though he kept his opposition off the board for yet another 20 minutes with some nice work of his own, particularly by swiping away a high wrister from the stick of UVM leading scorer Brady Leisenring, who was in all alone on a breakaway.
After Collins and Gionta got a little revenge on Fallon with a pair of second-period goals, Schneider continued to hold serve in the set. With the Cats mounting a power-play attack, Jeff Corey fired an open angle shot from the left slot off a wide rebound, but Schneider was there to nonchalantly pick off the puck and quell the frenzy.
Leisenring got another shot with time winding down in the contest while entering the zone working off an Eagle defender. He fanned on his first bid to go five-hole though got a second-chance shot off with Schneider sprawled out on the ground. As he had done all night, however, he stayed with the puck long enough to keep it out of the net and the shutout intact – and he grinned about the save afterwards.
"I just made a desperation move, and fortunately it hit me," he said.
"He just seems to be getting better and better," York said. "He really benefited from the World Juniors. He went out there and had to play under tournament conditions. They weren't successful enough to win a medal, but his play was certainly successful. He has benefited a lot from that tournament."
Coincidentally, that tournament was held in the city that Schneider may one day begin earning his paychecks, as the Vancouver Canucks made him their first pick in the 2004 NHL Draft. Fallon is a prospect of another Western Conference team, the Chicago Blackhawks, so this could turn out to be a matchup fans can get used to for a while.
"In my opinion, they are two of the best in Hockey East," UVM coach Kevin Sneddon said. "They are probably two of the best in the country. Neither of the goals that went in on Joe were his fault. We had poor coverage. I thought he saved us at times. Cory played very, very well tonight. We had some opportunities, and he just shut the door and made it pretty easy."
The great ones usually do.