March 8, 2006
Postcard: Working Overtime

By Dan Fleschner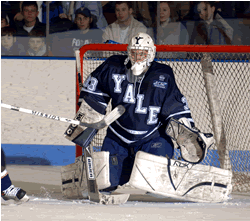 Yale's Alec Richards ended up the winner in the longest game in college hockey history.
Having now done the radio play-by-play call of the longest men's ice hockey game in NCAA history, I've quickly found that the question people are most curious about is, "After all that time, didn't you run out of things to talk about?"
The only answer I've been able to come up with is, "Well, sort of."
Yes, there were moments during the more than six hours I was on the air with my partner Steve Conn when we didn't have a whole lot to say. But when Yale and Union have played three full periods, four 20-minute overtimes and are still tied 2-2, what is there really to talk about other than to marvel at the situation?
So that's what we did on that first Saturday night in March, along with the die-hards that remained at Messa Rink in Schenectady, New York, and those who chatted on message boards across the college hockey nation, listening to online broadcasts of the game even after the clock struck midnight on the East Coast.
We stood in our makeshift radio booth and described two exhausted teams throwing haymakers at each other for more than 140 minutes of playing time. There were tantalizing scoring chances on both ends, crushing hits, teasing power plays and most of all, inspiring goaltending from Yale freshman Alec Richards and Union senior Kris Mayotte.
Every player had reason to tap into an inner resolve to keep fighting. For Union, a loss would mean another devastating elimination in a 15-year history of postseason disappointments – never before had the Dutchmen won a playoff series, and this figured to be their best chance yet.
Yale had its own playoff troubles to overcome, having failed to win a series in eight years. But after sputtering to an 11th-place conference finish, the Bulldogs approached the best-of-three series at Union as a new beginning. And with an overtime win in Game 1, they had no interest in allowing the Dutchmen to send the series to a deciding third game.
In front of this backdrop, as the hours passed without resolution, nothing more needed to be said than for us to simply describe the action and wait – wait to find out which team would triumph, which player would be the final hero and when the conclusion would come.
Finally, at 1:08 a.m. (by my cell phone though the official box score had it as 1:10 a.m.), the waiting ended.
The triumphant team: Yale.
The final hero: Freshman David Meckler.
When: One minute and thirty-five seconds into the fifth overtime.
The game spoke for itself. And nobody who witnessed it will ever run out of things to say about it.
Dan Fleschner is the former radio voice of Yale hockey who temporarily returned to the role last weekend. He is the author of Bulldogs on Ice: Yale University Men's Ice Hockey.