February 15, 2007
Postcard: A Life Saver
By Jeff Howe
AMHERST, Mass. – Will Ortiz is lucky to be alive right now. He's just as lucky to be a free man. If he fit into the stereotype of those in his childhood neighborhood on the south side of Framingham, Mass., there's a good chance he'd be dead, in jail or somewhere on his way to one of those.
"My neighborhood was bad," says Ortiz, a freshman forward for UMass. "Cops were running at people, gun shots, it happened. I had friends that have been killed. I had friends that are in jail now. One of my best friends in middle school was an accomplice to murder. It happens, but I chose a different path."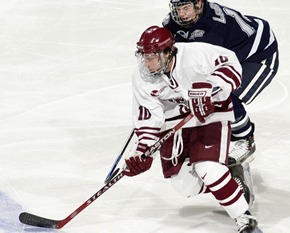 Will Ortiz overcame several obstacles and grew more mature on his way to the University of Massachusetts, where he is one of the talented freshmen forwards in Hockey East. One of his biggest goals this year was scored against New Hampshire.
His family is a huge reason for that. His parents, first-generation Americans, did everything they could to keep him off the streets. They pushed him into sports, signed him up for after-school programs, and did whatever they could to hold him on the straight and narrow.
Ortiz's older brother, Tristen, wasn't always so fortunate. He liked the fast life; he took advantage of it, too. When asked to describe what types of things he got into, he responds with, "You name it. Anything and everything."
But Tristen could guide Will in a way his parents couldn't. He could show his younger brother first-hand the troubles he could find if he went the wrong way down a shady street — drug dealers, drug addicts, gang members, didn't matter.
"I let him see everything he wasn't supposed to do," says Tristen, who is five years older than Will. "I did everything. I did all the bad things, and that's made him realize that he didn't want to take my route. I took the hard route, which I thought was the easy way out. He saw that and realized it wasn't the easy way out. He saw what I was doing wrong, and he didn't want to mimic it."
Tristen took him to the streets for something else, though: roller hockey. And that is where his rise from the south side truly began.
Puck Luck
Will started playing street hockey when he was about 5 with his older brother's friends. With the advanced competition, he couldn't let up. He learned how to play harder and skate faster.
As Tristen started to enjoy the sport more and more, he asked his parents if he could take his game to the ice. Naturally, Will wanted to follow.
Funny, Will didn't even like watching hockey on television. He'd rather have been watching baseball. But Tristen got him hooked.
The years passed, and Will got better and better. No one could match his speed and agility on the ice — after all, he was finally playing with kids his age — and his future in the game grew brighter with each passing day. Unfortunately for Tristen, who wasn't so bad himself, he left the hockey rinks in the dark.
"I got into a different life," Tristen says. "I got into the fast life, where I wanted money."
Will moved on, though. With Tristen's guidance, he stayed clean off the ice. Little did he know, it wasn't long before he'd meet someone with the same influence inside the arena's doors.
As he got older and moved up through the ranks, his game continued to get stronger. Framingham High School coach Paul Spear knew very well who Ortiz was before he walked through the doors at Loring Arena. He saw a young, immature kid with a boatload of potential. He couldn't wait to get Ortiz into a varsity sweater.
But it turned out, waiting was something they would both have to do.
Birth of a hockey player
Ortiz showed up for the first day of Framingham High tryouts with a chip on his shoulder, for two reasons.
He coasted through his youth leagues without breaking a sweat. He'd recover the puck in his opponent's zone, fly up the ice without getting touched and bury the puck in the net as though he were the only player on the ice. Ortiz was never challenged. Why should he expect high school to be any different?
But there was something else — something more personal. During games, he had an attitude, which was often fueled by players on the other team.
Ortiz was an easy target. He's a Puerto Rican playing hockey. Other teams couldn't stop his physical ability so they keyed in on his mental toughness, something he took awhile to develop.
It's something he can't really be faulted for, though. It's tough asking a 12-year-old kid not to react when other players are yelling racial slurs at him during a game. He got better with it as he grew up, but the attitude was still something he had to improve at the high school level, where the taunts continued.
"It was harder when I was younger," Ortiz says. "I didn't know how to take it. It was frustrating. I'd be angry. But as I grew older, I would brush it off. I'm out here doing what I can do. I'm doing what I'm not supposed to be doing. I'm — quote, unquote — not supposed to be playing ice hockey, but I'm out here doing well. I just laughed at them when I grew older. I brushed it off."
Spear knew of these things, and he wanted to send Ortiz a message, himself. He wanted his young phenom to mature mentally before he played with the big club, and started him on junior varsity his freshman year.
It was a decision Ortiz didn't understand, and Ortiz was a talent Spear didn't necessarily like wasting.
"I thought he was doing it on purpose just to see how I would come back," Ortiz says. "I felt that I should have been on varsity, but I guess he didn't. It was a test. I took it and went with it in stride."
So, Ortiz sent Spear a message of his own. He went out and scored 24 of the JV team's first 27 goals and notched all four goals in Framingham's 4-3 win over the junior varsity squad from Catholic Memorial, traditionally one of the state's premier high school hockey powers.
Spear was in attendance that night, and it turned out that would be the last high school game he would ever watch Ortiz play from the bleachers.
"We knew it was only a matter of time," Spear says. "We were having trouble scoring goals, and we called him up. We still had to sit him down and tell him to be smart."
Ortiz made waves with his play, but despite the wishes of his coach, he wasn't always smart. Ortiz would try taking the game over on his own, but defenses were smarter and faster. He would get whistled for being offside, turn to the ref with his palms up and let the official know there may be others who could do his job a bit better. Then, there was the time he got booted from a game for high-sticking a kid.
His antics were tiring Spear, the coaching staff and his teammates, and Ortiz very nearly got kicked off the team during his sophomore season. They sat him down and gave him an ultimatum: Play with the team, or find somewhere else to play.
"He would lose his patience and take a penalty, come out of his game and not play well," Spear says. "We had to tell him that doesn't fly. You've got to maintain your composure."
"They sat me down and were like, 'You've got to change. You can't keep acting like this. You're hurting the team more than you're helping yourself. You've got to put the team before yourself,'" Ortiz recalls. "Ever since then, I learned to bite my tongue and just play hockey.
"I was a hot head growing up. I thought I could go out there and do what I wanted to do, but that wasn't the way the game was supposed to be played. You've got to play by the rules and be sportsmanlike when you're out there. That's what [Spear] taught me. You've got to respect the referees, especially because they're calling the game. You've got to know when you can say your voice and when you've got to hold it in."
Even his brother chimed in.
"He learned to make them pay for it on the scoreboard, and that's how he was," Tristen says. "I told him to forget about what they were saying and to just do your job and have fun. If you're having fun, they're not."
That was all it took. One last kick in the rear finally propelled Ortiz to play smarter — and more importantly — quieter. He learned a simple science. If he wasn't in the penalty box for doing something stupid, he could be on the ice scoring a bit more.
His high school career was taking off, but another setback loomed. After all, it was just never easy for him.
Towards the end of his junior year, his father got a tough call from the U.S. government. Billy Ortiz, an Army Reserve, was being stationed in Fort Bragg, N.C., and had to prepare for the possibility of shipping overseas. He missed nearly all of Will's senior year at Framingham High.
"It stunk because he wasn't there, and he was always my biggest supporter," Will says. "It was horrible not seeing him there in the stands. Every day, I would go out there and look for him, but he wasn't there."
His father was lucky enough not to be sent over.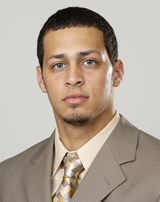 Ortiz has six goals and 11 assists in 27 games for UMass this season.
Sticking With Framingham
Ortiz's fan club grows by the day. Visit Loring Arena, and it's tough not to be overwhelmed with the amount of UMass hats that sit atop people's heads. But it would be tough to find anyone in the Ortiz contingent with more admiration for him than Spear.
"If you take a ride through Will's neighborhood, that was a particularly tough neighborhood in Framingham," Spear says. "Not a lot of kids from his neighborhood make it to where he is. If he didn't have strong character, a good upbringing and good parents, he'd probably be down on the block on that street right now instead of up at UMass."
But that's where he is. Nearly every Division I program in the Northeast showed interest in Ortiz during his time at Framingham or Salisbury Prep School, but UMass was the only place that felt right for him. It provided something more important to Ortiz than anything else — a sense of familiarity.
"The kids looked like they came from where I was from," he says. "It felt good in my gut. There weren't a list of reasons. I just felt comfortable."
He remains comfortable by sticking to his roots. His father is back home, and a good amount of his family travels to every game. Ortiz and Spear still talk about once a week, and Spear makes it to every game he can fit into his schedule.
Spear never had a prouder moment than seeing his former star light up the ice at Boston University on Nov. 28.
Back during Ortiz's tumultuous sophomore year of high school, Spear brought him into the stands at Walter Brown Arena, the old home of the Terriers. They sat and talked about hockey, life, anything that was on their minds.
Again, Spear's message was a clear one. Ortiz had the potential to play anywhere he wanted. Spear just wanted to make sure Ortiz truly understood that. At one point, Spear pointed to the rafters where all of BU's championship banners hung with a sense of aura and mystique.
"I said someday I'm going to watch you play here," Spear recalls. "It was a particularly special moment for me to see him here at Agganis. We said we were going to see it, and that dream came true."
Spear jokes his dream nearly turned into a heart attack. With two minutes remaining in overtime, Ortiz led a three-on-one into the BU zone. Ortiz fired a shot that beat John Curry but rang hard off the crossbar, causing Spear to nearly jump over the glass. The game ended in a 2-2 tie.
Ortiz wowed the New Hampshire faithful in October when he toe-dragged Brad Flaishans, one of the league's premier defensemen, to set up a Mark Matheson goal in a UMass upset. He's also scored goals against Boston College and Maine on his way to six scores and 11 assists through 27 games in his rookie campaign.
"I thought he was going to go into Hockey East and impress the heck out of everybody, and I think that's exactly what he has done," Spear says. "I thought Will was going to make other teams say, 'Jeez, we should have recruited the kid.' I think the coaches who didn't recruit him or take him are thinking they should have given him a longer look."
Ortiz still gives back to Spear. He gives the coach some advice on how to handle certain situations with the kids, has been back to skate at a handful of Framingham's practices and was able to take a game in. The way he puts it, he is forever indebted to his old bench boss.
"He never laid off me," Ortiz says. "He always kept on my back on all the little things when I wasn't doing well in school. He would just get on me. He forced me to do well. I've learned so much from the little things to becoming more mature, to academics and athletics. He helped me down a road that could have been so long, but he made it smoother than it should have been."
Maybe Ortiz isn't lucky. Fortunate might be a better way to describe him. He is fortunate to have been surrounded by a brother who sheltered him from the Framingham streets; fortunate to have a coach who wouldn't allow him to get by on skill alone; and fortunate to have fallen in love with hockey, which has given him a free education and kept him out of an orange jumpsuit and a wooden box.
Without that fortune, Ortiz doesn't know what he'd be doing or where he would be right now.
"Not here," he says from outside the UMass locker room. "I'll tell you that much. I'd be somewhere else."
Jeff Howe can be reached at jeff@insidecollegehockey.com