March 22, 2008
Postcard: A Senior Moment in Albany
By Ken McMillan
ALBANY, N.Y. — Semifinal-round losses in the ECAC Tournament Friday left Cornell and Colgate with little to play for except pride and an opportunity to send their respective senior classes out with a victory on Saturday.
"We have such a great group of guys," said Cornell senior defemseman Doug Krantz. "We wanted just one last chance to go out and go to battle with them. (We wanted to) have a great time out there. We tried to enjoy it ourselves and have a good time pulling that jersey over our heads for one last chance."
Krantz is going to take the memory of an ugly goal into the rest of his life, and three other Cornell seniors will remember their final game was a 4-2 victory over their central New York rivals at the Times Union Center.
"It was not the prettiest one," Krantz said of his goal with a laugh, "but they don't ask how, just how many."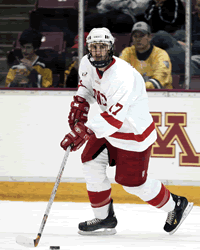 Defenseman Doug Krantz capped his Cornell career with a goal against Colgate in Saturday's ECAC Hockey third-place game.
Linemates Topher Scott and Raymond Sawada will go down in history as never having missed a Cornell game, 137 in all. Sawada suffered a knee injury in November but kept playing. Scott played through a broken wrist during his sophomore season.
"I never realized that," said Cornell coach Mike Schafer. "(That's amazing) especially how hard both of them play ... they fought through some major injuries. It shows you how mentally tough they both are."
Sawada, a second-round draft choice of the Dallas Stars in 2004, scored on a tip-in at 7:31 of the second period, giving Cornell a lead it would not relinquish. Patrick Kennedy took the initial shot from the left point and Sawada's deflection went high on Colgate keeper Mark Dekanich.
Scott set up Cornell's third goal, a power play tally at 8:57 of the second period. Breaking in on a two-on-break Scott slid a pass to Justin Krueger on the edge of the left circle, and Krueger's one-timer beat Dekanich on the blocker side.
Sawada closed his best collegiate season with 10 goals and 16 assists, collecting points in 10 of his final 13 games. For his career, he finished with 31 goals and 45 assists. Scott finished the season with 10 goals and 20 assists. He was the 44th Cornell player to reach 100 career points, concluding with 25 goals and 82 assists.
"Ray has to be a guy at the next level who will hit a lot of people and probably fight a lot of people," Schafer said. "Topher, just like his whole life, is going have to get an opportunity with somebody to prove that he can play. He has a tremendous amount of character and tremendous talent."
Two losses spoiled the end for Dekanich, who closed his stellar career at Colgate as one of the top players ever to pull on the maroon jersey of the Raiders. The Nashville Predators draft choice finished as the school's leader in save percentage (.923), saves (3,071), shutouts (11) and games (120), second in goals against average (2.25), and third in wins (52).
"He's been such a rock back there for us," Colgate coach Don Vaughan said of Dekanich. "He's one of the best goaltenders in the country — all you have to do is look at his save percentage and the number of shots we have a tendency to give up the last couple of years. He has kept us in a lot of games. He has allowed us to have a chance to win most of the games he has played in. He is a huge part of what's happened here the last three weeks. He's a tremendous goaltender and a great kid."
Vaughan believes the Preds will sign Dekanich.
"There [are] a lot of great goaltenders out there," Vaughan said, "but Mark approaches the game with a real professional attitude and is deliberate in the process of getting prepared to play, like a pro would. He has a tremendous upside, and I think he should get a chance."
Colgate's eight-man senior class includes Tyler Burton, who scored one final time with 1:25 to play in the third period, knocking in the rebound of a Ben Camper shot. Burton closes his career as Colgate's all-time leader in games played (158), No. 7 in goals (83), and No. 16 in points (155). The second-team all-ECAC forward led the league this season in goals (23) and points (41).
"The last game, it's always sad to see it come to an end," Burton said. "It's been a great ride. When you get here as a freshman — we were here in the tournament — you say goodbye to your seniors and you don't believe how fast it goes. We tell the younger guys to cherish it because it's a special time."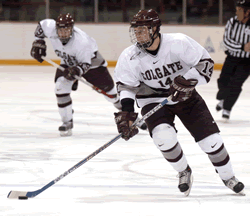 Colgate senior forward Jesse Winchester didn't dress for Saturday's ECAC Hockey third-place game, but instead joined the Raiders' coaching staff behind the bench.
Jesse Winchester did not dress for his final game, but was asked to join the coaching staff behind the Colgate bench.
"I thought it would be fitting for the captain," Vaughan said. "I told him 10 minutes before the game that he was making his coaching debut. He thought I was joking but I wasn't. We had a great time behind the bench ... he got to talk to some of the guys as they were coming off."
Cornell's seniors finished first (2005), second (2006), and third (2008) in the ECAC tournament, won two NCAA regional first-round games (Ohio State in 2005, Colorado College in 2006), and lost two regional finals in overtime (Minnesota in 2005, Wisconsin in 2006). The Big Red Class of 2008 posted an 82-41-14 record and 53-25-10 ECAC mark.
Colgate's seniors finished third (2005) and twice finished fourth (2006, 2008) in the ECAC tourney, and qualified for the NCAA tournament in 2005. The Raiders' Class of 2008 had an overall mark of 78-63-19 and 43-32-13 in ECAC play.