January 9, 2008
Postcard: The Warriors' Wayne-ing Moments
By Jess Myers
MINNEAPOLIS – Undoubtedly, some of you grumbled about the commute and another week of work on Monday morning. Or maybe you dragged yourself out of your dorm room's single bed not exactly enthused about walking to your first morning class, gloomy about the coming week in academia.
In either case, consider the story of Bill Wilkinson and his 20-odd players toiling on the rink for Wayne State, for the next two months anyway. And think about how good you have it.
Wilkinson and Co. bussed from Detroit to Minneapolis and back (a round trip of more than 1,300 miles and roughly 24 hours, depending on how much traffic you hit in Chicago) last weekend to give up 10 goals and pick up two losses at Minnesota. They were the seventh and eighth consecutive losses for the Warriors, who will cease to exist as a team in March when the school officially drops its men's hockey program.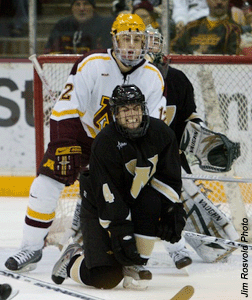 Grin and bear it: Just 16 regular-season games remain for sophomore defenseman Ryan Bernardi and the Wayne State hockey program, but the Warriors are hardly playing out the string.
But if you expected a grumpy scowl from Wilkinson Saturday night in the few minutes between the post-game handshake and boarding the bus for the long ride home, you got a pleasant surprise outside the Warriors' locker room. As he's done throughout a coaching career that's spanned more than a quarter-century and included four trips to the NCAA tournament, Wilkinson wore a slightly exasperated yet friendly smile as he talked about the game and his program's impending demise.
Rookie goalie Mike Devoney had never seen ice time in a real game prior to last weekend, but Wilkinson let him finish both games against the Gophers, cognizant of the fact that he's got underclassmen who could contribute to other college programs next year.
"Mike came in and I thought he did a hell of a job facing some difficult shots. Then we got a couple of goals and it became a game," said Wilkinson, recounting the Warriors' 5-2 loss. "They're all auditioning."
On Friday, the Warriors' first goal of the weekend came when a Gopher breakout attempt was stopped, and Wayne State defenseman Ryan Bernardi found Jared Katz with a pass from the blue line. Katz, who was camped in front of the Minnesota net without an opponent within eight feet of him, tucked the puck low past Minnesota goalie Brent Solei, briefly tying the game at 1 (the Gophers went on to win 5-1.)
"Fortunately Katz wasn't backchecking, so he stood there all alone and we found him the puck," Wilkinson joked afterward. "Sometimes a bad thing becomes a good thing."
If a few Warriors can turn the end of their Wayne State careers into new opportunities at other schools next year, a silver lining may emerge from the dark clouds that accompany a program's demise. But for now, it's nothing but bad news for college hockey, and for a coach and a team that deserve better than what they've gotten. Forced to shuttle between an outdated rink near campus and a nice rink closer to Ann Arbor than downtown Detroit, it's not surprising that there have been insurmountable challenges in attracting top talent and ticket buyers to Wayne State hockey. Those troubles, added to the uncertain future of College Hockey America, were factors in the school's decision to pull the plug at season's end.
But if the Warriors 3-15-2 record and their eight straight losses lead you to believe that Wilkie and Co. are content to play out the string, you probably didn't see them turn a 4-0 deficit into a 4-2 game in the third period at Mariucci Arena Saturday. That resiliency, the coach says, is typical of players determined to give it their all until the final horn of the final game.
"It has been (disheartening) to an extent, but I give the kids a ton of credit. They've handled it very well," Wilkinson said. "You can look at tonight, how we worked hard to the very end. I don't think the kids turned tail and gave up the ghost. They worked to the bitter end. It's a sign that the kids want to play and do the best they can under the circumstances."
While looking for future opportunities for his players, Wilkinson has paused to consider his own future as well. The three-time CCHA coach of the year (during his 17 seasons at Western Michigan) says the coaching fire still burns, but he may say goodbye to the college game.
"I hope it's not it for me," he said. "I'm not looking to stay at the college level. I'll maybe try the pro level or Europe or something. Our kids are all grown and out of the house, so [my wife] Mary and I can pack up and go.
"I'm not looking for a condo in Florida just yet. I may be looking for a condo in Ireland though," he added with a laugh.
With that, he headed for the bus. Next week, the Warriors will board another bus for a slightly shorter ride. This time it will be only 16 hours and close to 1,000 miles round trip when they visit Northern Michigan for two games. And if the Wildcats are licking their chops, ready for a pair of easy wins when the seemingly down-and-out Warriors come to town, they know little of the coach and the players from college hockey's only endangered species.
Wilkinson summed it up best after his team put a scare in the Gophers last weekend in the last meeting those teams will ever have.
"Well, we may be dead," he said with a grin, "but we're not buried."