October 7, 2003
UAF: In Tuscher We Trust
By Roman Uschak
Rudy has nothing on Tuscher.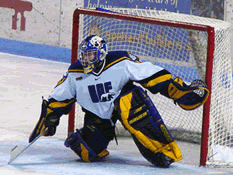 Keith Bartusch started last season as Alaska Fairbanks' third-string goaltender, but ended up posting a nine-game unbeaten streak. (Photo courtesy of University of Alaska Fairbanks)
Everyone knows the story of Rudy Ruetigger, the Notre Dame walk-on who finally achieved his lifelong dream of playing big-time college football with the fabled Fighting Irish after four long years of trying.
Keith Bartusch (pronounced bar-TOOSH) didn't try to walk on at Notre Dame, although he may wind up playing against the Fighting Irish one day, albeit in a different venue. The Alaska Fairbanks goaltender had actually hung up his skates and put away his pads two years ago as he prepared to get on with his life and leave competitive ice hockey behind along with his junior career.
That is, until the phone rang at his home in Graham, Wash. The call came from UAF assistant coach Tavis MacMillan, who had seen Bartusch play junior hockey in Fairbanks and was calling to ask if he had any interest in joining the Nanook (Inuktituk Eskimo for "polar bear") hockey program as its third-string netminder.
"I couldn't believe it," recalled the 5-10, 188-pound junior netminder. "I ran around the house excited, and I was on cloud nine all summer." He spent most of that summer 2,200 miles away in Alaska, preparing with a number of his Nanook teammates for the upcoming season as if he would be UAF's starting goaltender.
"I only played just five minutes the year before, and I knew I would be the number-three goalie heading into (last) year. I stayed here in Fairbanks, worked out, and just kept improving and building my confidence."
Part of that confidence-building came in captain's practices, unsupervised scrimmages which Bartusch likened to pond hockey, but one where he got to see – and stop – a lot of 3-on-0s and other outmatched situations.
When the season started, Bartusch was on the bench at UAF's Carlson Center, where he expected to be, as the Nanooks returned two solid netminders in senior Lance Mayes and junior Preston McKay. Those two started the first weekend of the Governor's Cup series against Alaska Anchorage, a heated rivalry that is renewed this weekend in Fairbanks. Mayes and McKay had taken UAF as far as it had ever gone the year before, to the CCHA Super Six at Joe Louis Arena in Detroit, and to within a whisker of the NCAA Tournament.
So it came as a shock that UAF stood at just 9-9-4 through its first 22 outings when it headed to Sault Ste. Marie, Mich., and a pair of contests at Lake Superior State. Bartusch had already seen some game action, playing the third period in an exhibition against Mount Royal College before backstopping UAF for just over 31 minutes and stopping 26 of 28 shots in a 5-1 loss at eventual league champion Ferris State. Bartusch normally didn't make the team road trips, but he was on the plane as UAF opened the calendar year with a 1-2-1 mark before struggling to a 2-2 tie the first evening at LSSU.
Sometimes a team will change its goaltender in the middle of a game that's not going well in an attempt to jump-start the rest of the squad. What UAF did next helped to jump-start its flagging season.
"It came to a point where we weren't getting the saves, our save percentage was down, and we weren't getting the big saves at the right time," recalled UAF head coach Guy Gadowsky.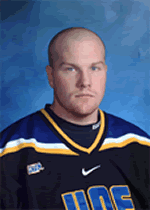 Enter Bartusch – or Tuscher, as his teammates call him.
"The door was open for him," said Gadowsky. Bartusch responded by closing it on the opposing Lakers the second night of the series, earning the game's third star in a 5-2 victory. He again stopped 26 of 28 shots, this time in his first-ever career collegiate start, to boost UAF to its first victory in a fortnight.
"I was stunned," related Bartusch. "We had tied the night before, and we usually only start a different goalie if we lose. I was pumped up and nervous, and I wanted to give it my best performance."
He was just warming up.
Bartusch wouldn't start again until three more Nanook losses had passed, although he mopped up in a pair of lopsided league losses. Following an 8-2 loss at Northern Michigan on Jan. 31, Bartusch was back in the Nanook net the following evening in Marquette, and by the time the final horn had sounded he had stopped 26 shots and earned first star accolades in a 2-2 tie against the host Wildcats.
"NMU was great," he admitted. "I really built up my confidence that night, since we've never beaten them, and could have won."
He built that confidence even more back in Fairbanks the next weekend, making his first-ever starts at the Carlson Center and stopping 59 shots in all in helping UAF to a 3-3 tie and a 4-3 overtime win against Nebraska-Omaha. And still his best was yet to come.
Heading back east to face nationally-ranked Ohio State University, the goalie wearing No. 1 dispelled any lingering doubts that he was the new No. 1 Nanook netminder by sweeping the powerful Buckeyes, 4-1 and 5-4. The first game marked the first time all season that OSU had suffered a league loss on its home ice at the ultra-modern Schottenstein Center.
"That 4-1 game was probably my best performance of the year," beamed Bartusch, who stopped a career-high 40 shots that contest before notching 24 stops the next night as UAF got the game-winning goal with just 20 seconds remaining in regulation. Bartusch also picked up his first career assist in the second game.
"I felt that weekend that I could roam a little out of my net, and could communicate with my defense, and I think they started having confidence in me."
Not bad for a goalie who saw the bulk of his pre-collegiate work come at the junior B level with the Fairbanks Ice Dogs, now a member of the Tier II Jr. A North American Hockey League.
"I was still playing Junior B when we were making the transition to Jr. A.," Bartusch recalled. "I was splitting time with Wylie Rogers (who went on to the U.S. National Team Development Program and has committed to Alaska Fairbanks for next season)."
Bartusch could see the writing on the wall.
"He (Rogers) was 16 years old, and I was 19."
Not wanting to end up on the junior hockey scrapheap, he decided it was time to get on with his life and not pursue a hockey career that probably wasn't going to happen. "I just wanted to go home and get started with school," he said.
A graduate of Fairbanks' West Valley High School, he returned home to Washington, attending night classes at Pierce Community College while working in construction during the day. He hoped to eventually enroll at Washington State University, though he didn't plan to play hockey for Wazoo's club team.
He got a better offer, courtesy of MacMillan, who led the NCAA in scoring during the 1993-94 season along with UAF linemate Dean Fedorchuk, a Hobey Baker Award finalist that year who is currently playing professionally in Denmark.
"I never did think of quitting," admitted Bartusch, who kept busy in-line skating and shooting pucks at home, since the closest rink to Graham is some 40 miles away near Seattle. There were no guarantees of playing time once he returned to Fairbanks to play at UAF, as he made just a token appearance at Michigan State his freshman campaign. After last year's Ohio State sweep, he was UAF's main masked man right up through the Governor's Cup series to close out the regular season in March.
"That was a huge game," remembered Bartusch, as UAA came to Fairbanks with just one win all year, that coming in the season opener at UAF. "They were looking to salvage their season, and I didn't want to let them get their second win."
Not to worry, as all three UAF netminders saw game action in sweeping the rival Seawolves by 6-4 and 5-0 scores. Bartusch got the win in the opener, a game where he admitted he didn't feel he played great, but still managed to stop a 2-on-0 with the game tied to help UAF to the victory.
Bartusch's Cinderella run ended in UAF's first-round CCHA playoff loss at Michigan State, as the high-flying host Spartans scored three times on six shots in the opener to drive Bartusch from the Nanook net en route to winning the two-game series. UAF still finished with a plus-.500 overall mark for the second straight season (15-14-7), although Bartusch knows he can take nothing for granted, even after finishing 6-1-3 himself with a 2.73 goals-against average and a .912 save percentage.
He's happy to be doing it in his adopted home of Fairbanks, cold weather and heavy snow and long plane trips and all.
"I love it here," he admitted. "I love the atmosphere here – it's a hockey town, and the people here knew me and have always supported me."
They'll do it again this season if Bartusch merely duplicates his sophomore success. Unlike Rudy, Tuscher's story continues.