February 26, 2004
Postcard: Too Much Hockey?
By Nate Ewell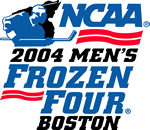 The folks at the FleetCenter, Boston University and the NCAA are out to prove that there's no such thing as too much hockey.
While the potential for Boston Bruins home playoff games during the Frozen Four could present a logistical nightmare, the powers that be are convinced that the games – all five of them – will go on as scheduled, should the Bruins finish in the top four in the Eastern Conference.
"Everything is based on the fact that the Bruins are going to have home-ice advantage in the first round," said Boston University Sports Information Director Ed Carpenter, whose school is the event's host. "We had a conference call the other day and that's the assumption that we are going from."
Busy Weekend
All in all, it could be an incredibly busy sports weekend in Boston.

The Frozen Four dates are set for April 8 and 10, while the Red Sox home opener is Friday the 9th, beginning a three-game series against the Toronto Blue Jays. Then there's the possibility of a Bruins playoff series beginning April 7 and 9.

At least the Celtics are on the road that weekend. Then again, at 12 games under .500 and fading fast, nobody is likely to notice them anyway.

Related Links
NCAA Tournament Information

Brackets & Times
Today, the Bruins stand in fifth place in the Eastern Conference, one point out of fourth. If they hosted a first-round playoff series, Game 1 would be held Wednesday, April 7. The Frozen Four semifinals would follow on Thursday the 8th, with Game 2 of the NHL series on Friday. The championship game is set for Saturday the 10th.
All the while, the FleetCenter staff would work to ensure that everything looked normal for fans at both events. After the Bruins game on Wednesday, dasher board advertisements would be replaced with NCAA banners, and seats would be removed to make way for an NCAA Productions television crew. Advertisements away from the rink surface wouldn't be removed, but would not be lit up during NCAA games. The entire process would take place in reverse after the semifinals, and again before the championship game.
Locker room assignments and practice schedules are out of sight of most fans, but could present bigger challenges. Still, organizers are confident.
"It's going to be a lot more work," Carpenter said, "but it will get done."
Regardless of the amount of work it takes, you won't catch Frozen Four organizers rooting against the Bruins.
"Absolutely not," Carpenter said. "One of our own Boston University Terrier alums is coaching the Bruins (Mike Sullivan). We want to see him succeed and be named the NHL Coach of the Year."