August 22, 2004
Postcard: Cable Cars in the Crease?
College hockey has a humble, hopeful home in the Bay Area
By Jess Myers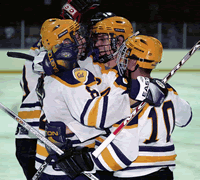 Cal had plenty to celebrate in 2003-04, winning the Pac-8 title. (Photo by Thomas Thompson)
BERKELEY, Calif. – Finding a college hockey venue within sight of the Golden Gate Bridge isn't as difficult as you might expect, if you know where to look. Just a few blocks downhill from the ridiculously scenic University of California campus in a residential area sits Berkeley Iceland, home of the Cal Golden Bears and their fledgling, but growing, club hockey program. In one of the most liberal communities in the nation, Berkeley Iceland is about the only place in town you'll find anything called a "right wing."
It stands to reason that the lone ice rink in the community that gave us Joe Kapp, Jason Kidd and the Free Speech Movement would be anything but ordinary. Erected on a hillside overlooking San Francisco Bay in 1940, Iceland is a winter palace akin to the old Broadmoor World Arena in Colorado Springs, but with better sightlines. Built to accommodate 4,000 figure skating spectators first and hockey second, the Golden Bears home ice sheet is actually slightly larger than Olympic size, at 102 by 202. Pinching your defensemen on those endless bluelines is ill advised.
Unlike many other warm-weather hockey programs, where the on-ice action is dictated by a transplant from Minnesota, Michigan, Massachusetts or Canada, the VIP in the Berkeley hockey community is locally grown, so
to speak. Golden Bears coach Cyril Allen has lived in neighboring Oakland all his life, but says that Berkeley Iceland has been his real home by the Bay since he learned to skate in the days when the NHL's California Golden Seals played in his hometown and practiced in Berkeley.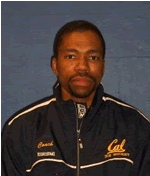 Cal head coach Cyril Allen
Wearing a navy blue nylon top with the words "Cal Ice Hockey" and "Coach" stitched on it in gold, Allen spends a foggy Thursday evening directing practice for the Berkeley Bulldogs pee wee team (he's their head coach too), and takes a break to talk about his teams while the Zamboni (invented just down the coast in Paramount, Calif.) clears the ice. On October 1, when the Golden Bears travel to UC-Davis for an exhibition game, Allen will enter his fourth season behind the Cal bench and his team will begin defense of the Pac-8 crown it won last February, coming from behind in the third period to beat USC 3-2 in the league's title game.
The hockey program at Cal, a member of the American Collegiate Hockey Association, is mostly a student-fueled outfit, with sports marketing and business majors getting internships worth college credits for their work running and promoting the team. The players (most of whom are native Californians) each pay $700 or more, plus travel expenses, to wear the blue and gold each season. The Golden Bears practice twice a week (usually late at night) and play a 36-game schedule against the likes of San Jose State, Utah State, Brigham Young, Long Beach State, and other ACHA teams.
Allen says that despite the ocean-size ice sheet, his team and most of their conference competition play a game that's "more physical than free-flowing."
"I tell players that the way to play this game is from the inside out," says Allen. "That means getting inside where the action is, and getting inside the opponent's jersey on defense."
While the Golden Bears have yet to approach a sellout for a home game, Allen speaks with pride of the raucous 1,000 to 1,500 who show up each November for the "Big Freeze" – the hockey counterpart to the annual Big Game between the Cal and Stanford football teams. In the days leading up to the football game, the Golden Bears and Cardinal play a Thursday-Friday home-and-home hockey series complete with bands, cheerleaders, and those cannons that shoot t-shirts into the crowd.
Cal (along with USC and UCLA) was briefly home to NCAA D-I hockey in the 1940s, and Allen says that each year at the Pac-8 meetings there is some talk of the conference working toward moving up to D-III and eventually D-I in the future. But Allen and his West Coast counterparts are realistic enough to understand that several Pac-8 teams would have to make the move to varsity at the same time if college hockey in California were to work this time, and that move is still a long way off.
In the meantime, for a hockey promoter in the Bay Area, there are small victories to be savored. There has not yet been an influx of players from Northern California advancing to D-I hockey and seeing the success enjoyed by Southern Californians like Brett Sterling (Colorado College), Gabe Gauthier (Denver) and Grant Goeckner-Zoeller (Princeton). But Allen says that the growth of roller hockey, the popularity of the San Jose Sharks, and the number of new ice sheets being opened in the Bay Area has led to increasing numbers for hockey programs there, and an boost in the number of Northern California hockey players (male and female) getting noticed by junior teams and small college programs.
"The hockey community in Southern California is still much bigger than what we've got here – more rinks, more bodies," Allen says. "So while it's still unusual to see a kid from the Bay Area go to a D-I program, kids from this region are definitely being shown more interest in the college hockey world."
For more information on Cal ice hockey or the ACHA, visit calicehockey.com or achahockey.org.