June 7, 2004
Postcard: Chasing Glory Down State Street
By Jess Myers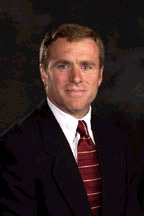 USA Hockey Distinguished Service Award winner Mike Eaves
COLORADO SPRINGS, Colo. – When the highlights from Team USA's gold medal performance at last season's World Junior Championships had concluded and the applause had died down, one man stood alone at the podium.
In accepting the Distinguished Service Award at this year's USA Hockey Annual Congress in Colorado Springs, Wisconsin head coach Mike Eaves spoke before the giants and the bit players in American hockey and talked of glory.
While emcee Mike Emrick and other speakers at the banquet had quoted the likes of Herb Brooks, Ben Smith and Bob Johnson, Eaves chose to quote another American responsible for great victories and great controversy.
Eaves described a scene from coaching Team USA last winter, and about moments of pure joy among his players as the Americans rallied from a two-goal deficit in the final period of the title game. In defeating Canada 4-3, Eaves and company claimed the first World Junior Championship gold medal in American hockey history. But Eaves was more focused on the video highlights, which had shown his players jumping into one another's arms as the final seconds ticked away.
"What you saw there is known as glory," Eaves told the crowd of hundreds. The coach went on to quote General George S. Patton, who – while leading American troops to World War II victories in North Africa and Sicily – had said that above all things, he sought glory. The general said that glory was more valuable than even things like fame and fortune because of glory's fleeting nature and because it was so hard to attain.
Moments of glory have been somewhat fleeting for Eaves in his first two seasons at the helm of his alma mater, and there are eerie parallels between his brash personal and professional style and that of the American general so memorably portrayed by George C. Scott. Patton was as ruthless as he was successful in the field of battle, seemed to take pleasure in shocking and offending his peers, and is as famous for the victories won as for moments that later drew rebuke.
Patton was reprimanded and ultimately demoted by General Dwight D. Eisenhower, most notably for slapping a shell-shocked soldier in a military hospital, and branding the man a coward. Eaves, most will remember, faced the ramifications of a physical altercation he had with former Badger Alex Leavitt in a Grand Forks hotel room during the coach's first season at Wisconsin.
That first Eaves campaign ended with the coach being reprimanded by the school, Leavitt leaving Madison, and the Badgers finishing 10 games under .500 – good for a non-glorious eighth in the WCHA. It's at that point that Eaves might have taken solace in General Patton's words once again. Before his death in 1945, Patton once told subordinates, "The test of success is not what you do what you're on top. Success is how high you bounce when you hit bottom."
There was clearly a bounce in year two, with the Badgers climbing to nine games above .500 and coming within an overtime goal of reaching the Frozen Four, despite getting upset by Alaska Anchorage in the WCHA playoffs.
What will happen in year three is one of college hockey's great mysteries. Eaves has had another superlative recruiting year (USA Hockey's Junior Player of the Year, forward Joe Pavelski, will wear the cardinal and white next season) and the Badgers look to be one of the top teams in the league, and the nation.
But Eaves while has been earning fans in the Wisconsin hockey community, he's also made enemies during his brief tenure in Madison. His style is certainly not for everyone, especially following the more laid-back and always personable Jeff Sauer behind the home bench at the Kohl Center. Some have gone as far as to say that college hockey has found another Shawn Walsh – the late Maine coach who collected detractors and victories with equal aplomb.
Eaves' international coaching success and his personal style are indications that there may be a storm brewing in south-central Wisconsin. Sometimes storms produce beautiful rainbows, and sometimes they produce downed trees, property damage, and flooding.
Whether there's a rainbow of Badger hockey glory to be had after all of the thunder and lightning has subsided is the question that remains.