June 6, 2005
Frozen Four: The Odds Are Stacked
By Mike Eidelbes

With the NCAA Men's Ice Hockey Committee hearing presentations from potential hosts of the Frozen Fours in 2009, 2010 and 2011, it's kind of an exciting time. Maybe not in a Game-Seven-of-the-Stanley-Cup-Finals sense, but more like the wonder surrounding the contents of that Tupperware bowl that's been lodged in the back corner of your refrigerator since the night you hosted your fantasy football draft.

And while people will throw around pros and cons of the six potential host cities like cups of beer at a Detroit Pistons game, it doesn't really matter in the end, does it? Whether the Frozen Four is played in Boston, Detroit or Kuala Lumpur, you'll still go. And you'll follow the exact same routine you did the year before – check in at the hotel, hit the town, sleep, breakfast, rink, supper, rink, hit the town, lather, rinse, repeat.
Of course, it's the off-season and those of us who depend on hockey (and an abundance of first-run television programming) to keep us entertained are reduced to overanalyzing these sites based on minutiae such as whether or not the arena's Zamboni driver navigates the ice in a clockwise fashion. So by the power vested in me by Mayor Chauncey McCheese, here are Inside College Hockey's Frozen Four Site-Selection Odds.
Boston and St. Paul (Even): Leaving these two cities out of the Frozen Four rotation would be like the British Open skipping a visit to the Old Course at St. Andrews or NASCAR taking a year off from Daytona. Boston is such a great city – outside of the traffic, outrageous hotel rates and sterility of the FleetCenter, which is to arenas what Chicago's U.S. Cellular Field is to stadiums – that it should earn a permanent berth, say, every six to eight years like the NCAA does with Indianapolis for men's basketball.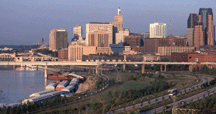 St. Paul may be called "Moscow on the Mississippi", but one doesn't need to bribe public officials to get around in the city.
The same is true for St. Paul, mainly because the Xcel Energy Center is arguably the finest hockey venue on the planet (aside to North Dakota fans – we know your rink is wonderful, too, so save your angry e-mails). And while it doesn't have the street cred of Minneapolis – guess which is nicknamed "The Mini Apple" and which is called "Moscow on the Mississippi"? – it's a friendly, working-class town that boasts a multitude of hidden treasures. Did I mention the taverns in Minnesota now stay open until 2 a.m.?
Washington, D.C. (4-to-1): Here's what you're thinking – how can a city whose hockey history is on par with Chicago's history of clean elections be considered a front-runner for a future Frozen Four? Easy.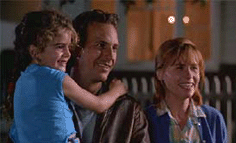 "Shoeless Joe says when it gets colder, he's bringing some guy named Hobey Baker along with him."
The U.S. Naval Academy would serve as the host institution for a D.C. Frozen Four. With no varsity hockey program, one would assume Navy knows as much about the game as it does operating Iraqi prisons in accordance to Geneva Convention guidelines. But in a reverse Ray Kinsella, the Middies tell the NCAA, If you come, we will build it. Translation: bring the FroFo to the MCI Center, and we'll add men's hockey. Hockey in Annapolis can't be a bad thing, and there'd have to be a tournament featuring Navy, Air Force, Army and maybe Harvard (the school has produced more commanders in chief than any other).

One question lingers, though. Since the winning team would already be in D.C., wouldn't it just be easier for them to head over to the White House to visit President Rodham Clinton right after the game? And another thing – who pays for these teams to fly to the White House? Are we, the taxpayers, footing the bill? Because when the NCAA strips the Ohio State football team of its 2002 national championship, I expect a refund.

Tampa (10-to-1): People are skeptical of warm weather Frozen Four sites, given the 1999 debacle that was Anaheim. But Tampa is an actual city, whereas Anaheim is a collection of freeways, strip malls and a grossly overpriced theme park. And you won't have to donate plasma every day for three weeks to afford a flight. I checked the price of 14-day advance ticket to Tampa or its wacky neighbor 70 miles to the east, Orlando, from the primary college hockey epicenters – Boston, Detroit and Minneapolis. Flights from Boston were in the $150 range, Detroit flights were right around $185 and flights from Minneapolis ran about $220.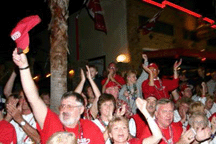 Here's a shock: Badger fans enjoyed Ybor City when Wisconsin played in this year's Outback Bowl
Another reminder – don't base your opinion of Tampa on things you heard about the men's hoops Final Four back in 1999. That event took place in St. Petersburg, which is to Tampa what Fort Worth is to Dallas. Visitors to the Ice Palace say the sightlines for hockey are terrific. Hotels are abundant. There are plenty of things to do in the area, from Orlando's grossly overpriced theme parks and Tampa's Busch Gardens to golf to Ybor City, which is like Buffalo's Chippewa Street…only fifteen times bigger.

Still, I just don't sense that folks are ready for a frost-free Frozen Four just yet. And while I think Tampa would be a pretty good selection, there is something a little creepy about wearing shorts to a hockey game.

Detroit (15-to-1): On my list of favorite places to visit, Detroit ranks between the emergency room and Wal-Mart. So yeah, my opinion of this bid is slightly skewed. To its credit, Detroit is slowly improving, especially the areas near Comerica Park and Ford Field, which would host the Frozen Four. The city is also on a roll as a host of high-profile sporting events – baseball's All-Star Game takes place at Comerica next month, Super Bowl XL visits Ford Field in February and the men's hoops Final Four arrives in 2009. Of course, there are still neighborhoods that resemble Dresden circa 1945, but whaddaya gonna do?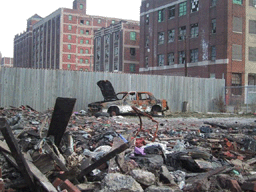 Detroit has cleaned up its image over the years. Still, you might want to park the car in a valet lot.
Even though I had a pretty good seat for the Michigan-Michigan State hockey game at Spartan Stadium a few years back, I'm not sold on the FroFo-in-a-stadium idea. Have you ever seen a basketball game in a dome? In the stadium's nether reaches, the game is a rumor. You can simulate the experience by digging up one of those old Sony Watchman TVs and trying to view a program while standing 20 feet away.

All in all, the bid seems to hinge on the novelty of playing in front of more than 60,000 people. Of course, Michigan fans would love a Detroit Frozen Four because most of them could be home less than an hour after the Wolverines lose their Thursday semifinal.

Philadelphia (25-to-1): Everything I know about Philadelphia I picked up watching the first three installments of the "Rocky" series, the Eddie Murphy-Dan Ackroyd flick "Trading Places" and the song "I-76" by G. Love and Special Sauce. Even though I've spoken to a few people who say Philly is underrated, I just don't have a good feel for the place.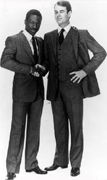 Sources close to INCH say the Philly bid hinges on the price of sourbellies.
One question regarding Philly – why is the Metro Atlantic Athletic Conference involved in the bid? Sure, the MAAC sponsored a hockey conference, but a couple years ago the hockey-playing schools spun away from the league in a Frasier-esque fashion to become Atlantic Hockey. Logic would dictate the Frozen Four hosts have a connection to college hockey. Does this mean the Big 12 could submit a proposal for a future Frozen Four in San Antonio? Or better yet, could Hockey East bid for a hoops Final Four?

Second, why are Buffalo-area schools Canisius and Niagara backing the Philly effort? The two schools were part of a Buffalo attempt for another Frozen Four this go-round but failed to make the final cut. They're like college hockey's version of the Hessians.

So there you have it. When sites are announced, expect Boston, St. Paul and Washington, D.C. to get the nod. Of course, this is the NCAA we're dealing with here. How many frequent flier miles do you think you'd need for a free ticket to Kuala Lumpur?