April 19 , 2005
Postcard: Mr. Big
By Mike Eidelbes
Some familiar names are in Plzen, Czech Republic, this week, representing the United States at the IIHF Under-18 World Championship. Minnesota freshman-to-be Phil Kessel is there. So is defenseman Jack Johnson, who'll attend Michigan next fall. Future Wisconsin Badger forward Jack Skille is on the team along with another Gopher recruit, forward Peter Mueller. All four are likely first-round NHL draft picks…assuming there will be another draft in our lifetimes.
The fans will come to see Kessel, Johnson and the like, but they won't be able to take their eyes off Nathan Gerbe, a forward who'll skate for Boston College next season. At 5-foot-5, 160 pounds, the Oxford, Mich., native is built like a fireplug and only slightly easier to move, a Tasmanian devil on skates who plays each shift as if someone smeared wasabi inside his helmet.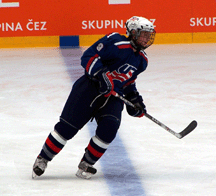 At 5-foot-5, 160 pounds, Boston College recruit Nathan Gerbe is built like a fireplug and only slightly easier to move
"I can't be scared being 5-5," Gerbe said following a U.S. Under-18 team exhibition match against a college opponent. "This is what I've got. I know how I've got to play to make it. I'm going to go out there and throw my body around, take hits and make plays.
"I have to have a mean streak being this size. Have to."
Saying Gerbe throws his body around isn't entirely accurate – that description would make you believe he's flinging himself at anything wearing the opponent's sweater that moves. He's more like a human cannonball, locking in on his target and delivering a blow as he did in a game against Michigan State in January when he caught 6-foot-2 defenseman Jared Nightingale off guard behind the Spartan net.
"People take it easy on me when the go to hit me, but I've got the low center of gravity," Gerbe explained. "So it works out to my advantage."
Actually, Gerbe's advantage is less about things just working out and more about working hard.
"He works hard and he's all heart," said U.S. Under-18 team coach Ron Rolston. "He battles, he's one of the strongest guys on the team physically and every night he consistently gives you everything he's got. Lots of energy."
Big Men on Campus
INCH's 2004-05 All-5-8 and Under Team

Pos.

Player
School

Ht.

F

Jason Guerrerio
Northeastern

5-8

F

Scott Mifsud
Vermont

5-8

F

Brett Sterling
Colorado College

5-8

D

Lars Helminen
Michigan Tech

5-7

D

Mike Campaner
Colgate

5-8

G

Frank Novello
American Int'l.

5-8
Lest you think Gerbe is a plugger, note that he scored 29 points in 38 games with the Under-18 team this season and through three games of pool play in Plzen, he's picked up two goals and an assist for the unbeaten U.S. squad. He's even spent time on a line with the silky smooth Kessel, which is like Sean Connery teaming up for a buddy flick with Jack Black.
"Great player, great player," Gerbe says of Kessel. "Makes things a lot easier for me."
The feeling is mutual. "He definitely sparks something," Kessel said. "He can score a goal or make a physical play. He's a little tough kid who has no fear. He plays his ass off."
In roughly six months, Gerbe will shift that posterior into high gear for Boston College, where he's destined to become a fan favorite in a program that has welcomed the likes of 5-8 Tony Voce, 5-8 Ben Eaves and the patriarch of mighty mites, 5-7 Brian Gionta, to its campus.
"I watch all the small guys – Gionta, Martin St. Louis, Mike York," Gerbe said. "Brian Gionta played with my older brother [Joe, who bypassed the college route for the OHL's Guelph Storm], so I kind of watched him growing up."
It's mildly amusing to hear a kid who's a shaved head away from not being able to ride most theme park roller coasters talk about growing up. In Gerbe's case, however, size doesn't matter.