March 8, 2003
Postcard: Moving on
Michigan State's Tim Hearon will forego his final year of eligibility. He's not returning to the Spartans next season.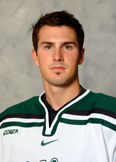 Michigan State wing Tim Hearon
National Hockey League general managers aren't clamoring for his services. He won't be making the jump to the major junior ranks in an effort to improve his standing in the upcoming draft. There's not much demand for a serviceable, fourth-line forward who's scored one goal and 13 points in 94 career games.
Hearon's motive is pure: he wants to get on with his life.
He turned 24 in January, one of the elder statesmen on a squad where no fewer than a dozen of his teammates can have a beer - legally, anway - after a game. He'll graduate with a business degree in May. He's been away from his girlfriend for the better part of three years. Can you blame him?
"I thought about it for quite a while," Hearon explained. "I know I'd be able to graduate in the spring, and my opportunities to use my degreee were a lot more promising."
Rick Comley and the MSU coaching staff knew Hearon was in a position to graduate and, at the start of the school year, they asked him where he stood about the rest of his career.
"The coaches asked me what I was thinking," he said. "By telling them early, I could help them out and open up a scholarship for them. It was the best decision for both parties."
After a stint with the Omaha Lancers of the United States Hockey League, Hearon joined the Spartans in the fall of 2000. But he never really left Nebraska behind and, if he had a choice, he'd love the opportunity to go back. But he isn't picky.
"I'm going to look for someplace to start my career," said Hearon, whose ultimate goal is to someday own his own business. "I'll just take what comes."
Naturally, a few acquaintances thought Hearon was crazy for making the choice he did - "Some people take the approach that you've got the rest of your life to work," he said - but most people respected his decision.
"A lot of guys are realists," Hearon stated. "I don't have aspirations to play beyond here. It's hard to walk away from hockey, but it's a decision I hade to make."
For those who complain about student-athletes who don't fulfill what fans consider a four-year obligation to entertain them - without pay - Hearon should be applauded for his decision. He came to East Lansing to play hockey college hockey and get an education. He'll do both.
Congratulations, Tim.
– Mike Eidelbes